We've heard it often said by smaller agency executives: "We're too busy to grow." What they don't seem to get is that if they're not actively engaged, despite various constraints, in seeking out account or project opportunities, their potential is stifled.
There isn't a solid, strategic plan for growth.
Too often teams end up swamped with high- and low-level work, leaving no time or energy on any level for them to consider new opportunities or a viable agency growth plan. This often seems like an impossible challenge, considering there's always more work to be done.
Scaling up can seem impossible when there is no time to reflect on what is working and what is not. Therefore, it's hard to go after the bigger goals when production requires almost all your attention.
When business priorities are not well defined, stagnation will set in. Everyone from business owners to junior executives end up stuck managing and running operations instead of being able to step back and see the bigger picture. The changing landscape, and where they'll need to be next year or in five.
Without a strategic plan for agency growth or an effective, repeatable sales process, agencies are left taking a reactive stance to fluctuating market pressures. Which means any decisions made are not always properly considered or in the agency's best interests.
Digital services are complicating the scenario.
The digital revolution has complicated the market for agencies. With the emergence of new tools, platforms and metrics, agencies are expected to be experts in a vast number of fields and deliver immediate, measurable results.
Where end-clients used to turn to one agency to fulfil all their needs, today many are managing the significantly higher number of services required by strategizing in-house and handing the execution over in bits and pieces to specialist agencies or freelancers. Instead of building long-term relationships with agencies, clients are now focused on short-term gain project execution.
This makes the full-service agency model increasingly irrelevant. In this pressure, most agencies are on the back foot, willing to work for lower rates and longer hours. They're running their teams into the ground rather than risk passing up an opportunity that's not a fit.
Projects cover much greater scope than they used to. And client budgets are smaller than ever. Much needed processes and structure tend to go out the window while agencies scramble to accommodate unreasonable client demands (e.g., the client project is on fire).

As a way to cope with this increased pressure, a lot of agencies are forced to downsize or replace their existing staff with less experienced people or stop hiring juniors so that they can remain profitable. This means their immediate and long run capabilities are stagnating, and future opportunities to leverage people's abilities become severely limited.
In a landscape as complex and challenging as this, to allow for growth, agencies need to serve more clients, more deeply and bring more talent on board to scale as desired.
How can we make agency growth happen?
Agency growth has to be handled actively. For starters, business owners must focus on creating mind space and time for themselves and their teams to focus on agency growth. If staff are just focused on meeting all their deadlines, it can't happen.
Unlock value of time through evolved talent solutions.
Creating future demand means first being able to handle what's in front of you effectively. For agencies today, this may require a period of internal transformation where they review their processes to delegate or eliminate tasks that offer low returns.
One way of doing this is to look at staff time logs. While most operation heads look at time logs to figure out who has time to take on more work, they can also be used to reveal the inefficiencies that can easily be removed.
For example, if a star developer has spent four hours fixing a bug on your website which also means your star developer isn't mentoring your new hire thereby losing way more than four hours of lost revenue. Alternately, if a change in the marketing automation system has thrown an email workflow off its path, is your team ready to spend countless hours to get it back on track?
Agency owners should identify how their time and their employees' time is best used, and prioritize tasks that drive maximum return in the long term.
More free time equals more opportunities.
Only when agencies have managed to rid their teams of low-value work can they find the mind space to think about proper account growth, identifying revenue opportunities, or advancing their skill set. Once they have addressed better time management, agency teams need to treat themselves as their own client and consider an agency growth plan.
Agency owners have to recognize that sales and marketing development happens through every client facing employee. These people may need specific training to be able to identify opportunities for growth and deliver better customer experiences; internally and externally.
Growing value-driven relationships through transparency.
Growth requires clarity and openness. With taking an illuminating approach to agency and end-client relationships, the efforts creating real value become clearer and easier to double down on. Meaning that agencies will find it helpful to bring more transparency into their relationships with existing clients.
Some examples of this could be establishing more meaningful feedback cycles and retrospectives, calculating Net Promoter Scores (NPS) routinely, airing timesheets and performance reports for questioning—getting at the heart of what's working and what's not.
In a market where businesses are unwilling to invest unless they can see immediate value, clients may need to see frequent reporting and measurable results before they are able to trust a partner agency. Once agencies have gained this trust, they can tap into these existing relationships to drive higher revenue.
What we had to learn the hard way.
There needs to be a strategic plan to run the business so that reactive decision making is kept to a minimum. Decision making should be intentional and decentralized.
One way to achieve this is to document the principles that agencies want to guide all decision-making, so that employees are able to make decisions aligned with the long-term best interests. Other ways could include developing an optimized pricing structure versus the lowest rates, specializing in niches, being selective about new clients, and developing replicable sales processes.
What about partner services and solutions?
To speed mind space creation for these agency growth tasks, many agencies are turning to strategic partners. By reaching out to partners to handle non-core competency and low-value tasks will almost always immediately free resources for more important priorities.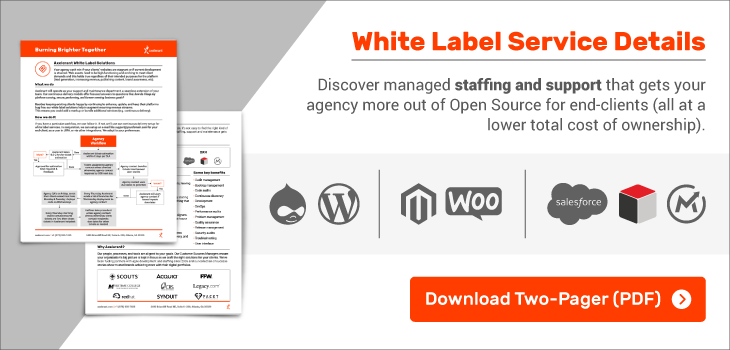 Agency partners can provide stock and tailored solutions to many tasks; especially those based through online systems like content management and customer relationship systems and for replicable processes like site updates and lead generation.
Additionally when websites need a redesign or new features, agencies can augment their staff from partners through managed staffing. These oft-remote teams (or team members) support agencies in heavy lifting and handling less critical tasks.
Offloading all of these tasks greatly enables agencies to focus on the client relationships, creatives, and strategy—the high value activities. And, pursue new ideas and opportunities that facilitate agency growth.
How does my agency get started with external sourcing?
First, start with making time to see what's important to you and what's keeping you from it.
Have someone introspect and identify gaps or internal bottlenecks.
Auditing and isolating areas that could be automated or supported with a dependable sourcing means is the first step. Ask why you're doing X or Y yourself than letting others handle it; what's the cost-to-benefit ratio doing X and Y alone?
Consider comparing current Efforts to potential costs and benefits in Delegating.
In order to know which activities can be outsourced and which should be kept in-house, agencies must compare the weighted value of both models. Once you know where the greater return or least headache is, delegate that job in-house our out.
The in or out task comparisons ensure that agency staff are spending their time on the agencies highest value tasks. In this way, staffing engagements, managed projects and flexible support form avenues for agency growth by offloading the right set of tasks to strategic partners.
As an example, does it make sense for a $ 150 an hour solutions architect perform basic manual QA tasks that can be externally delegated for only $ 25 an hour? What about hiring two more mid-career developers in a hot market for nearly $ 150,000 a year in compensation, benefits, and taxes each when staff augmentation for like people is only $ 37.50 an hour.
Or for the not clear monetary connection, you've a single person marketing department with a major product launch campaign in the works. How are they going to get the copywriting, website revisions, social promotions and much more done while still preparing the launch at a national conference in six weeks with theme, booth design, and swag? Marketing execution in bits and whole pieces can be had starting at only $ 500.
Ask questions and get answers from the right source.
Stop the insanity of repeating what works, but isn't effective; reach out and ask those specializing in agency-to-agency partnerships to help you find better alternatives. And, learn about increasing global partnerships, why agencies are offshoring in 2017, and how syncing with a sourcing partner works.