Delivering consistent brand experiences
Axelerant teams helped deliver a scalable multisite solution that could keep pace with the customer's growth. With this, they can now create brand sites that bring together content and commerce capabilities to deliver a seamless user experience.
About the customer
The customer is an enterprise-level retail megalith composed of some of the world's most recognized brands and household names. The franchise currently operates internationally across the major countries in the world with:
4000+

stores across
sectors

90+

consumer retail
brands

30+ year

history of
operation
Business challenge
Of the nearly 90 brands in the customer's portfolio, some were on Drupal, while others used a mix of open source and proprietary CMSs. Not all had a web presence. In a lot of Middle Eastern markets, there are no online stores. Most brands here had physical stores. Others had a web presence, but no eCommerce capabilities.

Given all this, there was a lack of standardization across the brands, both in terms of the customers' as well as the editors' experience. It also meant that the client was spending a lot on maintaining and updating these sites, while losing precious time in launching new brands online.

They needed to consolidate the digital experience across their diverse brands. These were their four key goals:
01. Consolidate All Brands

---

02. Empower Editorial Teams

---

03. Content And eCommerce

---

04. Less Maintenance

---

They needed to migrate to a single platform that allowed them to effectively serve each brand and its capabilities.

They needed to manage content more efficiently, offer better experiences faster than before, and become more profitable.

Brand sites needed to be enabled with content and eCommerce capabilities to deliver an integrated customer experience.

The customer also needed to be able to significantly lower the cost of website updates and maintenance.
Solution
As technologies, Drupal and Magento are both giants in their own rights, and their combined capabilities offer a lot of potential for customers in need of complex solutions to challenging problems.
In March 2017, Axelerant was brought in to help deliver the solution. The client already had a few sites running on Magento, in-house Magento professionals to handle these sites, and a small team from a Magento solutions partner.
They now needed a frontend solution that would allow them to launch websites quickly without the need for involving developers. Drupal was chosen as the frontend due to its superior editorial and content management experience.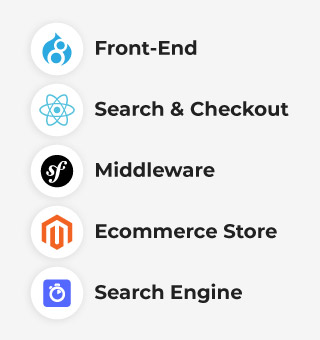 Above: General solution architecture with Drupal frontend
Acquia Cloud Site Factory rises to the occasion
Acquia Cloud and Acquia Site Factory hid the provisioning of servers behind a layer so that users don't need to see the complexity involved. Their user-friendly interface allows sites to be deployed easily and effectively without involving developers. This makes the product a great fit for business owners launching in new regions and demographics.

The Drupal-Magento connector
Most brand sites had a static website. These needed to be enhanced by integrating eCommerce capabilities within these sites. For example, a customer reading about a particular piece of merchandise needed to be able to simply click on the image and add it to cart, check out, and make the payment—without ever having to leave the site.
The challenge was to bring the content from Drupal and the product management and retail features from Magento together onto a single interface. To get around this, the Acquia team decided to build an all-new Drupal-Magento connector module, with the Axelerant team participating later on in making modifications and bug fixes.

This demanded close coordination between all technology partners in the projects. Teams from Axelerant, Acquia, Magento, and all the brands worked closely together to build this solution.