Introduction

Though DrupalCamp Mumbai 2019 was announced and executed at a very short notice, the organizers made valuable connections for the community within IIT Bombay and with Spoken Tutorial, a project backed by the Ministry of Human Resources Development (MHRD.) Spoken Tutorial provides 20+ free courses on Drupal and other leading latest technologies. The Drupal Community's association with Spoken Tutorial promises a more qualified and aptly trained batch of freshers, ready to contribute!
About the DrupalCamp Mumbai
The camp was initially planned to be held on October 11-13, 2019 at IIT Bombay but was cut down to two days:
October 12, 2019- Sessions by Drupalers

October 13, 2019- The job fair where companies pitched to over 90 students as prospect employers.



The first day was kicked off with two insightful keynotes by Mr. Ajit Joshi and Professor Kannan Moudgalya.
Mr. Ajit Joshi shared a very well researched overview of how tech has evolved, how India has been closing the gap to the west in terms of tech, and the role of India in future technologies like Blockchain.
Prof. Kannan shared a few numbers and insights into different Government Programmes which incorporated Drupal as a learning course. He also discussed how FOSSEE is helping students learn relevant technologies like PHP, Python, HTML, CSS, JS along with Drupal while the students are still in college.
Axelerant also participated both as speakers and a prospect employer to the students who had completed their training in a web-based technology.
So which sessions did Axelerant contribute?
A MasterClass On CSS Grids

---

Session track: FrontEnd Development

CSS Grids is one of the most powerful and trending topics in the CSS world. However, CSS grid is often not the first choice of themers and frontend developers when it comes to doing the layout and structure of a page or theme.
This session was aimed to remove some of the misconceptions around the complexity of CSS grids, also educate about when and how to use them. One of the reasons often given for not using CSS grids is its partial support for IE11. During the session, we also saw how to work around this problem. This was a practical session with live coding.
The session covered the following topics:
Learn about CSS grids
Basic and Advanced CSS properties
Using Grids and Flexbox together
Compatibility with Internet Explorer 11.
Using browser tools to debug CSS grids.
A quick Image gallery example using CSS grids.

@swarad07 presenting his session on #CSS Grids at #DCM19.#smile pic.twitter.com/v15rt6zy8M

— Parth Gohil (@parth_gohil) October 12, 2019
Drupal 8: Custom Multilingual Configurations

---

Industry track: BackEnd Development

Custom multilingual configurations are a very common requirement on any multilingual site, And building the same system in the right way is very important.
In Drupal 7, The i18n and similar contributed modules provided the API's to achieve this by creating multilingual variables through system_settings_form(). However, in Drupal 8 variables were replaced by configuration management and hence the way of building this feature changed completely.
In this session, We will be walking through the following:
The Demo showcasing custom multilingual configurations in Drupal 8.
A brief summary of how the demo site is built.
The custom module:

Multilingual schema and types
Configuration form
Translating form data
Using the translated configuration data

Drupal 8 changed the game completely by introducing configuration management and out of the box support for multilingual capabilities. These Drupal 8 enhancements allowed the developers to overcome the complexities that were introduced by using Features, Internationalization(i18n) and other similar contributed modules.
So as a backend developer this session will be very interesting for you and shall allow you to acquire a skill that will come handy even in Drupal 9.
@kunalkursija kicks off his session #Drupal8 : Custom Multilingual Configurations @ #DCM19 pic.twitter.com/arpBW6Xvpr

— Parth Gohil (@parth_gohil) October 12, 2019
On the second day of the camp, our People Operations Manager, Parth Gohil pitched Axelerant as a prospect employer to three separate batches of students looking for more exposure in the industry. They were given an overview of what we are looking for in candidates for our Graduate Trainee Program based in Srinagar and Jaipur. Based on our association with Spoken Tutorial, we could connect to a resource in Srinagar who will be able to connect us with the right kind of talent in the near future.
Like every year the community was looking forward to meeting each other, but sadly due to late announcements of the selected sessions, logistics were very difficult to manage at the last moment. This meant that speakers from outside Mumbai could not travel on such a short notice, and had to cancel their sessions. The community, thus, had to miss out on quality sessions from experienced Drupal leads. Axelerant team members Mohit Aghera and Bassam Ismail faced similar issues, and backed out due to the unavoidable circumstances. Also, the camp was just a month after DrupalCamp Pune which meant Drupalers from other states refrained from traveling again to Maharashtra at such a short notice.
DrupalCamp Mumbai is always a good networking and socializing event where Drupalers from neighboring states and cities travel to Mumbai to attend the camp. This year however there was a visible lack of crowd from other regions like Pune, Surat, Ahmedabad, Jaipur, Delhi, Hyderabad. October is also a month of festivities, further affecting the number of attendees.
This slight chaos has raised the urgency of Drupal India Association (DIA)'s involvement in planning, organizing and strategizing DrupalCamps throughout India. Shyamala Rajaram's report of the second-in-person board meeting of the DIA at DrupalCamp Pune is promising and we look forward to growing together and enhancing community experiences!
2nd in-person board meeting of Drupal India Association was held at @drupalcamppune.

It was attended by representatives from @Srijan @qed42 @Axelerant @OpenSenseLabs @Innoraft @unimityindia @acquia @TCS @iitbombay and Genero

Meeting report: https://t.co/ehbBdEzjq4 pic.twitter.com/tQWsCWoouy

— Drupal India Association (@india_drupal) September 23, 2019
About the Author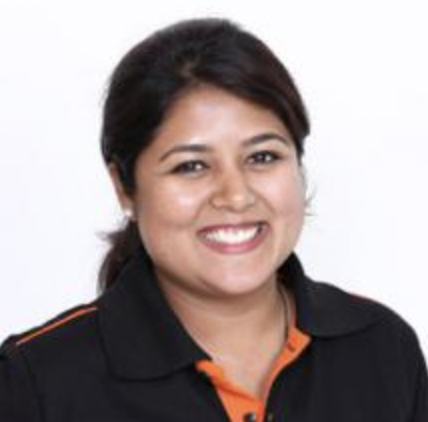 About the Author
Sharayu Thakare, Marketing Program Lead
A dog-mom, she can eat a whole tub of ice cream in one sitting and has an impressive collection of superhero figurines by her desk. She's crazy about fan fiction, and can't stand the thought of driving.