Introduction

DrupalCon is coming to Amsterdam! The conference will be held at RAI Amsterdam between 28-31 October 2019. Along with Dries Buytaert (Drupal Founder), Sue Black, Boris Veldhuijzen Van Zanten and a group of Drupal Initiative Leads are the keynote speakers this year.
About Sue Black
Dr. Sue Black is a professor of computer science and technology evangelist at Durham University; a UK government strategic advisor; an author; and an activist. Hailed as "a key voice in an increasingly digital future" by The Independent, Black has won numerous awards, and was named one of the top 50 women in tech by Forbes in 2018. In 2020, Black will run as the Women's Equality Party candidate for Mayor of London.
Sue's session is titled If I can do it, so can you, wherein she talks about how she brought her family out of poverty and built a successful career through education, passion and a determination to succeed.
About Boris Veldhuijzen Van Zanten
Boris co-founded The Next Web (TNW) and has been its CEO for the past 14 years. He's also a serial internet entrepreneur who founded V3 Redirect Services (sold), HubHop Wireless Internet Provider (sold), TwitterCounter and pr.co.
He'll talk about how the future of technology is not about the bits and bytes or hardware and software, but about the humans behind it; the emotions triggered, the lives that are impacted and the effects on society. Through anecdotes and stories, Boris will illustrate how to be innovative in the digital realm, yet let humanity lead. His session is aptly titled Humanity in Tech.
A group of Drupal Initiative Leads will also talk about Drupal core initiatives and how a continuous innovation cycle resulted in an amazingly improved Drupal 8.0.0. This brand new format for DrupalCon includes a series of lightning talks by leaders in the Drupal community (source).
The diamond sponsors this year are Acquia, Dropsolid, and Pantheon.
Session tracks this year discuss:
Business + Marketing

DevOps + Infrastructure

Drupal + Backend

Drupal + Frontend

Drupal Community + Being Human

Industry

Birds of Feather (BoFs)

Axelerant will be attending DrupalCon Amsterdam, and here's a look ahead of what our team members will be doing at the event.
Our VP Sales and Partnership, Piyush Poddar is a part of the International Spalsh Awards 2019 Jury. Splash Awards, the most prestigious Drupal award on the Web, celebrates the best Drupal projects in the world. Commerce, Corporate, Design/ UX, Government and Public Services, Publishing/ Media, Tools/ App, Healthcare, Social/ Community, Non-Profit, and Education are the ten categories under which submitted projects have been judged this year.
Meet the international and diverse jury! Thank you @audrainscotland @plastic @piyushpoddar @ReneeJPearson @sandermangel @contact_waliur for your contribution to the International #SplashAwards! #Drupal https://t.co/fwsxzvVdmR pic.twitter.com/bwT75UXxDr

— Splash Awards Netherlands (@splashawards) October 13, 2019
Our FrontEnd Engineer, Tsegaselassie Tadesse contributed as track chair in the session selection process, assisting the process of choosing from over 500+ session submissions.
Our team members will also be presenting at DrupalCon. Here are the details.
So which sessions are we giving?


---

Industry track: Industry
Room: G 103
Starts at: October 30, 2019 15:00
Duration: 20 minutes
PDFs are a good means to structure, archive and access information in a robust manner and is the most widely supported standard for creating and viewing information both online and offline.
In this session, we will learn about the following :
PDFs generation using Drupal 8,

Theme the generated PDFs and make them look awesome,

Couple of open source PDF generators which integrate with Drupal 8,

Specific design and development challenges faced while developing PDFs with specific user requirements using the above PDF generators and how to tackle them.

Couple of custom PDF solutions developed to create structured and well designed PDF documents on a very large scale using Drupal 8's powerful & flexible content management features like editorial workflow and granular permissions.

Different use cases for enterprises, publishers, universities and print media organisations.

The key takeaway for attendees will be the concepts of developing structured and archivable PDF solutions using Drupal 8 for varied use cases.


---

Industry track: Business + Marketing
Room: G 105
Starts at: October 30, 2019 15:00
Duration: 45 minutes
Account Based Marketing (ABM) is hot. And we're finding it a little too hot to handle at times. Add an impending agile transformation to a marketing department working at a global Drupal agency, and you've got yourself a fire.

We'd like to share our story of what implementing Account Based (Agile?) Marketing—or AB(A)M?—looks like, feels like, and runs like. Unfiltered.

Gather round, and learn about our journey towards account-specific, sales motific, (issue prolific) agile marketing.
Hope we'll see you there!
And in case you've questions about Axelerant—what we do, the benefits we offer, how we work or why some of the best in the community have chosen us— Piyush Poddar is ready to meet you.
About the Author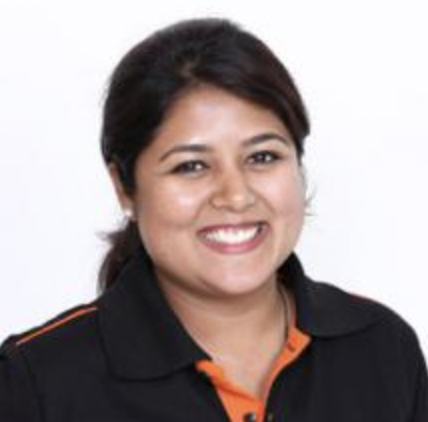 About the Author
Sharayu Thakare, Marketing Program Lead
A dog-mom, she can eat a whole tub of ice cream in one sitting and has an impressive collection of superhero figurines by her desk. She's crazy about fan fiction, and can't stand the thought of driving.