Introduction
After much anticipation, the four-day European get together for the Drupal Community ended, leaving us, once again, pumped up for the future of open-source. We witnessed a virtual event with hundreds of sessions, networking, and fun activities. Experienced Drupalists and first-timers had the opportunity to discuss a myriad of topics about web development, code, tools, best practices, community, and diversity; both to celebrate the accomplishments of a thorny year and to have a reality check on things that need to get better.
The Axelerant team participated and successfully delivered over ten activities between sessions, panels, birds of a feather, volunteering, and mentoring. Yes, everyone was hoping to visit beautiful Barcelona, where the event was supposed to happen before COVID-19 turned the world upside down; but the online conference still brought the community together.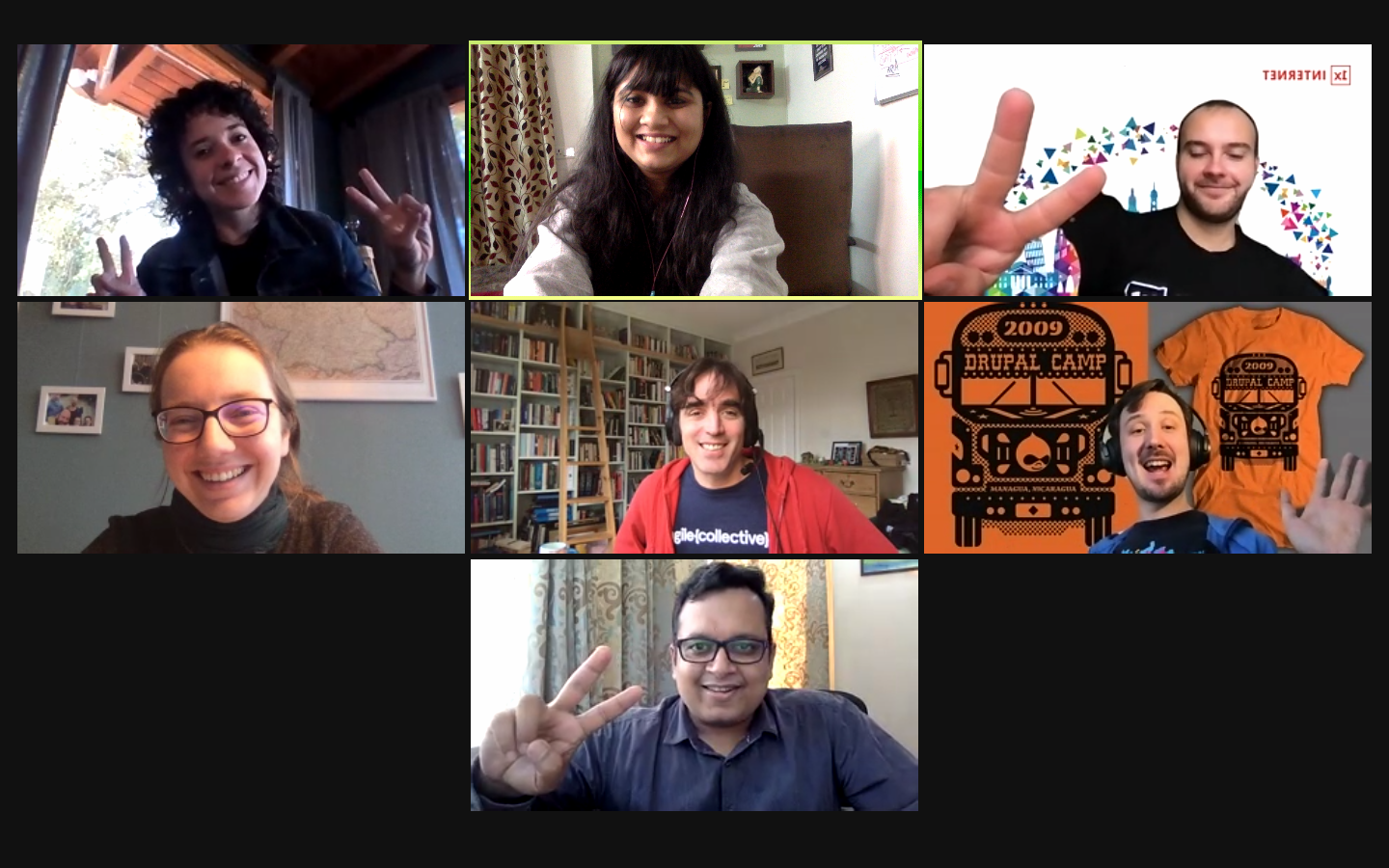 "The more you give, the more you get" BoF with community enthusiasts.
An outlook on Drupal
To stay current on what's happening and coming up soon with Drupal, watching the Driesnote and the Drupal core initiative leads keynote is a must.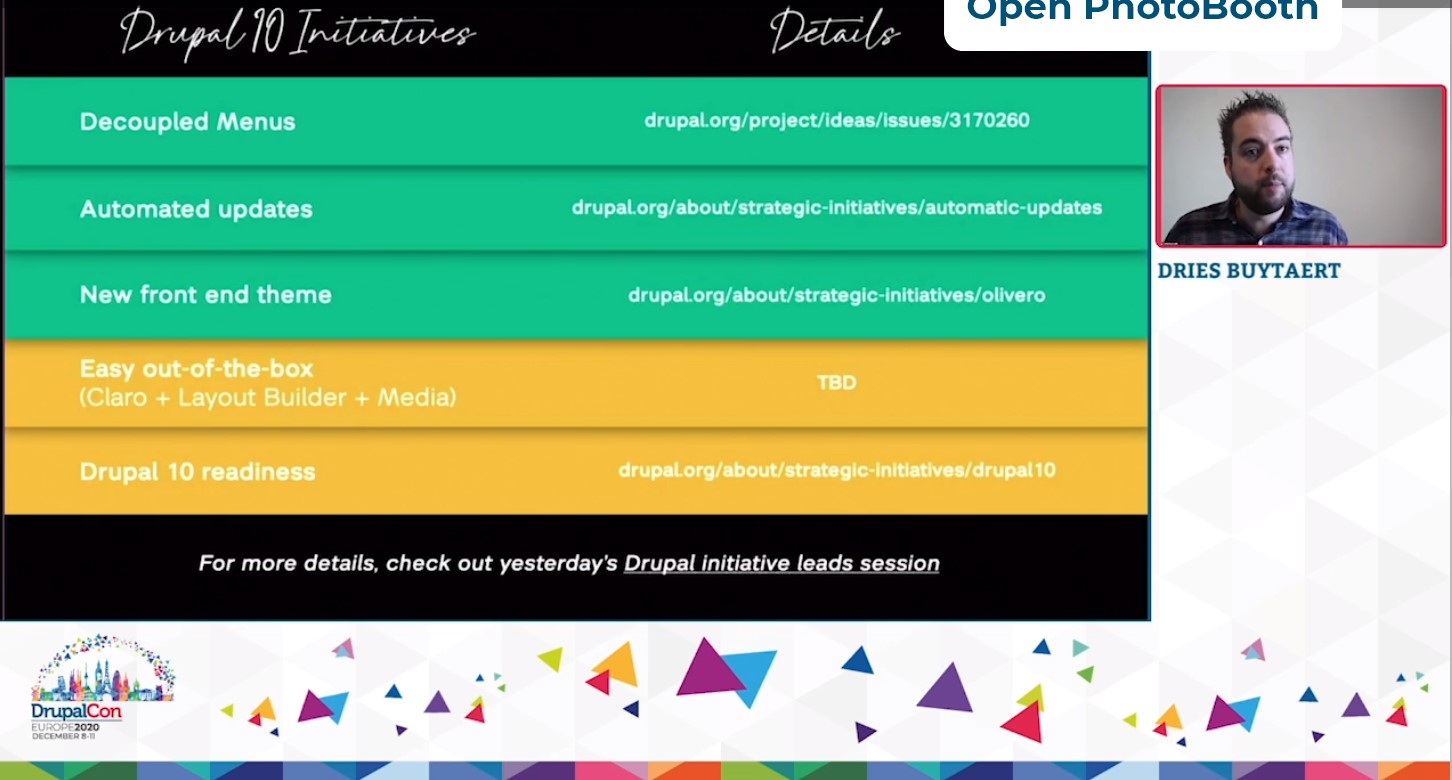 You can peek at the new frontend theme for Drupal, "Olivero," which is now available on Drupal 9.1 as an experimental theme and looking to be the default Core theme in Drupal 9.2.
Not having to worry about security updates is getting closer thanks to the Automatic Updates initiative, which is currently working on challenging backend development and UX issues.
Learn all the advantages of the new issue forks and merge requests tool and the benefits of Composer 2! Working and contributing to Drupal got a lot faster.
The decoupled menus project is officially launched. Check out the core initiative idea and road map, and find out how you can help.
Drupal 10 initiative takes care of internal technical updates, like supporting PHP 8 (already available for Drupal 9.1) and getting ready for Symfony 5 and CKEditor 4 end of life.
Meet the Bug Smash initiative, a team focusing on cleaning up the issue queue for Drupal core, writing tests, and addressing bugs in Drupal 8/9/10.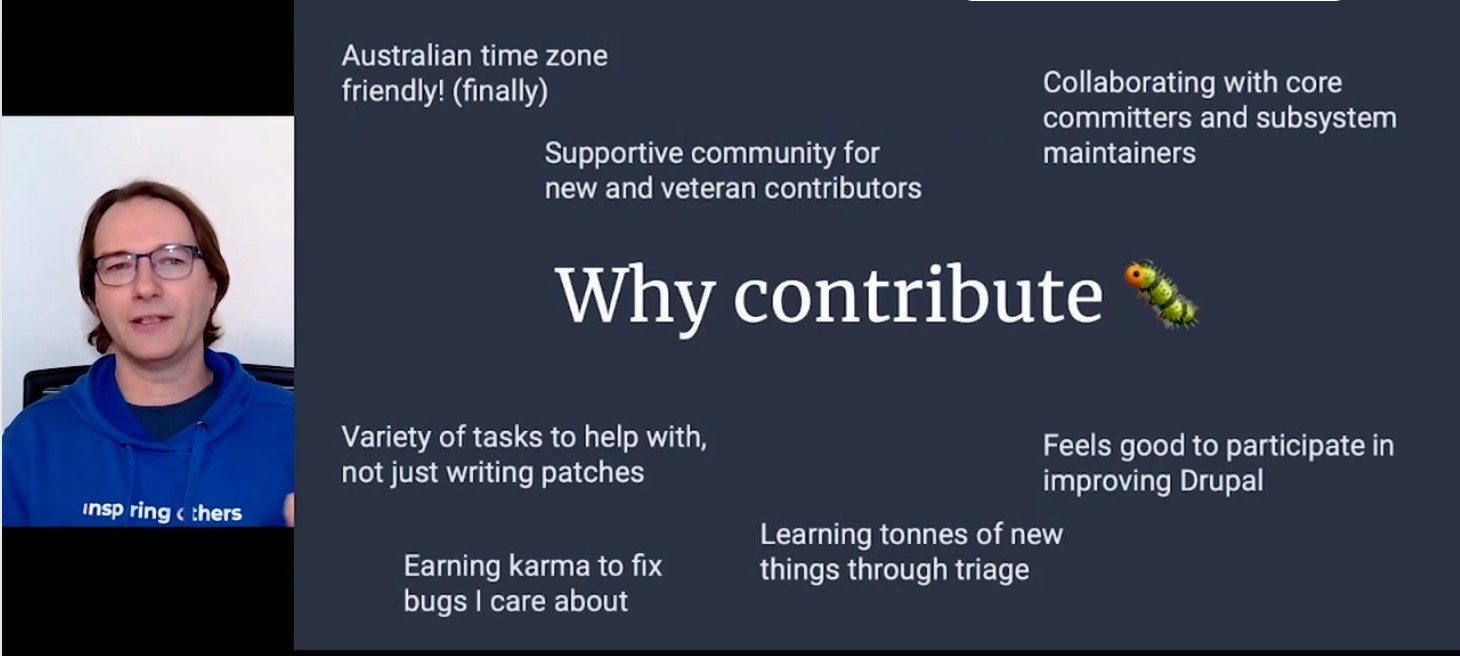 As we all know, nourishing the community that sustains the technology is also vital for Drupal as an open-source project. For that reason, we celebrate that specific initiatives and topics were highlighted during the event.
"Maximize the speed of innovation by rewarding makers"
When combining takeaways from Dries' keynote, panels, and diverse sessions, it's evident that the community is focusing on how to continue "balancing makers and takers" to further a sustainable open-source project that's about to celebrate its 20th anniversary. Through different approaches, such as governance, with a new "Certified Partner Program" that will launch officially in 2021 and was introduced by Drupal Association's Executive Director, Heather Rocker.
Also, putting forward arguments on the inevitable burnout to which active makers are headed due to the lack of new contributors taking over. Understanding how to empower new leadership and attract fresh talent is a task for everyone involved in the community.
Additionally, there are discussions on the importance of recognition to value and reward individuals and the instrumental role that Drupal and open web play in our digitally transformed world. All these were star arguments of panels like "Open source has won. How do we avoid dying from success" (lead by Rachel Lawson, Drupal Association's Community Liaison) or "The highs and lows of Community Leadership," where our very own Hussain Abbas, along with experienced leaders of the community, shared lessons learned and tips on how to foster a contributing community.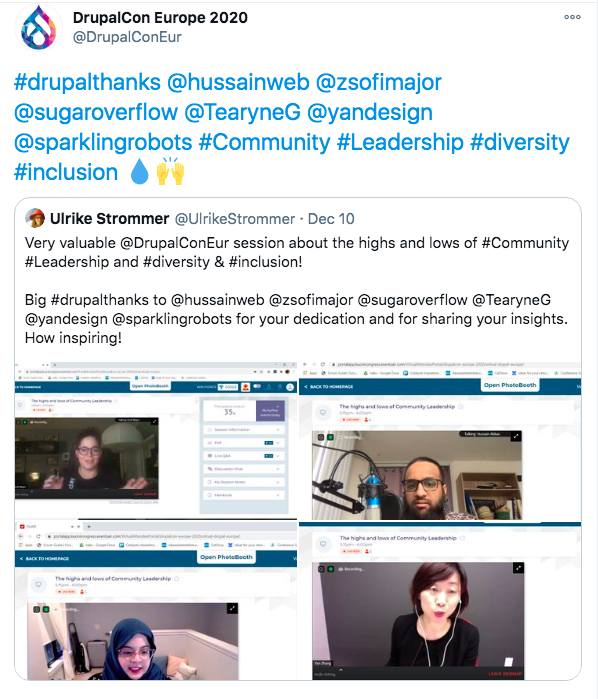 "Open web = A web for all"
Last but not least, diversity, equity, and inclusion were at center stage with powerful keynotes. Dries highlighted what it means to have an open web mindset and the importance of cultivating a diverse and inclusive community, reminding us that "optimizing for impact means caring for people you don't know," and since the web impacts everyone, we have to build it with everyone.
We had the privilege of listening to Eriol Fox talking about "Centring humans and their rights in Open Source Design" and Siri Chilazi about "Building Diverse, Inclusive and Equitable Communities." Both brought their unique perspective; Eriol as a designer working in the human rights technology space, called our attention, saying, "if we are not intentionally working against injustice, we are unintentionally complicit in it". Siris's presentation was filled with clear insights and results from different research studies.
If you're looking for practical tools to battle unconscious bias in the workplace, make sure to watch this session (you'll be surprised how language in job ads or even the pictures on your walls could make a difference towards parity).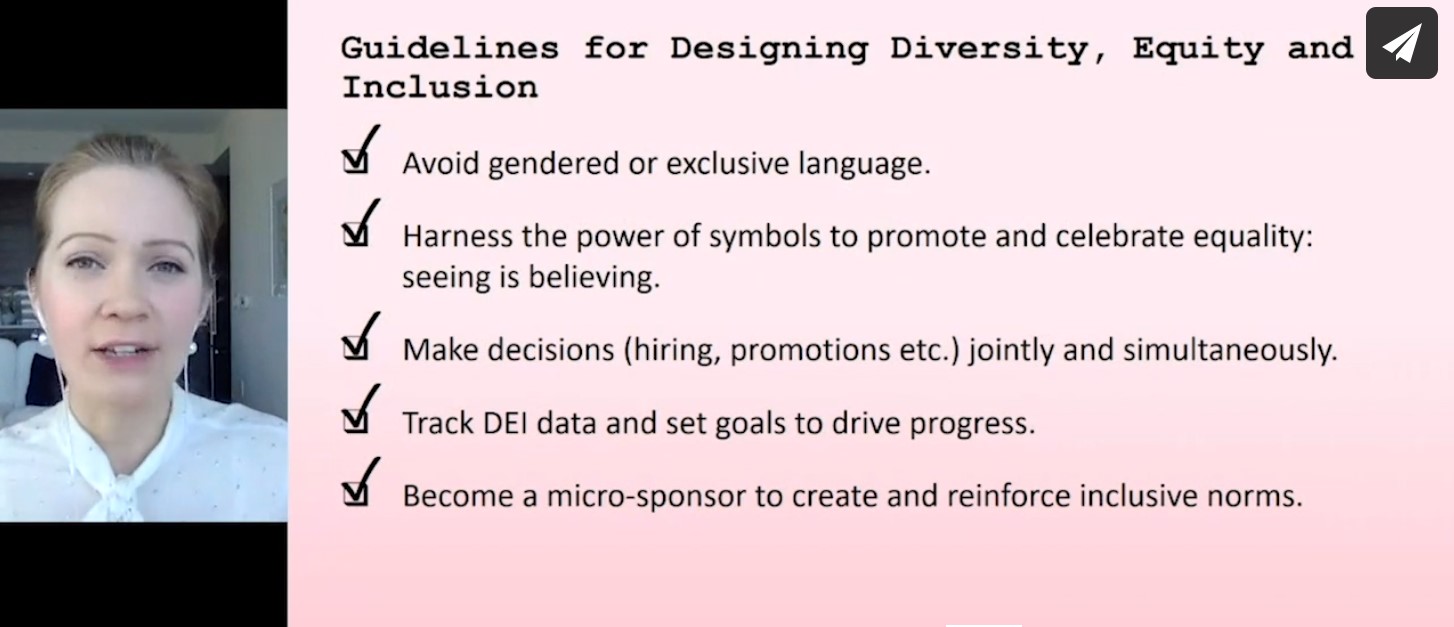 Relive Axelerant's sessions
We kicked off the event with Shweta Sharma's session about "Automated advanced visual regression testing." She has presented this topic on several occasions but brought a whole new approach for the Agency & Business track, catering to a broader audience.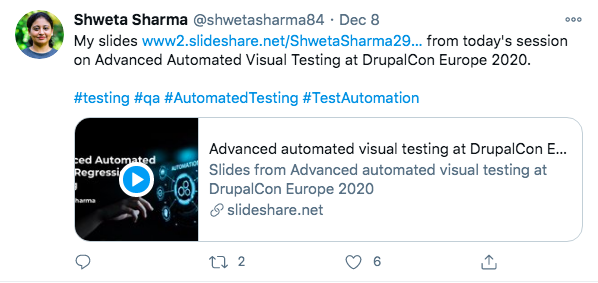 Akanksha Singh and Prateek Jain rocked the house with their presentation "Your Drupal Site Personalized Like Netflix" (minute 22') where they shared demos and use cases.
Akanksha also delivered a thorough demonstration, where she built a basic flutter app from scratch with Drupal 9 as a content delivery network. She had a very engaged audience of +100 attendees during this 40-minute session, "Write code once, run anywhere - Drupal + Flutter."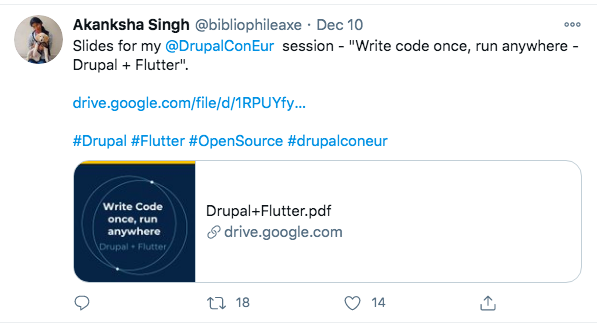 Hussain Abbas presented "Migrate to Drupal," covering key topics of the Drupal migration system and how to execute efficient migrations, which become especially relevant now that D7 is reaching EOL.
Nathan Roach and Piyush Poddar opened up all their extensive experience in the agency landscape, as well as recent learnings on how agency leaders are deciding to tackle the challenges of a post COVID-19 world, particularly exploring the possibility of "Drupal Agency Partnerships: Stronger, Together."
Sreekar Achanta successfully participated as a speaker in a conference for the first time. He joined the Drupal community to share his knowledge of a younger open-source project, Mautic, and gave details on "Containerisation and Orchestration of Mautic Applications."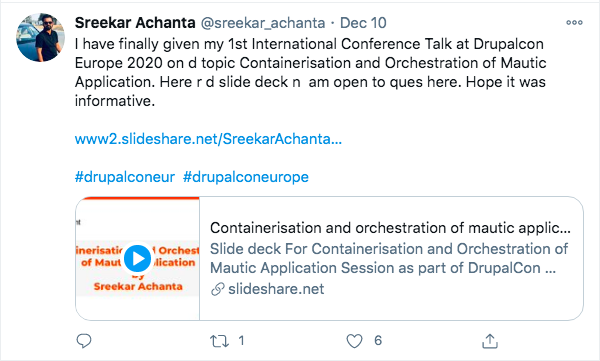 Jaspreet Singh has experience presenting at Drupal Camps in India and Europe, but this was also his first international conference experience. He recently transitioned from QA engineer to a Project Manager role, and in his session, he shared valuable insights on "Why Automation knowledge is needed for a Project manager."
Final thoughts
We all miss in-person events and hope to travel and see each other soon; nonetheless, virtual events can also spark genuine connections.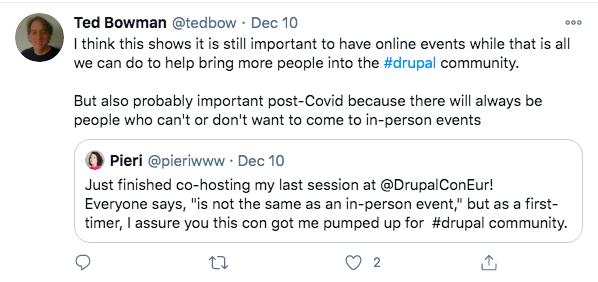 The team had a successful conference, we were able to share the knowledge and best practices we're currently applying at Axelerant, as well as the chance to chat and talk with fellow drupalists from all over the world.
We'd love to know about your key takeaways. Leave us comments on your experience at DrupalCon Europe 2020!
About the Author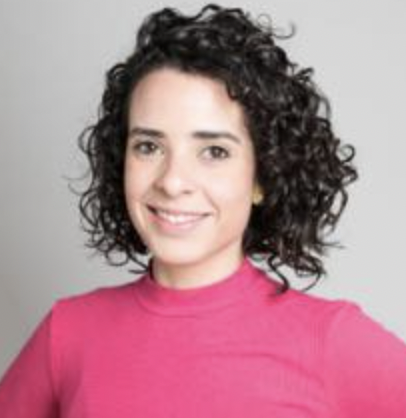 About the Author
Pierina Wetto, Axelerant Alumni