Introduction
Are you planning to give back to the WordPress community? Five For The Future (#5FTF) is here to give you that opportunity. Axelerant has decided to become a part of this initiative by contributing our skills to it. This article showcases how we got involved and our journey so far.
What is Five For The Future?
Five for the Future is an initiative promoting the WordPress community's contribution to the platform's growth. As an open-source project, WordPress is created by a diverse collection of people across the world.
Launched in 2014, Five for the Future encourages organizations to contribute five percent of their resources to WordPress development. WordPress co-founder Matt Mullenweg proposed this benchmark to maintain a "golden ratio" of contributors to users
How did Axelerant get involved in the "Five For The Future" Movement?


Axelerant loves open source and enjoys working with WordPress. Our organization wishes to grow with the platform and that is possible only if we scale with the WordPress community. It's imperative for organizations to dedicate 5% of their workforce to help WordPress move its mission forward.
Recently, we decided to enroll in the Five for the Future movement. We pledge to contribute 5% of our time and resources to the WordPress community and its Project.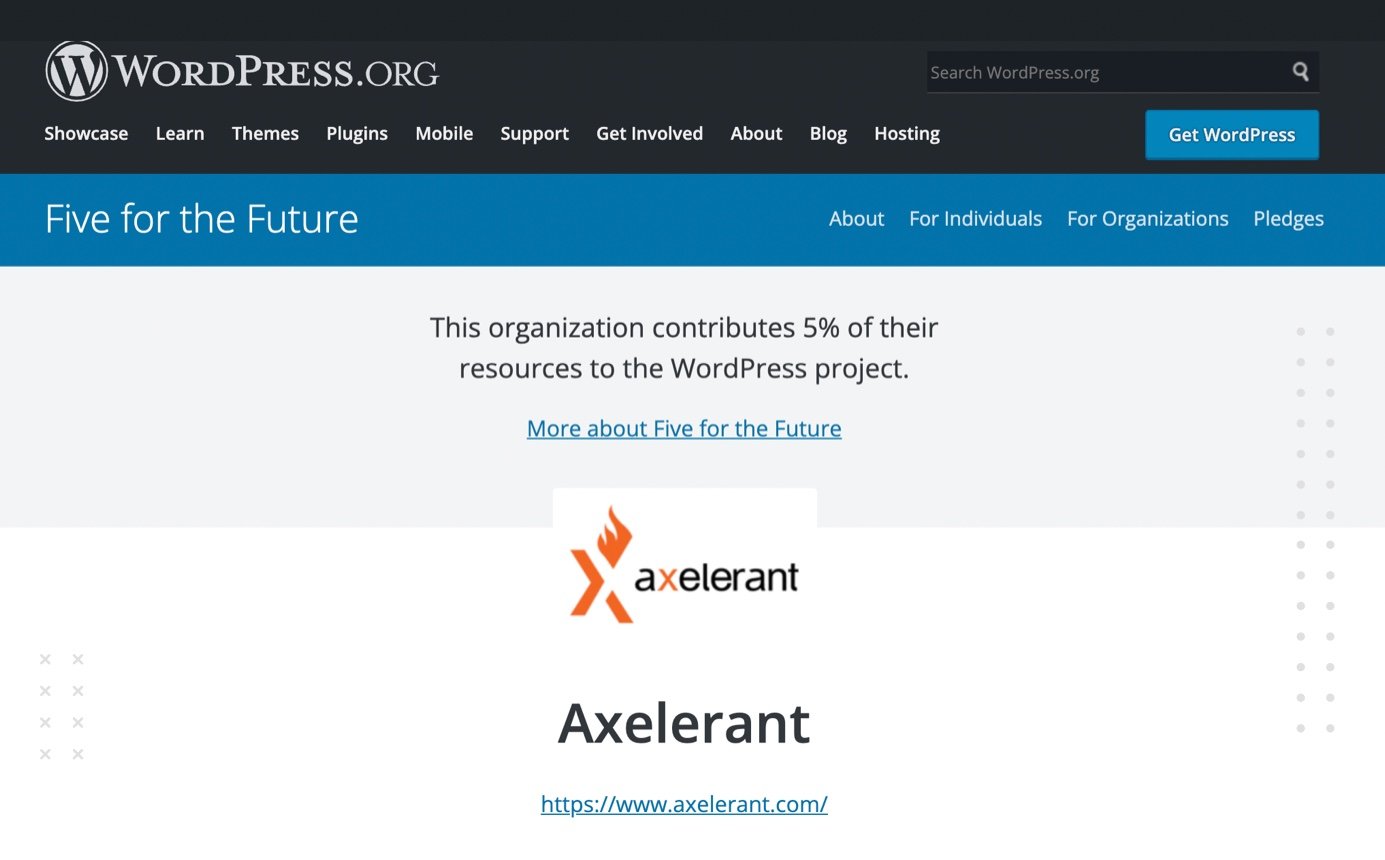 We make sure that our customer projects are not affected by scheduling the time for this contribution. It's just another way that Axelerant gives back to the community.
How did it all start?
Axelerant, as a team, is very active and enthusiastic towards open source contributions. We are active in the Drupal community and try our best to contribute in whichever way possible.
Axelerant has monthly announcements updates and in one fine month, we thought about growing our WordPress team and building a strong presence on the CMS platform. In order to take our skills to the next level, we started hiring WordPress Ninjas and now we have a proficient team with great expertise in WordPress. We are still expanding, feel free to explore our current openings.
In the past, Axelerant did manage to build and maintain WordPress Plugins and tried to contribute in some way. Recently, we were discussing community contribution in our slack channel and that's where a thought of re-initiating our WordPress contribution popped up. Everyone showed great interest and we thought to kickstart by taking the pledge and building a confluence page so everyone (who is contributing or willing to contribute) stays on the same page.
Currently, we have 5 contributors mentioned below who participate across 7 different teams.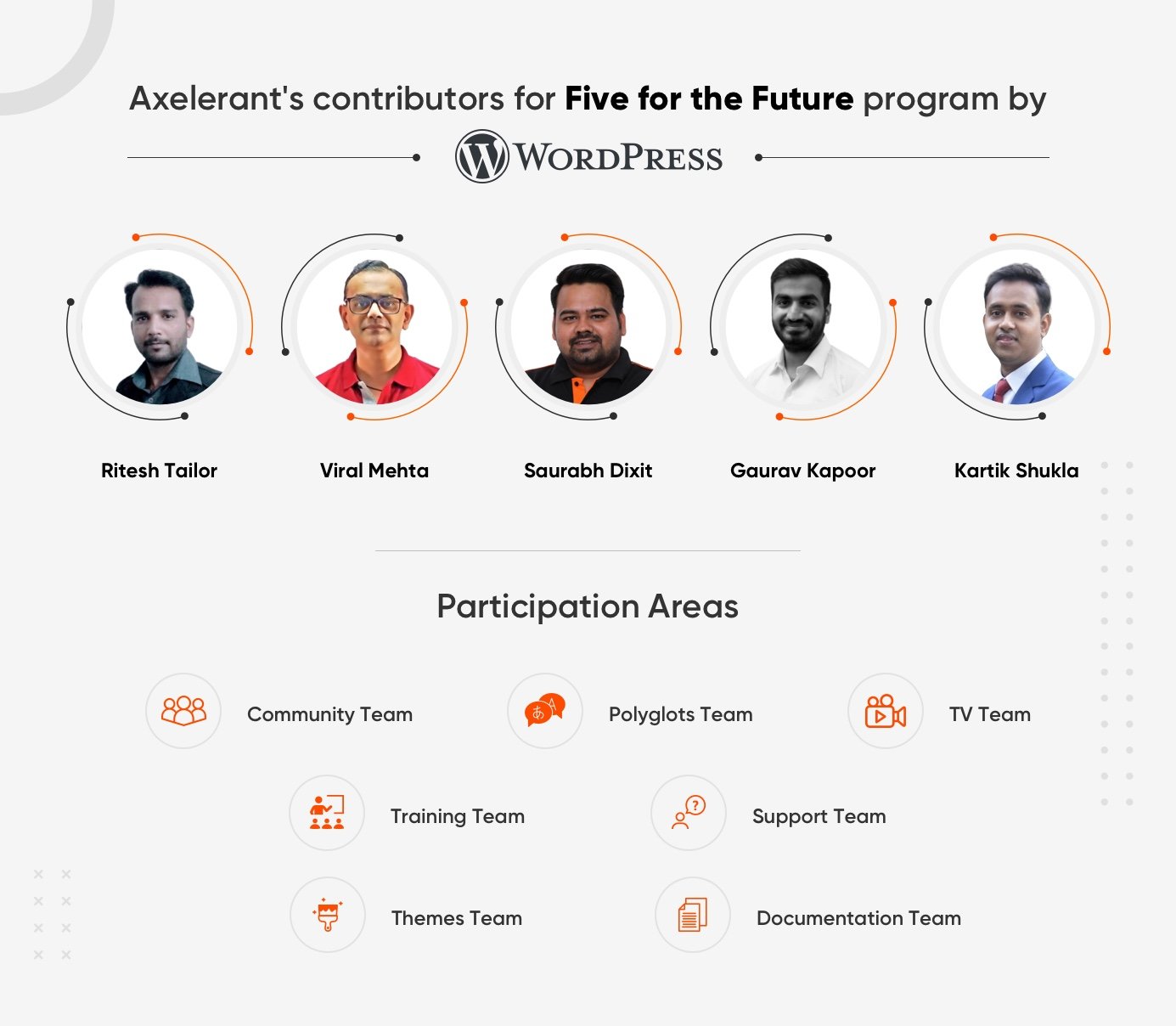 After taking the pledge, Axelerant started building momentum by contributing to the "Product of Origin" plugin. We applied for the role of organizing team in the WordCamp Europe 2022 and got selected. We made the required changes in our already existing plugins so they work well with the latest WordPress version. We even have a WordPress team group within our slack channel so if anyone needs help related to WordPress or wishes to know how we can contribute, they can tag @team-wp to get all the required guidance.
Who can participate in "Five For The Future" and why?
Believe us, anyone can participate in Five For The Future and start contributing. While some groups participate and focus on the technical side - like core development, plugin development, some teams focus on other areas like training, translation, marketing, and other areas of the community. No matter what your skills are, there is always a chance to participate.
Individuals will have an opportunity to learn and grow among passionate and experienced team members who are happy to share their knowledge and learning.
Due to this, organizations will have growth opportunities and more cost-effective training than many traditional programs.
Many people are likely to contribute to WordPress every day without realizing it.
A friend emails you and needs WordPress support. You help fix their problem
Someone needs a particular plugin to fulfill a need and you offer a suggestion that works
You're at a local meetup and help someone figure out how to use a particular feature in WordPress
All of the examples shared above are ways of contributing to WordPress that millions of people do on a daily basis. In these scenarios, users are helping each other while making a contribution to WordPress indirectly.
Our Road Ahead
Our roadmap is to maintain existing WordPress plugins and take their features to the next level. We will ensure to provide best-in-class support to all the individuals using our plugins so their queries and concerns are addressed quickly. We are even planning to publish more blogs related to WordPress and share the learning we receive via WordCamps with the team members.
This will motivate others to make contributions and participate in whichever area they prefer. By representing Axelerant's interest in the WordPress community, our focus is to make WordPress even more popular and a better CMS platform.
About the Author

About the Author
Kartik Shukla, Project Manager - L2
Kartik's favorite sports are badminton and cricket. He binge-watches suspense thrillers, cooks with his wife, and spends time with the WordPress community at leisure. He also likes to befriend new people and travel to different places.