The highlight of the month: our annual retreat.
Between February 21-24, Team Axelerant traveled to beautiful Goa, India from their homes all over the world to attend our annual retreat. We had almost 60 of us there on the beach.
For our team, this is always our most anticipated event of the year—and this year was no exception. Each time, people come together from different places and cultures, bringing lots of warmth, gifts (and food!) from different regions for their teammates to share. This year, we had people fly in from over 20 different cities and four countries!
Our time together was special.
When 50+ people who work together but live in different cities come together to meet, it's an amazing feeling. Because we don't all meet physically often, we value this time together.
There was a lot of connection and engagement, and we were able to get to know each other in ways that aren't otherwise easily accessible to us. Often, when we meet them in person, people turn out to be different than we expected—more interesting, more likeable, more spontaneous. Each retreat offers us a new dimension for us. We also really missed our teammates who couldn't attend, and hope we'll be able to meet them soon at another event!
Thank you to the retreat organizers.
Most of our collective energy during the month of February was directed into planning and executing the Axelerant retreat. This time we had the venue set up to feel like our own space—a banner and standees designating different physical spaces (which matched our conversational spaces on Slack), decor to match our brand colors, and photographs and messages from team members on the walls!
Some team members arrived early to set all this up, and worked hard to ensure that the rest of us arrived to find a wonderful experience waiting for us.
To these individuals, we'd like to say—thank you so much for the phenomenal effort you all put into bringing everything together at such a scale. And thank you as well to everyone who stepped in to help at each stage. This wouldn't have been possible without your care and your desire to get every detail right for the team.
We were able to do so much.
We had the chance to engage in new activities together and connect in different ways.
Icebreaker and engagement activities planned across the three days kept us doing new things together, learning as a team and creating better connections with each other.
We had the chance to hear and consider other people's perspectives.
The retreat offered us an opportunity to listen to people's feedback and concerns about policies, benefits and so on. People were able to share everything that was on their minds, and their inputs will help define the direction we take in the future with our policies.
We had a formal setup for sports this time, which sparked a lot of interest.
This time, our focus was wellness. Our goal was to test endurance and motivate people to stay fit. Team sports were an ideal way to do this.
Team members got together to set up cricket and football matches with people split into opposing teams. This generated a lot of engagement, interest and energy among team members.Next year, we'll take this up a notch!
We also got to meet new team members.
The retreat also gave us the chance to meet team members who would be joining us in the weeks to come. Even though this was difficult for some individuals, we were able to meet with several people in this way, and this allowed them to the chance to get to know their new teammates.
We've not had the opportunity to do this at past retreats, and it turned out to be a great decision as it helps reduce onboarding time and makes the onboarding process much smoother for new individuals, as they're already familiar with our culture and able to easily integrate.
And of course, we got to go out for dinner together and party.
Overall, it was an incredibly fulfilling experience which allowed us to fulfil our objectives. And we've received mostly positive feedback from the team, with many suggestions on how we can make it even better next time.
Here are some things we'd like to do better.
The retreat was an intense four days, packed with new activities and experiences, and many new faces.
With so much to do, certain things didn't go according to plan.
Most of these situations were out of our hands (such as unexpected flight cancellations and vendors backing out), but this created a lot of last minute work and changes, and made things difficult for many individuals. Certainly for those who helped organize the event, it was quite an overwhelming and exhausting time.
So for next time, we'd like to bring in more planning and structure. We'd also like to schedule in more free time so that people are able to unwind and really make the most of their time together.
We need to be more inclusive of individuals' needs and requests.
We also found that we could have been more inclusive of people's requests regarding travel and stay arrangements, as well as food preferences. We imposed some constraints which raised some concerns for certain individuals. Next time, we'd like to do better.
We need to establish better processes holistically.
Outside of the retreat organization activities, there are a few other challenges we've been facing.
The first of these is that we've been operationally slow in processing things which has led to certain other tasks being put on the backburner. For instance, we weren't able to have some of our scheduled team engagement meetings this month due to other items taking priority.
To combat this, we're trying to hone in on our processes as a department, so that prioritization and execution can be handled more smoothly in the future.
And we need to communicate more effectively with team members.
Additionally, we've had tax deductions this month—and while these are justified, we're finding that these weren't communicated well to everyone.
We'd like to prevent such an occurrence in the future by making sure all our communication going forward is prompt and clear.
This is how we're doing by the numbers.
Here's a closer look at our engagement metrics, captured each week via Officevibe surveys.
Engagement score: How we're doing by the numbers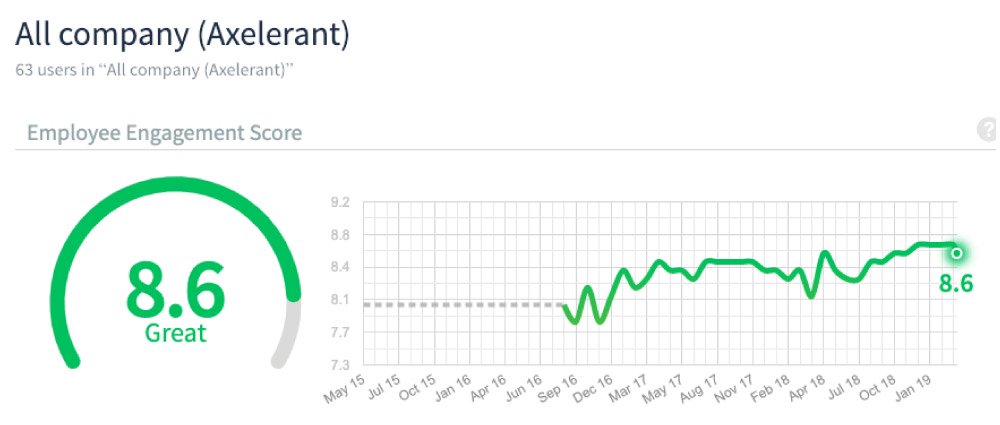 Our employee engagement score (8.7 in December) is down by 0.1 points. While this remains a healthy score, we'll be looking more closely into team engagement in the weeks to come to make sure that our people are fulfilled and satisfied.
10 Supporting Metrics (Relationship With Manager (to) Alignment)
These are the various metrics that are individually considered to generate the engagement score, and below is a snapshot of our scores for the month of February.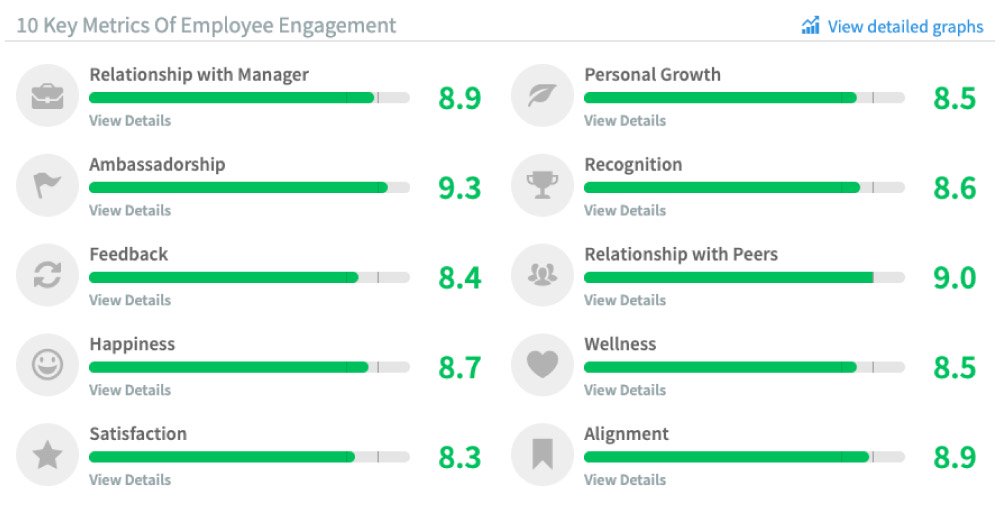 For our team, the three lowest metrics this month are: Satisfaction (down to 8.3 from last month's 8.5), Feedback (steady at 8.4), and Personal Growth (down to 8.5 from last month's 8.9).
While these are still healthy scores overall, we'll be looking closely into areas that received the lowest scores to see how we can do better.
We're already considering changes to our performance and benefits policies, and we conducted an exercise to collect feedback from the whole team at the retreat. We're now in the process of reviewing and updating policies which will be put into effect April 1, 2019.
These are Officevibe's recommendations on how we can improve each of these scores:
Satisfaction (8.3): ensure that team members feel that they are being compensated fairly, and address any concerns in a timely fashion.
Feedback (8.4): encourage employees to give feedback to each other, and to give feedback to their manager; it will help everyone improve.
Personal Growth (8.5): find ways to help employees get better at their craft through offering access to coaching, training, etc.
ENPS (Employee Net Promoter Score)

Our eNPS has dropped seven points from last month's 89. This is still a good score overall, but we take employee happiness seriously, and we'll be speaking with team members to understand their causes of dissatisfaction.
What other policy changes are in the works?
We're reworking some of our policies, taking into consideration the needs of our team members, and we'll soon be able to formally announce these revisions.
This month, we implemented our People Service Desk.
To streamline how we address internal requests, and to prevent requests from getting scattered and lost across multiple channels, we've now set up our People Service Desk. This allows our People Operations team to collaborate with team members to collect and address any issues.
This would help us save team members' valuable time that would otherwise be lost in following up on pending requests, and allow our People Ops team to systematically and proactively address every individual's needs.
We continue to learn and share.
We conducted a number of knowledge-sharing webinars internally in February. Some of the topics we covered:
Implementing progressively decoupled solutions

Designing a decoupled Drupal solution with front-end on AWS S3 and Lambda

Better and faster integration tests with drupal-test-traits

Cloudflare worker js integration
We had several local meetups this month!
Apart from the retreat where the whole team got together, we also had team members meet in various cities including Bangalore, Indore and Pune.
Join us?
About the Author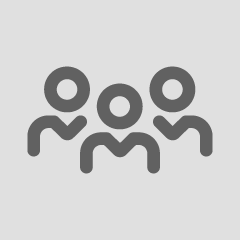 About the Author
Axelerant Editorial Team
The Axelerant Editorial Team collaborates to uncover valuable insights from within (and outside) the organization and bring them to our readers.