Closing 2018 with a bang.
At Axelerant, we are closing the year on a high note—with our eyes set on hiring more team members before the end of January. We're pleased to say that 2018 was a year of growth for us. This year we welcomed over 20 new team members to our agency, expanded our revenue pipeline with over 12 percent growth, setting us up for an incredible Q1. And when it comes to our teams' Engagement and Employee Net Promoter scores, things are looking better than ever.
What do our reports say? For the past two months, we're seeing high Officevibe metrics across agency vertices—reflecting happy and engaged team members who are proud to promote our brand. As we noted in our previous People Report, we'll be exploring these in every edition to show progress or regression. So let's take a look.
Employee Engagement Score: at an all-time high.
Answers to our weekly Officevibe survey are syndicated into real-time data, so we can see how we're doing on an individual and organizational level. We benchmark how optimistic we are about future projects, how fulfilled we are in our work, how we rate our relationship with managers, mentors, colleagues, and more.
How engaged are we by the numbers? This metric is a 90-day moving average that reflects our team members' at work engagement levels, factored from a combined score of ten supporting metrics (detailed further down below). Here's the snapshot:

In November, we were at an 8.6, with an increase of 0.1 percent in December. This puts us at an all time high of 8.7, the closest we've been to a solid 9.0.
10 Metrics: honing in on ways to improve.
The following metrics are aggregated to source the score above. These are how our survey questions are categorically organized to give a 360° look at engagement. These "10 Key Metrics" and the questions that pertain to each are backed by organizational development theories and endorsed by globally renowned thought leaders such as Deloitte, Gallup, Aon and others.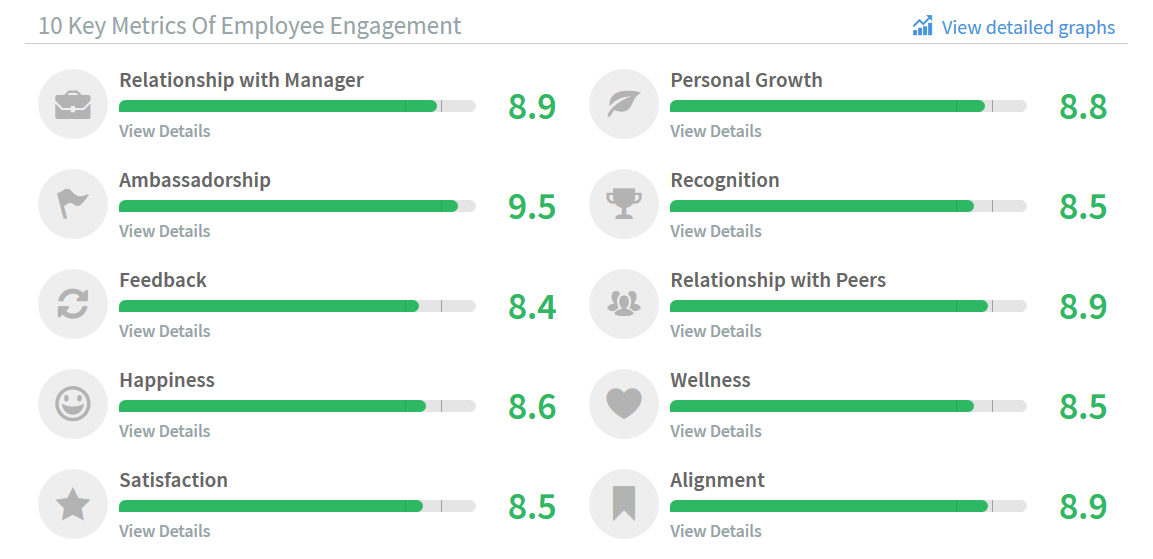 Officevibe also gives recommendations for improvement, which we consider. These regard our lowest scores—still healthy, but certainly worthy of improvement:
Feedback (8.4):

encourage employees to give feedback to each other, and to give feedback to their manager; it will help everyone improve.
Recognition (8.5):

employees aren't getting enough recognition. There's a lot of science behind why frequent recognition is important.
Happiness (8.6):

Employees are reporting that they're generally happy at work. Get a better understanding of why that is—so you can focus on those strong areas.
Top 10 Percent: we're proactive about sharing feedback.
Currently, we have a "Feedback score" of 8.4/10—which is at the 92nd percentile rank. This means that our score is better than 92 percent of all companies using this tool (across more than 90 countries over the globe). This earns us the "Champion" badge on Officevibe's benchmarking scale for feedback. It means we're proactive about our culture and happiness.
How about our eNPS? As shown in the segment below, we have an average Employee Net Promoter Score of 86. On the eNPS scale, this is a phenomenal score, meaning that our employees are extremely likely to recommend Axelerant as a great place to work. Check out this article to learn more.

Does this mean everything is awesome? No. As a matter of fact, the reason we're happy about this response rate is because we recognize that it helps us to uncover issues and identify what isn't going so well, sooner. Responding to challenges in the open, proactively, and with care is important to us, and this metric makes us proud. And while nothing is ever really at 100 percent, it doesn't mean we should try.
It's true. We're in a happy place.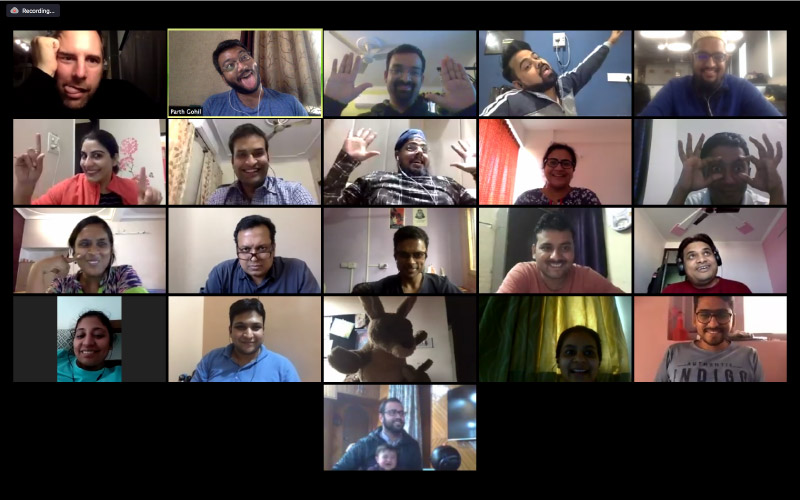 Axelerant Happy Hours, November 2018
Lots of November meetups and get-togethers.
Today, we have a team of almost 60 employees. In November, we had multiple get-togethers across India. In addition to our yearly Axelerant Retreat, where all of our employees from around the world come together, we've found that sponsoring these monthly lunches is central to fostering high levels of engagement and good old fashioned fun.
| | |
| --- | --- |
| Srinagar | Indore |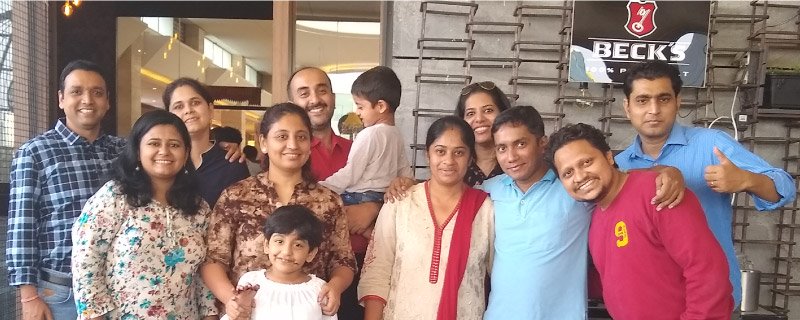 Pune
| | |
| --- | --- |
| Delhi | Gujarat |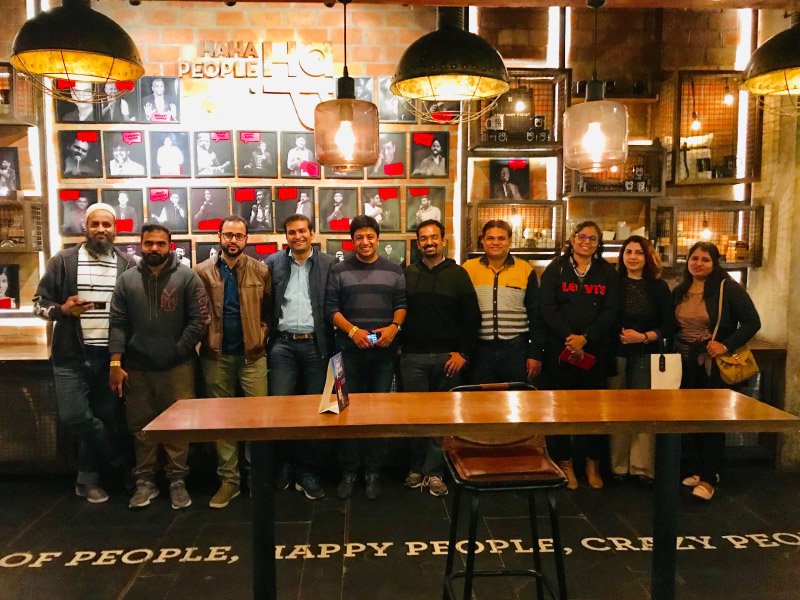 Delhi
Key internal policy updates?
There's a new Axelerant fitness initiative. We kicked off a new initiative in November 2018 for the benefit of our team members that will run into the new year. This started with opening a group of Slack channels, each focused on a particular goal (e.g. focused on running, muscle gain, weight loss goals, etc.), along with a reminder to take advantage of our gym membership sponsorship for all team members. Team members will have the opportunity to share updates, get encouragement, ask questions and get advice. Our 2019 Axelerant Retreat, which will be held in Goa, will have a focus on wellness. And there are fitness challenges planned for those who opt-in.
Remote conferencing etiquette policy. After reviewing feedback as to how Zoom calls are conducted, we've updated our Handbook to include conferencing etiquette. This is to ensure expectations are met for our team members and our partners.
We're developing V2MOM's departmentally for 2019. We started doing this in 2017 to foster alignment across the organization. We'll be sharing the details in our December Report to be published in January.
As 2018 comes to a close, we'd like to thank our team.
As we wrote last month, getting recognition right is seriously important to us, and while we've a great system for it, and are making improvements along the way, we can't say enough about it.
Axelerant's success in 2018 comes down to our people. While we offer our people a lifestyle of independence and freedom in the workplace (read: the future of work), we depend on the competence and support of our peers. Thanks a dozen to each of our team members for:
1. Valuing customer success first. It's not easy because it can pit you against your own temptation to just say: "it's good enough." Expecting more from ourselves every day, and from our fellow team members, takes both discipline and guts. Speaking up in favor of customer success is a great unifier for our agency, and one that takes example setting and constant reminding. Saying "no," for example—in the full knowledge that you aren't prepared to succeed for them—is putting the customer first.
2. Your patience when we've made mistakes. An agency is just a group of imperfect people. And as an agency, we're certainly not perfect. Sometimes we're too fast or too slow with change, other times we're blind to key problems from particular perspectives—your perspective. Taking the time to raise your voice while at the same time being respectful, considerate and mindful of growing pains is a virtue.
3. Your openness and honesty (especially when it's hard). Sometimes awkwardness is better. We celebrate candidness in the workplace for the money and time that it saves. Being honest in the short-term in order to be successful in the long-term is an investment. When it's the most difficult but the most necessary, we're grateful for your stepping up and speaking truth to status.
4. The flexibility you give our organization. We get lots of praise for our enablement of a more flexible, happier workplace. Of course we benefit from this too, especially when there's something critical or uncanny. Members of the team are able to extend, modify, customize around organizational goals—and that's powerful. This makes us nimble, extendable, and adept when it really, really counts.
5. Your drive to learn, advance and grow. Without every team member taking personal and professional growth seriously, we suffer. We can provide all the certification, mentorship, and training opportunities in the world, but that doesn't people just automatically grow. Growth is a choice, and we're grateful to have a team that takes this seriously.
6. Contributing back to the software we use. We don't just create with Open Source, we help create Open Source. But this is done on an individual level with applied skills and time—first comes the desire, and it comes from our people. Axelerant is a top contributor because you've chosen to contribute, and we are proud to encourage your power to give back to the ecosystem.
7. Your enthusiasm, because it's contagious. When you bring your "all" to your work, it shows, and it spreads. This "all" that you bring is all you, and this takes a lot. This inspires and invigorates your team members, makes a difference in the final product, and makes our workplace fun and full of energy.
8. The praise and constructive criticism you give others. The points of praise and improvement you take time to raise everyday are not just welcome, these are necessary. We've a saying at Axelerant: "silence is acceptance."
9. The long-term view of your impact. There's a collective and lengthy impact that you have on how our brand is perceived, talked about, and engaged with. We're grateful for this on an individual level; there are few things more important for an organization than for its members to recognize and take care in the actions they take in its name. Responsibility matters.
10. Living our values by your example. Our agency's values—Enthusiasm, Kindness, and Openness—are only words, without action, if our team members don't believe in and live out these virtues. We enshrined these to guide our decision making, hiring, day-to-day interactions. But what makes each real is the consistent actions of our team.
11. Your families and friends and their support. We are grateful for those special people in your lives who help make you the best version of yourself. Because who you bring to work is effected by what's at home. Thank you from us to your support system. You make a difference.
12. Sharing your authentic selves every day. We're proud to encourage you to be authentic and honest. Being authentic in a professional setting means being genuine. We want you to be you.
Hope you enjoyed this.
We appreciate you taking the time to get to know us better. And we look forward to continuously sharing updates. Follow us on Twitter, Facebook or LinkedIn and give us feedback.

About the Author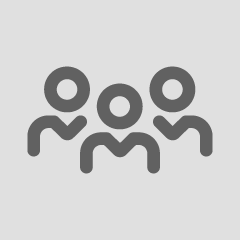 About the Author
Axelerant Editorial Team
The Axelerant Editorial Team collaborates to uncover valuable insights from within (and outside) the organization and bring them to our readers.