Introduction
Once agencies enter into an outsourcing partnership to support their efforts, the real work begins. You've got two different teams (unique approaches, new personalities, and often diverse cultures) coming together to make success happen.
Facing The Challenges Of Coming Together
Drupal agencies can't deliver meaningful results with a one-size-fits-all approach to partnerships. And if outsourcing partners care more about billables than enabling their partners' success, they won't be able to address agency needs effectively.
Agencies face a number of challenges often having to work within a unique mix of constraints defined by their size, technology focus, experience level, position in the industry, etc. This calls for a high degree of operational flexibility on the side of the outsourcing partner, in order to efficiently service their agency customer. They need teams that are able to dive deep into business requirements, and iterate quickly to get validation.
And due to the nature of outsourcing, distributed teams are used—which pose their own challenges if mishandled. Staff members and key stakeholders need to communicate well across geographical divides and beyond cultural barriers. Further, without team members making consistent effort to conduct retrospectives, fix workflow issues, bring in outside expertise and learn from any missteps, projects will flounder and fail.
These challenges considered, the great Drupal outsourcing partnership sees its success stem from how the partners work, communicate, and engage. At Axelerant, we've found we're able to deliver our partners the greatest value with our fluid, adaptive, ever-evolving process.
How We're Aligning & Supporting Our Drupal Partners
We've worked as a Drupal support partner since 2005, and our processes and workflows have evolved significantly since then. This evolution came about as we identified areas for growth in the way we interacted with our agency partners. We found better ways to accomplish our goals with our partners, which changed the way we do support.
We provide Drupal support to our partners in different ways. Our flexible support plans and staffing engagements each have their own unique processes and workflows which are time-tested and established, but customizable depending on partner needs.


It's not possible to predict the exact volume or type of work that a particular project will need over time. Business priorities change often, and goals change along with them. Drupal partners need to have the flexibility to adapt to these changing goals at the same time.
This is why as an outsourcing partner we're focused on developing support plans which can be molded to changing agency requirements. We provide ad hoc support, feature development and planned maintenance for Drupal applications. To deliver this, we use a two-tier agile, continuous delivery system.
Our first support tier, comprised of system architects and quality assurance experts, helps us ensure that the right expectations are being set for the outsourcing partnership, and the right tasks identified, before we enter the release cycle. Next, the second-tier, which comprises our implementation staff, ensures that we deliver on all requirements efficiently, using continuous integration and continuous delivery best practices.
We also ensure that our Success Managers (SM's) are able to work with the Product Owner (PO) at every stage to ensure that the release plan is feasible and needs are clear to all members. In this way, our model is built around understanding and revisiting the high level goals and priorities of our partner agencies, before deciding on and beginning work on the most pressing concerns. This means our focus stays on the most important tasks at all times, even when the agency's needs are constantly changing.
Service Designing: What Are We Striving To Accomplish?
Stage 1 of our delivery process involves service design. While onboarding our partner agency, we try to gain an understanding of the agency's desired outcomes, their short-term and long-term vision, decision drivers, as well as their quality expectations. We also conduct a collaborative review of the project.
General Onboarding: Who's Involved, Where Are The Gaps?
Our SM's coordinate with the Product Owner to ensure that all stakeholders have in-depth understanding of desired outcomes from the engagement. Our general onboarding process focuses on smooth integration between us and our agency partner's processes and tools.
We work to address any knowledge transfer gaps, establish shared documentation, capture security and architecture standards, and technical acceptance criteria.
Technical Onboarding: Which Tools & What Best Practices?
The technical onboarding phase is where we detail out the first release plan and populate the initial support backlog. Once we have established the development standards to adhere to, we conduct a detailed audit. Development and deployment effort that has gone into the project so far has to be reviewed, and the existing best practices as well as new additions required in order to execute successfully. We also consider the local setup and environment review, as well as whether the agency requires any consulting for value-added services.
Workflow Tailoring: What's Our Custom Process?
This stage involves us tailoring our workflows to ensure all agency needs are properly addressed. We assess the workflow required, define checkpoints and integrations, the approval process, and consider accountability and reporting. Here time is invested in creating an in-depth Service Level Agreement (SLA) document, that helps establish expectations in a transparent manner.
Alignment & Continuous Realignment: How Can We Scale & Evolve?
Ongoing improvement has to be a hallmark of the agency and outsourcing partner relationship. There has to be dedicated time and mind consider ways to keep gathering feedback and continuously improving our services, so that our partners are always receiving increased value from our engagement.


When agencies are faced with staffing requirements, we help fill agency talent gaps. Our collaborative support system and employee wellness focused approach give agencies the assurance and flexibility they need without the hassle of onboarding new staff.
Gauging Requirements: What Skills Are Needed?
Before assigning any resources, we try and understand agency needs. We identify staffing requirements based on project scope—whether this means providing one specialist or a full-fledged team.
Team Member Interviews: Will They Fit In?
When it's time to choose the people to join their teams, agencies can interview Axelerant staff members and decide who will make the best fit.
Once team members have been selected, we conduct a thorough onboarding to ensure that all team members are able to work with agency tools and techniques, and follow agency processes.
Our careful recruitment process to ensure team members have a minimum of two years of experience and add to Axelerant's values plus tailored onboarding provides the best chances for new people to fit in and happily be productive when on projects.
Integration: Plugging Them In
The Axelerant team then integrates with the agency team, which can include site visits if required. We begin with a two-week trial engagement to ensure the integration is seamless.
Axelerant staff members are well versed in agile methodology, as well as industry favorite tools like Slack, JIRA, Confluence, etc. However, we leave the final workflow up to our agency partners.
At Axelerant, we invest in our people holistically, which means our staff augmentees are well rounded individuals with diverse skills. All of our employees have a clear path to growth and learning via the Axelerant Career Ladder, as well as access to ongoing mentoring. Our team members are also generous open source contributors who believe in giving back to the community, and this provides them another avenue to keep testing their skills.
Talent Optimization: Growing With The Agency
In addition, we seek to continuously improve our services. We seek feedback from our agency partners on what we can do better, and we support our people in developing new skills. And if for some reason our agency partners are not satisfied with the staff augmentee selected, we're ready to discuss alternative solutions with their needs as our primary focus.
Last Words: Process Immaturity = Misalignment, Always
Any new outsourcing partnership needs to be bolstered by means and workflows that have been thought through by the right people. To succeed, careful attention must be paid not just to skills and technology focus, but also to less easily discernible aspects, like the team's ability to understand high level objectives, establish good communication across teams, iterate, implement feedback, and grow. All of these are rooted in the importance of mature processes.

About the Author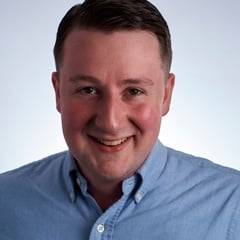 About the Author
Nathan Roach, Director of Marketing
Germany-based consumer of old world wine and the written word. Offline you can find him spending time with his wife and daughter at festivities in the Rhineland.