Introduction
With the outbreak of COVID-19 and its continuously emerging variants, the healthcare industry is experiencing unprecedented changes in the marketplace. Due to the rise in telehealth appointments by 154% in March 2020, it has become imperative for organizations to invest in a robust healthcare content management system for delivering patient-centric care.
As customers are turning to digital tools for quality medical services, healthcare organizations cannot rely on conventional strategies anymore. In this article, we'll discuss the importance of the healthcare content management system and what makes Drupal the right choice for it. Let's start.
The Evolving Need for Digitalization in Healthcare Post COVID-19
As every industry has been impacted by the COVID-19 pandemic, a lot of brands are now relying on digital transformation for preventing infections and the healthcare sector is no different. To ensure improved medical facilities without compromising the social distancing norms, focusing on digitalization in healthcare has become more important than ever.
In fact, a sharp increase in telemedicine investment and corporate funding for digital healthcare brands was observed after the COVID outbreak. Because the healthcare sector is supposed to be ready with contingency planning more than the other industries, around 60% of brands are planning to leverage automation, artificial intelligence, robotics, and machine learning by investing in the digital supply chain.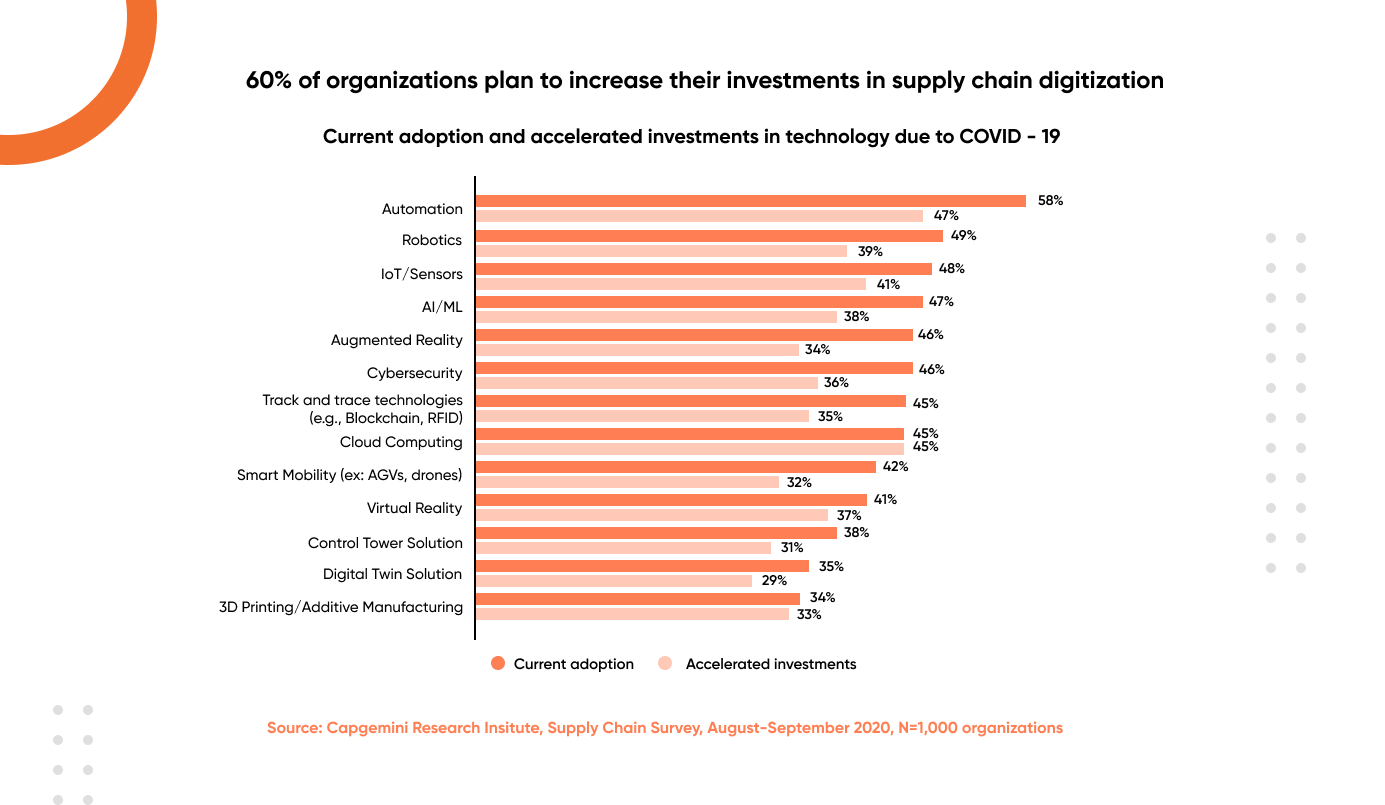 For instance, Melbourne Health Logistics has planned to invest in a Supplier Improvement Pilot Project that addresses the required challenges in the supply chain as well as inventory management through digitization. The project prioritizes the execution of data capturing technologies, improvement of data quality, and enablement of suppliers to make the most of Electronic Data Interchange (EDI).
Why Should You Consider Using An Open-Source Healthcare Content Management System?
Open-Source as a solution is being leveraged by many industries: education content management system, restaurant content management system and so on.

By playing a crucial role in health IT innovation, an open-source content management system empowers healthcare companies to deal with challenges related to security and interoperability. Moreover, it enables the organizations to seamlessly implement new technologies without leaving the legacy systems in use.
On deploying an open-source healthcare content management system, it becomes easy for companies to share the required information as well as perform the integration. Just like doctors work collectively with a team of other specialists while treating a health issue, an open-source CMS works on the same principle. As there are various individuals working on a single platform, it becomes simple to find a solution quickly.
If a healthcare organization plans to implement a proprietary solution (from another vendor) into its existing IT infrastructure, it is likely to face huge interoperability issues. As replacing the entire infrastructure takes a lot of time and money, using an open-source CMS is considered to be the best bet.
By leveraging an open-source healthcare content management system, brands can consider several technology options without ripping out the existing ecosystem. All they need to do is invest in an open-source license and the developers needed.
Moreover, an open-source CMS allows healthcare companies to gain effective control over the IT infrastructure due to which it is preferred by a leading hospital in the US - The Mayo Clinic. In fact, many websites such as AdventHealth, American Heart Association, etc., have been using open-source Drupal CMS.
An Interesting Tale
Streamlining Debt Risk Management For A Popular US-Based Cancer Center

A popular US-based center for cancer research and treatment had an enormous volume of patients visiting each year. Due to the accumulation of money (millions of dollars) in unpaid patient accounts, they were facing an issue of "bad debt". In order to identify the patients with high debt risk beforehand, they wanted a solution that could help them minimize this bad debt by offering an appropriate financial plan. Read how Axelerant leveraged AI/ML techniques and DevOps principles to gather data, train the model, and generate predictions for early risk detection.
Questions To Ask Before Selecting A Healthcare Content Management System
To dig deeper on healthcare content management system, the following questions are to be asked when choosing your next CMS for your Healthcare website:
Is the CMS User-Friendly Enough?
Is the CMS easy to use? Or does it require intense technical knowledge to work? If it's the latter case, then it's better to keep exploring.
As your CMS will be used by individuals (having different experience levels) for writing, editing, and publishing pages, you would prefer to perform these actions quickly. So, it's imperative to ensure that your healthcare content management system comes with an interactive interface and flawless content editor. By doing so, you can effortlessly develop pages, preview features, upload assets, and make amendments without seeking help from IT professionals.
Also, it'd be great if the CMS comes with editing features like spellcheck that help to increase its usability. You should keep an eye on the team's workflow and how smoothy does the CMS allows stakeholders to review as well as approve content. It's good to use a CMS equipped with built-in workflows that can streamline task management.
Does The CMS Protect Patients' Data?
Protecting patients' privacy is of utmost concern while choosing a healthcare CMS for your business. As medical content management needs certain safeguards for ensuring top-notch security, it's essential to check that your CMS is power-packed with:
Workflows that are HIPAA-compliant.
Effective monitoring for third-party invasion.
Specific user permissions that block unaccredited individuals from using your CMS.
Also, in order to have an optimum level of security at your organization, it's advised to get in touch with HIPAA experts. The experts from the IT team, legal authorities, and patient safety can help you acknowledge if a particular CMS resonates with HIPAA standards or not.
Is the CMS Well-Optimized For SEO?
Who doesn't like to be ranked on top in the Google search results? When choosing a content management system for your healthcare company, always look for one that comes with built-in SEO (search engine optimization) that prevents your page from getting buried on page 9 or 10.
You should prefer using a CMS that generates fields for keywords, metadata, as well as title tags. Also, it's important to polish your content in terms of SEO before implementing a new CMS. This helps you to make the most of the SEO-friendly features of your CMS.
Another important aspect that you need to consider is the coding on your website's back-end. If the code is clunky or inefficient, it is likely to impact your search ratings. So, keep that quality in check before choosing your content management system.
Does The CMS Offer Support?
When you start working on a new content management system, you're likely to have certain questions related to its implementation and usage. It's always advised to explore the support solutions that your CMS comes with. This helps in minimizing the burden on your IT team, thereby reducing their frustration levels. You should check if there is dedicated onboarding training, 24/7 support, or any concierge services with it?
Before you switch to a state-of-the-art healthcare content management system, always determine the available support features (and the ones you'll need) in advance to deliver a seamless experience.
Reasons To Choose Drupal For Your Healthcare Content Management System
Let us dig deeper into some of the key reasons why many healthcare websites choose Drupal Development as their healthcare content management system and why should you choose it too.
Content Workflow
Generating relevant content and keeping it up-to-date has been a challenge for healthcare organizations. Due to the involvement of multiple stakeholders, it becomes more difficult to keep a track of the content being created, edited, or published. With Drupal as your healthcare content management system, you get special in-built tools that streamline the processes of authoring, signoffs, as well as publishing. This empowers the content creators to easily work on the CMS without any trouble.
Due to the presence of dedicated tools for revision tracking, WYSIWYG editing, multi-authoring, and multi-stage approvals, Drupal makes it convenient to handle editorial workflows. Moreover, its content workflows involve customizations on the menus, taxonomies, and content types, making it an effective CMS for healthcare customer requirements.
Security
As there's a lot of critical and confidential information involved in a healthcare organization, it is imperative to keep this information secure and free from any privacy violations. Drupal is known for providing optimum security to various types of vulnerabilities and web threats. By using Drupal as your healthcare CMS, it becomes easy to safeguard patient data through a HIPAA-compliant encryption system. This robust platform comes with a dedicated team of experts that are focused on keeping security issues at bay.

In fact, Drupal is equipped with high coding standards and a stringent review coding process, making it a stable open-source healthcare content management system. According to the Web Application Vulnerability Report generated by Acunetix in 2020, Drupal is the most secure open-source CMS available in the market.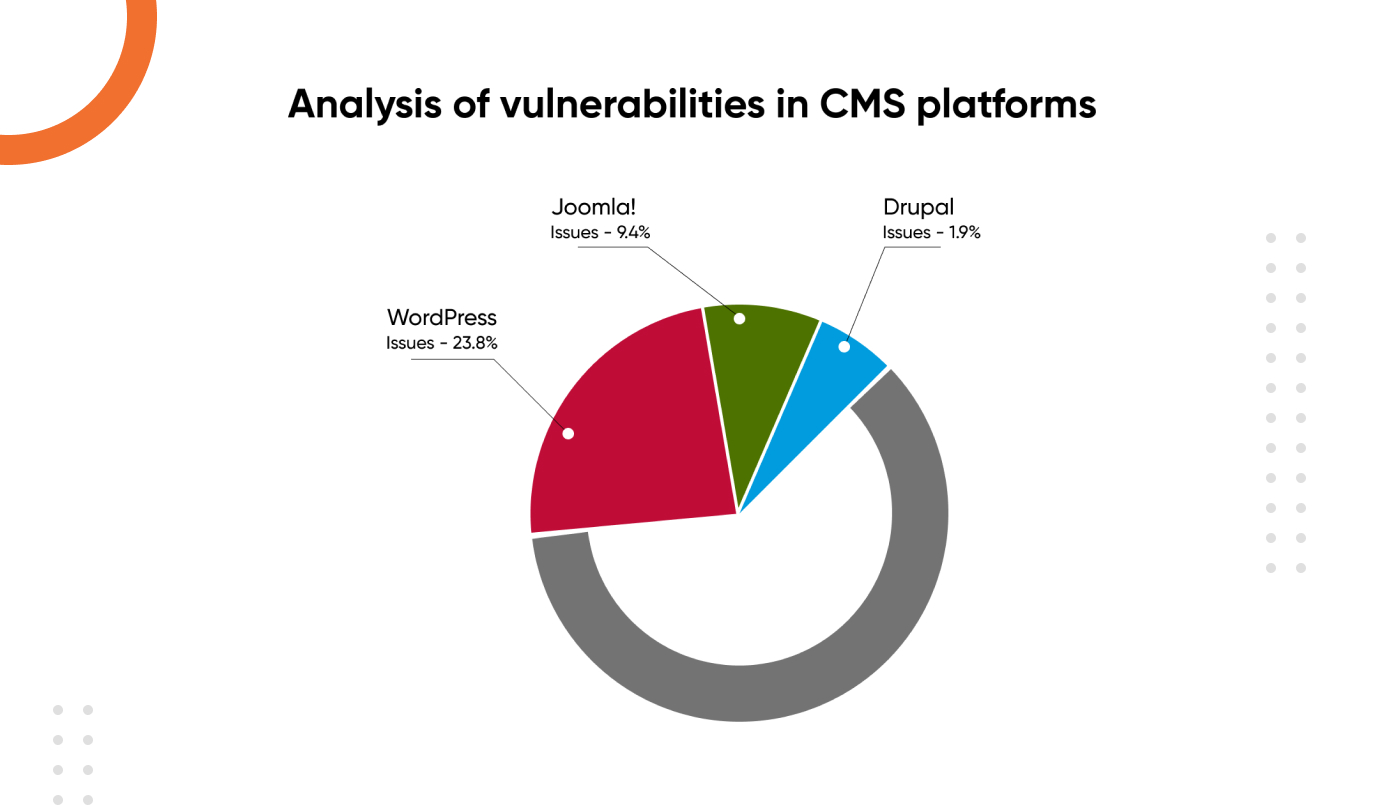 A Short Story
Accelerating the website creation process for a Fortune 200 Life Sciences Company
Having 400+ companies in more than 90 countries with an employee base of 110,000+, this life sciences company provides avant-garde R&D activities for the prevention and treatment of diseases across the world. Due to the varied brands in several geographies, the healthcare company wanted to create a huge number of websites (almost 1500 in number).
As they wanted a powerful multisite platform with an interactive user interface, they planned to harness the power of Drupal and Acquia's products, Site Factory and Site Studio. But the vendor they had been working with was unable to handle the technical aspects of Drupal and the Site factory. Moreover, the life sciences company wanted to significantly minimize launch time, achieve cost savings, and attain successful governance.
Read how Axelerant developed a robust tool to deliver a consistent brand experience and personalized user journeys to the visitors by leveraging the power of the Site Factory and Site Studio.
Scalability and Performance

Want to develop an amazingly fast healthcare website that performs well even during peak traffic? Look no further than Drupal! With the modular architecture of this healthcare content management system, your website is likely to perform extremely well no matter what the stresses are. By leveraging modules for caching, lazy loading, Content Delivery Network (CDN), image compression, CSS optimization, 404 error management, and other site monitoring tools, Drupal makes sure that your website's performance is not compromised.
Multilingual
According to a study, the global healthcare market is expected to reach $11,908.9 billion by 2022. Due to the exponential growth of the healthcare industry across the world, it has become imperative for healthcare companies to develop a platform (website) that can effectively cater to patients in their local languages.
Drupal comes with automated language translation which makes it easy to build customized websites and web applications in various languages. By providing a translation of components such as forms, taxonomies, navigation, and comments, Drupal allows you to reach out to a diverse set of audiences. Also, it acknowledges the language of the patients according to their IP address, browser settings, URL, etc.
Mobile-First Approach
Patients expect an equally alluring experience every time they visit your organization's website on desktop and mobile. According to a study, 52% of individuals use their smartphones to collect healthcare-related information. Drupal plays a pivotal role in building responsive websites and applications that aim at delivering an exceptional patient experience.
By offering design best practices and dedicated tools that let websites reformat to any device size, Drupal ensures that visitors are welcomed with a supreme content experience. This CMS comes with a robust API infrastructure that makes it easy to port a website to a mobile application, thereby allowing users to download the application while accessing the healthcare website.
Decoupled Architecture
The content flexibility offered by Drupal plays a significant role in ensuring a seamless flow between healthcare websites, native applications, and other third-party medical health networks. In order to deliver a static experience, a lot of CMSes prefer to manage the content over the back-end repository and transition it to the front-end further. Drupal is known for supporting decoupled architecture in which Drupal core is used as the backend, whereas the front end does not include Drupal.
With Drupal as the healthcare CMS, content comes in the form of reusable chunks that are presentation-free and are all set to be delivered to websites and applications. By leveraging Drupal's RESTful API as well as neutral content, the front-end developers can effectively develop engaging websites and applications as per their preferences.
Moreover, there are various tools available like Angular, Backbone, Ember, and Node that empower you with a headless architecture for a top-notch marketing environment. With a single Drupal core, you can effortlessly share data with a diverse healthcare system involving websites, applications, kiosks, microsites, etc.
Read more to gain insights into the rel="noopener">Decoupling Drupal approach with the help of Next.js.
Seamless Migration
Are you considering migration of your existing healthcare website to a new CMS? Look no further than Drupal! The migration process in Drupal is easy and convenient. Be it migrating data from other sources into Drupal, Drupal to other sources, or upgrading the versions of Drupal, the Drupal Migration module has got you covered! By leveraging Upgrade Status and the Drupal Module Upgrader, the technical team can seamlessly upgrade to the latest version and develop the healthcare website by themselves.

No matter what CMS your existing medical website runs on, you can migrate the entire data to Drupal and revamp it as per your choice. Read this blog to gain an intrinsic overview of Drupal migration. Also, it's important to select the right Drupal migration strategy to make the most of your healthcare content management system.
Turbocharge Your Website With a Best-in-class Healthcare CMS Platform: Drupal
With ongoing crises like COVID-19, the healthcare sector has been facing various digital paradigm shifts to provide effective patient care. It's high time for healthcare companies to look beyond the immediate challenges and focus more on delivering an improved patient experience.
By using Drupal for your healthcare content management system, you can lay a strong foundation for your business and take your patient experience to an absolutely new level. Want to drive higher ROI, engage your patients, and boost the effectiveness of your healthcare website?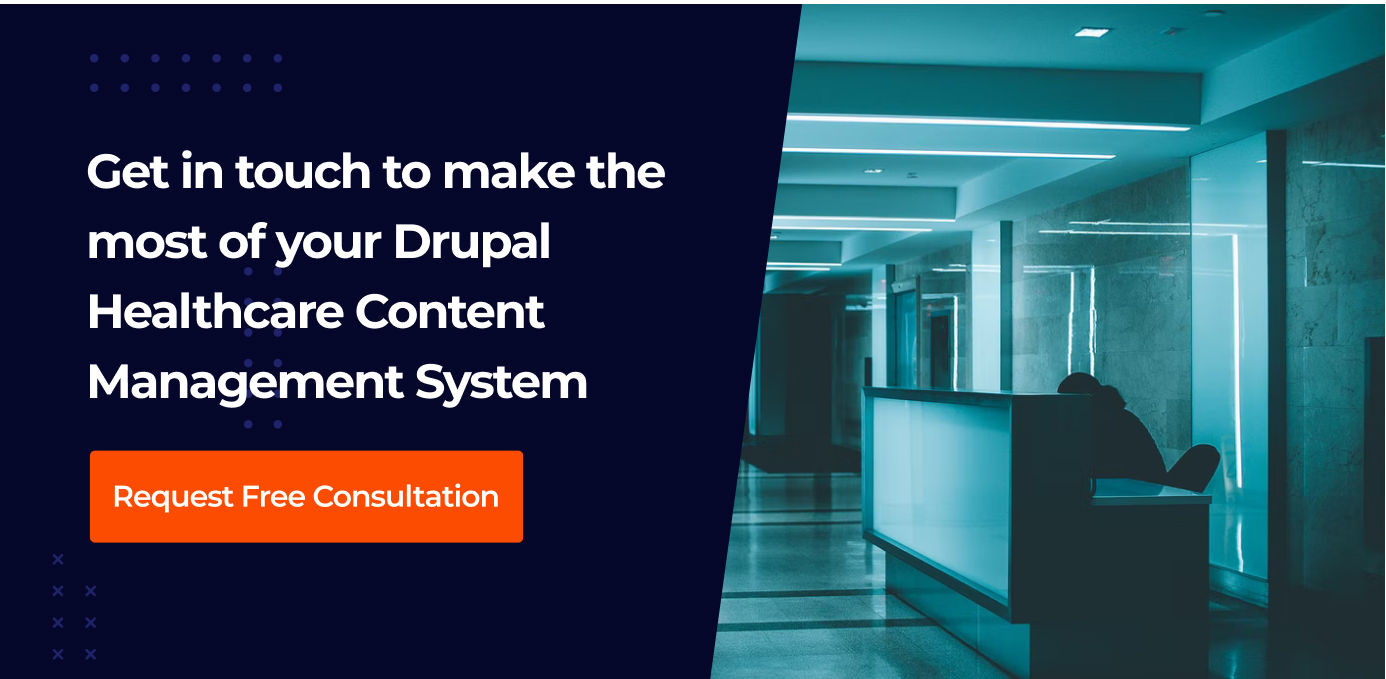 About the Author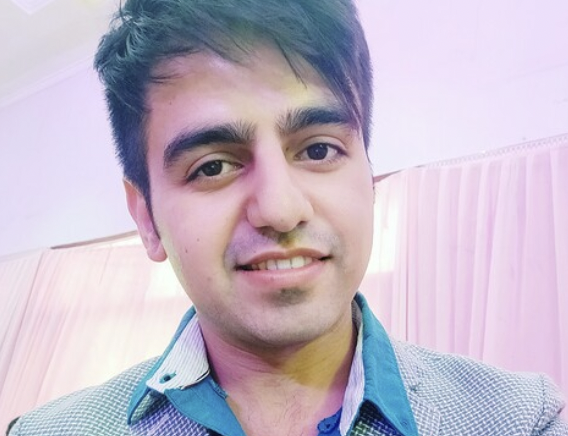 About the Author
Sahaj Sharma, Senior Content Marketer
A shopaholic and big-time foodie, Sahaj explores and enjoys different cuisines, loves to watch movies, travels, and paints. Honesty tops his list of essential values. He works in a routine and appreciates aesthetics and creativity.