Introduction
The realm of Drupal service providers is starting to look more like a red ocean. The tide of competition is rising—for end-clients and for Drupal talent. While this may drive innovation and encourage ultimately better, more ambitious experiences with Drupal, it makes many C-level doers and dreamers question the future.
The Drupal community is vast, constantly evolving, and comprised of a network of smaller networks of businesses and knowledge communities that collaborate with each other. As of 2017, there are 1.3 million users on Drupal.org, and 1.1 million sites running on Drupal.
Drupal as an entity is continuously evolving through experiential learning and collaboration. Staking out and holding your spot in what's become a competitive Drupal marketplace has gotten much more difficult.
Over the course of the last decade, the Drupal agency sphere has been getting saturated. Every agency is vying to grab a slice of the pie, and after a while it seems that the space just isn't big enough for everyone.
What this means for agencies working with Drupal
If you want a bigger piece of the pie, you need to work smarter and be able to stand out in a space brimming with competition. Drupal agencies have to keep looking for new ways to stay relevant, find new ways to move up the value chain, and provide services using newer and more advanced Drupal means and workflow processes.
All of that needs to be done at speed and scale. That's a two-front battle, and one that's not easy to wage alone. Which is why today, outsourcing Drupal development has become a vital way for agencies that want to stay in the game and win.
Despite there having been significant problems with outsourcing route in the past and for very specific reasons. Outsourcing today and why agencies choose it in 2017 is very different.
There's a real challenge in being able to leverage the networks of knowledge within the Drupal community advantageously, and in knowing its scale enough to expand businesses or provide real value to end-clients. Agencies now need to focus on expanding and scaling their knowledge of Drupal for various businesses. With this considered, for agencies struggling to differentiate and gain higher ground, Drupal outsourcing provides a way—one that's mutually benneficial.
Partnering when it benefits three: The Agency, Outsourced Partner, & Drupal
It's worth mentioning that in working with an outsourcing partner, continuous learning, Drupal evangelism, and Drupal community contributions should be natural results of the partnership. These are the things that can help Drupal agencies stay on the cutting edge, and are characteristics of holistic Drupal support and partnership.
The dynamic contributions to Drupal which flow from the right kind of partnership (in the forms of knowledge sharing, commits, and evangelism) are indicators of a healthy, simbiotic relationship. With shared bennefits for muliple parties as a backdrop, more are begining to recognize that forming global partnerships is the new normal.

Today, more people consider outsourcing a viable option, and not just to save costs. There's a growing list of reasons. According to the Deloitte Global Outsourcing Survey 2016: "Value is being achieved through the impact of innovation, ease of relationship management, and improved strategic flexibility, not just cost savings." And this is obviously true for Drupal.


One of the ways in which Drupal outsourcing can prove to be valuable is if your agency creates a framework where projects are passed along to outsourcing partners for general development and deployment, while your agency focuses on what matters: innovation, creative endeavors, growth.
This could be sales, for instance—it could make sense for your agency to have a very small team of Drupal devs in-house, and outsource the heavy lifting while focusing on sales and business development.
Or you could specialize in developing Drupal frameworks for eCommerce while your outsourcing partner uses its team to deploy your framework as finished Drupal Commerce sites for your clients. It can even be the other way around, where a small internal team and a larger outsourced group work on a set of Drupal plugins for creating media websites, leaving your agency free to focus on building valuble relationships with media houses.
There are a lot of ways in which outsourcing Drupal development can help your agency explore and launch new services and gain revenue streams that would not be feasible otherwise. Agencies can focus on their core business, innovation and strategy for growth, while their Drupal outsourcing partner creates efficiencies in development functions, getting projects completed faster. This also can help ensure employee happiness, as they are able to focus on work that they find exciting and valuble with lower stress.


Maintaining a Drupal outsourcing relationship allows you to keep your operations highly flexible. You don't have to worry about the math behind hiring the optimum team that isn't too large or too small, and you don't need to worry about hiring more people and onboarding them when you suddenly bag a major Drupal site-building project.
Outsourcing partners are able to handle staggered demand, and this allows you as a Drupal agency to pay only for what you use. This eliminates the inefficiencies associated with short-term engagements and allows you to regulate your costs more effectively.


The very thought of outsourcing a critical function within your business can make you wonder how to make sure there's accountability that works for and not against you.
There are a lot of different techniques for making sure that your Drupal outsourcing partner is also responsible for making sure Drupal projects you both work on are delivered successfully. For instance, the most basic clause that a lot of outsourcing agreements use extensively is the concept of a penalty if project milestones aren't met.
This penalty is typically monetary in nature; thereby it should be a very clear clause, devoid of anything too ambiguous. If your Drupal outsourcing partner is going to be handling support for your Drupal projects, then it makes a lot of sense to define a Drupal Service Level Agreement (SLA) for all client tickets that are passed on to them—missing the service level leads to a penalty.
This helps create a framework where both your agency and your outsourcing partners are actually partners; at the end of the day, your agency has the assurance that it doesn't carry the entire burden of risk if a project goes wrong in any way.


There will always be cases where you might need Drupal theme developers but you just can't find them in Denver, where you're based. That doesn't mean you have to limit your search to Denver; outsourcing means you can have Drupal theme devs working for you from Kiev, Cairo, Delhi or Kuala Lumpur—whenever.
When you're outsourcing to established outsourcing partners, you get access to a global talent network. You don't have to worry about onboarding new hires or training them on Drupal processes; they've been through complex Drupal projects before, and know how to get things done.
Staffing solutions wise, you can think of augmentees as plug-and-play Drupal specialists; plug them into your team, step back, watch projects get shipped. This is of primary importance when it comes to timelines, since the very act of hiring freelancers can have a bad impact on project deliverables.


Outsourcing doesn't just mean fast, quality deliverables. Drupal outsourcing can also help your own team learn about what's trending in the Drupal community globally. This could be using a new plugin for caching static assets better, or it could be a new framework for evaluating Drupal site vulnerabilities in detail.
Partnering with a Drupal outsourcing agency that is staffed by process experts in a particular field could also give your team members much-needed exposure in that space and help introduce them to the best practice.
The best outsourcing partners will be in a great position to know about what's happening on the very edge of the Drupal industry—they'll be contributors—and they'll have a variety of collaborative partnerships with leaders. There can be a lot of information, experiences, tools and techniques to share in an outsourcing relationship, and that's where Drupal outsourcing can provide lasting value.


According to a global outsourcing survey, 59% companies that outsource see it as a cost-cutting tool. Of course, improving monthly and annual recurring revenue is always a great business goal to work towards, and it can be done without compromising on quality.
In the case of Drupal outsourcing, agencies can leverage lower hourly rates and the follow-the-sun model to develop web platforms at reduced costs. And because you now have access to a larger team of Drupal developers, you can move faster and ship more than if you weren't partnered.
At the same time, an outsourced team means your administrative overhead is reduced; you don't have to worry about office space, HR operations, healthcare benefits—the must-do's saddled with when managing a team. Nothing defines success like the ability to earn more at a faster rate than your competition.
You'll be seeing more of this
With Drupal outsourcing, agencies will be leveraging various partnership aspects to beat the competition and stay ahead. In today's Drupal marketplace, and so many others, it's proving to be a reliable path. Drupal agencies and firms of all sizes are looking for new ways to fund, execute, and expand the tomorrow's opportunities, while handling the needs of today. All of this has made global partnerships the new normal. And like globalization in economics, it's here to stay.
About the Author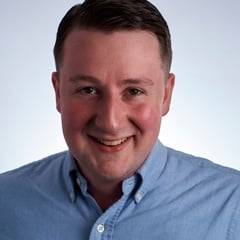 About the Author
Nathan Roach, Director of Marketing
Germany-based consumer of old world wine and the written word. Offline you can find him spending time with his wife and daughter at festivities in the Rhineland.