Introduction
Being gently corrected in using the word employees in writing is one of my earliest memories of working as a content marketer at Axelerant.
The person correcting me was our then People Operations Manager, Parth Gohil
"We say 'team members,' not 'employees,'" they said—pointing out to me the implicit hypocrisy of claiming to be a people-oriented company while referring to individuals by a term that invokes only their contractual obligation to the company, and nothing else. We unintentionally ignored all of the blood, sweat, and tears they pour into Axelerant's purpose, or how each person is constantly stretching themselves in new directions personally and professionally.
On the other end of the line, I blinked and nodded slowly in agreement, realizing both how essential vocabulary is in establishing and determining shared attitudes, as well as how seriously Axelerant defines and adheres to its beliefs.
Since then, I've experienced many instances of people being respectfully challenged when using the word "resource" when referring to an individual. "Our people are not resources" is a mantra of junior, senior, and leadership team members alike. And something we pass onto clients too.
This stance may seem a small thing on the surface, yet it matters deeply towards establishing the organization's culture.
As a remote team, one of the questions we're asked most often is: "But how does it all work, and how do you manage a remote team so effectively?"
How to Manage a Remote Team?
Years back, most people were amazed that we worked remotely and worked this way for over eight years. Yet, still, the question is asked. Our very relevant response boils down to trust-based relationships through open communication, effective systems that support our processes, and the ongoing evolution of our technology stack.
And we need all of that, for we rely on each aspect every day.
Yet, other vital parameters help us hold it altogether outside of the above areas and tools. We have listed them in the form of some essential tips on managing a remote team effectively.
1. Accommodate For Personal Effectiveness
One of the essential tips to manage a remote team is understanding that people are not machines to be used and then discarded as needed.
The assembly line model worked when the manufacturing industry dominated the economy. Yet, it doesn't work in the modern knowledge economy because people respond with creative solutions to challenging problems rather than repeating activities.
There are so many variables involved in completing any single task for the average knowledge worker that measuring productivity is constantly evolving and increasingly complex. A generic set of Key Performance Indicators (KPI) doesn't suffice for today's multi-faceted teams.
We can begin, though, by recognizing that each person in any team has a unique set of needs, wants, motivations and challenges. And that the most effective workplace is one that best accommodates all of these different facets instead of forcing rigid standards or ignoring them altogether.
Everything we do at Axelerant—our communication, initiatives, systems, and vocabulary—is driven by this central understanding of accommodation for personal effectiveness.
2. Encourage Decision-Making Backed By Company's Values
Blanket accommodation towards empowering people will fail. Therefore, we guide our decisions based on a simple checklist of acting in Axelerant's best interest, aligned with our principles and values.
And our decisions get ever greater because we make time to hear people out and work together to find the most appropriate choice for the moment and reasonable time ahead. In turn, these actions build a phenomenal amount of trust between people at every level of the organization.
Therefore, people can own their choices through supportive peer vetting. Such is demonstrated by our people being creatively engaged in making impactful changes, where each person shares knowledge freely and genuinely enjoys the conversations that broaden our horizons.
Because of our consistent decision-making methodology, we've evolved our processes and structures into systems that greatly support where we are today. And, as we'll never be done improving, today's foundation is the base of tomorrow's ever-greater workplace.
Day-To-Day Operations
3. Use Consistent Channels For Timely And Open Communication
Upfront, we speak and write in English to ensure the broadest possible dissemination and understanding of what's shared. When non-English conversations or media exist, submitters do their best to provide translations.
Then, through our Communication guide, we suggest which systems to converse through depending upon the message's context and intent.
Much of the time, asynchronous Slack messaging is the suitable location. And, over the years, we've set up our Slack to be well-organized and efficient, with documented best practices around communicating via Slack.
For projects, communication is handled through the relevant Jira project entities. So that information has minimal distribution spread, and auditing is possible—more on project work below.
When asynchronous notes get wrapped up, deeper discussions should happen, hosting an interview, or team meetings are scheduled, we'll get on a Zoom call. We use Zoom video calls to get closer to one another to confirm the clarity of a decision and its next steps or just hang out and have fun.

Email-wise that tends to be with people outside of Axelerant. Moving forward, though, we've begun bringing external people into our Slack instance for direct conversations.
The essential tip for managing a remote team is consistent channel use and effectively dividing topics for better communication, eventually, productivity.
4. Make An Effective And Efficient Use Of Multiple Collaborative Tools
Our project and corporate initiative team members get work done while following Scrum methodology and using multiple tools, with Slack frequently acting as the information center.
All projects exist in Jira, with relevant changes and updates kept there. We track utilization-based information like time via Tempo. And Confluence provides project stakeholders with accessible, long-term reference materials.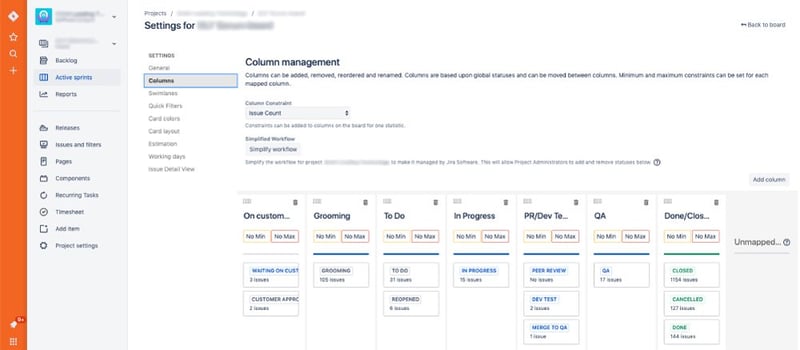 Behind the scenes, automation between Slack and Jira provides a minimal noise, near-real-time update to team members, which helps keep teams aligned with desired project progress. Further, Slack-based project channels offer project stakeholders tie-ins to GitLab, Jenkins, stand-up enablers, and other helpful resources.
Going even further, we make consistent efforts to bring customer recognition back to project teams through Net Promoter Score (NPS) data. All customer feedback, good or bad, is shared unfiltered with our team within Slack.
Soon, we'll be acquiring and sharing customer satisfaction and effort scores too. Lastly, team member KPIs include an NPS component.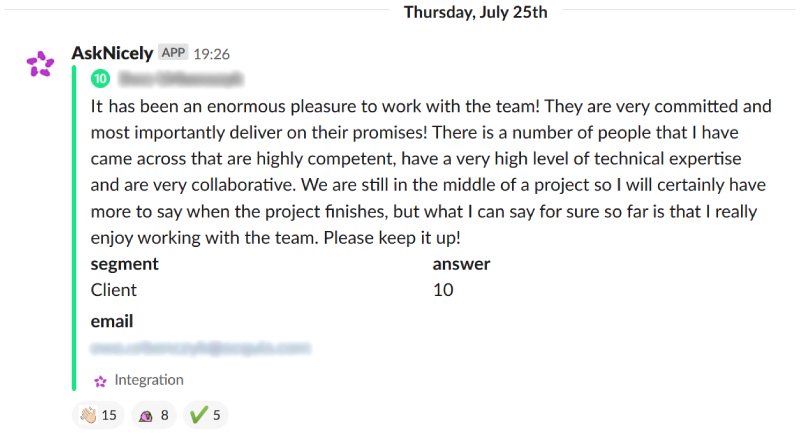 5. Provide Your People The Opportunities To Learn And Grow
We understand the importance of providing our team members with proper training and growth opportunities. That's why, apart from having a clearly defined career ladder for each individual, we offer multiple avenues to keep them advancing in their careers.
Key Performance Indicators (KPIs) plus Objectives and Key Results (OKRs) keep us all in alignment and define directions along which our team members can grow. We've also established a peer mentorship system through which team members can seek and offer mentoring on technical and soft skills like leadership, project management, and more.
We also sponsor certifications and training programs for our team members and offer a continuing education allowance to get access to books, courses, and other materials to help them advance in their careers.
We conduct regular webinars and show and tell sessions showcasing what teams and individuals have been working on in recent weeks. These gatherings help others to also benefit from the experience they've gained.
Apart from that, we have performance coaches on our team who are available to help individuals resolve any personal situations that come up, besides typical workplace challenges.
Further, we encourage team members to participate in the community and share at local and international events. We sponsor attendance and travel for those whose sessions are selected for presentation at industry events.
6. Make Sure Your Team Is Highly Engaged And Connected
In a distributed team environment, it can be easy for individuals to feel invisible if team members do not actively recognize the great work they do. We use 7Geese's (Now Paycor) recognition feature to make sure that we acknowledge our team members' effort and support.
Over 4,500 recognitions for last year alone have demonstrated that speaking well publicly of our people makes a positive difference in their contributions. For us, we align recognitions with core values: Enthusiasm, Kindness, and Openness.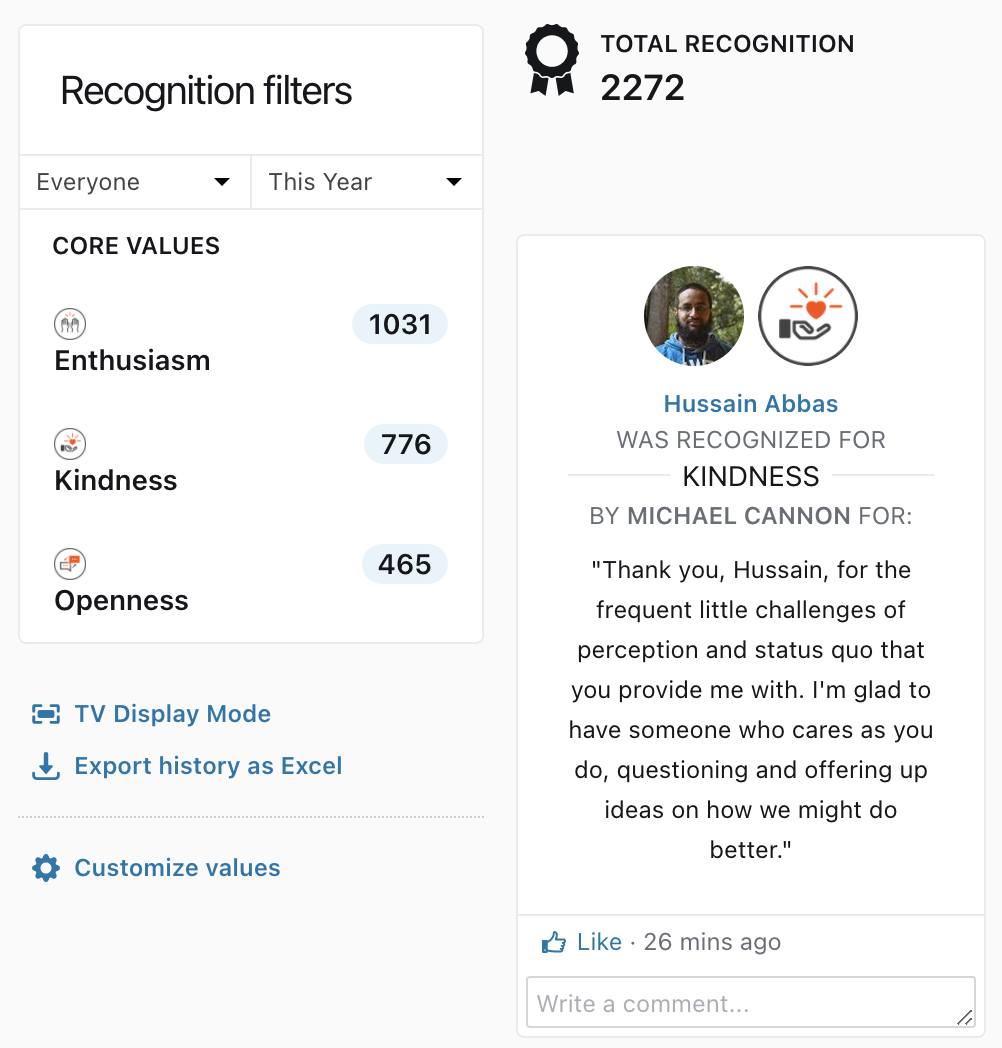 Slack isn't just something we use to communicate about work—it also helps us replicate certain spontaneous activities found at co-located workplaces. For example, team calendar integrations help keep us all in the loop about team members' birthdays and work anniversaries.

Having a lot of dedicated channels on different topics also helps keep the conversation going. While #general is our channel for watercooler conversations, we also have #humor and many #guild- channels.
Like #guild-cafe-literati, #guild-music, #guild-pets, etc., people can converse on different topics of their interest and share resources, trivia, experiences, and make new friends.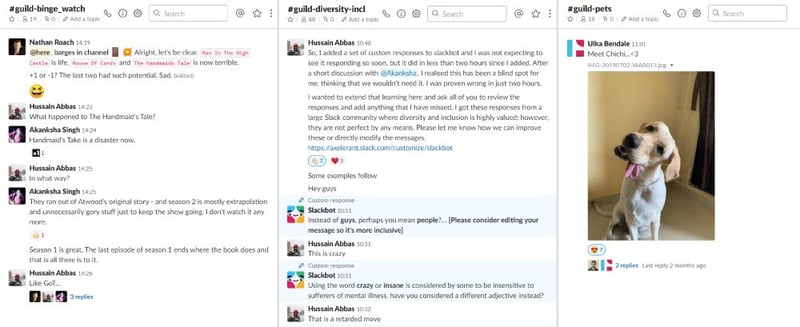 We've integrated Donut, a Slack bot that pairs random team members every week to get them together for a virtual donut and coffee break.

And we have a monthly Happy Hour on the last Friday of each month, where the whole team gets together to chat on other fun and exciting topics, conduct polls, give each other awards, and relax together as a team.

We also sponsor monthly meetups for our team members in different cities, hold quarterly town halls to keep everyone updated on how we're doing as a team, and bring everyone together for our annual retreat in Goa, India.
Though with the pandemic, it's been more video lunches and online retreats.

7. Support Team Members By Offering Benefits That Matter
For us, flexible work hours mean that our team members can effectively take care of other aspects of their lives and their work. Team members also get 35 days of leave per year and allowances for maternity and paternity leave.

Axelerant sponsors purchase primary and secondary computing devices plus home office equipment so that our team members can set up a work environment that's best suited to their needs. We also offer a monthly coworking allowance for those who work best in an office environment.
Further, Continuing Education and Training Allowances help people gain access to certifications and become more capable. Lastly, medical insurance for family plus health and wellness allowances help people to be the best-defined fit.
8. Use Online Tools To Stay On Top Of Administrative Tasks and Feedback Collection
To manage our remote teams' administrative tasks, we leverage Zoho People coupled with multiple-countries payroll platforms. For leave and attendance management, we look to Timetastic.
Since we believe in getting ahead of problems before they significantly impact people's happiness, we use Officevibe to better people's positive and negative experiences at Axelerant.
Officevibe sends out a weekly survey to all team members via Slack, asking them randomized questions along various dimensions, like personal growth, satisfaction, wellness, etc.
The information provided lets our coaching and engagement teams know which of our demographics are doing well and face problems that need attention. We monitor these metrics monthly and keep them at the heart of our People Management interactions.
Besides collecting data points, people can anonymously or knowingly share suggestions and feedback for consideration, response, and leadership.
The Kind Of People We Hire Is Important
Most of the tips above deal with tools, which facilitate work. Yet, their effectiveness is dependent upon the quality of the people using them. Therefore, for a distributed team like ours to consistently perform impactful work, everyone must be mature, coachable, communicative, and collaborative.
That's why our values guide our culture, practices, and systems. And our hiring process makes a special effort to identity aligned, high-potential people that would be highly effective as remote workers.
We Do Our Best, And We Trust Our Team Members To Do Their Best Too
We're not like the companies that let you work remotely and then monitor everything you do, micro-manage your day-to-day, or check that you're at your desk every hour for the next nine hours.
Instead, believe that people are intrinsically motivated to succeed.
Therefore, we will converse and decide together what's expected, then trust that you'll get it done. Unobtrusively, we'll validate those efforts and provide coaching to help you meet the goals we've established cooperatively. This way, you get to become more successful day-to-day.
And the results, as we're finding, are beyond anything we could've imagined.

About the Author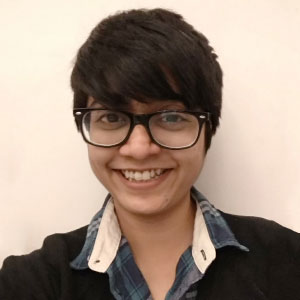 About the Author
Madhura Birdi, Axelerant Alumni