Introduction
Rejection is as much a part of life as breathing. It's a great equalizer that binds the world's emperors with everyday people.
Yes, it sucks. The feeling of getting rejected doesn't mix well with our self-pride and confidence.
But a big, fat "No" to what we want can be a real eye-opener.
It can teach us a lot; the greatest of all is how to shrug off negative feelings associated with rejection and get back on the proverbial horse.
I Was Afraid Of Losing My Independence
My personal life had started on a good note in 2021. But professionally I had hit rock bottom. I wasn't getting paid and was clueless as to whether I would ever get what I was owed; lost in a rabbit hole of stress and fear.
I desperately started applying for jobs on LinkedIn, at least 10 a day.
I enlisted some of my friends on the job hunt too—referrals, openings, classified ads—no stones were left unturned. However, much of what I did turned out to be futile attempts.
When The Pandemic Hit
A few months before, everything was going smoothly. I still hadn't known what a strain on one's financial security felt like.

But as the Covid-19 pandemic spread, I found myself among many who had lost their jobs or were about to lose it.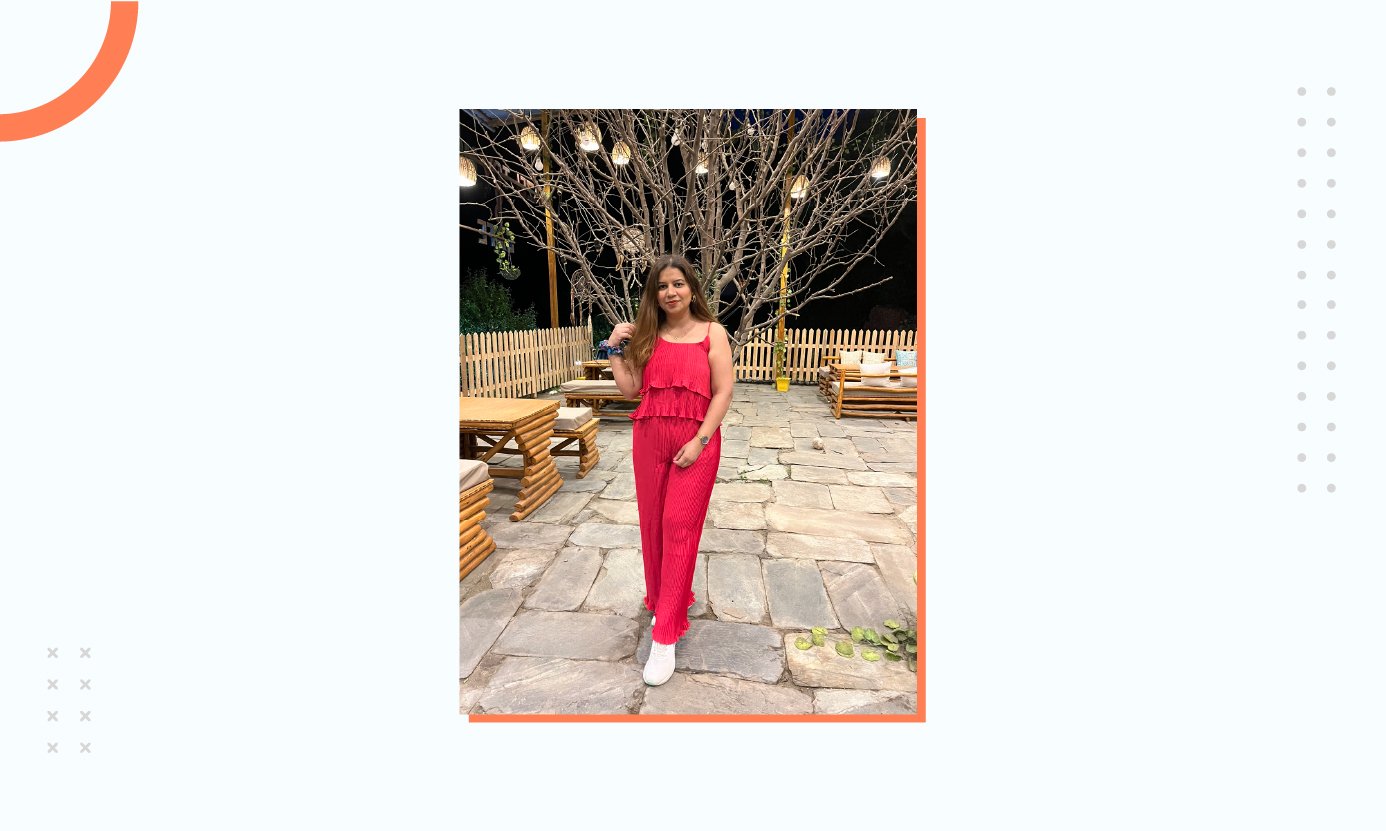 The company where I worked went on a slump and many people—including me—were not getting paid for four months.

I knew I had to move on when I didn't receive any compensation for six months.

The situation forced people to stay indoors. I couldn't step out but needed the money. That's when I first got this idea of looking for a remote job.

I wasn't looking for anything in particular—organizational culture, benefits, and work flexibility were nowhere near my preference list.

I wanted an escape to a place where I needn't worry about getting paid on time and putting my family's health at risk by going out at the height of the pandemic.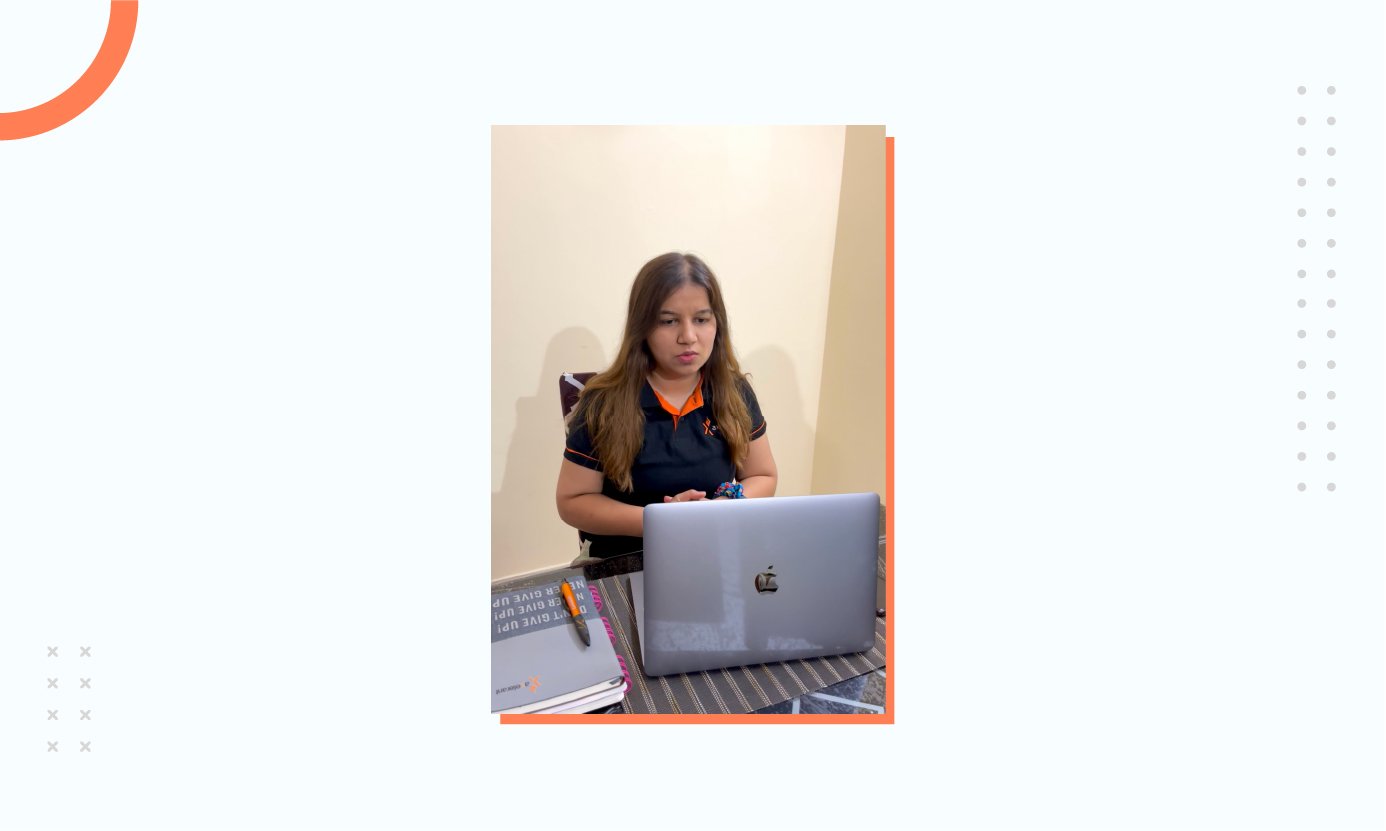 There Were Less Jobs And Even Lesser Hope
I knew that change would be difficult, but had no idea just how difficult it would be.

By then months had passed since I started looking for a job, and things at work had become tense.

Replies to my job applications were far and few, and most of them offered unrealistic compensations that would barely cover daily travel costs.
People were getting laid off left and right. The lucky few had their take home pays slashed by half or more.
Everything seemed bleak, as if the world as I knew it started falling apart.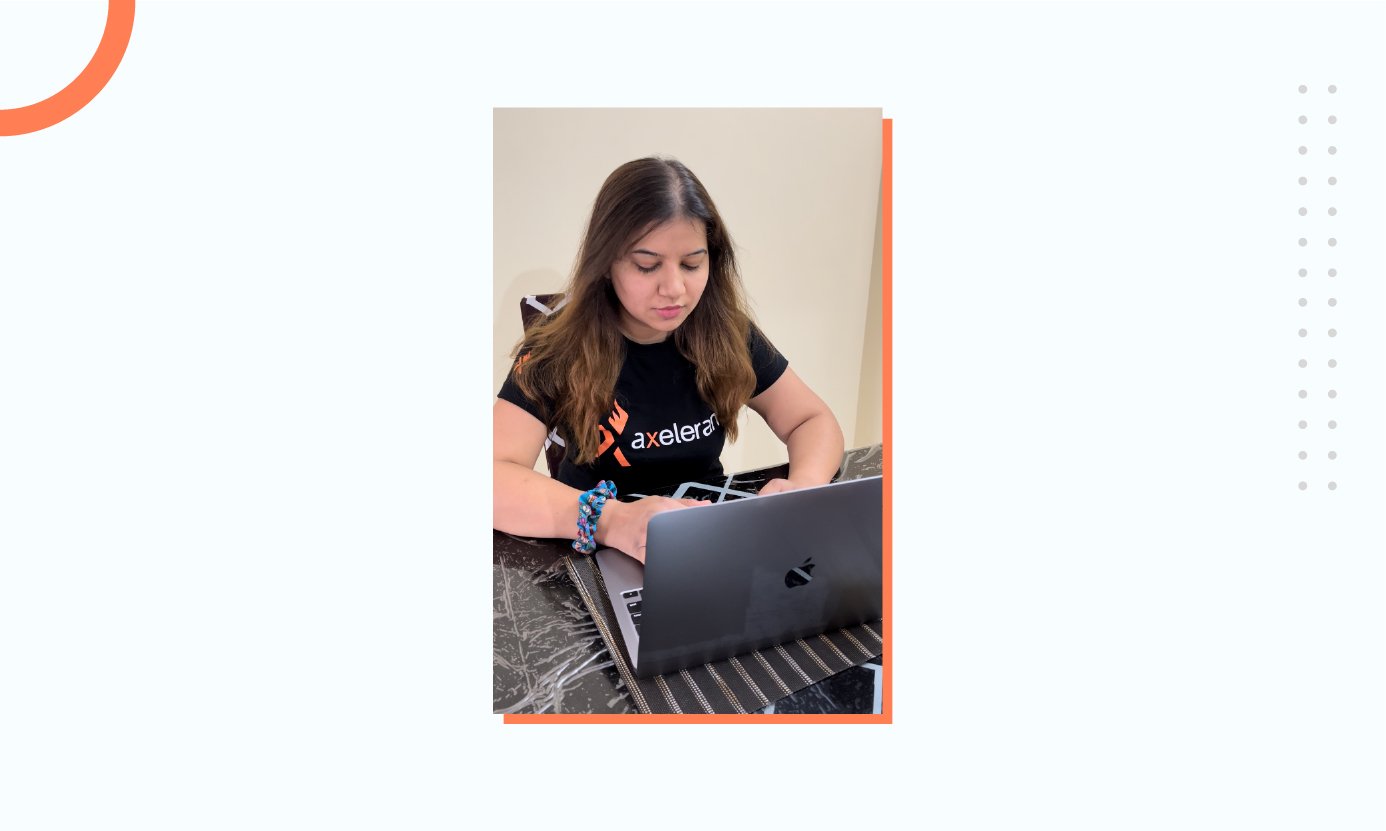 Then I Got A Response
After a grueling 10 hour shift, as I scrolled through my Instagram feed— trying to trick my brain into releasing some much needed endorphins—I got an email from Axelerant.

My optimism level was practically depleted to zero.

I was expecting another email that started with "I regret to inform you."

But surprisingly, it was a call for an interview.

It almost seemed unbelievable to me that somebody wished to expand their team. By then I'd realized that most companies weren't too swell on hiring.

I was intrigued, if not for anything but the simple fact that they were hiring, and nobody started the conversation talking about decreasing the expected compensation.
For A Job Interview At Axelerant
I was selected.
From the contents of the mail I realized that it was only the first step to a thorough and engaging interview process.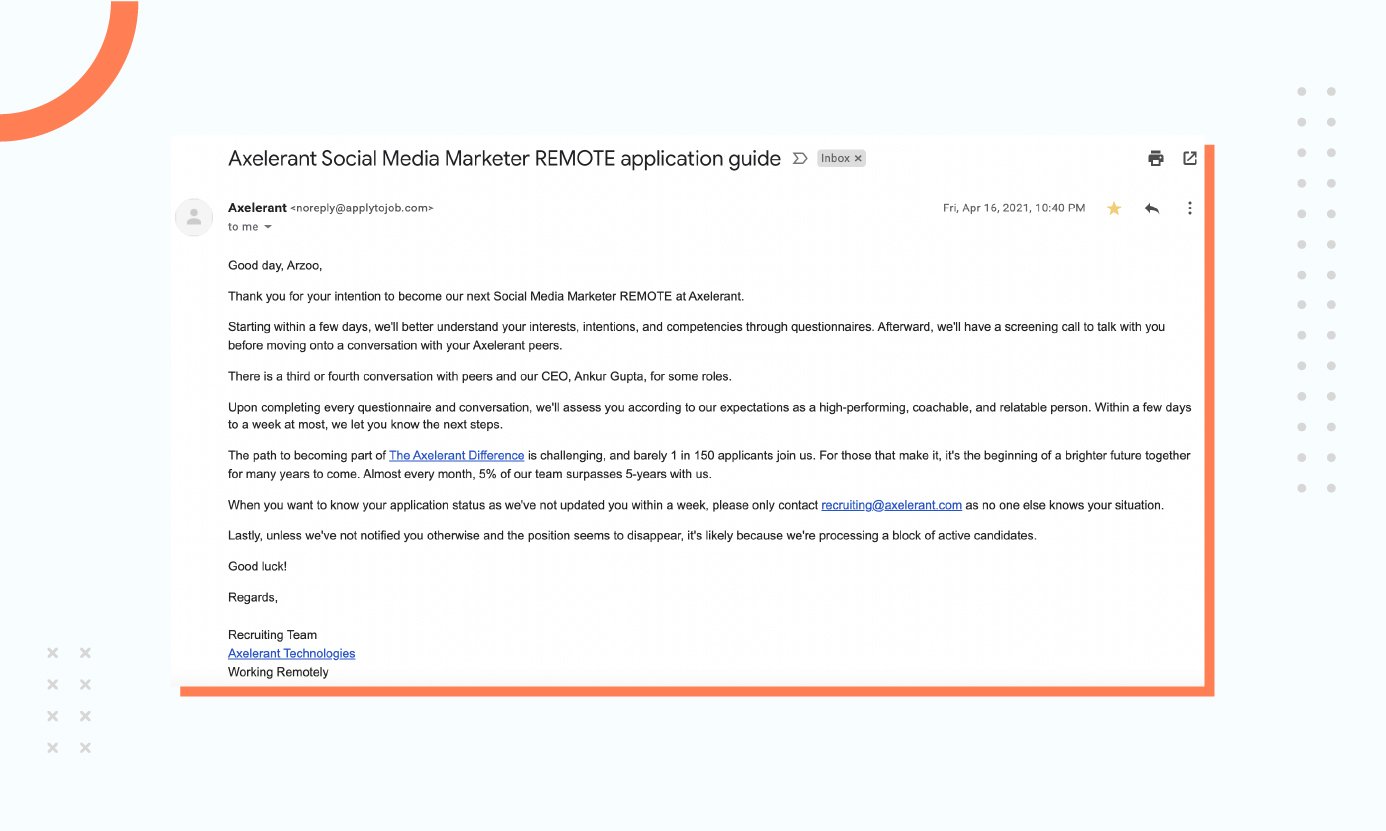 The more I read about the company's culture, the more unreal it felt.
The first question that popped in my mind was: "Did they really care about their people this much?"
The Axelerant benefits page did a pretty good job of mitigating all my doubts.
Why would an organization go through the trouble of providing such thoughtful benefits to its people if they didn't care?
I Was Really Pumped Up


The whole thing got me really pumped up about the opportunity. It was like an oasis — too good to be true!
And it kept getting better when I saw another email that read: Congratulations! You've been shortlisted.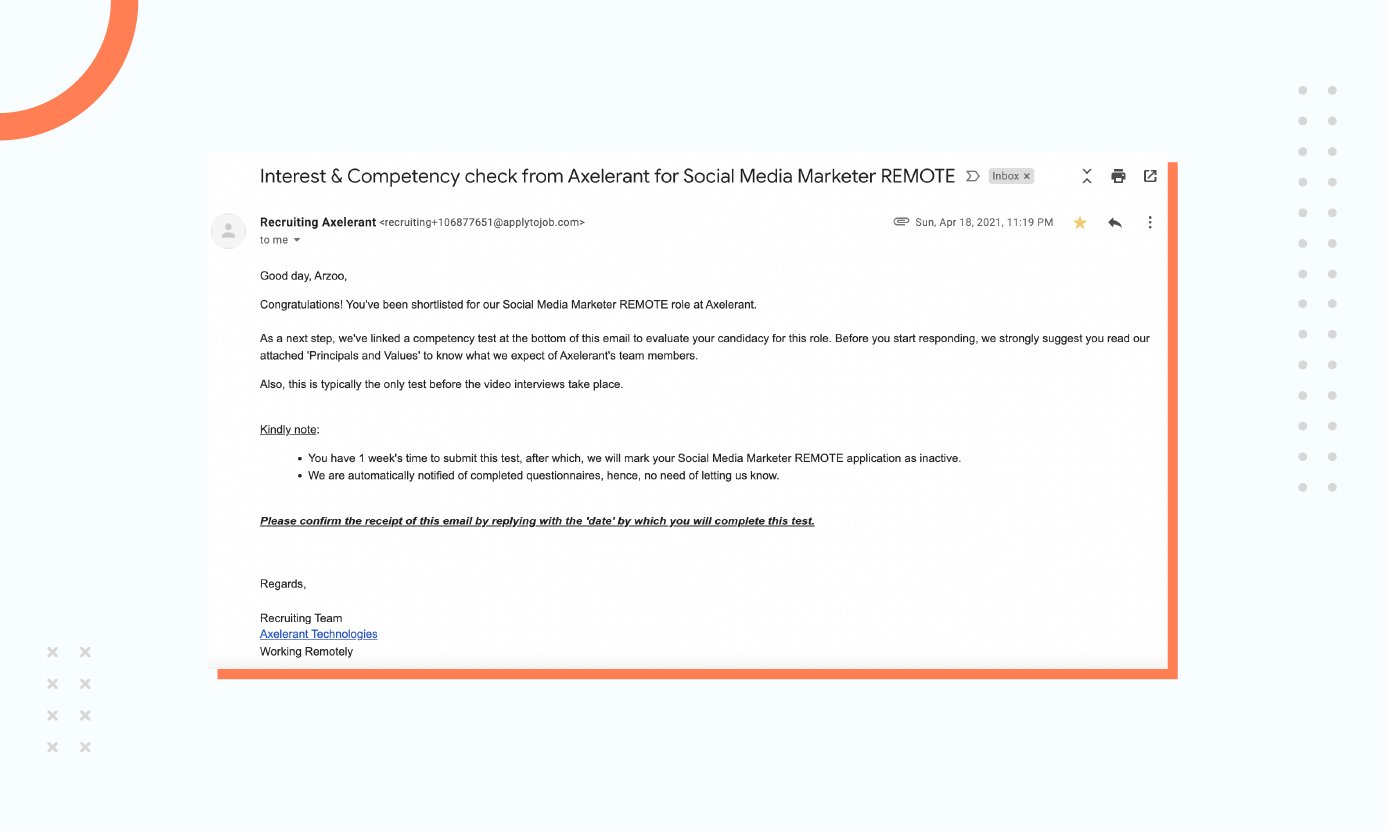 By then I was certain that I wanted this job. There was something more to it than being a great career opportunity.
I wanted to be a part of this culture where people are seen and accepted as people, not mere resources.
I didn't tell anyone about the interview to avoid jinxing it (that's how badly I wanted to join the organization).
I filled out a form the very same day I got the mail even though it had to be submitted within a week.
After hours of staring at the screen and wrestling with the thought of how my answers would portray me to the person reading it, I decided it best to be authentic.
To Meet The Team
Here's what my interview schedule looked like:

First, I was to have a culture fit interview. If accepted, I would then have a peer conversation with the people who would be my team members upon getting the job.
But First Came The Culture Fit Interview
The culture fit interview was unlike anything I had ever experienced while applying for a job.

I learned that culture always comes first at Axelerant. That's why this conversation comes before skills evaluation.

I was anxious because I didn't know what I was supposed to say. Everyone has a way of life. How do I know if I align with what they are looking for?

After meeting Akhil Nair, Axelerant Recruitment Operations Specialist, I realized that he was a kind and fun person. He was genuinely interested in knowing me: my interests, hobbies, beliefs.

Pretty soon, we were discussing the latest BTS songs and my love for K-pop. I couldn't believe after the interview that that's something we actually discussed during the call.
It felt good to be open and authentic in a job interview.
Two days later, I was scheduled for the peer conversation.
Then I Finally Met The Team, And It Was Awesome
Sharayu Thakare, Marketing Program Lead, reached out to me on LinkedIn when I embarked on this journey.
We had brief conversations from the start. She always made me feel welcomed.
After getting confirmation for the peer conversation, I reached out to her with all sorts of questions, and she patiently endured them.
Of course, I didn't know then that she was going to be the one taking the interview along with Axelerant Marketing Director, Nathan Roach.
The peer conversation went on for over an hour.
Both of them wanted to know more about the person "Arzoo" than just "Arzoo—the social media marketer."
I walked out of the interview feeling good.
I Wanted To Know The Result, ASAP
If there were any doubts about joining the company, they disappeared completely after the peer conversation.
I fell in love with everything: the culture, the work, their attitude towards candidates, the people, and the team dynamics.
I wanted to be a part of Axelerant, and it felt like it was only a matter of days before my wish would come true.
Every passing day I grew more impatient for the verdict. I reached out to Sharayu more times than I probably should have.
After a week had passed, I started losing hope, and began looking for other options.
And The Verdict Was Out: I Didn't Get The Job
Nobody wants to get rejected. Anyone who's ever gotten rejected would attest to the fact that it stinks.
When I got the email, somehow I already knew what it would say. But you still got to open it, right? What if…I was somehow presuming the opposite?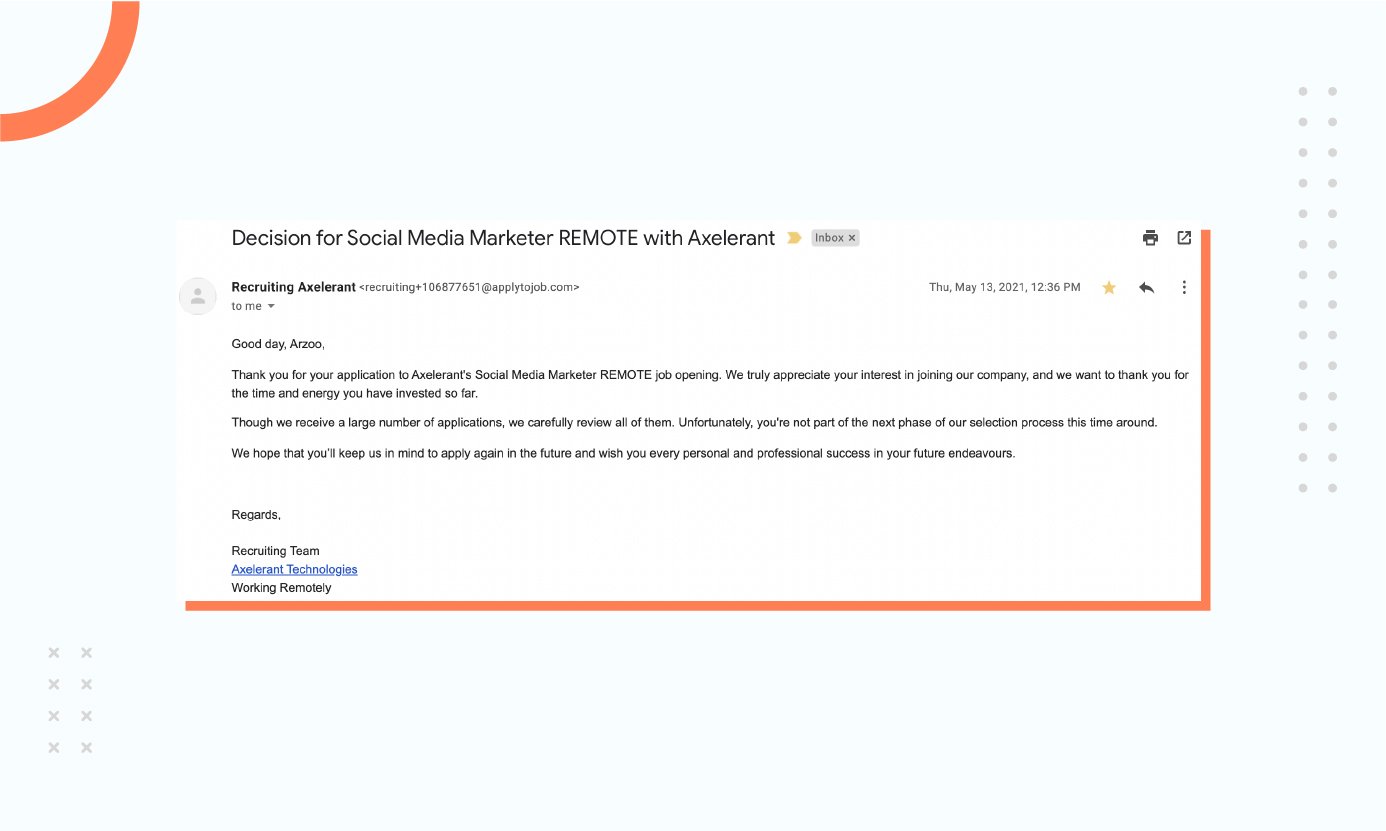 But I wasn't off the mark. I didn't get the job.
My heart sank. All the excitement and the enthusiasm drained out.
But I put up a brave face, or at least tried to. Because that's what you do when life knocks you down.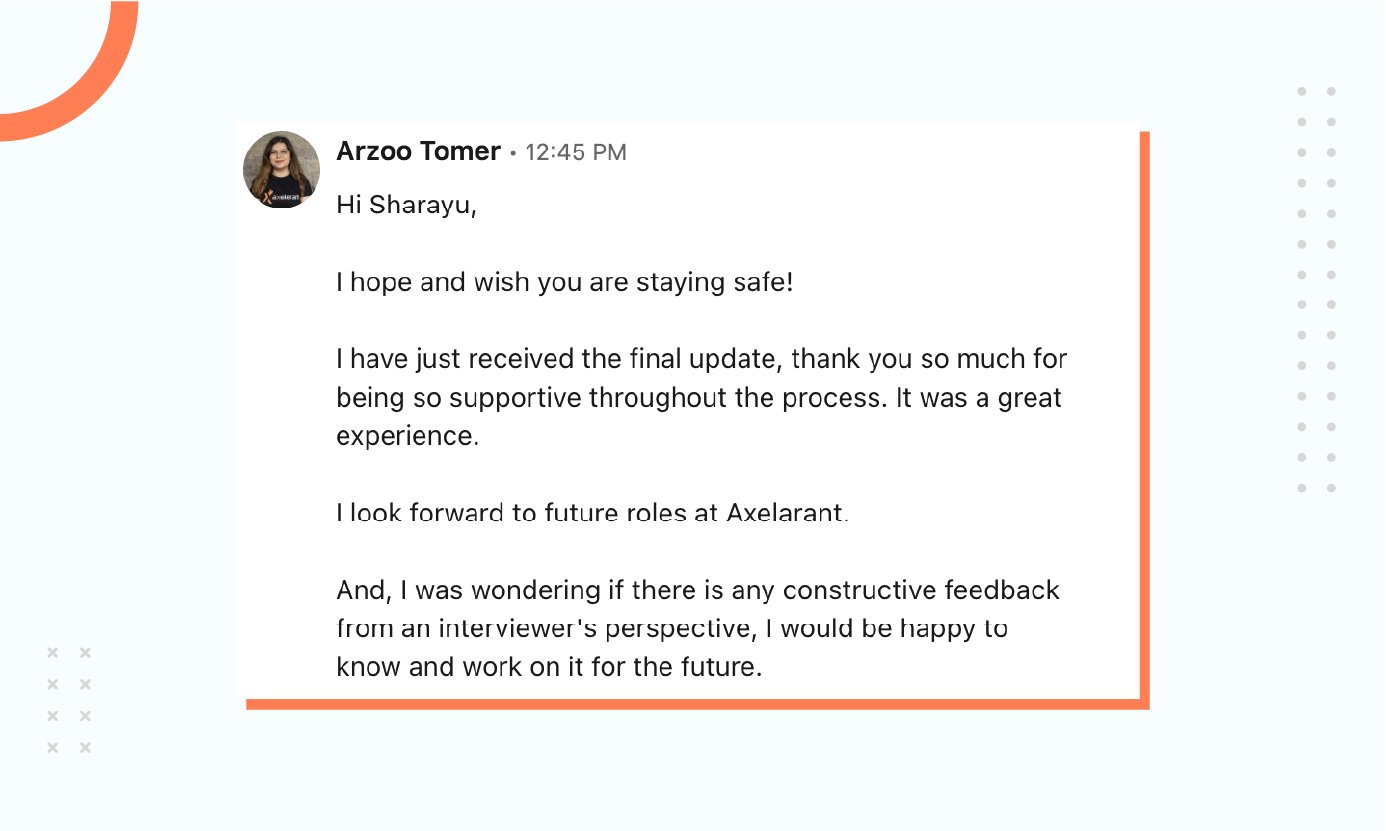 But My Heart Was Stuck In This Place
In life, most often than not, you don't get what you desire. Even when you know that what you're asking is fair and good for you.
I had to accept that I didn't get the job, and I had to move on. At least, that's what I tried to do.
I took a job at another organization. But frankly, my heart was stuck at this place. It may seem odd now, but I had my reasons.


Firstly, they saw and treated me as a person throughout the interview. I wasn't just a resource.
Skills are important, but being a good human with a strong value system is even more important. And the people here understood that.
Every single time I reached out for help or clarifications, everyone was supportive and helpful.
I was in love with the culture and core values at Axelerant.
Their work focused on quality rather than quantity and there was real scope of growth.
They had got remote work right with every necessary system in place. Everyone knew what to do and what to expect.

That meant no calling at odd hours to figure out who kept which files where.
I felt like a failure for blowing my chance.
But I also had this other thought that I couldn't get out of my head: Would they give me another chance?
And I Decided To Give It Another Shot

"Everyone deserves a second chance. Why not me?" I thought. I was prepared to work for it.
I summoned all my courage and jotted down a couple of steps that I thought would be helpful in reaching my objective.
The first step would be asking for a second chance. If the answer was to be no, so be it. It wasn't going to kill me, was it?
Here's how I went about it.
By Connecting With Team Members
First, I had to express my willingness for a second chance. And that's what I did.
I messaged Sharayu to check whether I could reapply.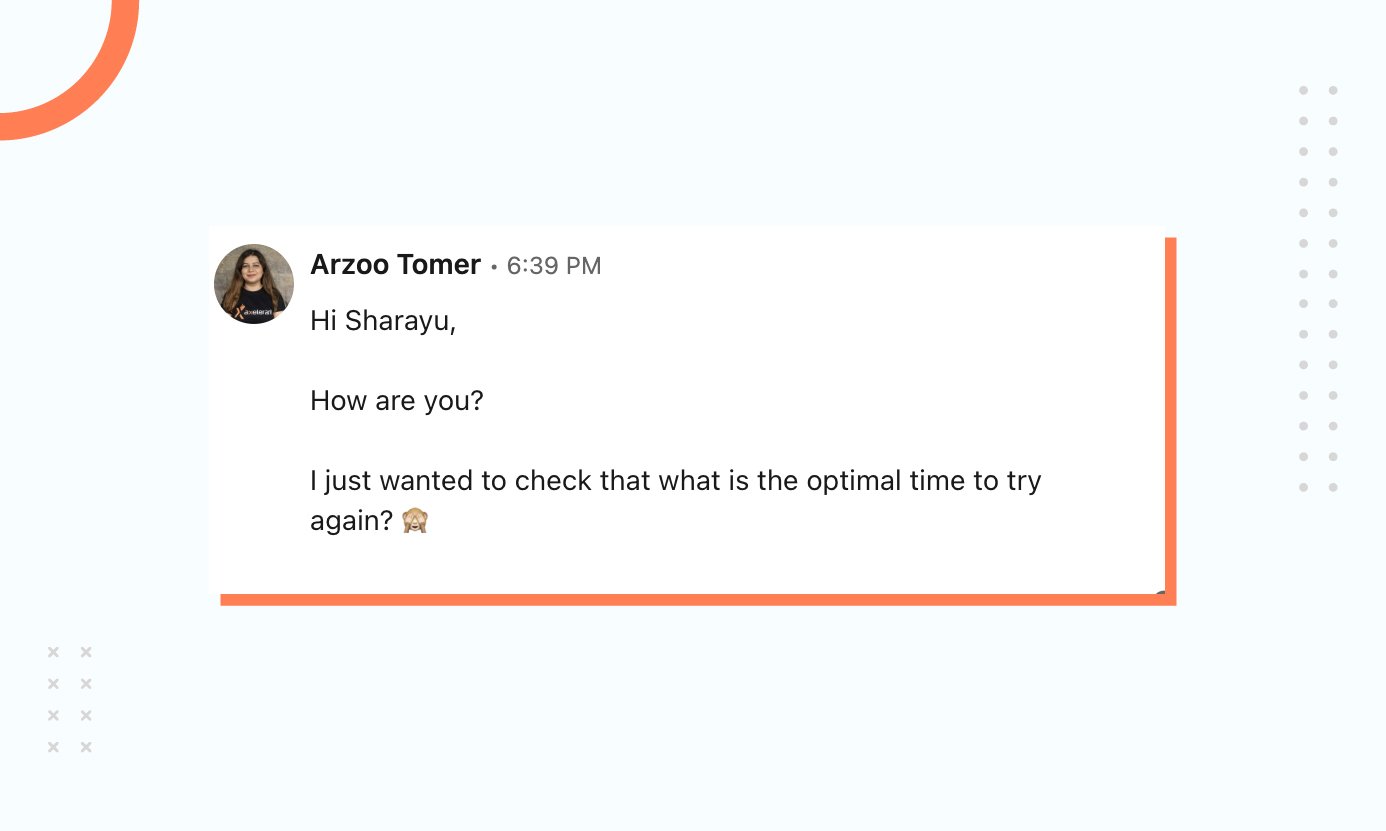 And to Akhil, as well.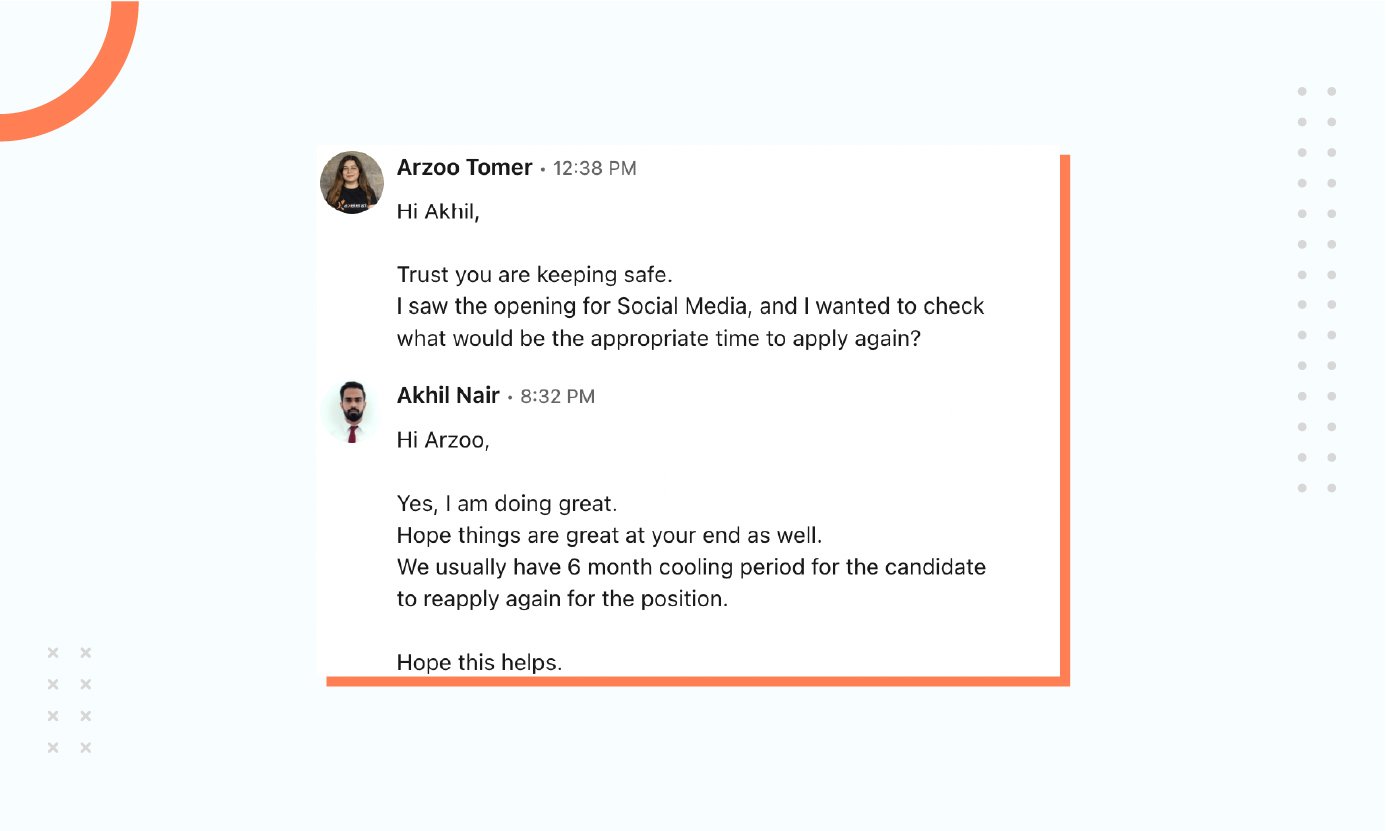 I found that Axelerant certainly believes in second chances. But one needs to wait at least six months before reapplying for a position.
And I was ready to wait it out.
I also connected with Pranjali Dobhal, Axelerant Social Media Marketer. I wanted to know the people I could be working with a little better. She was always kind to me, and we soon became friends.
By Deciding To Upskill
I noticed that Axelerant emphasizes growth. They have a whole benefit to sponsor education for their people.
So I decided to upskill myself. Take up new courses and certifications, expand my knowledge and become a better version of the person that they had interviewed before.
I wasn't going to leave anything up to chance this time.
Plus, this was a great way to build up confidence on your abilities and what you can bring to the table.
By Keeping A Close Tab On Open Positions
I kept myself abreast of any developments that may prove helpful during the interview.
I started following Axelerant on social media, especially their LinkedIn page for job openings.
It gave me a sense of being connected to the people and I was fully aware of the type of work they were doing.
And My Efforts Paid Off
When I first started this discussion of wanting a second chance, I was a little embarrassed of myself.
My confidence was low and I wasn't sure if I were doing the right thing. But in the end, my efforts did pay off.
Well before six months had elapsed after my interview, they needed a social media marketer.
And guess who was on top of their mind for the position?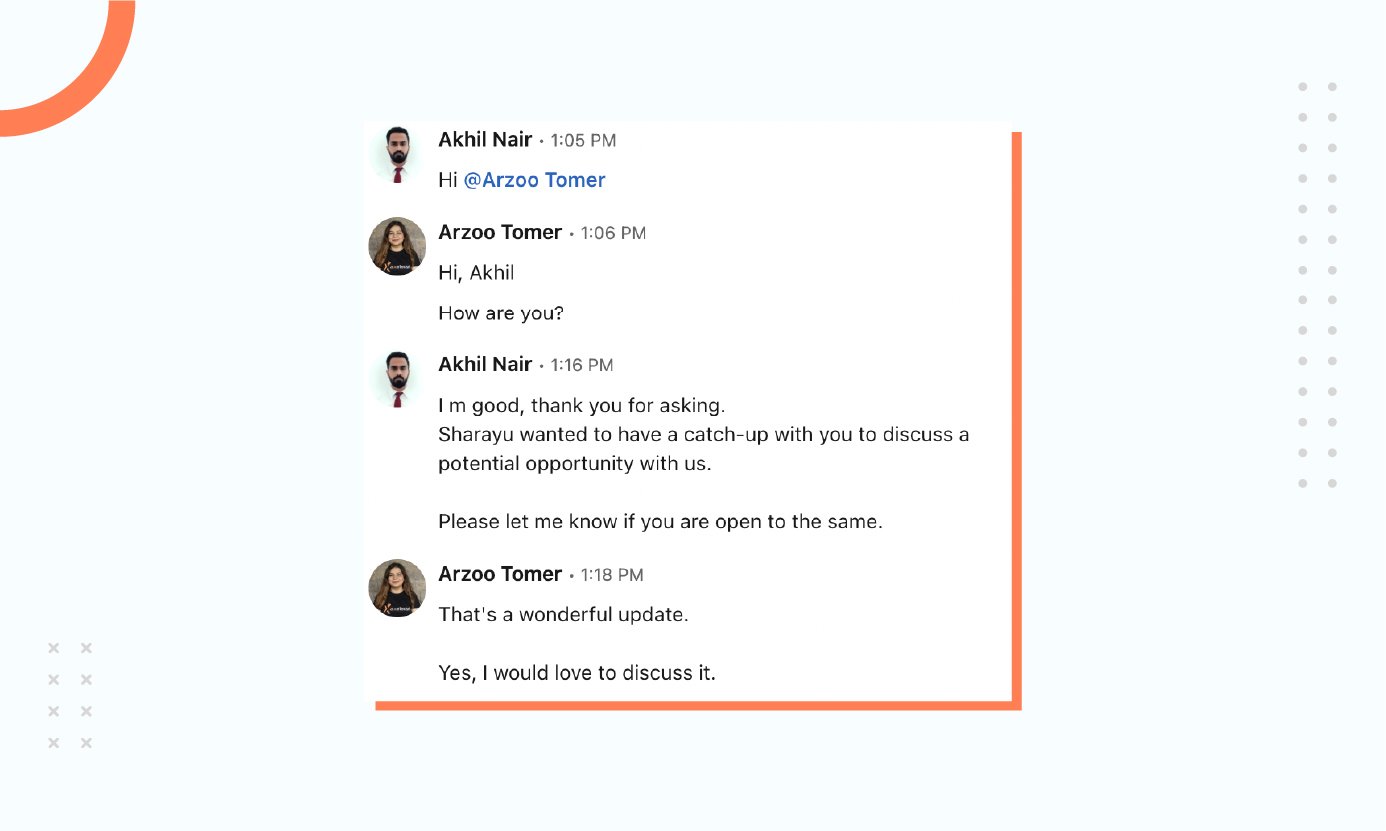 I was beyond excited, and not only for bagging the interview.
I proved to myself that consistent efforts at something can bring desired results. You just have to stay at it. You just have to stick it out.
But something was different this time—I didn't put my heart and soul into the result of the interview.
It was a learning experience and I saw it as such. Preparing for the interview taught me a lot about self growth, patience, consistency, and the importance of networking.
Even if I didn't get the job, I would still come out on the other side of the interview with valuable lessons.
I Finally Got Another Shot
Sharayu got on a call with me and we discussed mutual expectations. I no longer felt self-conscious about talking to her.
The interview was scheduled.
I was still a little intimidated by Nathan though. We hadn't got many chances to connect after the last interview.
But after a few minutes of conversation, I realized that he was as sweet and calm as the first time we met.
I thought little about what the "right" answers would be in the meeting.
I prioritized authenticity over being likeable.
It probably was the best thing to do because the interview went much better than the first time.
Post interview, my mind started racing and I found myself getting anxious again. But I reminded myself that whatever the outcome might be, I gave my best and that's all anyone can do.
And I Crushed It!
A few days after the interview I received an email with the heading:
"Congratulations, you have been selected as the Social Media Marketer."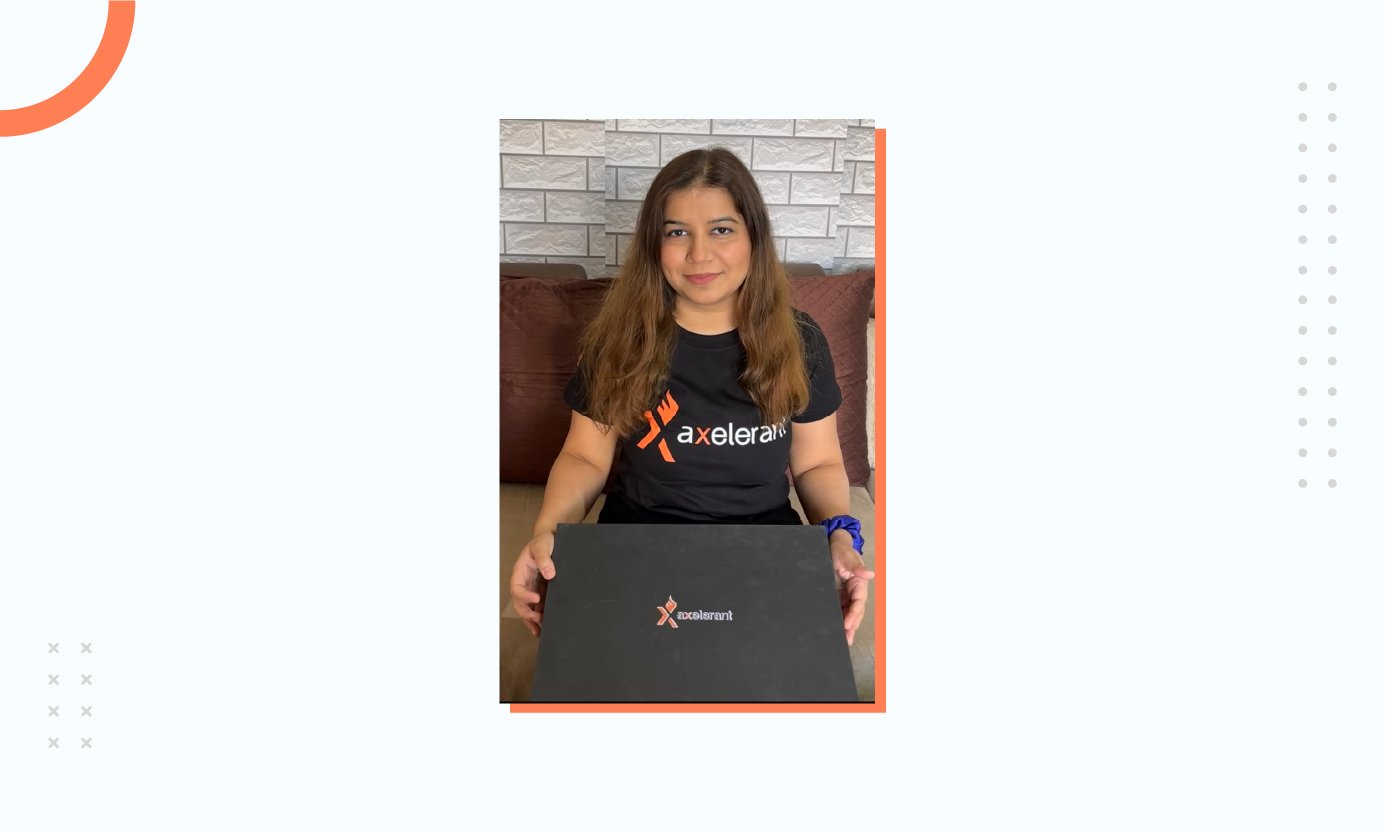 That was one of the proudest moments of my life. I did not give up even as everything prompted me to do otherwise.
That was many months ago. I am now a part of an awesome team.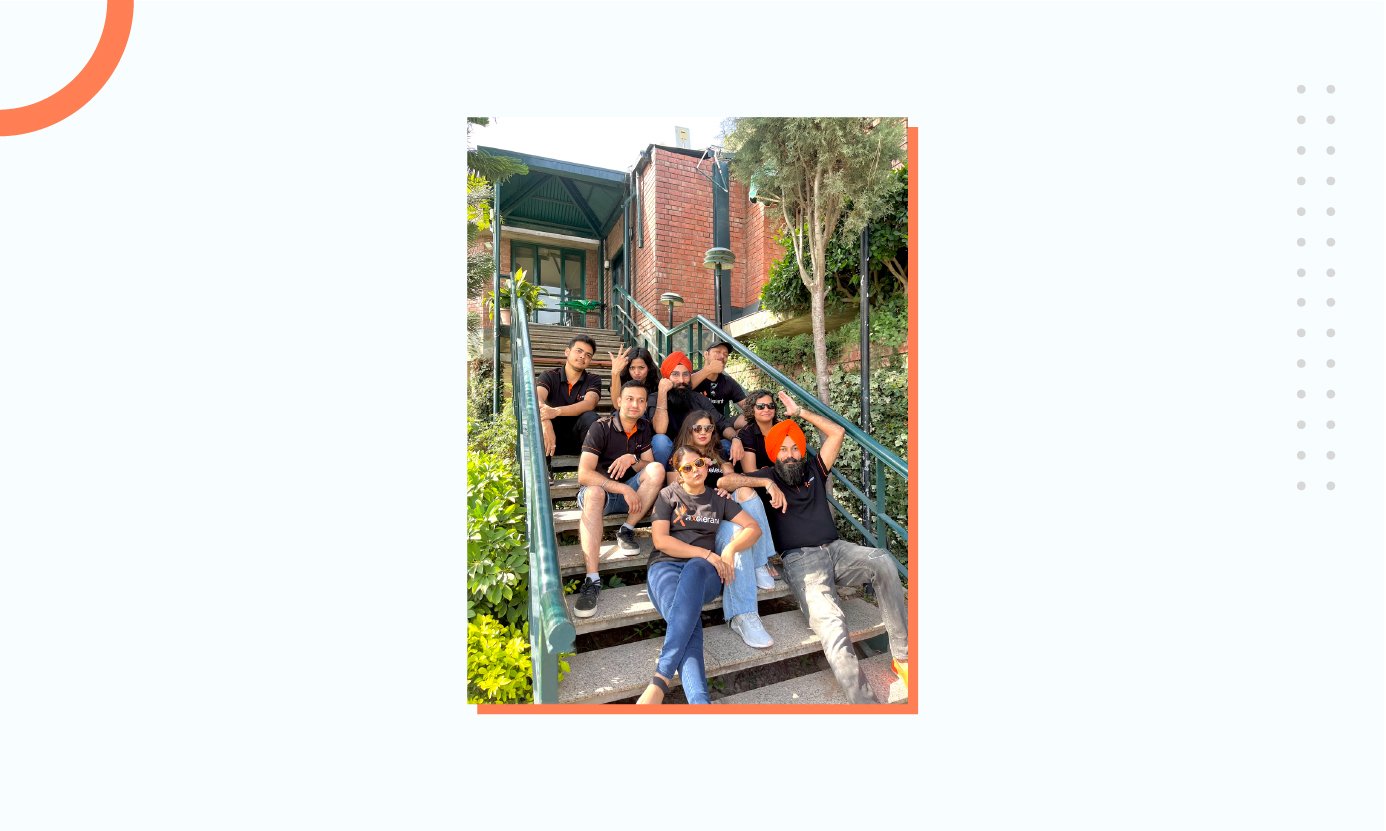 I can wholeheartedly say that what you read on our website and social media about Axelerant's culture—what I wanted it to be for so long—is true.
You know how I'm so sure?
Because along with our ever-growing team, I live the core Axelerant values every day.
About the Author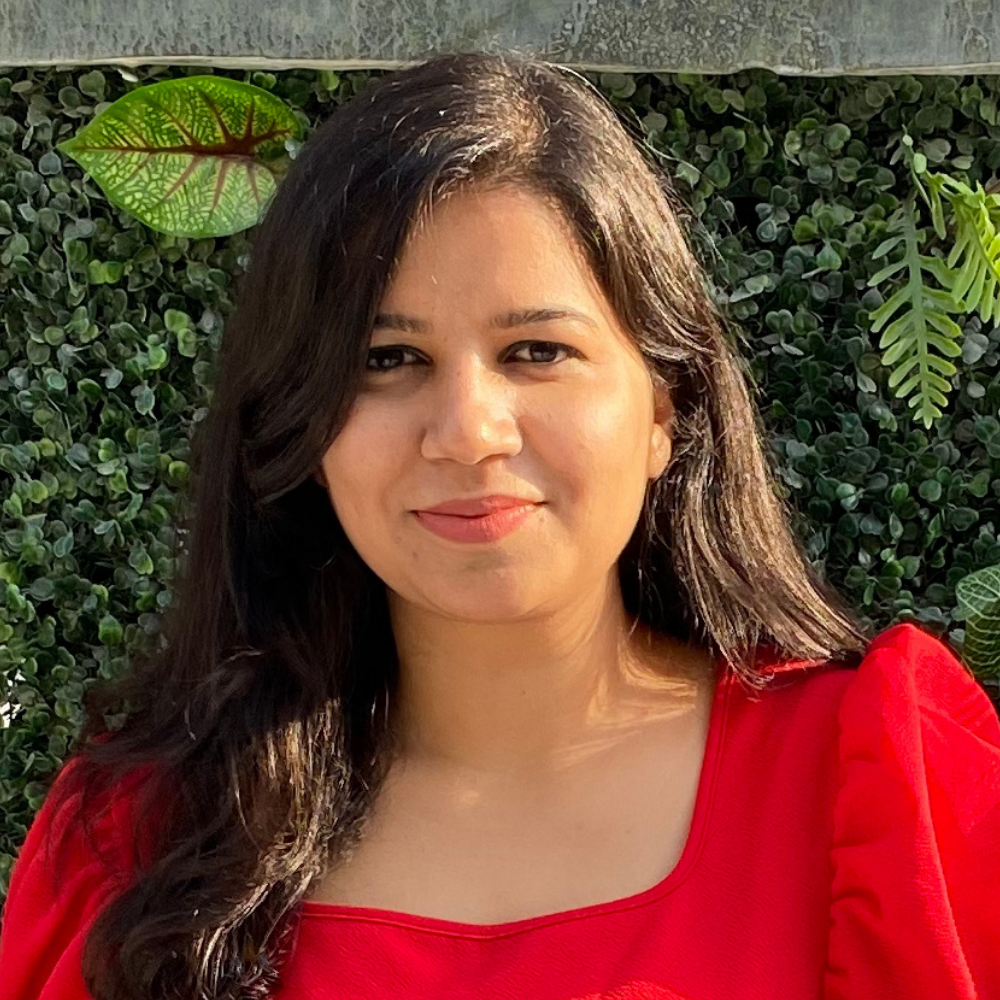 About the Author
Arzoo Tomer
Arzoo is fluent in memes, K-dramas, and all things BTS. She likes to explore new interest areas, travel, and create Instagram reels. True to herself, she always gives her 100% and is open to creative experiments.