Introduction
MANY FOLKS, DIFFERENT BACKGROUNDS, ONE COMMON MEDIUM TO CONNECT
We're proud of our remote culture at Axelerant and especially our multicultural communication challenges, for these differences force us to act towards Axelerant's betterment.
With 160+ team members spread across 10+ countries, it's barely a surprise that we can cumulatively speak over 30 languages.

Some of the languages spoken by our team:
English
Hindi
Marathi
Telugu
French
Urdu
Japanese

German
Dutch
Bengali
Tamil
Kannada
Malayalam
Dogri
Punjabi
Kashmiri
Chinese
Arabic
Amharic
Gujarati
Marwari
Spanish
Malwani
Korean
Murbadi
Khandeshi
However, we've come to recognize that while most of our people are multilingual, our individual language capabilities don't consistently overlap.
Though we believe in language diversity in the workplace; however, to prevent confusion and provide focus, we've decided to use the English language as our principle for guidelines and happenings.
Getting to English as a common medium wasn't an easy path. We had to consciously do it while recognizing people's contributions to Axelerant's success, ensuring they felt heard.
Leading us to find that a common tongue helps us make diversity's contributions possible.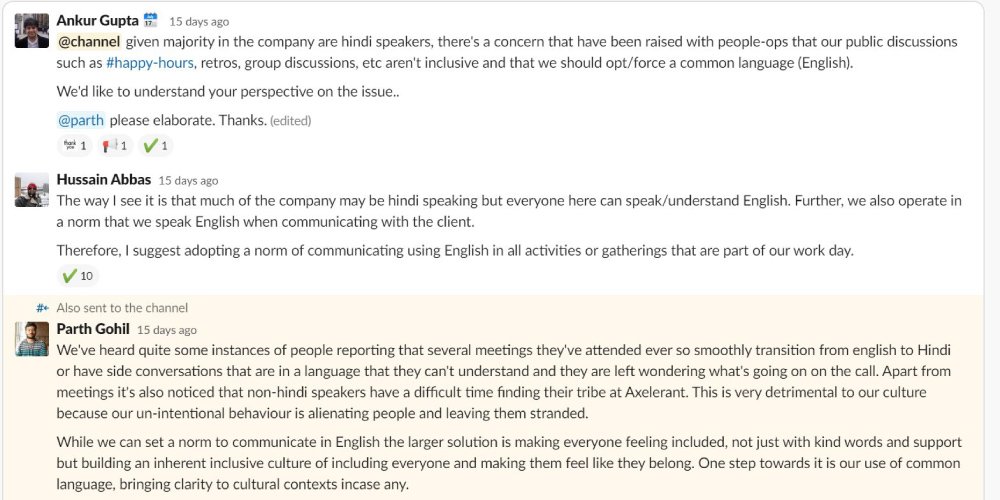 Benefits of Language Diversity In Workplace
1. Understanding Peers
Human relationships are at the core of everything we do at Axelerant. Therefore, understanding one another through a consistent language while providing cultural and social connectivity is imperative. Because just having a common language alone doesn't help us when British humour and American humor collide.
Our common language basis means we might adjust the pacing of our speech, give more time for responses, and most importantly, ask for clarification.
Ultimately, all team members must approach communication respectfully because we don't know when our assumptions will hinder getting to know each other or what we desire to accomplish.
2. understanding Customers
Client relationships are a kind of human relationship. This means that the approach we take internally is readily applicable to those outside of Axelerant. Further, we recognize that we are paying greater attention to what people are saying by deliberately being conscious about how we use language in our conversations.
This attention provides insight into customers' attitudes, culture, and perceptions, ensuring our people can closely assist them. When time is taken to listen and ponder what's said by those around us, we're able to be sensitive to their needs and approach.
3. Innovation
Just as a common language basis helps us better understand whom we interact with, it challenges us to perform better. Because we're slowing down to genuinely ensure we get what's desired, we can host discussions around ways to make such possible instead of taking the usual approach or what's commonly thought best.
So while everyone speaking English might not seem like challenging the status quo, making efforts to provide a common ground is. And through those efforts, per McKinsey & Company research, make positive changes a third more likely because an everyday basis enables a diverse workforce to "foster ideas and innovation, and that same innovation then drives success."
4. Recruitment
Axelerant's team members are from across at least ten countries. Only one of which has English as the national language. So instead of having full complement local or regional teams, a common language basis enables us to hire across the globe. This lets us focus on what's important to us - accountable, capable, and coachable people who work well with others.
And, as we stretch for people worldwide, our public and private communication channels reflect the desired behaviors we want. As such, people are more likely to respond to us because they find alignment and support by our purpose and intentions.
Lastly, using a common language basis, our minimum for people's expectations is readily determined throughout the organization. Leading to people adding to our culture than detracting.
Managing Language Diversity In Workplace
While we consciously hire people who communicate well enough in English and could make English-only a requirement, it's not a good decision for Axelerant. Because people aren't always comfortable with expressing themselves in that language.
Therefore, we've raised guidelines that use it when another language is appropriate, with the caveat that translations are suitably available.
And it's not just in spoken conversations. Our #humour channel has Gujarati videos and Chinese jokes accompanied by quick English translations to increase their accessibility to our people.
So by allowing other languages to exist, we're also providing cultural context for team members to learn more about each other.
Don't Impose Any Language
Respecting language diversity in the workplace, we understand that forcing a singular language at Axelerant is felt to be disrespectful for our people's backgrounds.
More importantly, just because we hire well enough English communicators, that doesn't mean it's the language in which they are most comfortable, confident, or eloquent.
Mandating that everyone speaks a single language doesn't solve the human relationship issue. It just feels like it because the problem becomes more spread out.
Wrapping Up
At the end of the day, the onus is on us to make an effort to understand each other—not just by speaking in a common language but also by being aware of other people's strengths and constraints.
We love the diversity of our people's communication abilities and sincerely respect that we do our best to listen and understand one another at work. And we recognize the challenges of a common language emphasis when dealing with so many backgrounds in knowing when it's okay to go native.

And that comes down to us living our value of kindness. It's not about what language we speak. It's about being kind to the other person.
Mridulla Harshvardhan, Director of Learning & Development
About the Author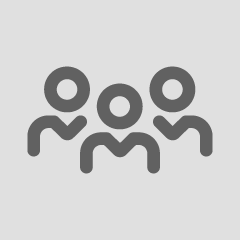 About the Author
Axelerant Editorial Team
The Axelerant Editorial Team collaborates to uncover valuable insights from within (and outside) the organization and bring them to our readers.