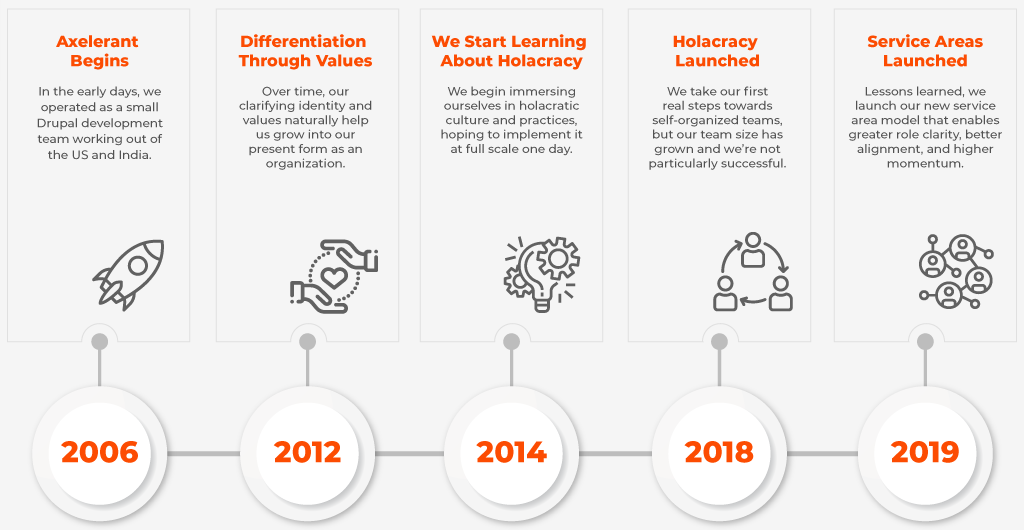 Axelerant began as a Drupal development shop back in 2006. Drupal 6 had just come out. Our team at the time launched the largest site on Drupal at the time, called Mother Nature Network (mnn.com).
The present avatar of Axelerant took shape in 2012. Since we began, we've constantly tried to evolve our processes and operational structures to deliver better services to our partners. "It took us a while to get where we are in terms of being centered in our goals and mindsets," says our CEO, Ankur.
Around five years ago, we became interested in holacracy. We kept trying to work on creating self organizing teams, self managing entities, but this wasn't a concerted effort at the time.
Summer 2018: First Steps Toward Holacracy
We started bringing in some of the operational shifts, like structured weekly meetings, and trying to make sure that meeting attendees were cross-functional.
But in the past year, as we grew to a team size of 90+ team members, we experienced some systematic failures. Our growing size made it difficult to reach out to every engineering team member and maintain a personal touch.
Fall 2018: Silos Needed Breaking Down
To address this, we had to get everybody together and talk to them.
We found that while we had implemented some aspects of holacracy, people seemed to not know that they had the authority to make more decisions on their own. What we hadn't fully taken into account was that even with holacracy, there is still a need to identify clear owners for different areas.
We also hadn't provided a means for our engineering leads to become better managers and better leaders. This led to us failing to be able to help other individuals advance as project leaders, team leaders, and experts. These were the individuals who could potentially have become the focal points for our self-organizing teams. We wanted holacracy, but we weren't quite mature or ready enough at the time to put together the self-organizing teams that we had so we needed to put in place a more effective structure that's "porous," in a sense.Why Service Area Leads?
We've mentioned before we've been reconsidering our reporting manager structure. That evolution has now culminated in the creation of service area leads to help lead initiatives under different verticals. As we were bouncing ideas back and forth, we were inspired by CivicActions that defined the Service Areas as:
Primarily client facing and serve broad categories of service or solution that our clients request in a significant quantity. Service areas work across departments and delivery to develop, market, sell, deliver and grow a set of related services and build the team that delivers those services.

Each area has one or two Service Area Leads. The lead is responsible for guiding the overall vision and strategy of the service area, ensuring marketing, sales, recruiting and delivery achieve quality, revenue, margin, team and client satisfaction targets.
The eventual insight that we had was that service area leads are effectively the mini-CEOs for a business unit. They have a team, and they have their own V2MOMs (the vision and values are the same for everybody at Axelerant, but each domain has its own mission, objectives and success metrics).
This structuring is easily scalable.
This was a model that allowed us to scale but still stay connected with people. It gave people more ownership of their domain expertise and growth. The means to launch a Service Area are repeatable, and preformed checklists and templates can be deployed (e.g. a readymade Go-To-Market (GTM) templated exercise from our Revenue team).
It let us offer a more consistent experience.
With our focus on different solutions like managed staffing, we would be able to create consistency in the journeys our customers take, and track the implementation of these journeys.
It would help us become future-ready.
Service area leads are responsible not just for looking down at the quality of the work, but also looking up to see what's going on, platform wise. They could help us ensure that the technologies we use as well as our engineering practices stay relevant.
And it's the same with different capability areas, like DevOps, QA, Frontend, etc. All of these require focus. People without hands-on experience would find it very difficult to be predictive about the market based on current happenings.
How We Did This
We now have a number of people in our team who are adept at Drupal. They've been working with Drupal for a number of years, they've contributed to Drupal, presented at DrupalCons, and gained some really good experience.
And they're the best people to lead us in these new directions.
Introducing Our Service Area Leads
---
We considered individuals' expertise and passions.
We aligned with their interests in making them service area leads. This allows us immense flexibility with being able to diversify into different areas, which we wouldn't have had otherwise.
Now, if someone would like to step up and spearhead a particular vertical within Axelerant, we're able to offer them that opportunity.
In this way, we've opened ourselves up to having a lot of different verticals.
We gave them complete authority within their vertical.
We think people should be able to think for themselves and be empowered to do the best thing for themselves and for the organization.
With this in view, role descriptions for service area leads include everything from sales and marketing responsibilities to engagement and technical skills applications and assessments. Within their vertical, they have complete authority, and we trust them to do what's best and right for Axelerant.
This formal recognition of people's authority at Axelerant allowed them to have clear ownership of those aspects, and, going further, to also build the identity and future path of that particular domain at Axelerant.
We set specific targets.
Role descriptions for service area leads are framed to list, at the most, 25 items that they are expected to handle. But a lot of effort is also put into identifying the top three to five high priority items from that list, which is what they focus on. Metrics are identified to track these top items, and performance reviews are tied to these.
With the other items, there's a degree of freedom to fail, so long as key expectations are met. This increased flexibility helps reduce the pressure and overwhelm that people in vertical lead roles might otherwise experience. By recognizing that some of these other items might fall to the wayside, and mutually agreeing on what those can be, we create more realistic opportunities for growth.
It also forces us to recognize that we can only really focus on three to five things at a time, which keeps us very clear as a team about what's important to us to achieve. Objectives listed in each vertical's V2MOM are similarly prioritized.
We intentionally provided mentoring.
Another aspect has been providing these individuals with mentoring to help them become better leaders and better managers.
One of the reasons why holacracy failed in our case was because we didn't provide a mentoring mechanism for individuals to improve their leadership or management ability.
For the past few months, we've been offering focused mentoring for the potential leaders at Axelerant, to help them get better in their roles.
More Ownership, Better Relationships & Work
Through all this, we're working towards becoming more scalable and setting ourselves up to create and maintain more predictable delivery models, so we're able to serve our customers better.
"In the end, it comes down to clarity around the expectations of our relationships. We want to treat others and be treated as real people," says Michael.
Greater ownership clarity means faster turnaround.
"Now when a request comes in, the ownership clarity helps us get it resolved quicker. This has really been helpful for clear communication," Michael adds.
It also keeps us all aligned.
"The quality of the V2MOMs that we're writing now has really skyrocketed," says Michael. "For each vertical, we're talking about objectives as being a mini-vision using what and why aspirationals." Team members are able to form an emotional connection with these.
And these regular conversations and exercises have been helpful for the service area leads to understand where they want to take their service area at Axelerant—so that they're able to have those conversations with their teams and get their buy in too.
"There's got to be vision and values. Vision is why we come together; values are why we stick around," says Michael.
Choosing The Long Road
Before 2018, we didn't really have the experience to help us see the problems that we could expect when dealing with large enterprises.
"If I open up a presentation from five years ago, I'd probably find that we were saying the same things then as we are now," says Ankur. "It's just that now we know how to get there, whereas previously we wanted to get there but the path wasn't very clear to us."
It's easy to feel that with the number of years that have gone in, we've not accelerated at the pace that we could have.
But our problems are new: being remote and being highly people focused.
"We chose to focus on people, and we put a lot of energy into engagement and mentoring. These were overheads that we consciously chose to bear for a period of time, and that has helped us build more depth in our teams."
Most agencies consider profit as their metric for success, and not much else. But the ones that are really sticking around are realizing that they have to invest in people. If people are not happy and there's a high degree of attrition, you're not going to get too far. The focus on profitability and meaningful engagement with people have to go hand in hand.
About the Author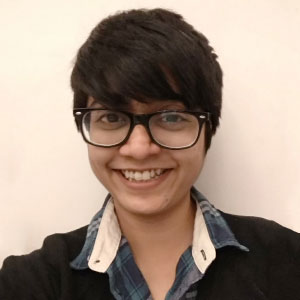 About the Author
Madhura Birdi, Axelerant Alumni