Introduction
Forging an agency identity, and then sticking to it through times of change, is grueling. It's something that every agency struggles with from time to time. This is true especially in the tech industry, where the landscape changes so quickly that even the most tightly knit, process-oriented teams can end up getting pulled in different directions and siloed.
These conditions are something we've struggled with at Axelerant with our team of over 40 specialists, all working remotely, around the world. Despite our toiling since 2005 to build a culture of transparency and openness, we've found that not all of our team members (or even departments) aligned with each other.
In big and little ways, this misalignment impacted our project success and team members' happiness, as they struggled to identify and work towards meaningful goals that would benefit our whole organization.
In August 2016, we tackled this disconnect head-on with a framework that would allow long-run flexibility towards alignment with short term clarity.
Here's how we went about it.
What We Were Missing
The two primary challenges at Axelerant leading up to our late summer 2016 self-diagnosis were:
Isolated teams and team members operating in silos and verticals

Evolving toward a forward-thinking organization, with a proper market fit



Given our concerns and needs, our executive advisor, Vesa Palmu introduced us to V2MOM. V2MOM is meant as a one-sheet reference of vision, values, methods, obstacles and measures towards organizational alignment.
At the start of our V2MOM journey, to bring everyone together and into holistic alignment, we knew that were looking toward a year of transformation and growth. Axelerant's V2MOM was to be our way of finding ourselves as an organization, of telling ourselves and others where we stand at the moment, what we value and strive for.
Assimilating Different Perspectives
No organization can begin answering questions about alignment until they understand what each team member thinks. Therefore, we began with sharing our perspectives by role, department, vertical, and organization. E.g., As a content director, within the marketing department, of the revenue team, at Axelerant or as a delivery director, leading the delivery team, at Axelerant.
In sharing how each of us defined and understood the vision, values, methods, obstacles and measures affecting ourselves, we captured the full breadth of perspectives which then allowed us to see where the similarities and differences lay.

There's feel good aspects to sharing everyone's perspective. However, the organizational perspective must reign supreme or else, we'd be working without a firm objection. In fact, the first Axelerant V2MOM was driven by the executive team and nearly finalized before introduction to the rest of Axelerant.
Once Axelerant team members bought into the first organizational V2MOM, then a single top-level vertical created its V2MOM and operated under it for a quarter before V2MOMs were put into remaining verticals.
The Outcome: Axelerant's V2MOM 2017 Q2
Here's a brief description of each section of the V2MOM, as well as the results of our own exploration.
Vision
The vision states what you want to achieve as an organization. And, ours is:
Demonstrate that Axelerant is a happy, world-class support organization for open source technologies that's proactive towards customer's business success.
Values
The values define the principles that an organization lives by, the beliefs that inform all decision-making. At Axelerant, our values are a big part of our fostered culture, and define the way we behave with our customers as well as each other. These are:
We set clear SLA expectations and always meet them without variations

We are conscientious and empathetic in crafting solutions

We demonstrate and share competence

We make valuable open source contributions
Methods
Methods describe the tangible path you'll take, the actions you'll take to implement your vision. Our methods for Axelerant:
Refine and enforce our customer focussed support operations

Better communicate our purpose, thought leadership, and fit for targeted industries: nonprofit, higher education, healthcare, and media/publishing

Drastically increase revenue (pipeline and closures) through allbound and business development efforts
Obstacles
An obstacle is anything that can prevent you from achieving your vision. Obstacles we've identified for Axelerant are:
Not creating or maintaining deep customer relationships

Customer journey and collateral for targeted personas

Small client base leading to low operating capital

More empathetic team members
Measures
These are the metrics by which an organization will measure its success. Our measures:
≥85% customers are NPS Promoters

≤5% customer are NPS Detractors

Hard sales closure targets

≥85% employee engagement

Employee Net Promoter Score ≥ 8.5
V2MOM Helped Us Accelerate
In the past, we've had trouble identifying where it is we want to be. Now, V2MOM has given us a concrete means of identifying how we see ourselves and how to position ourselves in a fitting space every week.
In fact, whenever ad hoc ideas and requests come up, if we're not sure how to proceed or prioritize them, we can fit check by our V2MOM. Going further, the V2MOM has become a quarterly-driven, conversation and living document across verticals, of weekly reference and measure of everything we're doing–the easiest weekly and organization retrospective, ever.

Making Time For Openness, Every Month
This is our V2MOM story and we hope you've find it helpful or at least insightful. From here on out, we'll be sharing Axelerant metrics, news, and other internal reflections. And we'd love to hear your take. If you've faced similar challenges or conducted similar exercises within your own organization—tell us, be open, share.

About the Author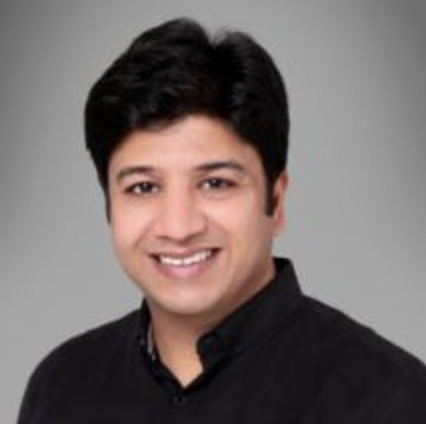 About the Author
Ankur Gupta, Chief Executive Officer
Constantly learning, ever caring, always faithful to what's right for Axelerant, family, and friends, Ankur loves to try new things and be around people. He considers himself an eternal optimist and believes that people + technology will lead to a better future. He's a long-time Yellow Jacket with Computer Science and MBA degrees from Georgia Tech.