Axelerant's Approach To Enabling Success
If you're striving right now to enable success at your agency like we are, you've had to work at attracting and retaining quality clients and employees. We've been at this since 2005, working to deliver the greatest possible value to partners and team members. What's become clearer over time is that these two key challenges aren't so different.
We'd like to share how we're working to make this dual success possible, specifically when it comes to staffing and treating staff members as stakeholders. Because here's a fact: customer success and team member success are tied tightly together.
Making Our Vision Something Real
From the get-go, success for us meant doing right by our people first. We wanted to take a wellness-focused, holistic approach to leadership that brought out the best in our teams and we've never lost sight of that. Of course, we've made big mistakes, and we're not perfect, but the Axelerant approach to success starts with its team and the means we provide.
Here are some real examples of this:
We gave our teams access to a range of Axelerant employee benefits, and we took these to the extreme. An example of this is how our people work 100% remotely to facilitate work-life balance and to give them the freedom that helps make employee happiness possible.
Our teams operate with a high degree of vetted, established trust, encouraging people to track progress and results instead of hours. Employees can benefit from our generous leave policies and even donate leave to colleagues who need an extra break. They get feedback frequently and learn continuously, and have access to a full-time Life Coach to help them with professional as well as personal growth.
Together, these aspects have helped facilitate agency team member wellness and excellence via our policies and processes. But these examples are just the leading edge. There's a bigger picture here, and it's the Axelerant employee journey.
Starting With Our Hiring Process
We're careful to hire only candidates that we know to have the passion and enthusiasm to keep our customers' priorities at the top of their minds, people who will work well with our remote team and its culture. Here's what our hiring process looks like.
The Funnel
Each person who applies to Axelerant goes through the same five-step process:
Stage 1: Communication & Personality

We expect each person at Axelerant to be able to communicate extremely well. So we begin our assessment with a review of each candidate's language and communication skills. During this stage, we also consider each individual's personality traits, and try to sift out people who are enthusiastic about and deeply engaged with their work, self-motivated, and willing to push themselves in new directions.

Stage 2: Technical Skill Review

Once we have established important prerequisite, we consider technical skills and experience. We conduct various assessments to gauge our candidates' technical know-how and problem-solving abilities.

Stage 3: Live Exercises

Next, our candidates are given live exercises to complete. Experts from each candidate's chosen domain provide exercises that are specific and relevant to that domain. Candidates are scored on their level of prior experience, the way they approach and solve problems, and their open communication.

Stage 4: Sample Projects

Separate from exercises, sample projects help us assess whether candidates will be able to deliver in actual project conditions. Typically, these projects last between to 1-3 weeks and provide candidates the opportunity to showcase skills and competence in real-world scenarios.

Stage 5: Continuous Learning

In addition, even once they're hired, we provide our staff with opportunities for learning through training, mentorship, as well as event and session attendance. This process starts at the 5th stage and continues ad infinitum—staying ahead of the tech curve is something we take seriously.

We expect this from our team members and provide means for it, to keep them evolving as they progress.
Onboarding Explained
Our onboarding policy has us working closely with new hires for 90 days, during which assigned Key Performance Indicators (KPI's) by their mentors, as well as a buddy (i.e. a team member who is familiar with their role and responsibilities). Through frequent one-on-one conversations, their team leader is able to track their progress and address any concerns along the way.
Periodically, we conduct a 360° review to assess whether people remain a good fit for the organization. This ensures that the people who join our team are proven to work well with our team and work conditions.
Intensive Peer Reviews
To be able to get a variety of opinions on any subject, we need to have different types of people in our teams. Axelerant's hiring committees are made up of 4-5 members who have experience conducting interviews, and a good grasp over what to look for in potential hires. They include team members at various levels in the organization as well as a cross-functional member who is tasked with gauging whether the new hire will be able to work well with the team.
The decision to hire or not is made after a thorough discussion between committee members. This helps us get a more well-rounded perspective on the potential hire's strengths and abilities, and ensure that they are a good choice for their prospective role.
Climbing The Axelerant Career Ladder
Our focus on excellence and customer success calls for our team members to be highly engaged with and committed to our clients, particularly in the case of staff augmentation engagements where they are required to work with little supervision. Axelerant team members need to be able to give and receive feedback, ask for help when needed, provide direction to their team members if they are in a leadership role, and identify and solve problems of increasing complexity.
In addition, as leaders, we have to provide our team members with a clear path to growth. Not doing so can result in confusion and chaos, projects being put in jeopardy, increasing employee frustration, and eventually burnout and attrition.
To offer this roadmap to our employees, we created the Axelerant Career Ladder. This is a document that charts the various levels that each employee can progress through at Axelerant. Each individual at Axelerant has one of these, and it helps them clearly see what is expected of them at each level, and what direction they need to focus in next to keep advancing in their careers. This also helps us ensure the availability of a variety of skills specific to our clients' needs.
Continuous Learning & Goal Setting
We expect our team members to keep learning continuously via regular feedback, reviews, and retrospectives. This means our teams are always evolving into better, more effective versions of themselves.
Performance & Feedback
We conduct monthly one-on-ones with every member of our team, ensuring that they receive regular feedback on their performance, progress made towards their goals, areas of improvement, as well as praise for their achievements. We also help them identify areas for growth and provide them with the means to keep learning continuously, through mentorship, external programs or project work.
Also, we've introduced Team Leader Ratings as a KPI metric. This is a future-focused, successful model that was first used by Harvard Business Review. Through this model, team leaders take responsibility for their team members' performance, and implement a plan of action that is based on past performance and current needs. At Axelerant, this metric impacts performance summaries in our teams' appraisals.
Axelerant Objectives & Key Results (OKR's)
To help ensure goal alignment and continuous progress, we began with a pilot OKR program within our delivery team in 2016. We spoke to team members individually help them identify goals for themselves that were closely tied to how we wanted Axelerant to grow. In the first quarter, our average goal achievement was quite high at 66%. But we realized that we weren't really going outside our comfort zones.
We decided to make the program available to everyone in the organization and asked people to choose one personal goal along with two professional ones. This time, people chose far more ambitious and challenging professional goals. Our average goal achievement in the second quarter was 60%, which was great, considering that the goals people had chosen were far more challenging than those previously.
Our OKR program is continuing. And as a result, Axelerant team members are encouraged to work in the same direction. For us, this opens up huge possibilities, as it means we are truly able to harness the collective strengths and efforts of our team, and gain a strategic advantage.
Open Source Contributions
We work really, really hard to ensure our approach to contributions is a holistic one. While our primary focus is Drupal, we formed an Open Source Contribution Committee with the purpose of directing our contributions for maximum impact.
We've created a separate vertical altogether to strengthen the global Open Source community, as well as local communities. Through these efforts, we've achieved contributions in almost all of the Open Source technologies that we use.
Quantified Community Efforts
To these efforts, we've elevated our giving core value status. With so many contributions being made across technologies of different kinds, Axelerant maintains a Community Contributions & Events Tracker sheet to record them. This log has been in place for more than a year, tracking our Open Source community contributions, from commits to event volunteering, session presentations, and QA collaborations.
Some Numbers From June 2017
The increase in application rates and our employee retention are two preliminary indicators that what we're doing is working but this doesn't demonstrate enabled success for our staff. Looking at this month for recent examples, we've pulled some success metrics to show where we're at today. Here are the numbers:
+8.3/10 Current Officevibe Team Engagement Rating: Across the company, our team happiness score from frequent feedback and real-time data insights from OfficeVibe, with one more rating pending for the month.
4.8/5 Stars Out Of 49 Employee Reviews On Glassdoor: In June we've reached a near 5-star rating from our people with powerful endorsements. There's always room for improvement and every agency has negative experiences within its ranks, but it's been our experience that our employees are comfortable, proud to work here, and confident in Axelerant's leadership.
7% Increase In Engineering Talent: With recent hires in June, we've an increase in engineering team strength with an addition of 7 years of experience to our team.
100% Contract Retention Value: For the month of June we have a total contract retention value, meaning that there have been no abrupt terminations or pausing of any ongoing projects for any reason.
100/100 Staff Performance Rating From Clients: We've received an 100% external team leader rating for our staff across the entire delivery portfolio, specifically around these two indicators: "1. I would always want this person on the team," and "2. The person is not a risk of low performance."
Client Net Promoter Score (NPS): For this month we have yet to execute the NPS forms as we are ending the quarter, but for May we have 100% NPS.
Where to from here?
If you're interested and like what you see, we'll keep you updated. In July we'll be publishing another open organization article on why Axelerant has decided to focus on forging value-driven agency partnerships as our central mission. We'll explore what this new V2MOM vision means and how we're doing it:
Axelerant's Vision: "Fueling agency success as a strategic support partner by allowing them time and resources to focus on higher-value offerings."
Your take is important. Tell us what you think.
About the Author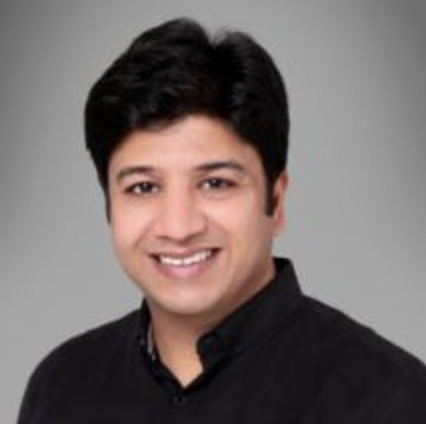 About the Author
Ankur Gupta, Chief Executive Officer
Constantly learning, ever caring, always faithful to what's right for Axelerant, family, and friends, Ankur loves to try new things and be around people. He considers himself an eternal optimist and believes that people + technology will lead to a better future. He's a long-time Yellow Jacket with Computer Science and MBA degrees from Georgia Tech.