Introduction
Nikita stared at the computer screen in front of her. Months turned into a year, and she was still no closer to adopting a child than when she had started.
Adoption from the government website had seemed like a good idea then. But after waiting for a year, it felt like she had hit a brick wall.
There's something in everybody's life that gives it meaning—work, relationships, hobbies, possessions. The list goes on.
Losing something that adds meaning to our lives can be devastating.
But equally hard can be not knowing if you'll ever get it in the first place. For Nikita Jain, this meant becoming a mother.
Meet Nikita
Nikita Jain is a Quality Assurance Lead in Axelerant. She specializes in finding bugs and glitches with her meticulous software testing abilities. She and her team members ensure that Axelerant clients get superior products without pesky bugs.
Nikita lives in Bengaluru, India. She has a beautiful home and a loving family that includes her husband, Nikita's constant pillar of support.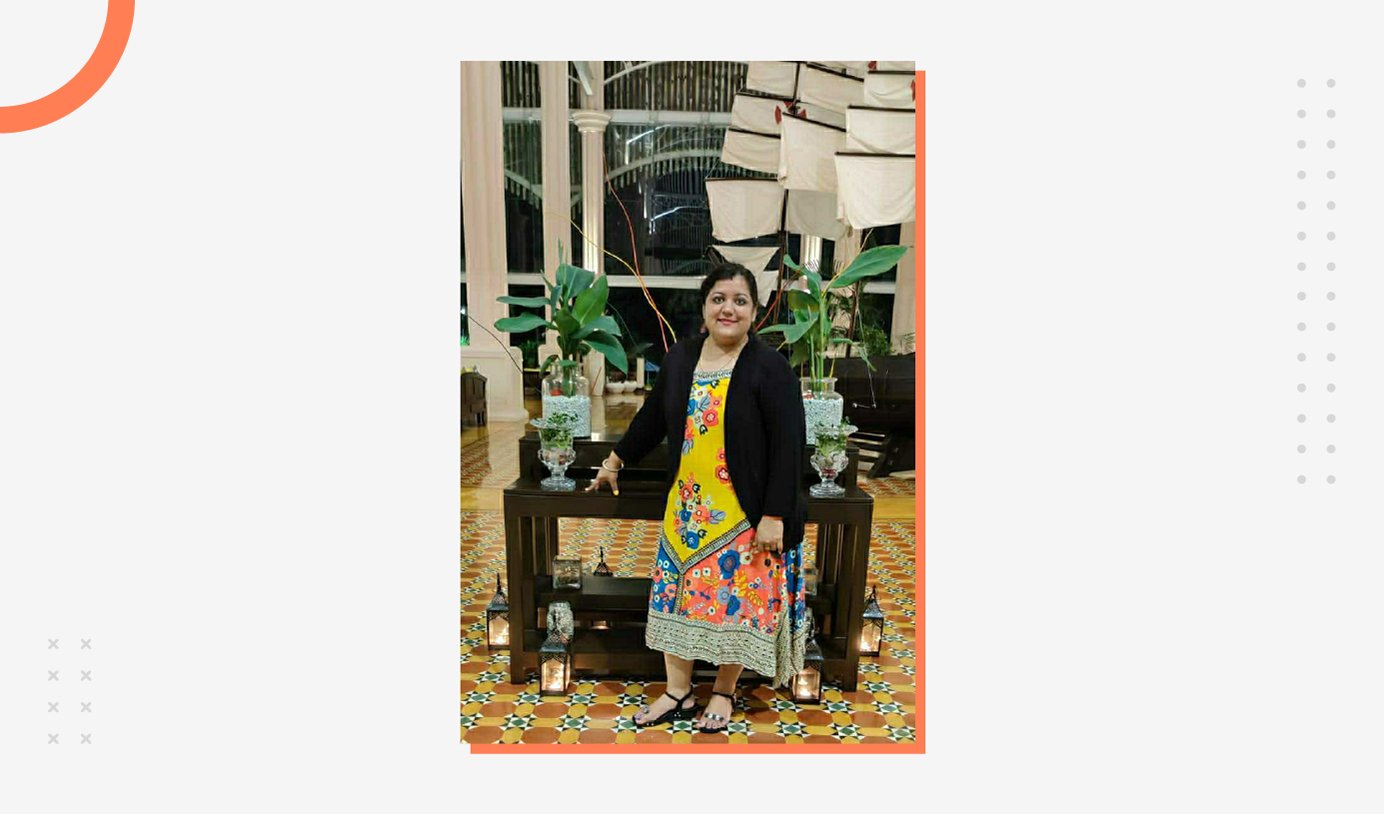 As we began our chat over a Zoom call, I could see a litany of certificates adorning the wall behind her. I was curious to see one of the certificates read "You're Awesome."

At my request, she brought it over for me to see. She glowed with joy as I read the notes on the certificate from her team members. She got it in the last yearly Axelerant retreat.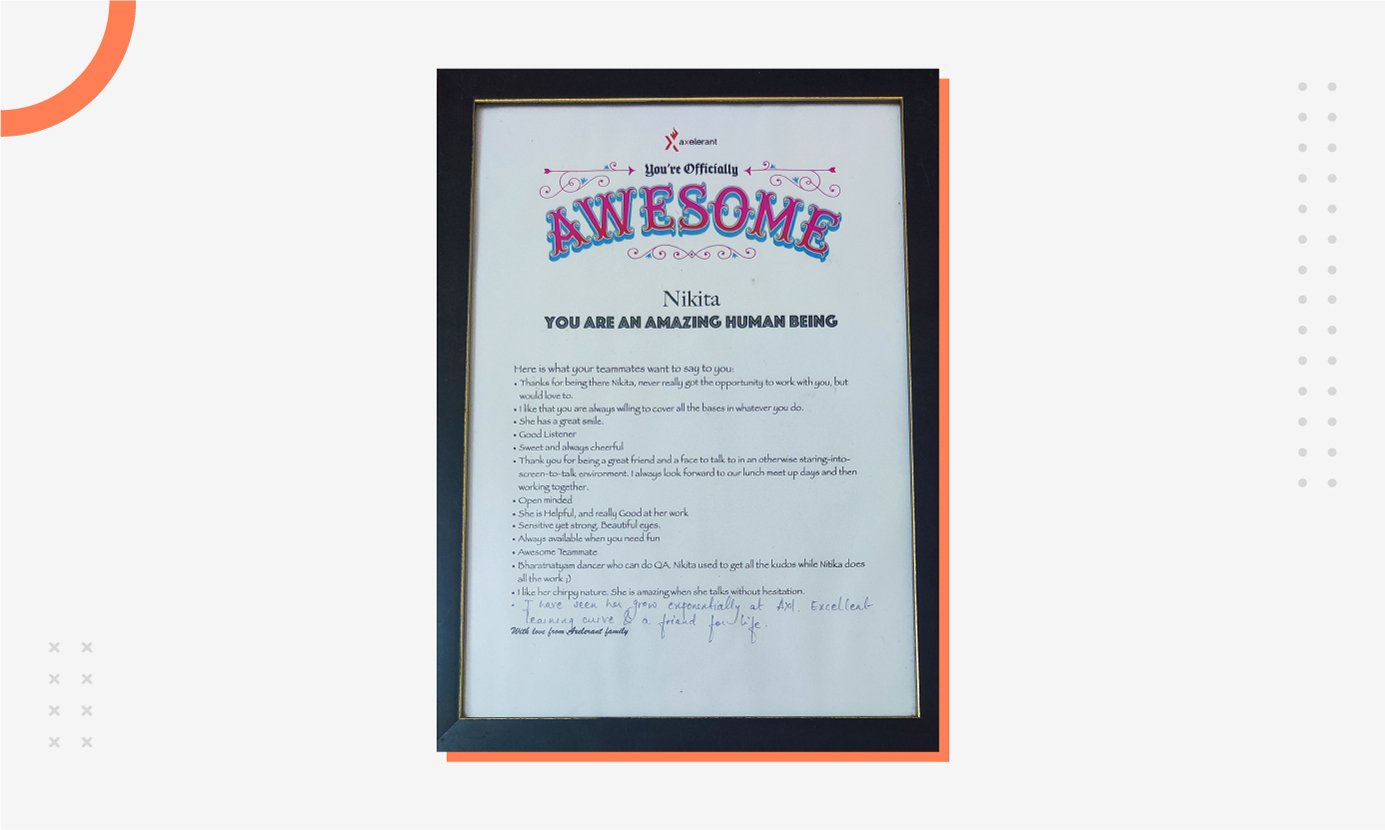 She Had Always Been Optimistic
Nikita had always seen herself as an independent woman. She understood the importance of becoming economically self-reliant.
Yet, when she expressed her intentions of working, her parents disagreed. First comes marriage, then work was their verdict. Fortunately, it took little convincing for her husband to support her ambitions.
He took Nikita for job interviews and even helped her prepare for them. Eventually, Nikita cracked her first job. "I will never forget that feeling," she recalled, "being able to pursue your dream."
Every day she traveled 30 kilometers to and from the office.
Even When Things Weren't Very Cheerful
After a few years into their marriage, the couple decided to start a family. "The first time I conceived was in 2012," said Nikita. At the start of the first trimester, Nikita suffered a miscarriage.
When she got pregnant again in 2014, the doctors advised her to take time off from work. Traveling long distances every day was against the best interest of the fetus, they said.
Nikita found herself in a difficult spot. She wanted to become a mother but didn't want to give up her career at the same time.
"I was searching for options. But there weren't many opportunities for remote work back then," Nikita shared. Fortunately, an Axelerant team member notified her of an opening, and she cracked the interview.
"I was in the office that day, and there wasn't any privacy. I had to give the interview from a park," she recalled smiling.
Though things were going smoothly at work, she suffered another miscarriage. "I was completely heartbroken," Nikita recalled.
She Didn't Give Up Hope
Nikita tried conceiving three times by 2016. Every attempt resulted in a miscarriage. She struggled to cope with her loss and went into depression.
A strong-willed woman, Nikita determined that she wouldn't keep failure as an option.
She gained the strength to give it another shot. But this time, her parents insisted on trying medical avenues of conceiving.
After consulting with doctors, they decided to undergo an IVF (in vitro fertilization) treatment. "I wasn't very happy with the decision," she remembered. She agreed to the treatment with mixed feelings.
Though an IVF treatment increases the chances of pregnancy, it's not a foolproof process.
"I had to take several injections. I remember one injection cost me 21,000 rupees," revealed Nikita. "And you're also subjected to painful procedures," she shared.
The amount of time and money she spent on the medical procedures would remain a matter of regret for her.
"It stings when you see your hard-earned money going to waste," she said.
In the end, the treatment was unsuccessful. The doctors suggested her weight as the most likely reason for the failure.
They recommended Laparoscopic Sleeve Gastrectomy, a medical procedure to reduce the stomach to one-fifth of its size to lose weight.
She refused.
Even As Everything Seemed Bleak
After suffering four miscarriages, Nikita felt defeated. The realization that she couldn't bear children came crashing down on her.
"I was depressed. I couldn't focus on work," she confessed, "And I was pushing people away."
The pain she harbored dragged her down to a dark corner.
Her husband tried reaching out to her. But Nikita was convinced that her husband couldn't understand her suffering. Cracks began to surface in their relationship. "At one point, we didn't talk for two months," she said.
Nikita had always been on the healthier side physically, even as a kid.
But her weight never bothered as a child until it came between her dancing.
"I won many dance competitions," she recalled. As she grew up, people said it was unseemly for someone with her size to dance on stage. And that was the end of it.
She never imagined re-experiencing shame because of how she looked.
People blamed her weight for not being able to conceive, some to her face, some behind her back. Nikita began avoiding her friends and family. During parties and get-togethers, she would lock herself inside the room.
Nikita Took A Stand
She reached out to her performance coach, Mridula Ujjwal, Director of Coaching, Axelerant. Her world was falling apart, and she needed to do something to save it.
"Mridula was always there for me whenever I needed her," she said.
After careful reflection, Nikita realized that she didn't need to conceive to become a mother; she could just as well adopt a child. She applied for adoption on the government website.
All she needed now was to wait until the process matched her with a child. Or so she thought. Months flowed past without so much as a phone call from the other side.
Although Nikita's in-laws supported adoption, her parents disapproved of it. They wanted her to try other medical procedures of conception.
"People would say that a woman incapable of bearing children can never be a complete woman," she confessed.
After much convincing, Nikita's parents came on board with the idea of adoption. Her mother reached out to a family open to giving their child up for adoption.
Braving Through Uncertainties
When Nikita's mother saw the child for the first time in the hospital, she was about to call Nikita to give her the good news. It was a girl.
Nikita was waiting patiently on the other side of the phone. "I must have called her 80 times that day. She wasn't picking up the phone," recalled Nikita. She couldn't have known what happened next.
The girl's mother couldn't let go of the child. When Nikita learned about this, her heart sank.
"At that time, I felt that God did not want me to be happy," Nikita said.
After 21 days had passed, Nikita's mother got a call from the child's family. They were ready to go through with the adoption. Nikita's mother brought the girl home, and named her Mishti (meaning sweet).
"My mother called me immediately," Nikita recalled.
"Come home on the next flight," her mother had asked. Nikita was in Bengaluru at the time, and her mother, thousands of miles away in northern India.
"I just knew I had to get there," said Nikita.
Difficulties
At 7 PM, they booked a flight to Delhi for 3 AM. "Each ticket cost us 14,000 rupees, and it was a connecting flight via Ahmedabad," she recalled.
"I was happy, excited, and worried at the same time." Nikita crammed whatever she could get her hands on into a suitcase and set off.
Unsure about the adoption going through, Nikita had not asked for any prior leave in the office. "The adoption process is extremely uncertain. Knowing beforehand that you'd be selected as a guardian is rare," she clarified.
She called Mridula from Delhi airport and explained everything. She needed time off work.
But there was an issue.
Nikita was to visit Kuwait for her project, as planned. It was a new project for Axelerant, and all hands were on deck.
"I explained my situation to Ankur Gupta (Axelerant CEO)," she said. Nikita didn't know how things would unravel, but she didn't have the luxury to worry. A month-old baby was waiting for her at home.
But for Axelerant, the situation posed a challenge.
The clients expected her on the team, and everything was pre-planned months ago. It was also the first time someone had opted for maternity leave at Axelerant for adopting a child.
Challenges
"I did not feel anything when I first held Mishti in my arms," shared Nikita. She wasn't ready to be a mother, she thought. Luckily for her, Nikita's mother took care of most things: feeding, cleaning, sleeping, and everything else that Mishti required.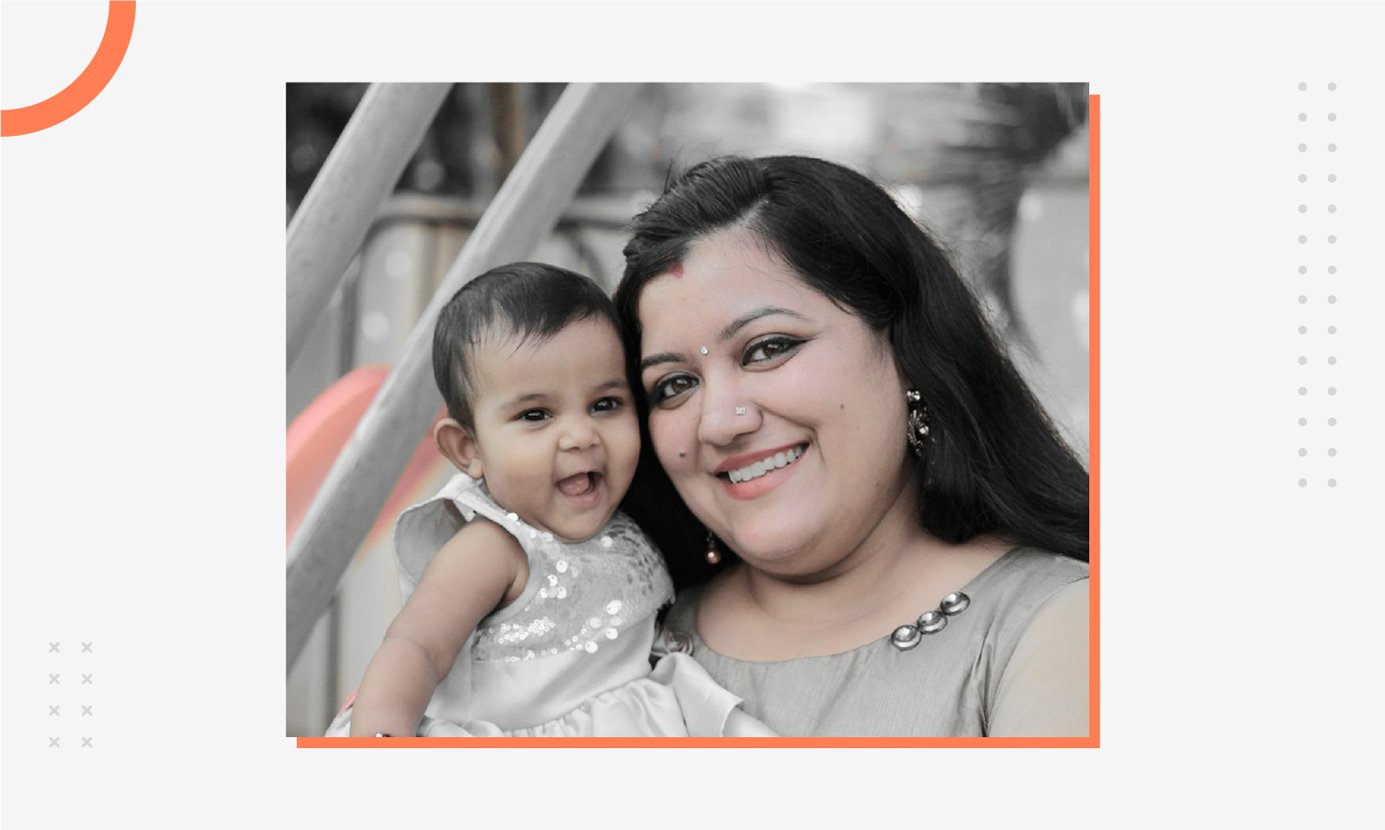 But her mother noticed something off with Mishti—she wasn't eating adequately.
"At first, we thought it was because of the shift from mother's milk to formula powder," said Nikita. But when things didn't improve, they took her to the doctor.
Tests revealed that Mishti was suffering from malnutrition and her blood sugar level was dangerously low.
"The doctor said things could've been fatal had we not taken action at the right moment," Nikita remembered, her eyes teary. Mishti spent days in the NICU (neonatal intensive care unit) before regaining strength.
"Seeing her like that in the NICU, I cried like hell. I was afraid of losing her," said Nikita.
Fortunately, Mishti fought through and returned home after some days. She was out of danger. "From that day on, I formed an emotional bond with her that only a mother can relate to," said Nikita.
And Prejudice
Sometimes, the steepest challenge lies in battling stigma and prejudice, and Nikita was about to experience it firsthand.
"Although my in-laws were supportive of my decision, there were people who thought adopting a child couldn't make me a mother," she shared.
People would come with suggestions to Nikita for "improving" her daughter's complexion. While in other instances, questions would arise about her daughter's birth parents' religion and caste.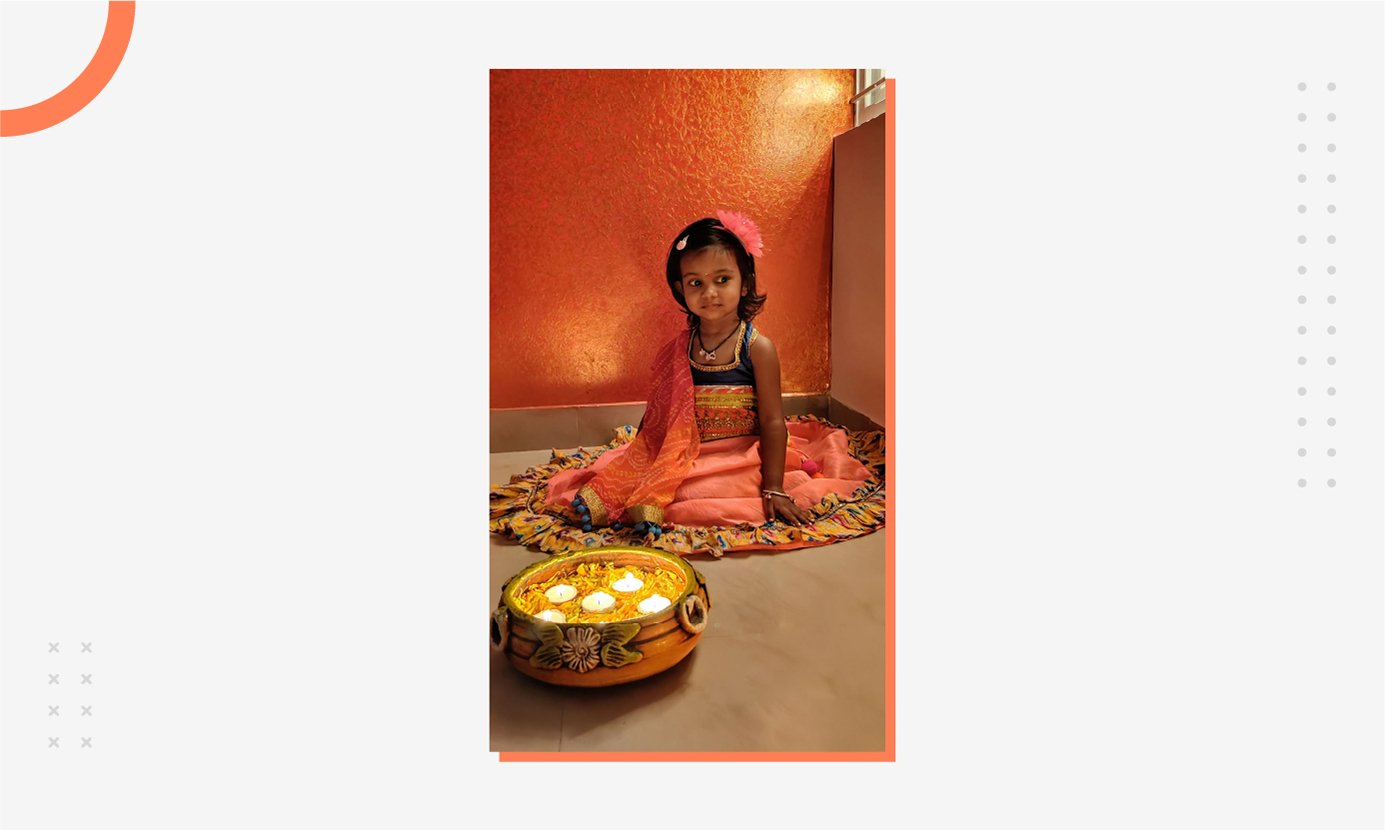 Nikita understood that most of these behavioral patterns arose from ignorance. Most of the time, she kept her cool. Sometimes, she couldn't.
But what surprised her the most was her grandmother's reaction.
"I was apprehensive of what she would say. After all, it wasn't easy to get my parents on board with the plan. But my grandma was so happy. She adores Mishti," shared Nikita with a hint of pride.
She Came Through, And So Did Axelerant
Before she became a mother, Nikita's friends would share stories of sleepless nights, exhausted days after becoming a parent.
"I was afraid of experiencing the same things. But nothing happened. Mishti was so calm and joyful," she shared.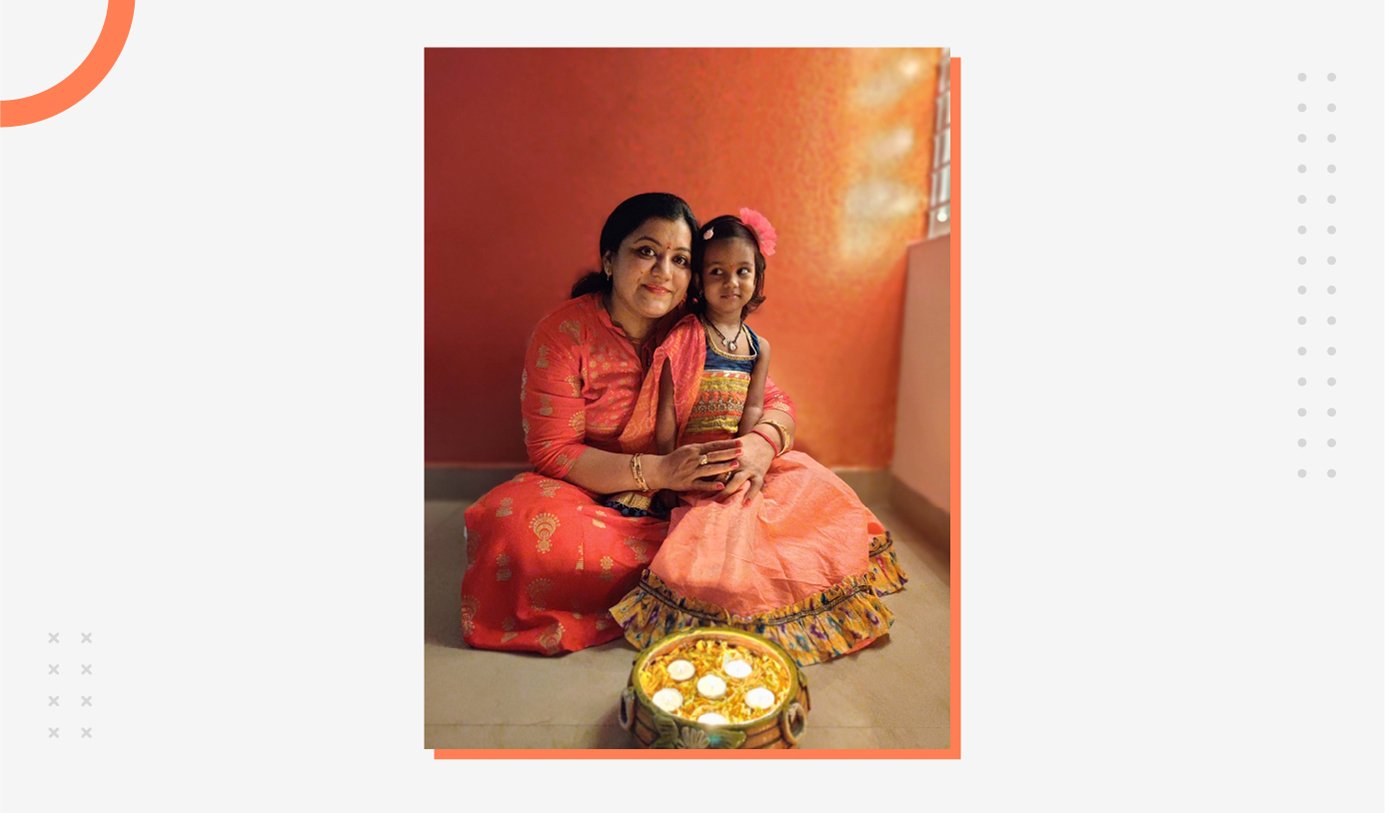 "After the initial resistance, everyone started growing fond of Mishti. They could see that she was special," said Nikita.
Friends, neighbors, and relatives who were on the fence before slowly started warming up to the idea that there could be many ways to become a parent.
At Axelerant, the leadership came together to support Nikita in every way she needed.
Ankur talked to the clients and explained the situation to them. Nikita became the first woman in Axelerant to get maternity leave for adopting a child.
"I got 24 weeks off to take care of my daughter," she shared.
"Honestly, I don't know what would have happened to us without Mishti. Everything just fell into place after she entered our lives," she shared, talking about her marriage.
Nikita and her husband are looking forward to adopting another child. Mishti celebrated her fifth birthday in 2022.
About the Author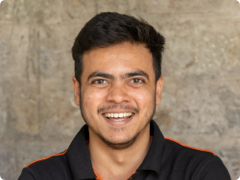 About the Author
Rohit Ganguly, Content Marketer
Rohit is a content marketer first and a YouTuber second. He loves to interact with animals, feed them, clean his apartment, and spend time with friends and family. Curious by nature, he also enjoys literature, movies, meditation, and calligraphy.