We're changing our Reporting Manager structure.
This month, we've been having some discussions around reorganizing our engineering leadership roles.
In our current structure, there is an Engineering vertical within the Customer Success vertical (the Customer Success team also includes Success Managers, Project Managers, and Engagement Managers). Within the Engineering vertical, we have three Engineering Managers (EMs), and all engineering team members report to one of them.
Since our team is growing, this may not be a scalable structure going forward. Also, the current workload for EMs is very high, which means they are not able to fulfil their duties as effectively as they'd like.
To address this, we've been realizing that we need to add a few more people to help manage Reporting Manager (RM) duties. For us, the Reporting Manager role is a people-specific role. The primary responsibility of RMs is to grow and manage engineering teams.
We've been encouraging and training our current Technical Architects (TAs) and E3 (senior) Engineers to take on these duties as well. And at the moment, we're trying to figure out how to make the transition happen.
One of the areas we are facing concerns with is that a lot of people have their tour of duty defined with a particular RM, and a lot of these are not close to completion. To ensure that the transition doesn't negatively impact team member happiness and success, we need to ensure that we handle it in the most effective way possible. While we have maintained some documentation of each individual's tour of duty, people's perspectives may differ in terms of how to make the transition happen.
We want to ensure we provide adequate background and context for the person taking over the RM role, and we're figuring out how to do this best. We're also figuring out what's the most effective way of grouping team members and transferring duties among them. These decisions are pending, and we want to be careful with these because we see that there will be an effect of these decisions on team happiness. And if we do it right, it would be good for those taking over the new responsibilities as well as those changing RMs as well.
We completed the rollout of our new payroll system—despite a few speed bumps.
On the 15th of April, we decided we should roll out Zoho Payroll so that the first payroll of the year would be done via our new system. This was a challenging task and our People Operations team worked super hard to make it happen.
After we completed the rollout, we realized that while it was helping team members, there were still a few gaps—people didn't fully understand the new system and had lots of questions. While these will get addressed over time, we realized that it would have been more effective to have shared an FAQ and provided better documentation for our team members. And we'll keep this in mind when implementing any tool changes in the future.
We're working hard to live our values.
All projects are challenging in their own way, and a lot of people want to solve their challenges independently. But often this means that even when help is available it's not always sought, which means project time may be wasted.
We're an organization that appreciates people asking for support rather than keeping challenges to themselves; we find that this means that problems get resolved faster and has a positive impact on project and team health.
As part of our regular engagement meetings, this month we participated in some exercises that encouraged our team members to be grateful, achieve their goals and seek help and support from each other. Overall, this means our team members are more open to learning, and do not pressurize themselves or others to be perfect.
We're also finding that more people are asking for and sharing feedback regularly via our feedback and recognition system, 7geese. This is a welcome change, as it's important for team members to be able to receive and accept critical feedback.
This is how we're doing by the numbers.
We collect data around our team's well-being through weekly surveys conducted via Officevibe. Here's a look at some numbers for the month of May.
Engagement Score
Our employee engagement score has been steady at 8.7 since December 2018.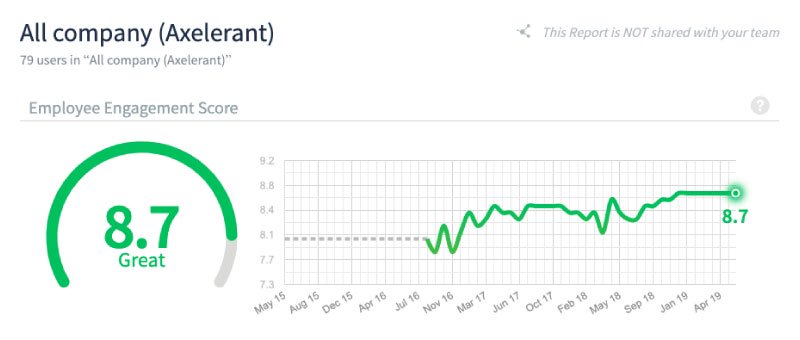 10 Supporting Metrics
These are the various metrics that are individually considered to generate the engagement score, and below is a snapshot of our scores for the month of May.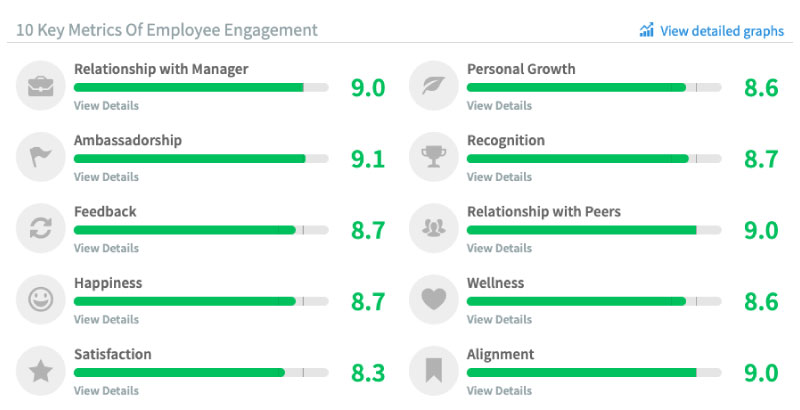 For our team at this point, the three lowest metrics are: Satisfaction, Personal Wellness, and Wellness. While these are still healthy scores overall, we want to make sure we do everything we can to provide our team members the best environment possible.
Officevibe makes certain recommendations to help improve each of these, so these are going to be our focus over the coming weeks:
Satisfaction (8.3): ensure that team members feel that they are being compensated fairly, and address any concerns in a timely fashion.
Personal Growth (8.6): help employees get better at their craft through providing access to training and coaching.
Wellness (8.6): find ways to help lower employee stress levels, and make sure team members aren't overworking themselves, as this may lead to burnout.
ENPS (Employee Net Promoter Score)

Our ENPS is down to 77 from last month's 80. While this is still a good score overall, we'll be looking into team members' concerns to see how we can improve this score.
We're streamlining our operations.
We're bringing on a People Operations Associate. This new role will help us fasttrack our operations and speed up some processes.
Last month, we were facing some challenges with ramping up our People Service Desk. This month, we've set up Service Level Agreements (SLAs) for processing requests received via the service desk. This will help us address team members' requests in a more appropriate and realistic way.
We're staying connected with each other.
| | |
| --- | --- |
| Indore team meetup | Surat team meetup |
We're learning and sharing knowledge.
We conducted a number of knowledge-sharing webinars internally in May. Some of the topics we covered:
PLP Search UI/UX for facets
Customizing Lando configuration (Linux)
Automated local and cloud multisite setup using custom BLT command
Static typing using TypeScript
Automation strategy - Achieve both automated acceptance and visual tests
What's our focus, going forward?
In the days to come, we're going to work on setting up 7geese programs. These will help set automatic reminders and create more structured meeting times and specific reminders for each individual. This would help us establish an organized cycle of feedback for the whole year, and help everyone stay on top of their responsibilities.
We'll also be urging that the team members in the new RM roles undergo mentorship training so that they acquire certain necessary skills and are able to be more effective in their role. Work has already work has begun on this.
About the Author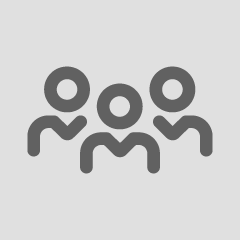 About the Author
Axelerant Editorial Team
The Axelerant Editorial Team collaborates to uncover valuable insights from within (and outside) the organization and bring them to our readers.