Giving back to the community has always been a priority at Axelerant. Since the beginning, the team at Axelerant has been involved in communities of various open-source projects such as Drupal, WordPress, and React. Team members have not only contributed to the projects with code but have actively:
Participated in the events
Shared their knowledge through sessions and talks
Blogged about an array of things
Supported the community
The management has always encouraged participation and has sponsored various events as well. In my experience, most team members have always been aware of the open-source ecosystem and why it is important to contribute to it. But not everyone has experience using an open-source project or an interest in contributing.
Challenges In Active Contribution
At Axelerant, a notable number of team members are interns or graduate-level trainees who are not very familiar with open-source communities. So, awareness is a critical blocker when it comes to the overall output of a company in terms of contribution.
Another issue is that team members are not able to find enough time to contribute to or participate in the events. Their project work and daily operations take up most of their time. It isn't easy to gather enough energy to make contributing a sustainable activity.
Clearly, we needed a solution to these problems to ensure that the organization could meet its contribution goals. And this solution emerged as a new role called 'Drupal Contributor.'
The Contributor Role At Axelerant
A Drupal Contributor is someone who dedicatedly contributes to the various projects. They also take ownership of the overall impact of this contribution on various communities. Axelerant is not the first organization to have contribution-related roles. But at Axelerant, we have hit a balance in the roles that worked for the organization and allowed for effective contribution.
I took up the role of Drupal Contributor a few years ago. Before this, I was a Lead Developer in a Drupal 8 project. I have contributed to Drupal in the past through code and blogging. I had also mentored contribution sprints, volunteered, and spoken at various events, but this role was new.
In this blog, I will be talking about my understanding of particular responsibilities, challenges, and solutions I implemented. I hope after reading this, you will have good insights regarding the roles around contribution and community. This will also give you a better insight into the culture at Axelerant.
Responsibilities
The contributor role at Axelerant comes with its own set of responsibilities. These responsibilities range from code contribution to motivating other team members to get involved in the community.
Code Contribution
For me, code contribution is the easiest of all responsibilities. I maintain a host of projects on Drupal.org and have worked on an array of issues. Most of the contributions result from generically solving a problem while working on client projects. If a patch contributed by someone was utilized, I would post a review and suggest ways to improve it further.
Since the requirements of the projects earlier drove my contribution, I never got any chance to organize my efforts or target any particular areas. But moving into this role, I had to ensure that I was making the maximum possible impact and working on important projects.
I got involved in developing the Project Browser, which is a part of a Strategic Initiative on Drupal.org. Strategic initiatives, as the word suggests, are some of the intentionally targeted projects by the Drupal project and would become major features of Drupal in coming years. So it made sense to work on such a project and help the Drupal project in the best way. Besides this, I continued to maintain some of my previously contributed projects and pick up unsupported modules.
Getting Involved In The Community
Another responsibility was being active in the Drupal community, being aware of what is trending, and sharing this information with the team. This exercise helps prepare strategies for future involvement and ensures that the team members are updated on various new things.
I started checking information about all the ongoing and upcoming events related to Drupal and other projects. Since most of the events are online and free to attend nowadays, I was able to attend a number of them.
It used to be a bit difficult to find time for these due to involvement in client projects. But in this new role, I had the flexibility and time to attend sessions and join the contribution sprints. I also mentored in an online sprint and hosted a BoF talk.
Other than online events, I joined multiple channels on Drupal.org's slack to connect with new community members and stay updated on what's trending in the community. It is amazing to see the active participation of community members in the #support channels. There are also asynchronous meetings in the various initiative channels to plan the upcoming features. Now, I'm a regular at weekly check-in meetings for the Project Browser initiative.
Challenge: Lack Of Meaningful Contribution
It isn't helpful for an organization or community if only one team member is actively contributing. So, I took it up as my responsibility to engage my team members. It was vital to have maximum participation to ensure a meaningful impact.
Solution: Engaging Team Members
To accomplish this goal, I started sharing weekly updates on Axelerant's internal slack regarding activities, takeaways from the events, and the sessions I attended. I regularly posted updates about upcoming events, contribution sprints, recent announcements, and news.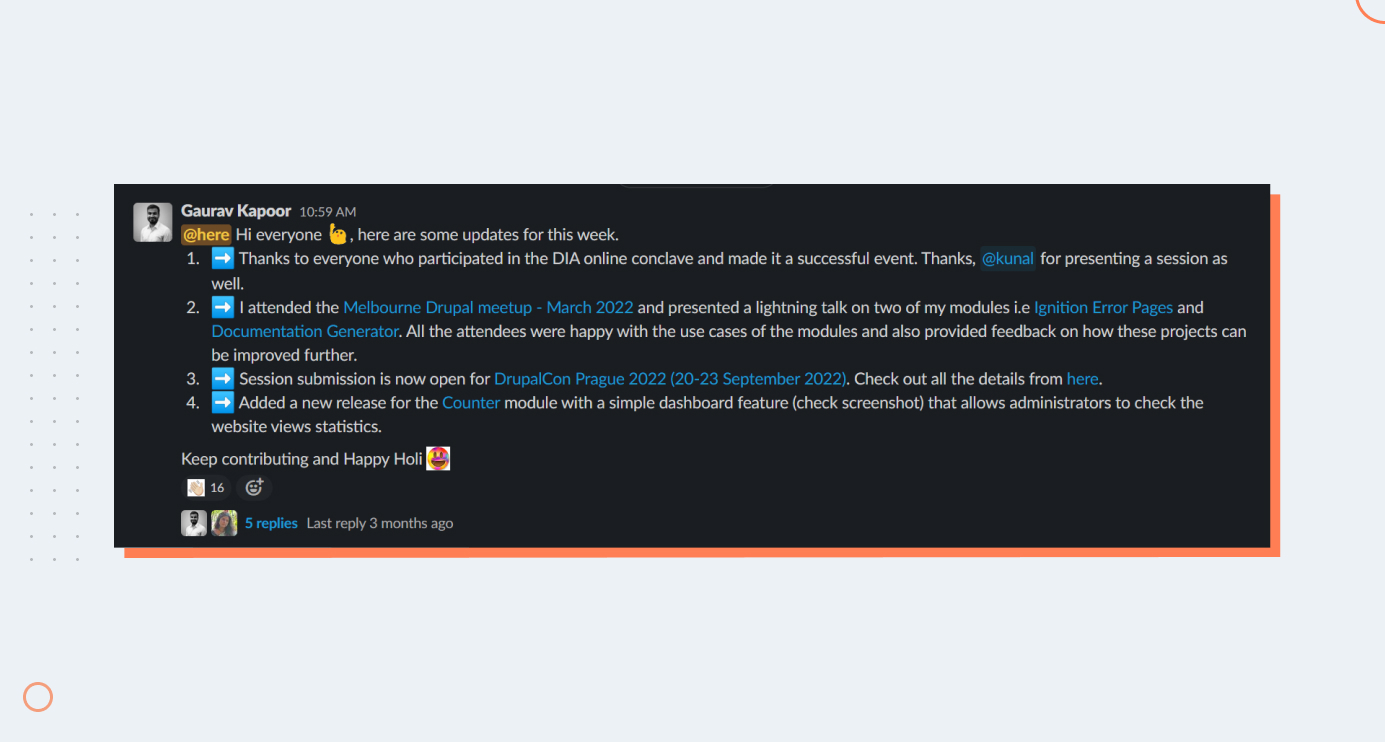 The updates were well received, and most team members found them useful. Many team members were also encouraged to contribute and learn. Relevant information was added to the internal handbook to make it easier for team members to understand the contribution.
Other than this, I regularly connect with the team members to check if any support is required. I ensure all their queries are resolved, and they don't have to spend much time understanding the contribution culture.
Catch-up calls are also scheduled to discuss any blockers that the team members might be facing with the contribution. These catch-up calls are also great for creating awareness about how team members can contribute.
Final Thoughts
Sustainable open-source support and contribution is an important goal for all of us at Axelerant. To make this effort holistic and sustainable, we are in the process of identifying the long-term goals for a contributor.
We're also constantly looking for more interesting avenues for contributors. We are confident that with some experimentation and long-term thinking, we will make the contributor role at Axelerant a sustainable and meaningful effort to participate in the open-source community.
About the Author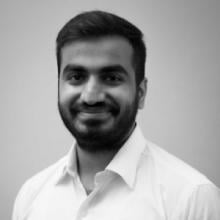 About the Author
Gaurav Kapoor, Senior Drupal Engineer
Gaurav is a storyteller. An Arsenal FC fan, he also enjoys reading Amish Tripathi's works on Hindu Mythology. He has been spending every Friday evening at his favorite bar for more than two years now. Need a dose of sarcasm? He is your guy!