Introduction
It's time to find the right Drupal support and maintenance provider. Of course, you could just go with the people who helped you set it up. But Web Development Agencies Don't Typically Prioritize Support. And the last thing any site owner wants is their platform to go by the wayside post-launch.
To get the most out of your Drupal platform, you need a team that—when push comes to shove—is really going to put its back into it. Great Drupal support services mean that you can respond faster to your customers, lower your risk, and weed out inefficiencies and costs. Perhaps most important of all, a great support team helps you get a deeper understanding of your business model, and make enhancements along the way. What does all this add up to? That's right—higher website support services ROI.
This makes it critical that you choose a Drupal support and maintenance provider who can help you maximize the impact that your platform will have.
But without knowing the right questions to ask, it can be hard to find the right agency to support your business. So, if you're just starting out on your hunt for a support agency, we've brought together some questions to help you out. Let's get down to it.
What do you want from website support services?
First of all, before you start talking to potential vendors, establish your own goals. You should be very clear in your mind about what you want your Drupal platform to achieve at the end of the day. What constitutes success for you? What constitutes failure?
Next, identify your priorities. What's most important to you? What can be allowed to slide once in awhile? What are you absolutely unwilling to compromise with? Another aspect for you to consider is how much effort you want to put into support-related activities. Consider:
How easy do you need your support process to be?
How much time can you devote to website support services per month?
How important is it to you to have a single point of contact?
Would you be comfortable being transferred across multiple channels?
Do you need all activities to remain within a single channel?
Once you have answers to these questions, consider whether you would be willing to pay more for a website support model that minimizes your effort. Remember that every hour you spend firefighting issues on your platform is an hour not spent on revenue-generating activities. Finally, identify key metrics to track. How will you gauge whether your team is delivering what it promised? What metrics can you use to track positive outcomes?
The clearer you are about exactly what you are looking for from your Drupal support and maintenance provider, the easier it will be for you to map potential vendors' strengths, weaknesses, and values against your business need.
Ask a ton of questions.
Find out all you can about your potential Drupal support provider, their services and skill set. There are key questions you should be getting the answers to. What locations do they serve and are they available round-the-clock? What kind of support models do they offer? Can they offer you any customized or premium services? It's worth considering too how much they've grown—ask them. Getting answers to questions such as these early on can save you from nasty surprises later in your engagement.
Look for references, especially in your industry.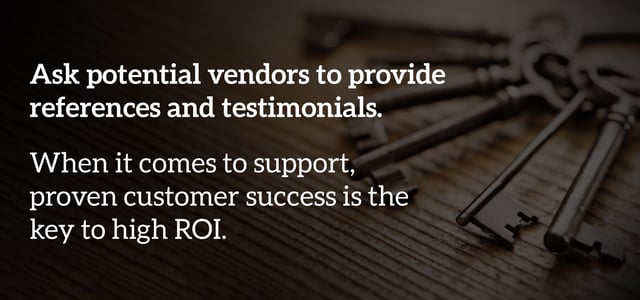 Get a sense of what people are saying about them. You can gauge a lot about Drupal) support providers by searching online and seeing how involved they are in the Drupal community. Here are a few places you can get started.
Ask potential vendors to provide references and testimonials from their customers.
What do their employees say about them via

Glassdoor

?
Search the web for stories that indicate their reliability and quality of service.
How effort-intensive do they make the support process for their customers?
Do they contribute and give back to the Drupal community?
What's their reputation within the Drupal community?
Consider future needs.
Don't just think about your business as it stands today. Also, consider what would happen if you grow and your business needs change over time.
You may just be running a basic Drupal site now, but what if you need support for multiple web apps a year down the line? Are they mature enough to scale right alongside you, or will you have to waste time bringing a completely new team on board to pull the additional weight at that point?
Or, what if you pivot out of your current space? Are they adaptable enough to mold themselves around a totally different business with a different set of needs? Will they be able to support you all the way, or will you need to have a backup plan just in case?
Set the Service Level Agreement (SLA) straight.
The Drupal support Service Level Agreement (SLA) shouldn't be such a drag. But when evaluating Drupal website support packages, cost is a big factor. Do watch out for hidden fees that can sneak into your billing if you're not careful. But beyond that, also take a close look at how their SLAs are structured. Are they protecting your interests? Are they centered around ensuring your success, or around minimizing the support team's effort?
Consider: are the SLAs rigid and inflexible? Is there any chance that you could get trapped into the contract even if you don't like their service?
Can they do a pilot project?
A pilot project would give you a good sense of whether the Drupal maintenance team you have shortlisted really has what it takes. It would let you work out whether you are comfortable with the quality of service and the degree of effort you have to make to get your issues resolved. It would also give you the chance to see whether they work well with your in-house staff. Armed with all the knowledge from this questioning, you can review your requirements and shortlist vendors.
But that's not all. Besides technical, logistical fit and quality of service, there's one more thing you need to consider. And that's how well they get your business needs.
Are they able to put themselves in your shoes?
Does your Drupal support and maintenance provider want to know your long-term objectives for your platform? Do they understand your business goals and your particular challenges? Are they empathetic about your problems? Do they worry about not raising your TCO, and not increasing the effort involved for you? Are they thinking about meeting your needs in the most efficient way?
Are they only thinking about doing the bare minimum, or are they committed to doing what's best for your business? Do they seem disengaged and passive, or are they asking you tough questions that reframe your problems in a new light and force you to think?
In short, are they focused on delivering value? The best partners are. The best partners work like an extension of your own in-house team, taking ownership, anticipating problems and identifying the best course to take.
While technical skills, quality of service and budget are important, by themselves they would be quite directionless without business thinking, ownership and empathy to direct your support team down the most effective path. So if you're looking to maximize your website ROI, choose a partner who not only seems reliable from a technology perspective, but who is also able to think like a business owner and make the best long-term decisions around your Drupal platform.
About the Author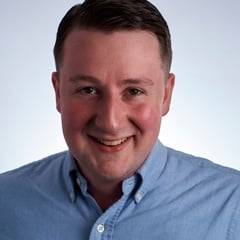 About the Author
Nathan Roach, Director of Marketing
Germany-based consumer of old world wine and the written word. Offline you can find him spending time with his wife and daughter at festivities in the Rhineland.