Introduction
It has been more than two months since I joined Axelerant, and there's so much to talk about.
Spoiler Alert: It doesn't begin on a good note. That's solely because of how I exited from my previous agency. I was coming from a culture that wasn't too keen on promoting employee wellbeing. So while looking at newer opportunities, good culture was at the top of my wishlist.
When I was selected at Axelerant, I was still recovering from burnout. This was a personal issue, so I ignored talking about it. Eventually, when I felt more comfortable, it was all out in the open and was received extremely well. Nobody judged me for going through it or for talking about it.
The way people interacted with me gave me enough understanding of the thriving culture here. This kind of pre-onboarding experience made a substantial difference. I was excited to join an organization that acknowledged its people as people — not machines.
Moving beyond my own experience
'Keep it raw. If there were things that needed improvement in your onboarding process, feel free to highlight them.' -Nathan Roach
The above words are paraphrased, but Nathan's suggestion highlighted an important point: not all things can be at a hundred percent, and my insights alone would never create the complete picture. So I reached out to my team members who had joined around my time and took their inputs. I wanted to capture the emotion of being new at Axelerant.
When I was going through the responses, I could notice words and phrases getting repeated. So I collected them in one place to create a visual cloud of shared emotions. In the middle, you can see an overview of words used to express the onboarding experience, and on each side are the people who experienced it.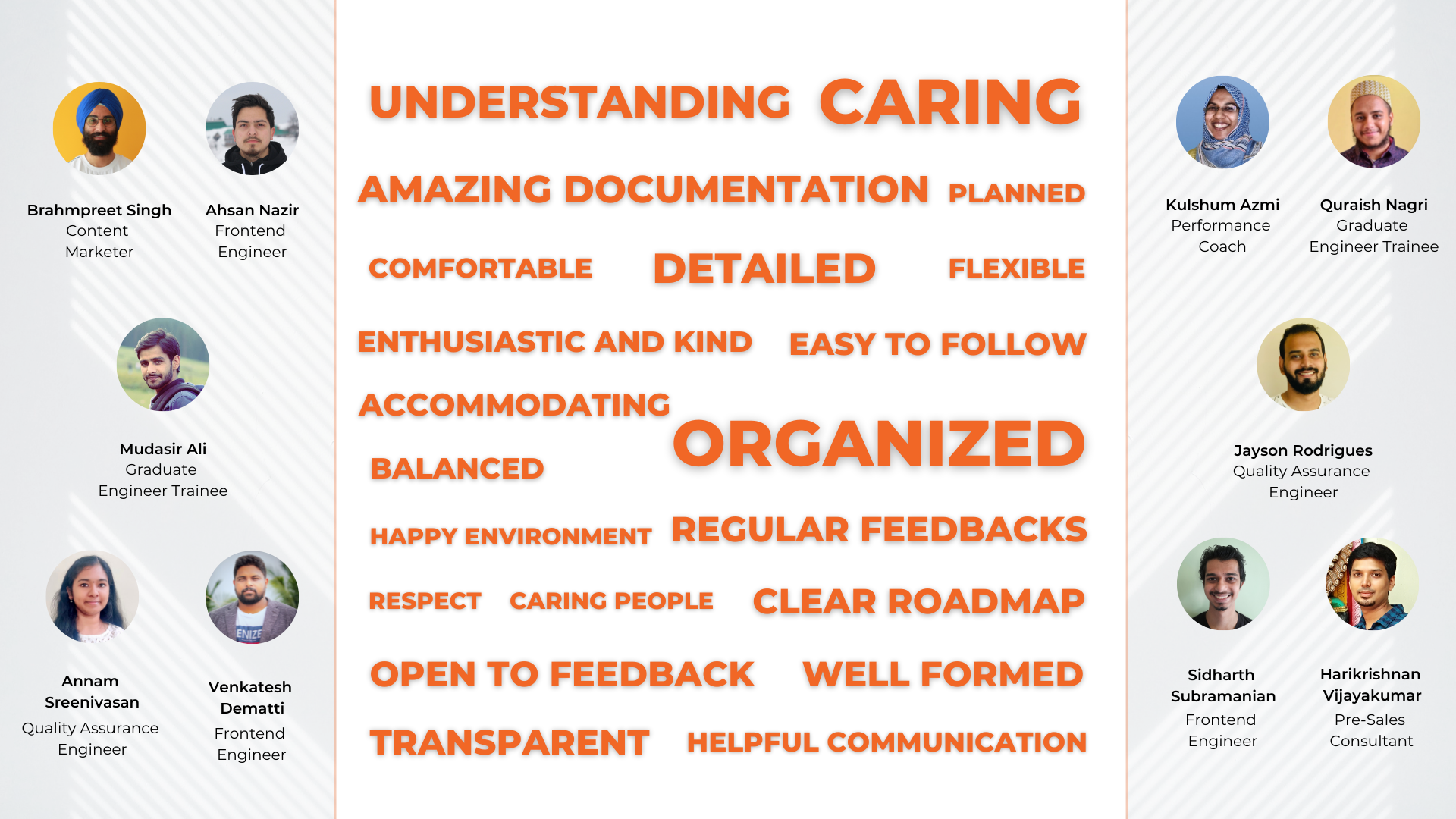 Most frequently used words to describe the Axelerant onboarding experience, in a word cloud.
What made the onboarding experience ideal?
The most important factor was how everyone, from people operations to our immediate team members, made us feel included and as a part of #TeamAxelerant.
Humans set up the process, and what do humans do? Make mistakes. Fortunately, people can also trust #TeamAxelerant to learn from these mistakes and improve.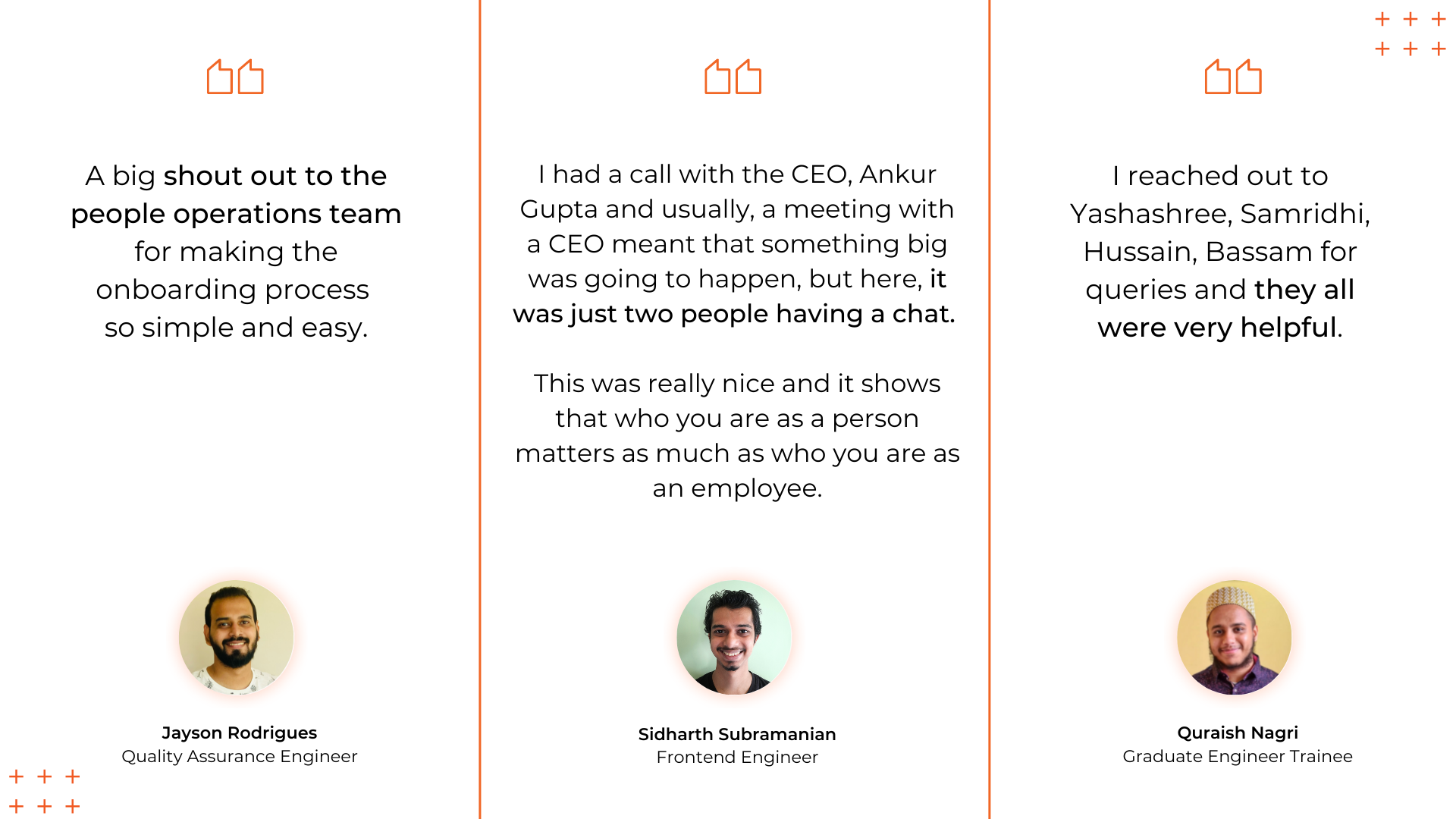 What were some shared concerns?
A couple of people had shared that the initial call was too long. For them, it had spanned for a few hours at one stretch. That resulted in people failing to retain details along with feeling overwhelmed.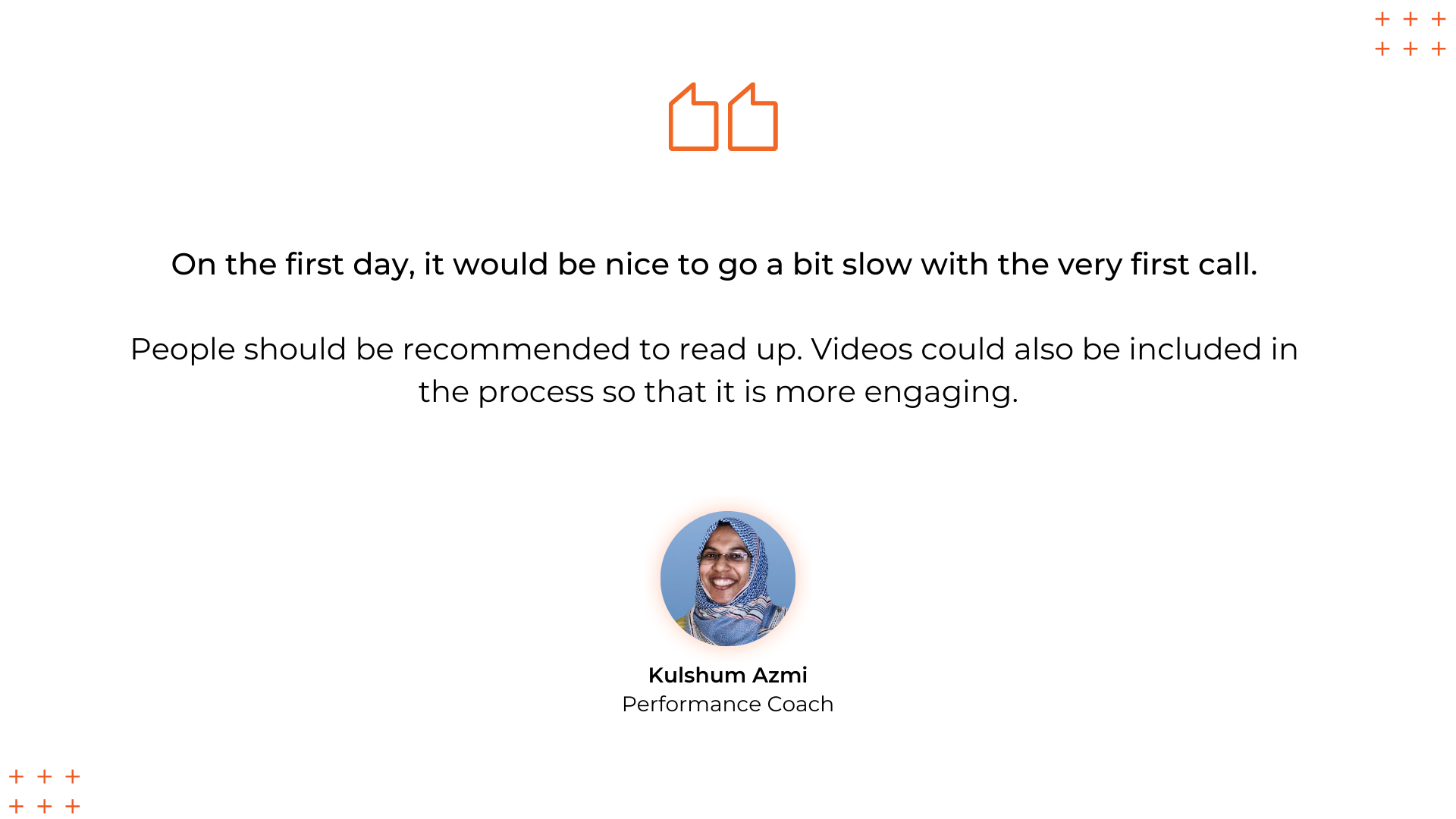 I reached out to Axelerant's CSO, Michael, and asked what he thinks are areas that need improvement. 'Giving people the chance to know more about the team Axelerant and its systems' was at the top of his list.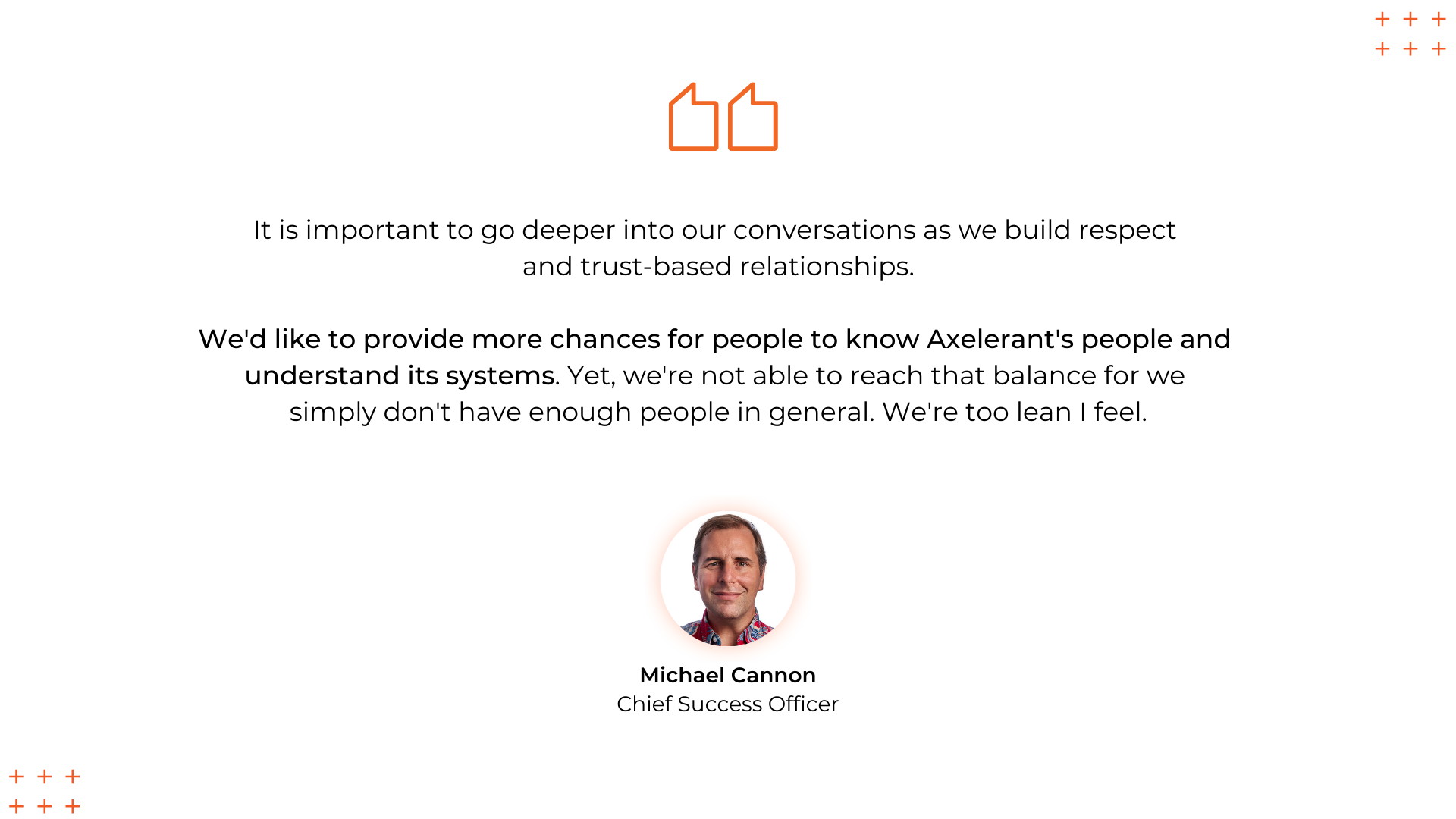 I could trace some misalignments here. On one hand, newcomers felt overwhelmed with information, while on the other, there is a need to share more. I dug deeper to understand the 'why' behind the same. The idea is to slowly get people involved in their tasks while learning about the culture, rather than getting straight to work. This made sense. Clearly, the solution is not to stop talking about Axelerant's culture during onboarding, but to ask: how can we do this in a way that's engaging and resonant?
This is a work in progress, and steps have already been taken to improve. For instance, after receiving feedback from the team, the initial call was divided into parts. This made it easier for us to digest the shared information and gave us time to retain it all.
What made onboarding successful?
Structured approach
The way the induction checklist was divided, explicitly explaining the tasks we were supposed to take up, was extremely well crafted. It was simple, gave us a clear approach about what we were expected to take up, and gave us a lot of time to understand Axelerant and its ways.
'WOW moments'
I had to request leave on my third day itself because I fell sick with the post-vaccination symptoms, and I wasn't sure if it would be okay to ask so soon after joining. I've learned that asking for leaves is disrespectful so early on in the process. That wasn't the case here.
When I did reach out to Sharayu and Yashashshree, their responses were that of concern, but only for my well-being. They told me how I could go about applying for the same, and that was it. Perhaps a "small" gesture for some, but it made a large impact on me.
I was curious to know if my team members had any "WOW moments." Their responses left me smiling.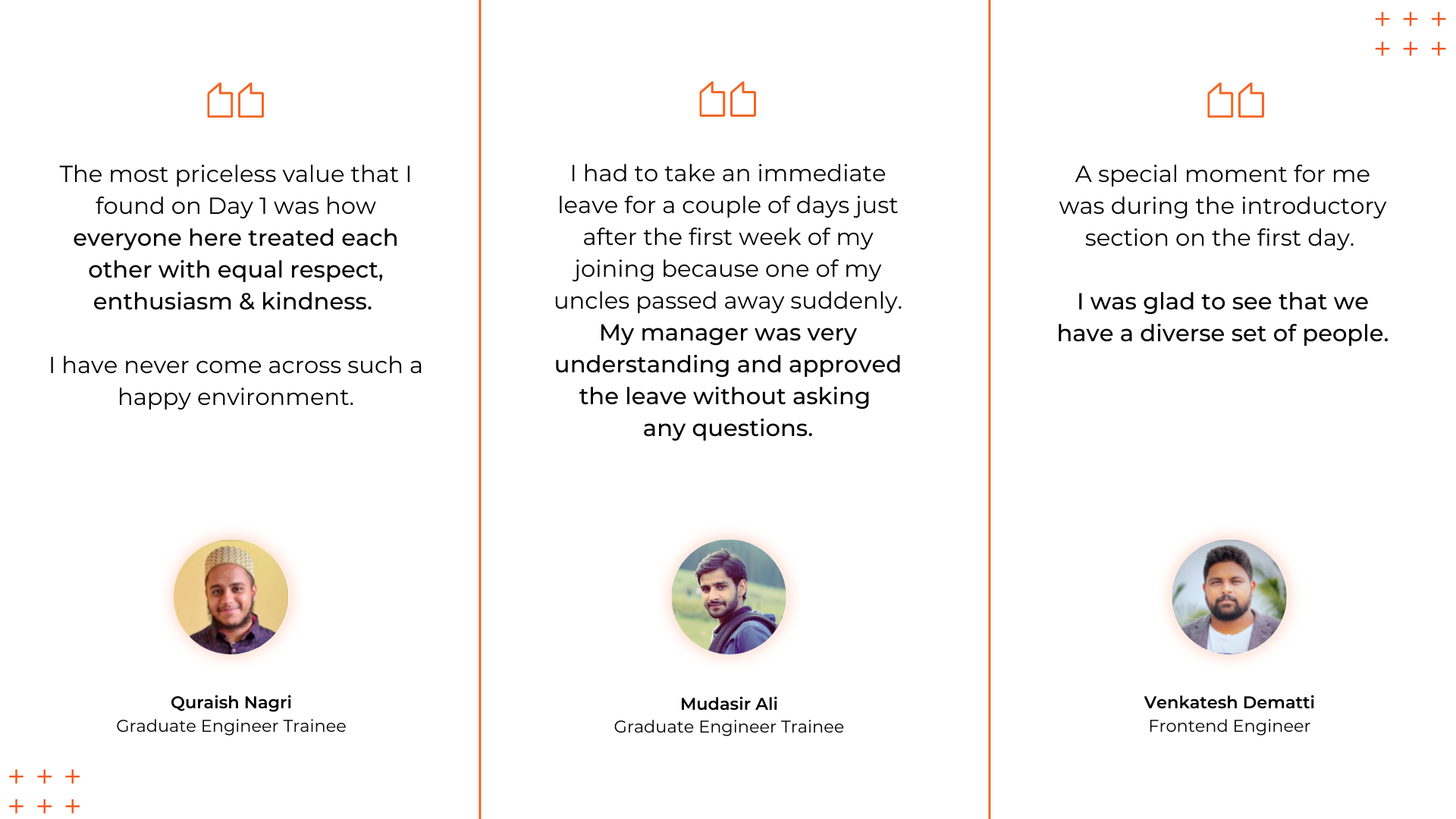 Lots of fun
As soon as you join Axelerant, you'll have so many engaging slack channels to join!
Love talking about your favourite anime series? Head to our #guild-anime-manga channel. Are you wondering what you should binge-watch next? Scroll through the #guild-binge-watch and get amazing recommendations.
Show off your art skills in #guild-arts or if you have a pet, introduce them to our #guild-pets channel. That's what I did during my first week, and so did Sidharth.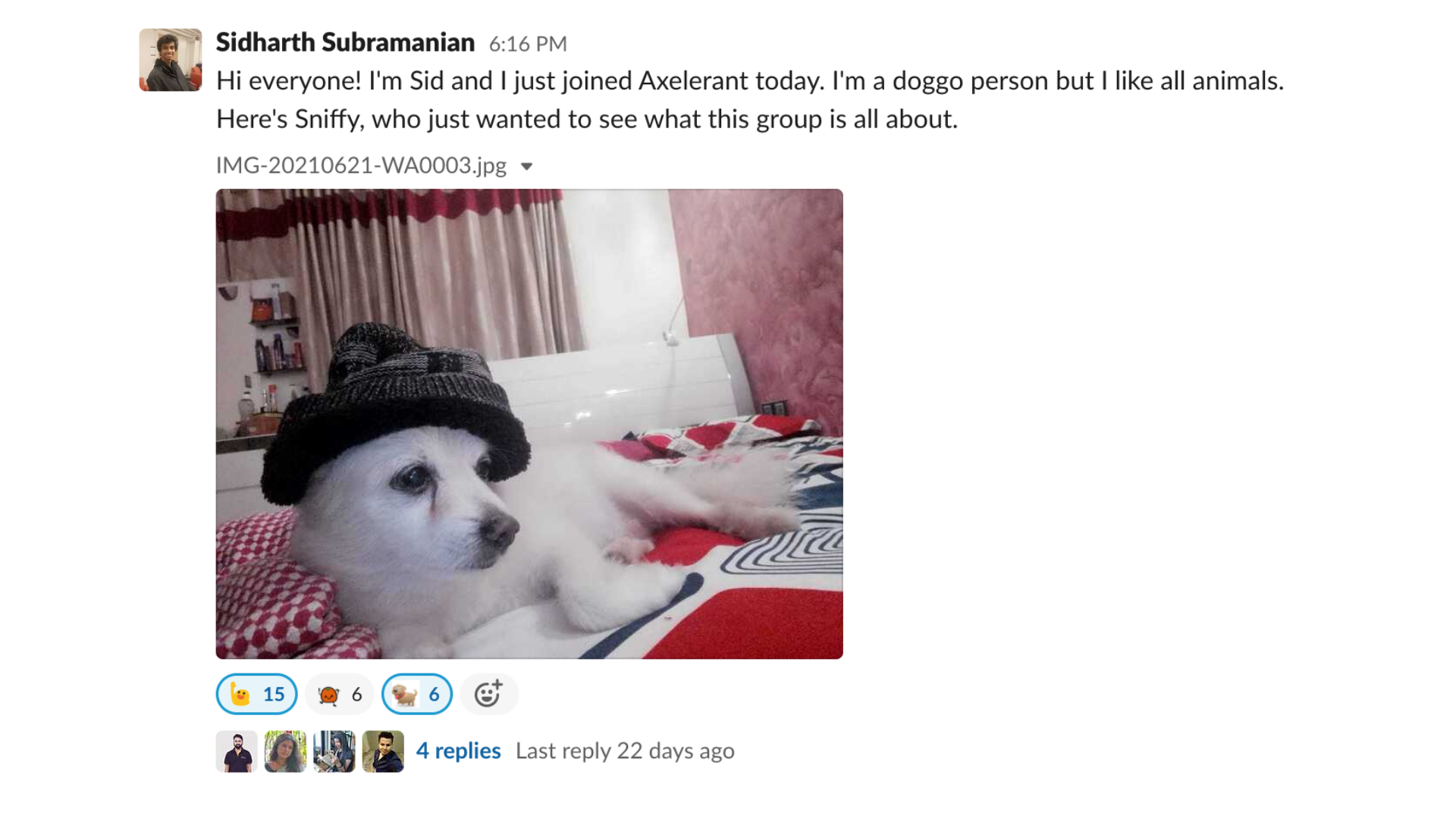 Strong support system
While going through my team members' responses, I realized how our reasons for support varied. However, what helped us all was the constant communication, support, and care we received from people operations and our immediate team members.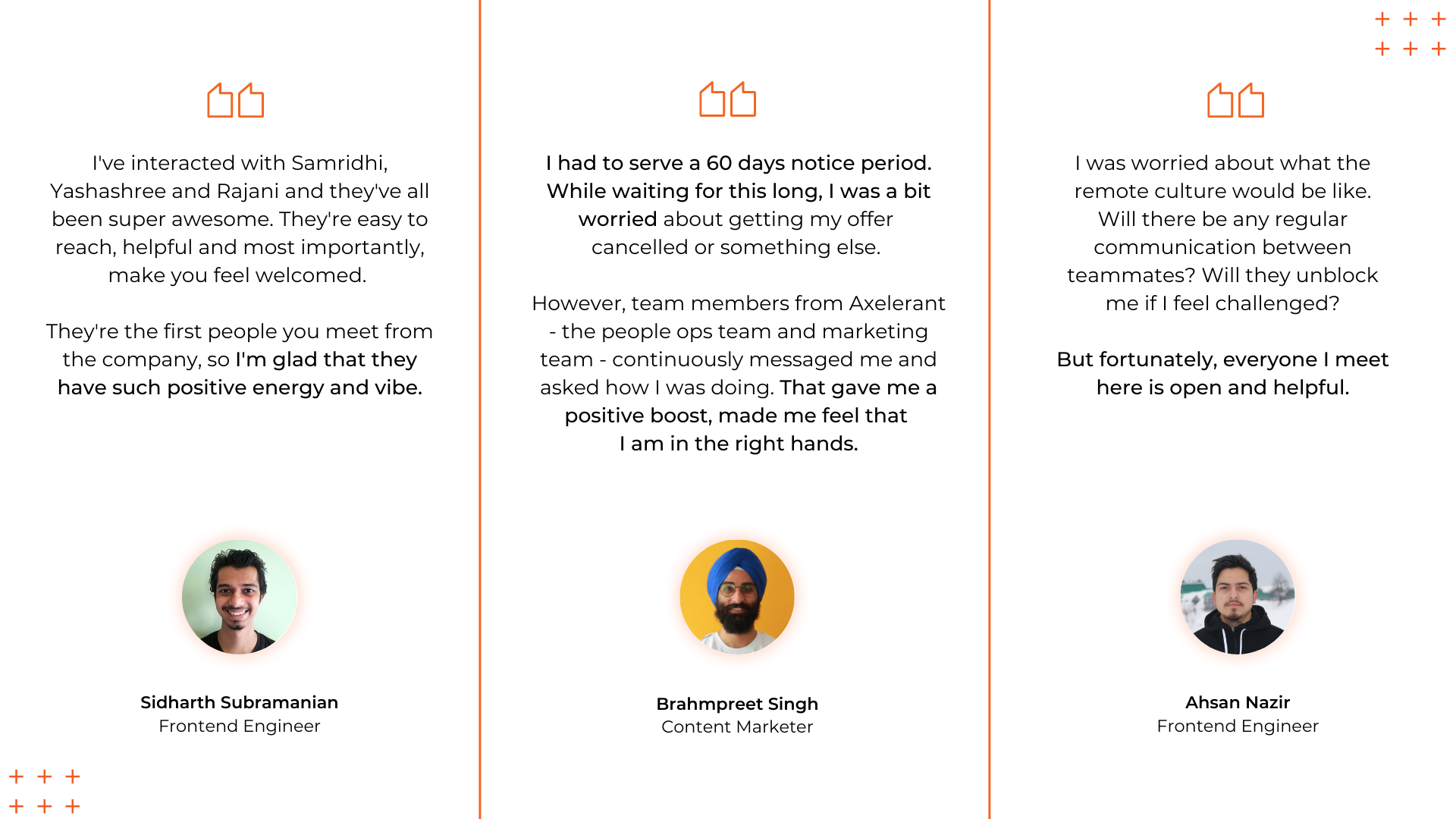 There is still so much to talk about, like the "Happy Hour" calls. During these, our team members meet, let loose, and just focus on having a great time. The "Donut Calls," through which we meet and get to know different organization-wide team members. Or our "Watercooler" chats, which introduce us to our team's opinions on a diverse range of topics.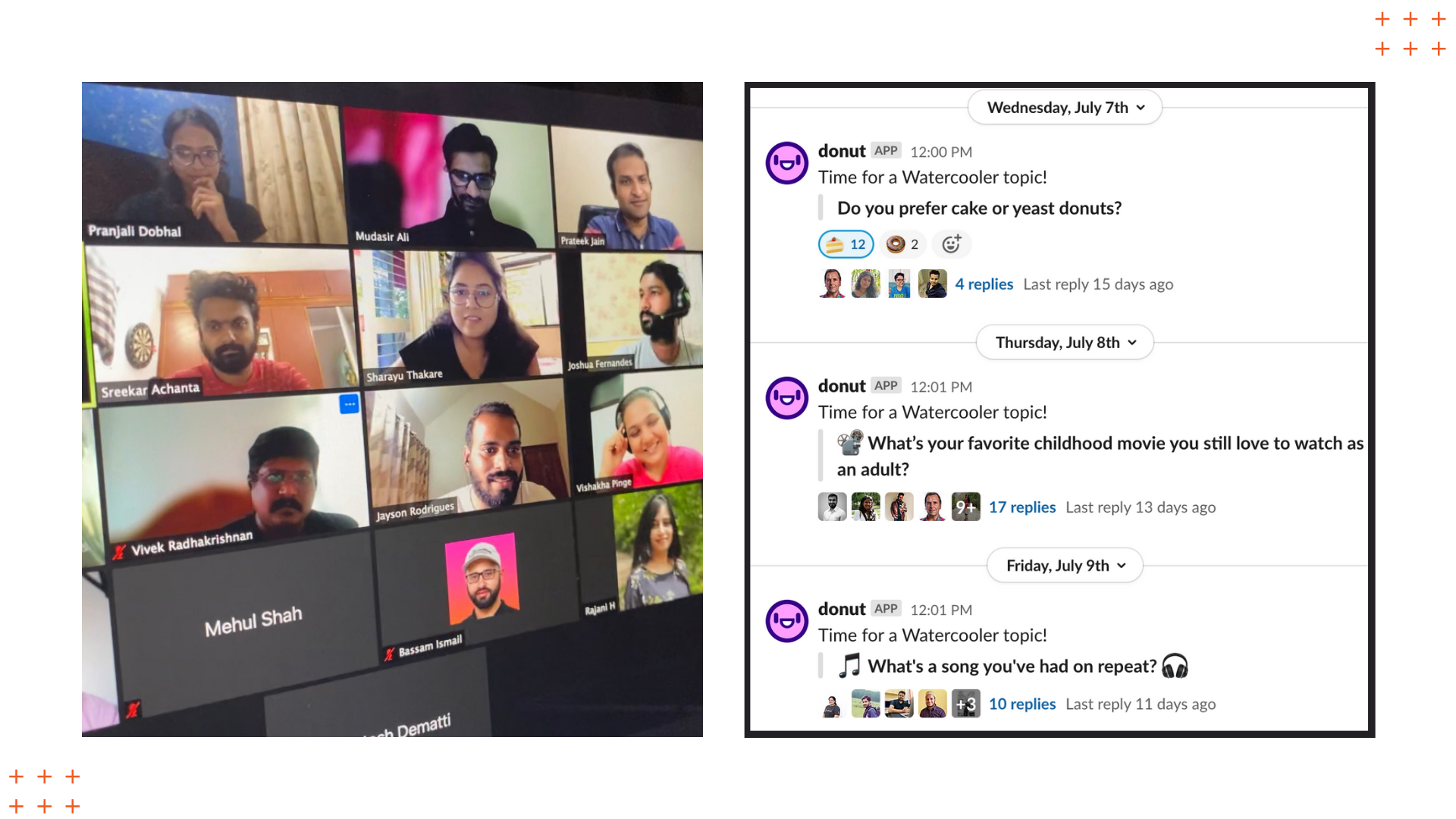 A lot of the experiences of being new are also very personal to each individual. If there's one thing everyone agrees on, it's how grateful we are for being here.
Thanks to the hard and smart work by #TeamAxelerant for making each one of us feel welcomed and at ease.
I now look forward to welcoming new members to the team and helping them feel the same enthusiastic and positive energy that I felt during my onboarding.
About the Author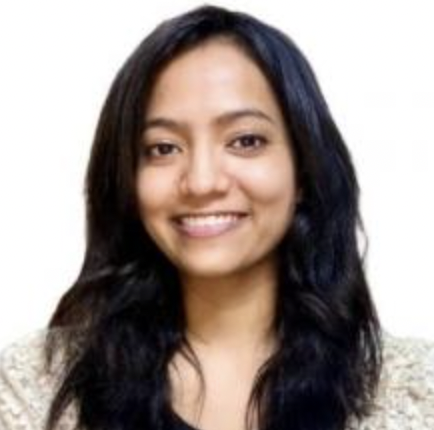 About the Author
Pranjali Dobhal, Social Media Marketer
When she is not churning our social media campaign ideas, you will find her traveling to places rich with flora and fauna, cooking, binge-watching, reading or exploring cafes with friends. Have a movie or book recommendation with twisted plots and complex characters? Pranjali is all ears!