Introduction
I'm sure if higher learning courses like College Websites 101: Attracting International Students were there for movers and doers in college tech and marketing departments, they'd be grateful. Because while a focus on international student admission isn't new to the higher education space, how to do it just isn't explored enough. And there's a good reason for that:it's a competitive marketplace.
College websites & international students
Between 2014 and 2015 alone, international student enrollment increased 10%—the highest rate of growth in decades, pushing international student enrollment numbers over the 20 million mark. Attracting these students has become a goal, one that's factored into higher ed development projects and reflected in college website design trends.
So there are several reasons why the industry has placed such a weight on international student admission. Here are two big ones:
Cultural benefits worth investing in
Another benefit international students play is for domestic students who lack the opportunities to study abroad. Since only 10% of U.S. undergraduates are able to study abroad, having international students brings cultural exchange and new perspectives to the rest of the university. It can help transform communities, instill new ideas, and invite positive, constructive exchanges across campus.
Significant financial returns
Higher education has changed rapidly over the years with drastic cuts in funding for state-run universities. International students are generally more willing and able to pay the full price of tuition. This makes international students quite lucrative to the university. The U.S. Department of Commerce reported in 2015 that $30.5 billion was contributed to the U.S. economy by international students and 72% of their funding came from outside of the United States.
Welcome to College Websites 101
So I've brought some points together for you and these are meant to help answer some of your basic college website questions. With a growing importance placed on growing global site reach, how do colleges and universities put international students in their classrooms? Everyone knows that an essential aspect of admissions for attracting any students, but especially international students, is the website. Read on for more information about what international students are looking for in your website and how you can make that a reality.
Remember to keep it simple
Complex sites without clear pathways for users to follow and easily navigate through won't work. It's not that global students can't figure it out, but they shouldn't have to work hard to get it.
The basic rules of creating an effective website apply for both international students and domestic students. Create an experience on your website that expresses the personality of your university and sets you apart from the competition in both design and function. But also keep your website clean, simple, and intuitive.
Create intuitive navigation
Your visitors are impatient, and if they can't find what they are looking for within a few seconds, they are going to navigate away to another college's website. So make it as easy as possible for your visitors to find what they need in a timely manner. Use a content management software that allows for you to keep your content neat and orderly with features like drag and drop configurations.
Make tasks and prompts easy
Make it easy for your potential students to complete the tasks they came to do. This can be as simple as finding the right web pages or having the ability to contact the appropriate people on campus. Think through your website as if you were a potential student, and make sure that pertinent information is easy to access and simple to find. This is where a
Make it accessible
Usability and accessibility are different and equally important. College websites that are planned, developed, and designed with international students in mind should have features which foster "approachability."
Another aspect of your website to consider adding is a virtual tour of your campus. While domestic students can and usually do make a campus visit to your school, international students sometimes do not have the ability to make the trip to your campus. Providing a virtual tour gives you a way to show off the physical facilities and atmosphere of your campus that makes a huge impact on the education decisions of potential students.
In addition, be sure to include the other ways that potential international students can connect with representatives of your university so that they can get a personal feel of your culture. List recruiter visits to global locations and then provide the contact information for recruiters and alumni in the area. This way you make your university more approachable to prospective students who find themselves miles away.
Get personal
Why do international students come to the United States to go to college?Esteemed universities, wanderlust, and an authentic immersion in American English are all great reasons but there are more compelling ones. The irony here is that many students enroll in school to have fun. If this weren't true, college websites wouldn't put such an emphasis on fun or personal stories. You've got to get personal.
Another challenge for your website is to make it personal towards the specific concerns, requirements, and resources needed for international students. One way to solve this dilemma is by creating a microsite for international students in their own language. In this way, you can include travel and visa information, entrance requirements, and other resources necessary to gain admittance to your university.
Another way to utilize this microsite to make your website personal is by incorporating the experiences and stories of current and past international students. By including these, your international students are easily able to picture themselves on your campus. International student enrollment is increasing, so there is no shortage of stories to be told.
Give information about the international clubs on your campus and other aspects of your culture that they can be involved in. In this way, you transform your website from a static series of pages of information to a personal experience told by those who have been in the shoes of your prospective international students.
Scale language barriers
More particular to international prospective students, your website needs to be accessible to a multitude of languages and peoples. Have intuitive translation of your material or at the very least provide translation options for your website. Out of the top 10 countries of origin for international students, 9 of those do not have English as the official language. While your future students likely speak English fluently, it's very possible that their parents and family members do not.
While there are multiple challenges to setting your website up to cater to international students, there are many product features available that allow you to accomplish this. Some content management software has multilingual features right out of the box. You can choose from one of a hundred languages during your setup process.
Plus translations for your viewers are made easier because of browser language detection. This way you are able to customize the experience for your international students in their own language without losing the visual features of your website.
Keeping your website simple yet engaging means have a content management system that allows flexibility in making additions and changes. Without you having to code, some content management systems help you to customize components of your websites using drag and drop tools with better previews.
Lots of college websites need help
But with content management systems like Drupal available, you're closer than ever before. You can take your learnings from College Websites 101 and start attracting more international students today. It all begins and ends with your college website. If you remember that, and can find the right people to help you implement your vision, you're set.
About the Author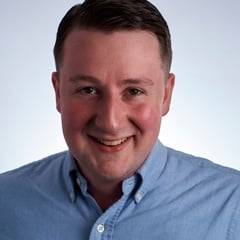 About the Author
Nathan Roach, Director of Marketing
Germany-based consumer of old world wine and the written word. Offline you can find him spending time with his wife and daughter at festivities in the Rhineland.