Introduction
I've never been to a DrupalCon. I've written about these in our blog, interviewed Axelerant attendees about Cons, and I've helped prepare our team for each one with collateral, booth branding and all… but I never attended—until Vienna. There I learned some things I know will be sticking.
It has to do with what we're not doing well enough at Axelerant (more on this later).
DrupalCon Vienna Retrospective & Learnings
Through chats with others I knew what I should be expecting. Great, friendly people with maybe some esoteric Drupaler inside jokes, swag for everyone, BoF's, sessions, musical introductions, lots of things to learn, people to meet, things to see.
It didn't disappoint. It was a holistic experience full of all of this greatness and more. So here's my retrospective summary of highlights and what each means for us and maybe for you too
Drupal Business Summit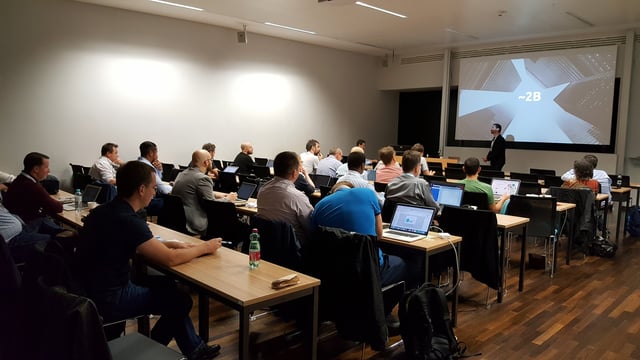 Business Summit Kickoff - image credit: Jutta Horstmann
During the DrupalCon Monday summits which were hosted by the Austrian Drupal community, we took part in and presented at the Business Summit. Ivo Radulovski, Managing Partner at Trio-Group and harbinger of the Business Alliance, kicked it off with an introduction and went into the plans for the Global Business Alliance, formed on the basis that there are gaps in the Drupal space when it comes to sales and marketing materials. During Ivo's presentation and throughout the rest of DrupalCon until the Marketing Spring, the intent of the alliance was rehashed in more detail:
While being leaders in technology many companies face challenges growing, marketing their businesses and Drupal as a whole. Their goal is to create an alliance platform which will provide Drupal companies with informed solutions to often complex questions and support the Drupal project in marketing matters.
With the intent to connect the Drupal Business ecosystems to form an alliance for best practice exchange and suggestions made by and for founders, associations, initiatives, and individuals below commit to creating a Global Drupal Business Network focusing on marketing initiatives.
After the kickoff, we segued into other presentations on the topics of collaboration and growth:
Janne Kalliola, CEO at Exove, presented on the Code from Finland community which promotes the collective use of a stamp of quality for consumers. This initiative promotes Finnish companies and the quality of their products, making it easier for others to recognize software products that have been developed there.
Piyush Poddar, our Director of Partnerships, and I presented on agency partnerships, on the transformation of outsourcing, why agencies choose Drupal offshore partners in 2017. The crux of the presentation centered on taking the right approach to selecting and vetting a success-driven partner, and then going into the partnership maturity model.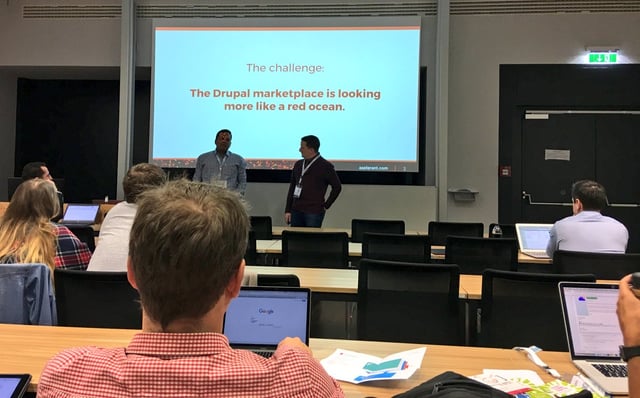 Drupal Business Summit Presentation - image credit: Chandeep Khosa
After this we had an open discussion on these topics, with Q&A being primarily focused on consolidation in the Drupal space, and "shared value creation." And after all sessions, attendees split into group workshops on topics, primarily: agency growth, collaboration, distributed teams, and Drupal marketing.
Some of our thoughts: when it comes to "Drupal Marketing" as a topic, there's a real need in the Drupal marketplace for more strategic consolidation and collaboration to build something meaningful, in a word: Open Source. Strategically powering the selection of Drupal as a business solution for mutual, symbiotic benefit between Drupal shops and agencies is a priority.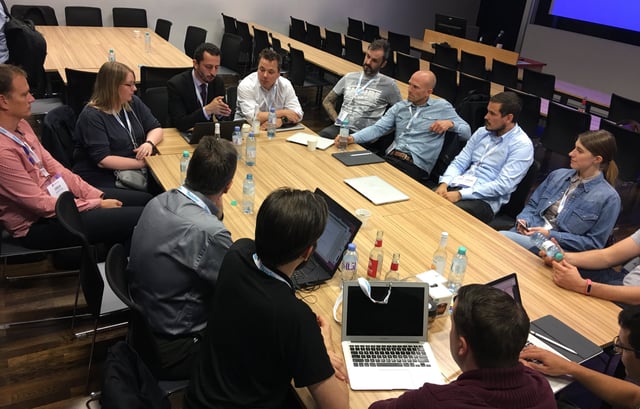 Drupal Business Summit Marketing Group - image credit: Chandeep Khosa
With all the ideas, short-term and long-term tactics floating around from different parties, we have to ensure practical alignment (i.e. a mutually agreed upon strategy with multiple parties involved). In the case of promoting and driving awareness, consideration, and decisions around Drupal: we're all stakeholders.
Here are the roundtable discussion notes on each topic discussed. The divided groups were full of diverse perspectives which form the bullets. If you've questions or would like to add to these ongoing conversations, be sure to comment in the Google Doc or message the participants.
The Dries Note: Contributions & What We Want Changed
While much was covered, what stood out to us definitively was the end emphasis on organizations who have a massive impact on Drupal by meaningfully contributing to core development and the need to support these agencies.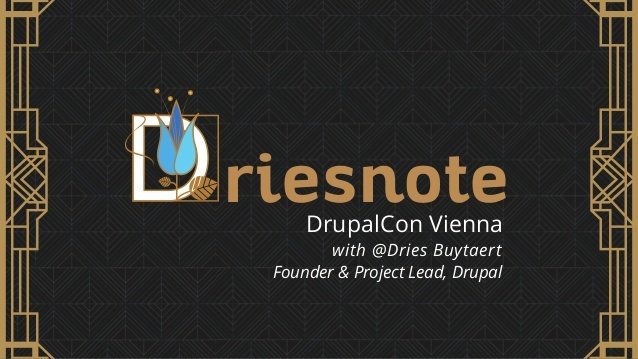 While Drupal has a large community of contributors, some of the tasks at hand are quite complex and very time-sensitive; which is where Drupal businesses can rally to solve these problems and bridge gaps. Commerce Guys, a relatively small company with a massive impact on the Drupal project, were highlighted as a solid example.
Our takeaways: We've been thinking how we could support this more effectively. Before the end of the year we'll be rolling out an improved way for us to support contributions as an organization. While we're a contributing agency with hundreds of commits and "giving" as a value, it's time for us to do better.
Acquia Partner Summit
Joe Wykes, Acquia's senior vice president of global channels and commerce, jumpstarted Vienna's Acquia Partner Summit. From here on out representatives like Shannon Homes, EMEA Senior Manager and Solution Architect, spoke on the Acquia products roadmap, facilitated open discussions around driving value together, and "the journey" there involved.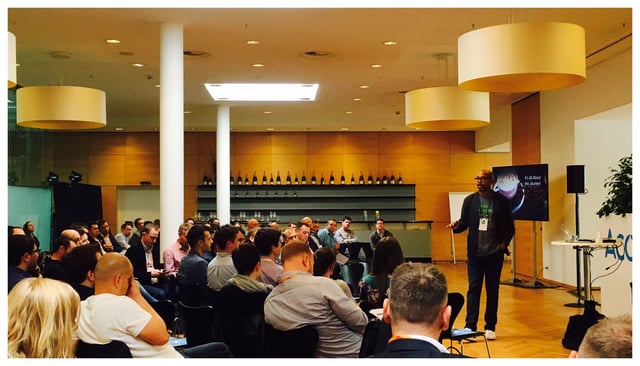 Acquia Partner Summit - image credit: Paul Johnson
Attendees left initial presentations with tips for leveraging their partnership with Acquia, like using elevated service opportunities which translate into real business value. There were several partnership success stories highlighted. All with an emphasis on how business and technical leaders who were looking to fuel the growth of their business did so with Acquia.
After these discussions, the large and still growing group split off into Interactive Roundtables which rotated three times. Topics included using the right marketing message through collaborative project multimedia, Acquia's certifications program, and several others. Key decision makers and influencers from Acquia led these discussions, taking questions openly and without reserve.
Quick mention here: the way Acquians handled these questions, much of which were bold and to the point—sometimes pointed—showed real depth. Without giving cheap, surface-level response or sidestepping the questions, clear answers were given often to charged inquiries (e.g. like the future of Acquia regarding Drupal enthusiasm vs. tech agnosticism or issues around Drupal marketing solutions).

A shout out to Patrick Goulet and Reena Leone, whose roundtable on marketing I attended and who listened more than they spoke. And when they did the latter it was unscripted, unreserved.
Past-roundtables, CEO Tim Erickson delivered an again, very down-to-earth speech. In it he included moments from the past 10 years of Acquia's history as well as his future plans. After this, open questions were taken and open answers were given (which was difficult to avoid because they had the beer and Grüner Veltliner flowing).
This time included meaningful conversation on enabling great successes at Acquia as well as admitting what could've been done better. This was the highlight of the Partner Summit, in my opinion, as it was first to ever attend. Though it was hard not to be impressed at the straightforwardness and candidness in speech by all.
Key theme to a first time attendee: openness will always empower. Which is why this has always been elevated to core value status for us. Acquia believes this too, which is why candidness over cadence was the key characteristic of the summit's Übermensch. Ask anyone there: these Q and A mixers, off the cuff commentary, and receptiveness does something important for Acquia partners. It inspires confidence through their willingness to listen vs. an extinguishing need to be heard.
Following Tim's address, we went for a wine and dine at Das Campus. Acquia personnel and partners mixed and mingled without borders. I met Dries and so many others—all willing to chat, ask questions, and relax.
The Vienna CEO Dinner
Ankur and Piyush attended the CEO gathering hosted by Michel van Velde of One Shoe and Janne Kalliola of Exove at Stadtgasthaus Eisvogel, a classic Viennese restaurant—good food, fantastic wine, and the great company according to those who went.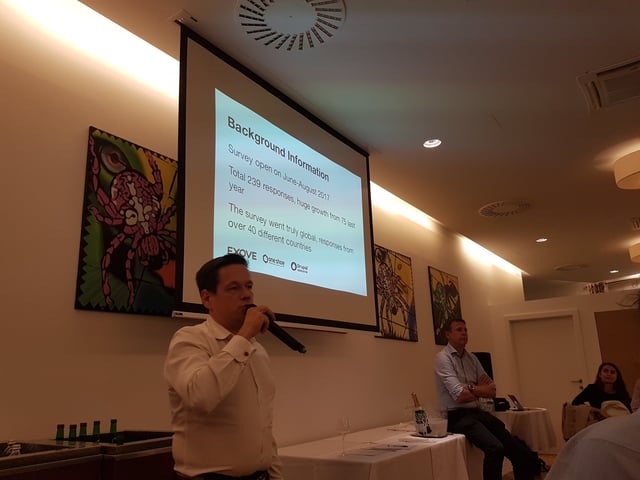 Agency CEO Dinner - image credit: Christoph Breidert
One of the things that stood out to Piyush and Ankur was Janne's comment to Drupal agency leaders that there's enough budgeting and funds available for Drupal projects by Enterprise, Government and other industries. That agencies shouldn't reduce their pricing and rates due to competition, and that together we (agencies and partners) should invest into value selling or collaboration instead of low-level competing. In Janne's encouraging words: "There's money on the table, and it belongs to us."
Key takeaway: Drupal agencies and firms of all sizes are looking for new ways to fund, execute, and expand tomorrow's opportunities, while handling the needs of today. All of this has made partnerships the new normal.
At the dinner, Michel and Janne also went over the highlights from annual Drupal Business Survey which prompted answers from 239 business executives working in the Drupal business community around the world, all done in conjunction with the Drupal Association (DA).
Megan Sanicki, Executive Director of the DA, published a detailed response to the survey with these results, in which she summarizes:
Based on the study results, it is safe to say that Drupal has a steady position in the market, and Drupal 8 has secured its role as the most popular version for new Drupal projects.
The content management market is shifting towards more comprehensive and also complex solutions. Drupal agencies are well positioned to respond to this trend due to modern Drupal 8 architecture and also by combining Drupal into larger solutions. This drives Drupal business into larger deals and allows more long-term partnerships with the clients, thus giving financial stability to the companies and also to the community.
The market might be challenging for smaller companies with only one CMS in their toolkit. Companies that can react to changing market conditions and provide a variety of solutions are going to succeed. Additionally, companies that are able to distinguish themselves from other vendors through a good set of services, specialisation, or excellent customer service will flourish. This is all part of a natural evolution of any digital platform marketplace and it should be seen as a good juncture to raise the Drupal agencies to the next level.
Drupal Marketing BoF
Marina Paych of ADCI Solutions led a nicely structured BoF on "Marketing Challenges in Drupal world," in which developers and marketers alike brought forward their pain points and shared insights and suggested answers to like problems.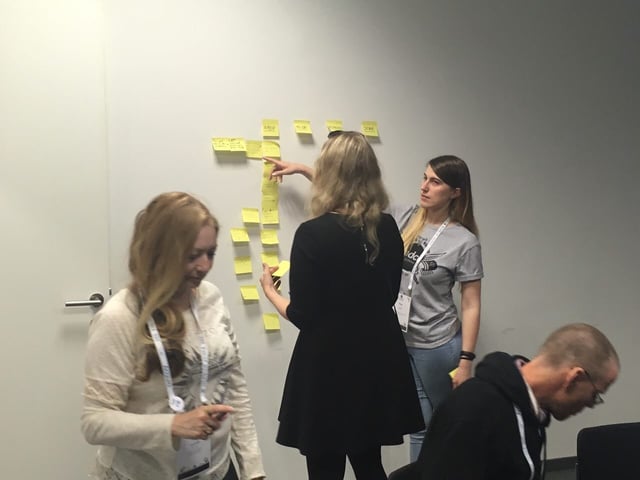 Drupal Marketing BoF - image credit: Marina Paych
I can say unequivocally that there were recurring themes. The views shared at this BoF were more-or-less synonymous to that raised at the business summit. At this gathering, there are two major, restated challenges emphasised:
The competition.

The platforms chosen by end-clients over Drupal produces dynamic, user-friendly media that's both modern and popular. There's a content marketing and effective multimedia culture surrounding these platforms, and it's beating Drupal where it shouldn't be.




Content like this doesn't convert leads.

The downside of producing purely Drupal feature-centric content is that it's often not a direct lead converter. Choosing to blog about Drupal 8 features for example isn't an investment (in the short-term) in lead generation. However, content like this—better than this—is needed by agencies striving to get clients buy in. Furthermore, it needs to be public and consolidated in a place for ample use.
There were several "need" outcomes of the BoF discussion, which were helpful in recapping the preceding Business Summit discussions around marketing while springboarding the Drupal Marketing Sprint which would come next.
Key learnings: this open discussion on Drupal marketing challenges isn't going away. People are confused and are having a hard time winning with Drupal in the arena of CMS choices.

Side question: While proprietary software marketing teams do their thing, when it comes to Open Source Software (OSS) like Drupal, is the software's marketing and PR Open Sourced too? Aka: we're all responsible for marketing Drupal as a business solution. Right?
Drupal Marketing Sprint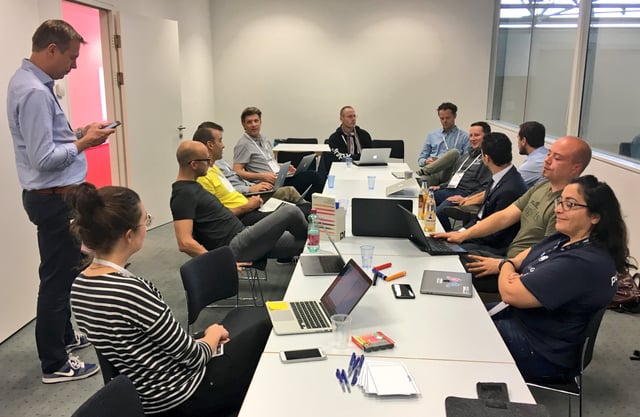 Drupal Marketing Sprint Introductions - image credit: Chandeep Khosa
Michel van Velde, CEO of One Shoe, led the first ever Drupal marketing sprint—highly anticipated and well-attended. The goal of the sprint was was to produce marketing materials, assets or other content pieces that can promote Drupal as a whole and that can be used by the whole community. Everyone who likes to discuss, brainstorm, write or design was welcome to attend. These are set to be recurring gatherings. And based on the conversations around marketing at DrupalCon Vienna, collaborative at event sprints are greatly needed.
Chandeep Khosa, an independent Drupal freelancer, posted a great tweet-laden synopsis about his experience—be sure to see it.
So how did it go? Not exactly post-introductions, colorful and charged conversation took off. There are multivalent, diverse perspectives when it comes to marketing Drupal and the best way to do it. This initial kickoff made that abundantly clear. Some wanted to jump right into multimedia sourcing and creation, others wanted more strategic discussion around the topic at hand. Let's be clear, all of these perspectives were valuable.
The question on my mind: it's my opinion that diversity is most powerful when it's symphonic. How can we best take the needs of different agencies, of different sizes, the Global Business Alliance, the organization of Drupal Marketing Sprints, the Drupal Association and the Drupal Community at large and foster synergy around this emergence?

If we fail to collectively do, any purpose-driven attempt to market Drupal as a business solution will fall short of what it could be.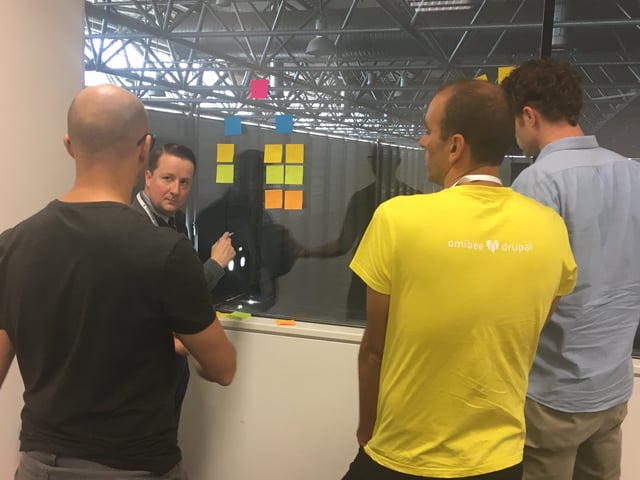 Drupal Marketing Sprint Buyers Journey Formation - image credit: Chandeep Khosa
After continuing introductions, each attendee was prompted to write out on a sticky note the piece of content, media, or strategic tool we could create within the four hour sprint. We divided everything up from there after voting on which two we should take up.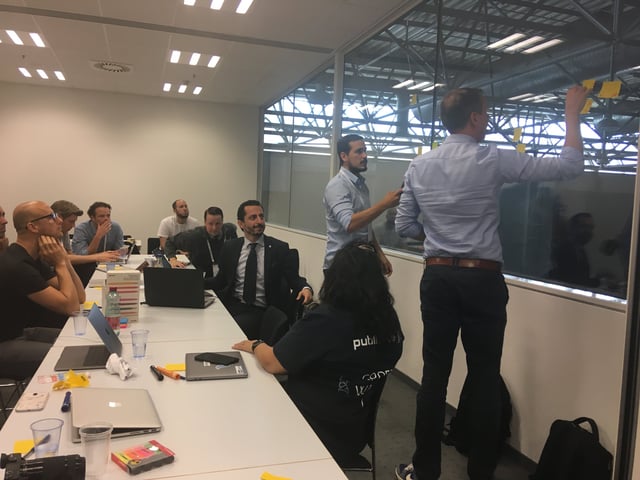 Drupal Marketing Sprint Ideating - image credit: Chandeep Khosa
The two that were chosen were: 1. creating an article showcasing Drupal being used in the publishing industry, and 2. the first version of a buyer's journey for end-clients choosing Drupal (which I took part in). Here's the outcome: The Drupal Buyer's Journey / Guide - V1


Drupal Buyers Journey (Snapshot)
What's this for, and why did we choose this? First off, it's imperfect and incomplete (obviously). This is an idea generator, a tool used for planning a funnel of content that helps agency movers and doers move their prospects to choose Drupal as their business solution. These spreads are living, evolving aids that change per your agency's needs and as the marketplace shifts and changes. Instead of beginning with individual pieces of content, it's best to begin with the end in sight—with the journey as objectively in view as possible.
So the formation of this first draft as a conversational piece will help plan content strategically around the Drupal buyer. Who this buyer is had to be general, considering different agencies target different personas within a variety of industries. The stages of this persona's journey (awareness, consideration, decision) is dependant on who the prospect is, what they do.
What We Learned (Overview) & What We're Doing Wrong
It's all about relationships. Let me be clear, our organization has really evolved these past couple years and our network has only grown. But one thing that's still off is our approach to these events and how we communicate the value we create with our agency partners.
Fostering stronger, genuine relationships built on trust, that create shared value—this needs to be a purpose-driven focus of ours. We need to be more interpersonally involved and invested in supporting Drupal and the community at large. From this basis, how we communicate and exchange should change.
Anyone who knows us knows that we're not aloof and that we're certainly involved. We're active contributors, sponsors, creators, "builders, dreamers, doers, and makers…" but we can do better than what we're doing now. Much better. In part, this means looking at our revenue generation—sales and marketing—efforts and community efforts in a new, refreshing way. We used to approach this, more-or-less, with a means to an end mentality.
As in while our relationships in this ecosystem are good, we need to take more time and effort fostering meaningful relationships (not checked boxes, like routine monthly newsletters or arbitrary social media that doesn't add value). We need something more personal, more purposeful.
So we're reviewing these thoughts as an organization, based on what we learned. And you'll see the change which will follow, as it happens.
what's next?



We're heading to DrupalSouth. Hussain and Piyush will be attending, and if you're there be sure to connect with us. As DrupalCon Vienna showed us new and more dynamic ways we can more effectively fuel the success of our agency partners, DrupalSouth is sure to do the same.
About the Author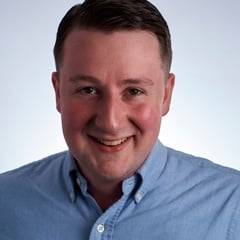 About the Author
Nathan Roach, Director of Marketing
Germany-based consumer of old world wine and the written word. Offline you can find him spending time with his wife and daughter at festivities in the Rhineland.