Introduction
People don't buy what you do, they buy why you do it.
- Simon Sinek
Culture is a fuel.
Culture is what directs people.
Culture is the summation of folk's actions.
Culture is the final say in guiding decision-making.
Therefore a well-defined and understood organizational values of expectations allows team members to operate powerfully in alignment with organizational goals, whether it is writing client emails, developing solutions, expensing travel, or letting relationships come to an end.
We Didn't Start Out Knowing This
I wish I could say that we always knew what we wanted Axelerant's culture to be like. But that wasn't the case.
The Axelerant we see today wasn't conceived the way it is now. When my co-founder and I originally came to be in 2005, we started small, and without a very well-thought-out organizational vision.
Still, we wanted to do good work, team up with the right kind of people, be part of more projects, and be profitable, aligned to our organizational values.
Over time, we saw what happens when culture isn't paid attention to—around us, and by making mistakes of our own.
The question of culture is one that arose out of the need for positive sustainability. We realized that if we wanted Axelerant to be a lasting entity, it had to be a place that people felt connected to.
That's the journey we've been on ever since.
Speaking bluntly
Ongoing company success starts with how an organization behaves. Behavior is driven by traits collectively combined into values. Values provide the topmost insight into expected attitudes and decision-making for every person and group.
Through consistently demonstrating values and a common purpose, people more easily find a path towards what they'd like to accomplish in life, whether at home or work.
Define Organizational Values
The Axelerant that we are now, began to take shape in 2012, when we were building a new team and attempting to make a name for ourselves in the Drupal space.

It was then that we really focused on our vision to create a structured organization, but without location constraints. We started with distributed offices in cities like Gurugram, Hyderabad and Srinagar until gradually becoming entirely location independent.
People Matter
Over time, we drew ever closer to the less traveled path that we're on today: choosing to always be people-orientated, no matter whether they are a customer or team member.
Such people-orientated doesn't mean putting our people first or customers first. Instead, it means providing a sustainable balance driven by our values as they align to our purpose and mission of ensuring consistently great customer experiences and employee ownership.
Therefore, a talent-first approach is woven into all strategic decision-making at Axelerant.
Defining Your Values
It's by the same principles that as people guide their life by values, companies do the same too. Yet, to ensure that the company's people act in the desired manner, the company must identify the values of its core being.
Values-based decision-making allows you to create a future that resonates deeply with who you really are. It creates the conditions that allow authenticity and integrity to flourish. - Richard Barrett, Barret Values Centre
For without the common basis of behavior, no matter the capabilities of its people, when they're not able to align themselves on basic human interaction traits, they'll struggle, get frustrated, and lose their motivation. None of which propel their team or organization forward.
To help determine organizational values, think upon when the greatest challenges or signs of progress happen. From those points in time, give consideration to the attitudes or traits that people were demonstrating at those times.
As the varied behaviors come forward from those moments of success, distill them and provide context.
For example, two companies have won significant contracts because their verbiage connected with the people who mattered most. Yet, while the varied semantics of the language is acceptable at a creative agency to connect with a varied audience; at a medical pharmacy, strict language is paramount to ensure clarity in pill consumption.
So, though a language value could seemingly be the same, you have to take care that the context of its meaning is provided too. Therefore, you must also define what it means to demonstrate each value.
Do take inspiration from other companies. Yet don't take their values for yourself. For what values you define, share, and ultimately demonstrate must be yours, and yours alone.
Cookie-cutter values don't set a company apart from competitors; they make it fade into the crowd. Patrick M. Lencio, Make Your Values Mean Something.
Importance Of Values In Organizational Behavior
Being Transparent
As Axelerant works with Open Source technologies, we want to ensure that we cultivate that same sourceable accessibility ethos within ourselves.
This means that as an organization we share greatly, even probably scarily, too much information at times. Yet doing so means that our journey is shared here in hopes yours is easier.
And, our generosity with each other and our communities like Drupal, Rands, and others benefit. Plus, through the openness, we're able to get a diverse range of feedback to help us ever refine why and what we do in our approach to successfully accomplishing our partnership-based mission.
Standing Tall
Your organization is true to itself when it has the guts to act consistently, especially when it's not politically correct, privately and publicly.
You know you've done well when you can publicly state your values and there's pride felt by your team members for the organization acting by them.
In other words, don't treat your values as an afterthought. They can be an organization's driving force—if people let it, be by living by them daily.
Turn Left, Head Straight, Or Make A U-turn
As you begin acting in a consistent manner, people can unspokenly know what to expect. Therefore, decision-making at an organization becomes faster and, even easier because of such behaviors.
And, when decisions are more readily trusted, even the interactions between people benefit through deeper respect for a common basis, though they're of opposing views for cats and dogs as pets.
There comes a point when the values of the organization and for some people, they don't align. And, that's okay. Help those folks out of the company kindly, respectfully.
In turn, the company is better off because its people on the whole are closer to living what the organizational values are.
Real, Positive Outcomes
There are ultimately many benefits by having a thoroughly understood and consistently demonstrated culture. As per Worklogic, actualized values enable the following outcomes:
Guide people's behavior, as well as strategic and operational decisions
Provide a solid foundation for your employment policies, and "fill the gaps" where policies are silent
Over time, improve the organization's ethical character as expressed in its operations and culture
Demonstrate integrity and accountability to external stakeholders
Set the organization apart from its competitors
Reduce the risk of inappropriate behavior
Strengthen the employment value proposition
Axelerant Values
The first version of our own, not borrowed, values came to be during Axelerant's 2014 Rishikesh retreat. Passion, Openness, and Giving that have since evolved with us. Yet we're remaining true to our core intent: an Axelerant of meaning and inspiration with happiness and fulfillment for our people.
Through time and experience, because of the diverse breadth of our people, and desire to genuinely be inclusive, we've purposely kept a narrow focus on the values that define us.
Axelerant has three core values, with nine defining traits thereof: Enthusiasm, Kindness, and Openness (EKO).

Enthusiasm speaks of our excitement at being part of Axelerant and working with each other on projects and through challenges.
We've found that when people are not excited about their work, their effort will be hard to sustain. Enthusiasm is part of the way we work, and therefore, essential to who we are.
Being interested is one of the fundamental things we look for when we hire. We seek out people who are excited by what they're doing and want to be part of something bigger. We look for those with the desire to learn and iterate by themselves and persist until they get results.
One of the ways we nurture enthusiasm in the people who join our team is by sponsoring learning and events. We send them out to meet other passionate people, connect with top contributors in the industry, forge new connections and learn new skills. We find dynamic, creative, and fun ways to help people keep growing in their field, and feeling inspired and uplifted by the work they're doing.
When people bring that vitality into their work, you get a team that's driven to overcome challenges, push boundaries, and succeed. This is visible in our team members' sustained focus on improving organizational systems and processes, their continuous participation in and active contribution to Drupal and other communities, and their willingness to go beyond what's expected to deliver consistent value to our partners.
Enthusiasm is also the value that's recognized most often among our team members.

Some people think of success as requiring a certain degree of ruthlessness. Kindness may not, at face value, seem like an essential component of success, but it is deeply important to our identity and contributes to our success.
We want to nurture a positive, encouraging environment for our team members, and we do not tolerate behavior that is hurtful, disrespectful, or negligent towards others. We do our best to keep interactions positive; we praise publicly and share constructive feedback and criticisms with our team members in private.
This approach also carries over into conversations with our partners. We lean towards positivity and generosity in all interactions, particularly when important but difficult conversations must be had. We give others the benefit of the doubt, choosing tact and good judgment over imprudence.
We have performance coaches to help our team members work through any challenges they might be facing. They work with our team by lending an ear whenever someone needs to air their frustration, mediating between team members through any difficulties, and keeping the team happy and engaged, facilitating kindness through mutual respect.
And we've found the best way to nurture kindness is by example. When one person in the team is kind, it inspires others to act the same way.
Like smiling, kindness is contagious.
When one of us is struggling through a personal challenge which they share, people reach out in support of them. That is, individual notes of encouragement, publicly—not compelled, but naturally.
When one of us succeeds, we join in celebrating them as an organization. Kindness invites more kindness, creating an environment that's positive, productive, and healthy.
This culture of kindness means that our people are highly engaged and uncommonly motivated to help each other as well as our partners in meeting their objectives. Axelerant team members spontaneously go out of their way to offer support through challenging projects, share learning and insights freely, and seek ways to give back to the community.
All of these actions contribute to the success of our engagements, and the accomplishment of our partners' end goals. They are what empowers us as an organization to be authentically and holistically focused on success.

Radical candor is something that we've aimed for since we realized the value of transparency. We want a culture where team members feel like their voices are heard. We want people to be more vocal about things that affect them—their career paths, projects, and organizational decisions, like process and policy changes.
And this was only possible if we were willing to openly discuss difficult situations.
We started out with most of our team in India, where often by cultural and personal factors, people took a long time to open up about things that matter. We have had to be extremely patient, getting to the root of all issues that were brought to us, and to consistently demonstrate that what people shared with us wouldn't be received in a negative way.
Setting examples around openness has been an enduring focus of ours.
To that end, we're transparent with our team members and partners about our efforts, our challenges, as well as any mistakes we've made. As far as possible, our chats and threads are kept public.
Disclosing confidential information internally comes with its own challenges, but in our team, our people have been highly professional, understanding the responsibility that comes with this level of trust.
With our partners, our openness helps build confidence. We're able to have difficult conversations with candor, realizing fair outcomes for all parties involved.
How To Align To Organizational Values
Link Culture And Systems
Our feedback and recognition system (7geese) is integrated with Slack, and every day, we recognize people who exhibit our agency values directly in meetings, in conversations, and on partner engagements.
We value feedback from our team members, as this is what helps us get better. We use Officevibe to encourage people to speak freely to us about their struggles, or any unhappiness over decisions made. When we receive negative feedback from team members, we address it publicly, letting everyone know what positive changes we plan to make to solve their problems.
We also use AskNicely to gather feedback from our partners periodically. Insights gleaned from their comments and follow-up conversations help us quickly correct course if there are any challenges, adapt to our partners' needs, and keep improving the way we do work.
We value dissent when it is productive because it leads us to make better decisions. Our ability to take new input and rapidly maneuver to adapt to it creates a team that's fast-moving, nimble, and dynamic. And these are the qualities that allow us to respond to our partners' evolving needs with speed and precision.
Remote Teams Require Deliberate Culture Focus
Culture is especially important for remote teams, which don't have the advantages of spontaneous conversation and face-to-face meetings. Remote workers miss out on a lot of information and opportunities that people have instant access to in physical offices.
This can mean that it takes longer to build respectful and trusting relationships between team members and peers. And, these traits are critical for people to work with and rely on each other.
Therefore, document first and act based on what's written. And guide always by what's said would be done. When it's time to change, make sure documentation is updated too. This way there's always a trusted common point of authority that people can refer to.
Well-Chosen Values Create Positive Synergies
Our values reinforce and temper each other. Such as openness without kindness could easily become harsh and discouraging, and we've seen this at play. Enthusiasm without openness would mean energies being spent recklessly, unchecked and ineffective. Kindness that's not buffered by enthusiasm or openness would mean we'd be unable to make meaningful progress, that is we'd be ineffective.
We're enthusiastic enough to keep propelling each other forward, open enough to share freely and keep each other on target, but kind enough to be gentle and constructive while doing so. That's what creates a highly energized, positive, and purposeful working environment for us all. And it's how we win.
Conclusion
People ask us how we got our culture right at Axelerant. However, I don't think we got it right—it's just that we've stayed highly focused on our organizational values, and conscious of the fact that we have to continuously strive to keep it relevant.
What moves us forward is our constant wrestling with this question of whether we have it right or not. It's a question we have to regularly ask each other. Culture is something that always needs to be tended to with care and attention.
Especially in a world of political correctness, the better companies are those who fiercely acknowledge their core values and are intolerant of people who don't demonstrate them despite providing coaching and training.
As such, regular reflections and iterations of the organization and letting go of folks who act against company values is imperative to long-run consistency and success.
Because we hold ourselves accountable with team members and customers, we've publicly shared how we'll act open.axelerant.com. Let us know how you think we're doing.
About the Author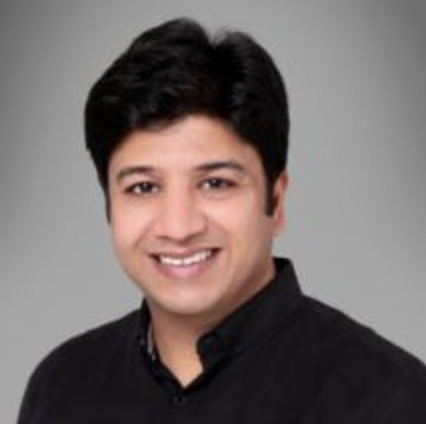 About the Author
Ankur Gupta, Chief Executive Officer
Constantly learning, ever caring, always faithful to what's right for Axelerant, family, and friends, Ankur loves to try new things and be around people. He considers himself an eternal optimist and believes that people + technology will lead to a better future. He's a long-time Yellow Jacket with Computer Science and MBA degrees from Georgia Tech.