Introduction
Axelerant has been working remotely since 2012. And, wherein the beginning of working from anywhere was a competitive advantage, now most organizations offer it or a hybrid thereof. Yet, with physical presence shifting, genuine people care is more important than ever before. However, it's often not demonstrated.
Not at Axelerant, for by our purpose,
We genuinely believe that people are the secret to success, and by empowering them in ways that matter to them, we will create substantial value for our customers and positively impact the world.
Therefore people care is at the forefront of all that we do. Because without respect and trust between us all, we'll fail to create meaningful differences.
Our move towards attention to people's health and wellness started six years back when we faced soft skill challenges versus technical. And, in learning what progressive companies were doing to overcome these challenges, we hired our first life coach, Mridula, who is still with us today, leading our Learning and Development programs.
So How Did A Life Coach Make A Difference At Axelerant?
Stepping back to late 2015, our team members worked from across the globe yet didn't meet in person very often or at all. With little personal interactions outside of distributed team tools, people's engagement became dicey because interpersonal interactions tie into agency team wellness, effective team building, and ultimately happiness.
Life coaching is holistic consulting, personalized to each team member by acting as a personal development specialist versus a technology trainer.
And unlike industry consultants who propose solutions and leave the organization to implement them, our life coach stayed helping team members integrate change, new skills, and goals.
The life coach's job is to help team members get from where they are to where they want to be.
With our life coaching helping people get unstuck, improve professional and personal relationships, identify attainable goals, and develop their potential, we realized a positive impact on team members and group morale within a few months of such effort.
We Need More Than A Life Coach
After a few years of collecting data and feedback along the way of life coaching, we found that scaling our life coaching program wasn't sustainable. And, while every life coach brings valuable experience and techniques, we must be highly consistent in setting expectations of people's behavior and outcomes, whatever their role.
Therefore, we introduced the Learning and Development group and shifted life coaching to performance coaching within it.
What Is Performance Coaching?
An individual's needs and requests drove life coaching. Performance Coaching is about empowering our team members, from interns to executives, for alignment, with desired organizational outcomes.
More importantly, performance coaching provides support around a consistent behavior and ownership program. In turn, team members get comfortable speaking directly, albeit politely, so that discussions like feedback, planning, and recognition are mutually beneficial and expectations are genuinely clear.
What Is The Role Of A Performance Coach?
Our performance coaches are highly personalized, direct-action career counselors who don't tell people what to do but guide them up within or out of Axelerant.
The performance coach regularly helps team members understand and achieve their expectations through honest conversations and feedback outside of their key stakeholder relationships. They also help team members reach their career potential by coaching and introducing other educational opportunities through an Individual Development Plan and the Performance & Promotion program.
Additionally, performance coaches support team members to better fit by helping them empower themselves, facilitate personal and professional development, removing behavioral barriers, and bridging leadership and team members' career and concern aspects through a Performance Review.
Further, coaches aid safe space creation for every team member. Enabling them to ask about any organizational situation freely, remove communication barriers, and make departments and service areas better by suggesting ethical challenges for people.
Performance Coaching Model
While we welcome and celebrate people's diversity and individuality, it's not sustainable to provide coaching that's unique to everyone. Such a stance creates an unsustainable people-first mentality that places team members over the organization. Which then produces decision-making outcomes against Axelerant's best interests.
Therefore, we've introduced the Performance & Promotion program and Performance Review to ensure Axelerant's long-term success aligning with our purpose. During each monthly conversation with team members, our performance coaches run through relevant Performance Review aspects based on recent and trending information from team member's stakeholders.
Alignment to Our Core Values & Traits
Actual vs. expected KPI performance
Individual Development Plan progress
Objectives and key results
Accomplishments - Certifications, Community contributions, Initiatives, External recognition, Non-prioritized Responsibilities, etc.
Role Correction - job title change, promotion, role transfer, salary correction, etc.
Other aspects per call participants discretion
By adhering to the points above, each Performance Review meeting provides ongoing clarity for team members about expectations and actual performance. And by these conversations, team members become more comfortable with their position and tend to concentrate on moving forward.
Performance Coaching Examples
Here are several stories by our coaches reflecting how performance coaching has made Axelerant a better place for each of us.
Kulshum: Understanding the organizational culture.
When new team members join Axelerant, it's crucial that they understand and become aware of the organizational culture around their role and responsibilities for they will be expected in our everyday interactions.
As part of our support and inclusive welcoming, every team member has a performance coach assigned to them. During the first month, our coaches will begin talking about mindset and working patterns in a manner that people can connect with.
This initial understanding then leads to our team members wanting to talk about their working style, communication approach, transitioning to remote work culture, and aligning to the organization's values (Openness, Kindness, and Enthusiasm).
All of which become part of our coaching conversation agendas like:
Ways to plan and schedule efficiently such as prioritizing and using calendar entries to let others know
Transitioning from office to remote work or a hybrid culture
Improving written communication skills, especially around tone and word choice, besides tables stakes of grammar and spelling
Being proactive like keeping the team informed when available or not, and when back
Nanditha: Career Management
The Performance Coach cheerleads and supports every team member each month through a multi-part performance review that's helping them be accountable and motivated towards reaching greater heights in their career.
At the core, team members plan and achieve their career aspirations through a customized Individual Development Plan (IDP). The IDP is typically aligned with their role, service area domain, and Axelerant objectives via SMART (specific, measurable, achievable, realistic, and time-bound) goals.
In earlier career stages, the IDP is how a person will grow into their role. Later on, the IDP could be about making transformational organizational changes such as creating a new niche service area or taking deeper ownership of a company program. Both aspects are within the team member's chosen time frame to achieve.
Frequently, IDP goals are set up to develop functional and technical skills plus behavioral and leadership skills. All of which has the subtext of the team member owning what they're accomplishing.
Therefore, the Individual Development Plan offers every team member the opportunity to grow through valuable project experience, learning new skills, and earning the endorsement and recommendation of clients and peers.
Shalini: Getting Through Tough Times
Every person goes through a period of highs and lows in their life. During times of performance-related crisis, it is not uncommon for a team member to experience anxiety, a sense of disengagement, or even being overwhelmed leading to inaction during projects.
Therefore, performance coaching helps team members by providing them a place to be heard when they are in the midst of a crisis. Further, coaches offer alternative perspectives to establishing purpose as a means to re-engage.
Finally, performance coaching enables team members through strategies that break down tasks for greater clarity to prevent a person from feeling overwhelmed. Plus provide awareness practice techniques to help folks regain focus. And, remind people that when plans don't work, revise them rather than beating yourself up.
Mridula: Fear And Feedback
Receiving and giving feedback is a hugely crucial part of Axelerant's culture. Most of the time, when I have asked my coachees about sharing feedback with their peers, the first response is hesitation and avoidance to act on that suggestion.
During coaching conversations the most common reason for unwillingness to share constructive feedback is fear. Fear of hurting others by our words, fear of misunderstanding, fear of ridicule, fear of not being listened to properly, fear of spoiling the working relationship, fear of being attacked, fear of defense, fear of authority, etc.
While working on overcoming fear we learn that sometimes the fear comes from assumptions, and the majority of the time fear comes from past experiences with other people, especially from previous work experiences.
Therefore, performance coaches help people recognize their greater value:
The culture difference between Axelerant and their past organizations
The support we can provide to present feedback in constructive ways
When fear gets aggressive, we help people release it in a positive way
When language or tone is a concern, we help people become more polite
We also suggest people meet and get to know each other to overcome the presumptions of other people through direct experience
Feedback is an act of kindness at Axelerant which we value greatly
Importance Of Performance Coaching In The Workplace
By empowering our people from the inside, we can help people reach their potential in ways that align with Axelerant and themselves. And, by cultivating an entire organization of happy, healthy, positive, courageous, and forward-thinking individuals, we're creating a safe and innovative environment that fuels itself.
All of which helps Axelerant and our people reach new levels of achievement forever.
About the Author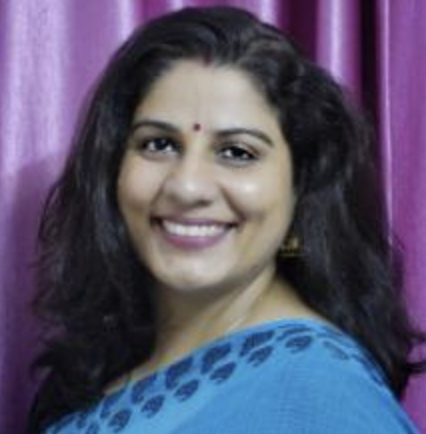 About the Author
Mridula Ujjwal, Director of Learning & Development
Outside work, Mridula is a Poetess, Psychotherapist, Numerologist, and Reiki healer. She loves to read, swim, cycle, and take nature walks.