Introduction
This morning, a massive denial of service attack slowed major websites to a crawl. And it goes to show that website maintenance problems can get pretty spooky. They can range from catastrophic to relatively minor. Everything is relative to size.
On the extreme side, a study of US data centers quantifies the average cost of an unplanned data center outage at slightly more than $7,900USD per minute. This is a 41% increase from the $5,600 in 2010.
When it comes to large Fortune 500 downtimes, if an organization averages $5,000 in sales per hour, for example, then every minute of downtime is costing the company over $80 a minute. And from there, it can be scaled down: for a smaller company if the average sale is $125 per hour then a broken site (at an inopportune time) will cost $2 a minute.
When it comes to websites, for both small and large organizations, many of the reasons for financial loss are the same. Here are 7 of the most common website problems that can cost companies big.
1. Broken external links
This one is a relatively minor issue, but it can't be ignored. You refer visitors to a page on another website, perhaps to back up a point in a blog article. However, over time many sites move or delete their content, breaking links to those pages.
We can't control what the other sites do, but when this happens, we need to delete or change links. Depending on the circumstance, it might hold up a sale or purchase. But it always reflects poorly on the site owner, for sure. It will effect page rank, SEO, and through that, ultimately: revenue. For example, if a business linked to an article the other site took down. Maybe the source really isn't so dependable. Perhaps the data (or the blog article's advice) isn't effective.
Unfortunately, Google takes that attitude when it's evaluating how to rank the page containing that broken link and how much authority to give that domain. Broken links push pages down in the results, limiting visibility.
These are issues that are difficult to measure. How many prospects and customers do organizations lose because broken links cause them to lose trust? Hard to say. How much more money would you make if your pages ranked more highly in Google results?
2. 404 errors and broken internal links
404 errors cost money. And uncustomized 404's cost money. "Not Found" is the standard way a web server responds when somebody requests a page that doesn't exist. In the past, most came from people mistyping web URL's in their browsers. However, because of bookmarks and autofill, user error is now a minor source of 404's.
404 errors and broken internal links generally indicate more serious problems. Why is the page missing? Or why does your navigation system contain an inaccurate link?
If visitors get a notice that we've exceeded a memory limit, that really looks bad to prospects and customers. So does the notice for an incorrectly configured SSL certificate. Who wants to give their credit card information to that site?
Issues with mod-rewrite, .htaccess and incorrect custom URL routes can also cause 404 errors. You need an expert to find, correct and prevent these problems. They do destroy customer trust and tell Google to remove affected URL's from their index.
3. Browser compatibility
No operating system or piece of software remains static for long. They change to accommodate the changes and upgrades in hardware devices, operating systems, standards, plugins and other important software. With every browser upgrade, the risk increases without proper website maintenance.
We need to regularly check how our site appears on all the major browsers: Internet Explorer (until it's gone), Chrome, Firefox, Opera, and Edge. Many browser upgrades are patches to increase security. Therefore, if the site is incompatible with those, that makes visitors reluctant to do business because of fear. Concerns that the site is insecure against online thieves.
4. Technology shifts
Mobile phones and devices are now the most common way people access websites, though it varies by age and niche. Many companies didn't make sites mobile-friendly until early 2015 when Google announced they would punish sites that were not accessible via mobile devices with mobilegeddon.
Some still have not changed their sites to accommodate mobile devices. They're missing out on all mobile customers and everyone Google could be sending them, but isn't.When it comes to technological shifts, "If you snooze, you lose." It's more applicable than ever before. As Michael, our COO says: "retrospect and adapt or die."
5. Mission-critical functions
What if the shopping cart doesn't work? Or landing page forms are not recording the email addresses prospects put in? What if site members can't log in? In some cases you'll notice your leads and sales dry up overnight. However, other problems, such as unrecorded email addresses, are not so easy to detect.
6. Horrible hackers
Are hackers using a "back door" to your web server to forward information? If somebody decides they hate you and launches a Denial of Service attack, what would happen to your site? If you take credit card orders are you certain no criminal can spy on your payment gateway or steal private information from your database? These are all potential threats that cost businesses many thousands of dollars in lost business.
7. Crashed servers
Sometimes servers go down. Do you have an around-the-clock team in place in case the server goes down at 2 AM? How much money would it cost businesses if the site went down during a peak period? Security measures need to be put in place.
Aside from paying tech team overtime, how much would a lengthy site crash cost? How many of those prospects and customers would be lost?
The costs of falling behind
The opportunity costs of lost business due to broken links or browser incompatibility are harder to estimate. But these aren't minor things collectively. With half the Internet now using mobile, you're losing around half your revenue if you don't accommodate them, not counting how much Google is punishing you in the rankings.
About the Author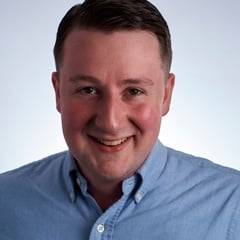 About the Author
Nathan Roach, Director of Marketing
Germany-based consumer of old world wine and the written word. Offline you can find him spending time with his wife and daughter at festivities in the Rhineland.