There's a Drupal outsourcing paradox, don't you know.
For most agencies, the biggest factor driving them offshore has been the difference in cost. That is, the difference by cost of living and consequently labor expenses around the world.
However, that cost gap is steadily shrinking. Over time, as salaries in the Asia-Pacific region, particularly India, keep rising, and salary increases in the US and Europe slow to a crawl, the labor cost gap gets smaller each year. In fact, for many development related roles, labor costs have tripled in India since 2005. Putting them on par with Asia's Far East technology workforce.
The "Q3 2017 Salary Budget Planning Report" released by global advisory, broking and solutions company Willis Towers Watson projects that in 2018, salaries in India will increase by 10%, which is the same as in 2017. While year-on-year, the salary increases are slowing, India still leads the Asia-Pacific region in salary growth as of 2018. And within the country, some sectors can be expected to offer above average salary hikes.
In contrast, in the US, the numbers look very different. LA-based executive search and recruiting firm, Korn Ferry, expects salary increases in the US to be at an average of 3% in 2018—the same as in 2017. However, adjusting for inflation, the real increase is 1%—almost half the corresponding figure in 2017, 1.9%.
Although the cost gap will continue to be in play for the next few years, by many accounts it will continue to level out over time. What will be the measure of value then?
What should these changes mean?
For end-clients with high goals for their product outcomes, it's clear that cost becomes less meaningful of a metric by which to gauge the real value of Drupal outsourcing.
If agencies expect quality work from their global partners, the cost of materials and services will have variations. In global delivery cases, the benefits might be the same, but the costs can be less. This being a prime factor for choosing offshore Drupal development.
Ultimately though, this is about the end-product; one which has an intrinsic value based on the costs of the means by which it's produced. Which means it's the outsourcing partner they choose that makes the difference in cost-to-benefit. The people, processes and technology engaged are the factors that can make or break a project, rather than cost alone.
How do you determine good outsourcing pricing?
While cost is a valid concern when shortlisting an offshore Drupal partner, selecting the partner with the lowest cost can't be the only objective.
An important aspect to consider while making such a decision is that the outsourcing of goods and the outsourcing of services do not work in the same way. When the end product is goods, the only competing factor is price. Nothing changes significantly in the quality of the output across locations given exacting specifications and same results.
But when the product is an ongoing service, there will be vast differences in skills, qualifications, strengths and weaknesses, availability, etc., of the people delivering that service. Especially if they are based in different countries around the world.
Additionally, there can also be significant variations in indirect costs, like team management, employee benefits, tool sets, training, etc. All of these need to be weighed carefully too.
You have to consider your vision.
What can help you accurately determine cost is your long-term vision. What is it that you hope to achieve from the engagement? As Michael Cannon our CRO always says to us and prospective partners: "What are you looking to accomplish?"
Are you looking for a one-off, end-to-end project or a stable long-term partnership that you can consistently rely on? What kind of capabilities do you need, and how easy or difficult is it to find teams—locally or otherwise—with these needed capabilities?
To effectively weigh the project cost, agencies should consider the cost of the investment made against the likelihood of project success and project continuity.
If a delivery team is ill-prepared, the project as a whole is going to cost you more. If agency teams are not properly qualified, higher costs are incurred over time in terms of project failure: work that needs to be done over. This would translate into an increased total cost of ownership (TCO) for the project and it's a familiar place agency decision makers find themselves in after rushing into an end-to-end outsourcing contract.
The real factor to consider while weighing this decision is the possible ROI from any team of developers you consider hiring. What agencies need above all is quality services delivered on time, reliable expertise that they can call on, and project continuity guaranteed.
Outsourced teams must ensure this business continuity for agencies. And successful engagements require agencies to effectively sync and to be able to recognize and nurture partnerships like this to the fruition.
Realize you get what you pay for.
It's not popular to say, but TANSTAAFL! (That's unpopular English for there ain't no such thing as a free lunch.) When it comes to the MVP you're looking to achieve, what are you willing to pay and what are your expectations?
This is more about your comfort level than someone else's. There are teams in places like India, UAE, Nigeria, and elsewhere creating advanced and simple digital experiences with Drupal. Just like any other region.
Drupal developer rates, including those outside of the U.S., typically range broadly from $15 to upwards of $85 depending of course on whether the project requires Junior Engineers or Technical Architects. This is expounded by how many front-end, back-end, mobile, DevOps engineers, QA specialists, and other project management and oversight are needed.
End specifications dictate bottom lines. It's an obvious point, yet one often forgotten by cost-driven outsource solution seekers. If you're looking for the Drupal 8 site build and migration of a complex Quantcast Top 50, requiring a full team backed by mature processes, it's going to cost relatively the same whether the developers are based in Boston or Bangalore.
There will be differentials for sure, like an increased time to market (TTM) by harnessing the follow the sun (FTS) delivery model. Or the savings accrued by avoiding inflated local costs brought on by limited talent pools.
Where's the real ROI?
Agencies could make the same investment in an in-house team, but this would cost them more in terms of the time and resources required to support such a team long-term. It also means missing out on other opportunities while focusing on internal team maintenance, turnover, employee benefits, and other factors.
There's a lot to gain from entering into meaningful partnerships with outsourcing partners who are focused on value creation.
There's the ROI on free hands (AKA the value of reallocation)
Being able to transfer project delivery to a partner means that in-house agency teams are free to pursue opportunities that may come their way. In the case of Drupal, consider Drupal 7 support that enables Drupal 8 project acceleration.
There's value in having a partner who moves with you
And who helps you move along with the world. Drupal moves fast enough for you to fall behind. An effective partner would ensure that agency teams do not lag behind in terms of technology. This would mean partners have the agency's best interest at heart, and freely use foresight and good judgement to determine what is best for you, the agency under the circumstances.
In a partnership like this, there is a sense of consultative shared value creation
Relationships like this are driven by partners being willing to say no and arguing for what is right for the agency; rather than just being led along blindly. This requires partners to be mature enough to not merely do what the agency asks for, but also be willing to push back in favor of a better alternative. This needs experience and good judgement, and these are the qualities that transform such engagements into successful long-term partnerships.
Partnerships like this help to lower TCO over time
When agencies outsource to the right team, lowered costs and process maturity become core long-term benefits. An outsourced team that works as your partner (than a cheap supplier) can prevent you from falling into pitfalls like expertise gaps, with projects needing to be redone again (and again).
We have a perspective on factoring prices
Delivering successful projects again and again requires not just talent but also the machinery, process and backing built in to support them. Ultimately, your choice of partner boils down to one question: Would you rather pay only for the talent needed to execute your project, or would you rather have the talent and mechanisms needed to support them?
Setting your team up for success costs money and takes real effort. At Axelerant, we look to add value in every way possible. We hire talent from all over the world, and our staff includes the top contributors to Drupal. We have minimized physical infrastructure costs and invested the savings them back into the business to scale up the quality of the people and processes that constitute our teams.
We're laser focused on the upskilling and growth of our team members. We treat our staff as stakeholders. Over the years, we have come up with a number of varied initiatives that push our team members to grow in different ways.
Hiring: Our hiring is very selective, so only the best get to be part of our team. This means that from the word go, we're setting the bar pretty high. Less than 1% of applicants are hired and then go through a tailored 90-day onboarding.
Learning & Development: We put great emphasis on professional development:

We have a Drupal Engineering Career Ladder for each team member, giving them clarity on the next steps in their career

We encourage them to pursue continuing education ($1000 per person)

We sponsor all relevant certifications, especially Acquia Certifications

We sponsor global event participation ($500 per person)

Culture: We have a unique culture, grounded in openness, enthusiasm, generosity:
Team Benefits: We offer a number of other benefits:

New team member referrals ($100)

New device funding every two years ($700)

Gifts and swag ($100)

Local and corporate retreat ($1000)

Coworking space ($1200)

Fitness ($300)

Monthly team meetup allowance ($240)

Health, dental, and vision for immediate and extended family members

EPF, Pension Plan ($360)
With other benefits considered, these add up to over $5,000 per Axelerant team member annually. Despite the expense, engaging and retaining top people abroad and ensuring that they are fully empowered and have their needs met is certainly cheaper than $1,700 a month family-health insurance premiums like those found in the United States.
At Axelerant, we do work differently. It means that agencies that choose to work with us have a different experience than others. The way we provide service is not the same as every other offshore company. Our team members are among the best at what they do, hungry for challenges, and driven to succeed. This is how we ensure customer delight for our customers. And the results speak for themselves.
40% of our staff from five years ago, is still with us today. Moreover, what current and past employees say about working here says it all.
Our contrast in the world of Drupal outsourcing.
We've found that our clients have stuck with us even through the tough times. The feedback we consistently receive is that we have great team members, that our managers offer exceptional support, and that our customers see the value we create.
A key reason why we stand out in comparison to other agencies is our agency exclusivity. We've limited our focus and customized our services with a strategic focus on agencies. This means we're uniquely positioned to understand the challenges that agencies face, and we've committed ourselves to resolving them.
When two teams with different cultures, processes and methodologies come together, there can often be teething issues between them. In such cases, Success Managers at Axelerant works to set clear expectations and resolve any difficulties.
Axelerant team members have to be highly proactive. When picking up a project midway, there may be issues with missing information, for example, a lack of documentation. Instead of trying to pass the blame onto someone else, we look for solutions. This is our culture. And this is not something that is limited to a particular department.
This is who we strive to be, from junior engineers to leadership. We believe that this ambition matters. The energy we bring to the project matters.
Agency partnerships should be about value creation.
We're passionate about what we do, and as a global delivery team worth our salt, we have an axe to grind. This hunger to prove ourselves makes us push ourselves hard to do the best job possible, every time. Try as they might, there's no going back from globalism.
The tide is turning, the winds have changed—the agency-delivery marketplace is inextricably tied to global delivery. Agencies choosing Drupal outsourcing as a means to grow is ultimately an ongoing case study, reflected at large in the global picture of products and services.
About the Author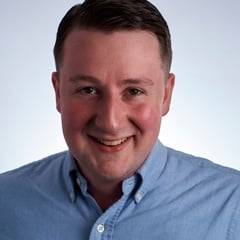 About the Author
Nathan Roach, Director of Marketing
Germany-based consumer of old world wine and the written word. Offline you can find him spending time with his wife and daughter at festivities in the Rhineland.