Introduction
The typical website support team like the typical website has totally evolved. Granted, building a modern, evolved website for things like inbound marketing and driving traffic was already a major undertaking. Now comes an even tougher challenge: finding a website support team that keeps things flowing, updated, secure, and contemporary.
Who should be on this website support team?
In the last few years, we've seen a trend toward combining the development side of websites with the operational side. Otherwise known as DevOps, it's a process many companies prefer now because it creates more cohesive communication between two previously disparate departments.
The same goes for companies hiring Customer Success Managers (or CRM's) in place of multiple project and account managers.
With these trends rising, this gives us a look at what talent to hire on your website support team in 2017. It's important to think about, especially if you're planning a major website launch or website support vendor change.
If you're new to what customer success managers, DevOps engineers, support developers, or QA engineers do, we've spelled some of their basic roles out. They'll help shape the way your website runs so you won't have unexpected problems or continually frustrated users.
Customer Success Managers
In the past, managing customer relationships on your website was perhaps relegated to going by chance rather than having someone nurturing more personal communication. You maybe went simply by chance because you thought you could get away with it thanks to a strong website and product.
However, with competitors likely nipping at your heels lately, you're just playing too much risk not having team members focusing on communicating directly with customers.
This is where a customer success manager comes in. You're starting to see more companies hire these, and they're sometimes known as client advocates.
Whatever you choose to call them, the intention behind these managers is to uphold customer retention. Some businesses hire customer success management teams to prove the value of your company to those visiting your site for the first time.
Look around on the net, and you'll find some detailed analysis of what a CSM does in a day. On Gainsight, for instance, you'll see how detailed this job is and the basic tasks involved. It ranges from nurturing calls-to-action for each customer to working out the details of customer strategies every week.
A CSM also attends many meetings to get everyone on the same page, including with co-managers to analyze additional customer data like scorecards.
DevOps Engineers
If you've successfully developed a DevOps approach to website operations, you've done yourself a good service to improve customer support in the future. Some people confuse DevOps as a tool, and it's strictly an operational tactic to integrate development and operations to automate and standardize tech processes.
By allowing this management style to work, you bring more innovation, improved deployments, plus more quality time for focusing on your key goals.
All of this starts by changing the culture in your workplace. You start by breaking down the traditional methods of development and operations and replacing it with a more agile frame of mind. This means continual process and product improvement once you get your website live.
On the web support end, it helps get everyone involved in properly communicating with the users on your site. DevOps improves this through automation where you treat your infrastructure as code.
Plus, it means continual monitoring of your website to assure nothing goes awry, as well as more idea sharing for ongoing improvements.
Experienced Support Developers
On the development side of your website support team is, obviously, the support developers. If you think there's a dearth of good candidates in this career category, take a look at the myriad jobs available on LinkedIn showing an extreme demand for support developers in various categories.
It's important to design user support in ways that's simple to use for every visitor. The latter should have access to live-chat portals and immediate contact methods through mobile technology to prevent long wait times.
In a more mobile work world, those working in the field may need quick support while perusing your website. So be sure to hire highly experienced support developers who can tackle various categories, including working with Drupal, WordPress, etc.
Website QA Engineers
Quality Assurance Engineers are essential to your development team for web design quality, and that you stick to website standards. In other words, they make sure your website is the way you want it before it goes live.
They're going to factor strongly into how you design your web support system and how well it works before users start visiting your site. QA engineers are the people who write source code, review the code, and manage configurations. In addition, they're going to test your website to assure your support systems (like contacts and live chat portals) work optimally so a visitor doesn't run into snags.
Typically, they break their goals up into sections so their workdays don't become overwhelming. Most likely, they'll take on separate work categories like verifications, measurements, and specific commitments as just a few. It's a stressful job entailing and a lot of time behind a computer. They assure your website is ready to go so you don't have embarrassing errors when you get an influx of new visitors.
Website support teams in 2017 will look different.
With agile website support functioning as the new normal, the rise of DevOps, the adoption of Customer Success Managers (CSM's), QA Engineers on staff, and support and maintenance specific developers on hand, expect differences. The future of website support and maintenance looks nothing like it did a couple years ago. We can't let ours look the same.
About the Author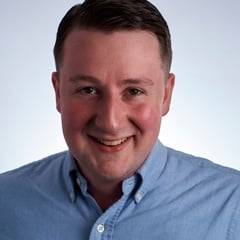 About the Author
Nathan Roach, Director of Marketing
Germany-based consumer of old world wine and the written word. Offline you can find him spending time with his wife and daughter at festivities in the Rhineland.