Introduction
2015 for Axelerant was an incredible year. We launched several large-scale projects—including a top 50 U.S. website on headless Drupal. We provided more than 250 Drupal 8 commits while just about tripling our team's size. We gave 16 sessions, supported more than 15 global community events, and expanded our benefits package for us all.
Even though many of 2015's completed projects and contributions are laid out here, this isn't really about 2015. Year in reviews aren't just about retrospectives. These are really about confidence.
Axelerant has established what it can do and how; 2015 is a teaser for what's coming in 2016.
Projects Delivered
While many projects are ongoing (and some aren't ready to be mentioned), these three are exemplary. Axelerant has passed these milestones because of joint onshore and offshore team efforts. Our work speaks for itself, and we've many more case studies to come. Here are a few 2015 project examples:
There was a significant redesign and added custom functionality. The existing data migration was an important aspect of the project (5,000 products, 200 users, and 1,000 orders migrated). Mayfair is exemplary of a successful Drupal Commerce project using an efficient agile framework.
Axelerant launched Legacy.com, a top 50 U.S. website, on a decoupled Drupal platform. This website is purpose-built to offer a superior authoring workflow, editorial layout control, and multi-channel publishing of content across its global obituary network of over 1,400 branded site instances. At a high level, the Legacy.com system is based on Drupal 7 CMS, ReactJS, and Apache SOLR Search, and is hosted on Acquia Cloud.
This was an extremely successful delivery and migration of multilingual site to Drupal. It's a prime example of showing the migration of localized content. A major design revamp with customized functionality. 2000 pages from three different sites were migrated.
Community Contributions
A key component of working at Axelerant is giving back to open source communities. Typically these are technical contributions to Drupal, but we also provide WordPress, Ruby on Rails, and others. We keep a Contributions and Events Tracker that spell these out.
Code Contributions
We reached 260+ Drupal 8 commits in 2015. Our team members dedicate time to help make Drupal's latest update the best it can be. We've also contributed to fixing over 75 Drupal.org issues in the past three months alone.
Event Participation and Support
Our teams have attended various events in 2015—15 in total. A few global events were: WordCamp Montreal 2015, Drupal Camp London 2015, DrupalCon Barcelona 2015, DrupalCon LA 2015, DrupalCamp Pune 2015. Participating in these international gatherings exemplify what we do for our communities at Axelerant and why.
Events Sponsored
Axelerant actively sponsors events, and in 2015 we did this for five: Drupal Camp Delhi, Drupal Camp Mumbai, DrupalCamp Hyderabad, DrupalCamp Bangalore, and DrupalCamp Pune. Our DrupalGive efforts that support open source communities.
Event Sessions
Axelerant teams don't attend events and just stand around. We go to learn and to help others learn. Passion and Giving are two of our core values, and sessions are a great way to express them. In 2015, our team members gave 16 sessions across 12 events. Here are a few:
What PHP-FIG Means To Drupal by Hussain Abbas

DrupalCon Barcelona Sep 2015

"Developers looking at Drupal 8 after working on Drupal 7 and earlier are often confused by the entirely new structure. These changes appear difficult to learn but in fact, are very simple and straightforward, and have enabled Drupal to interface with the bigger PHP world."
Consumption To Contribution – Lessons For India by Piyush Poddar

DrupalCamp London 2015

"India has been the world's 2nd largest software producing country since a decade. This presentation will cover the growth and evolution of India's Drupal community, the changing attitude from consumption to contribution, and how it's affecting growth."
Getting into Drupal 8 Migration by Mohit Aghera

DrupalCamp Bangalore 2015

"The Migration API provides services for migrating data from one place to another (usually, importing it into Drupal entities). The migrate module implements the general-purpose framework, while migrate_drupal builds on it to provide an upgrade path: D6 and D7 to D8."
How Remote Work Is Changing Our Lives by Nitika Nehra, Parth Gohil

DrupalCamp Bangalore 2015

"Remote work is changing people's lives. It provides work-life balance opportunities, flexibility in environment, and—to certain extent—your own times."
Helpful Content
We've ramped up our content production to the point of producing two to three articles every week. Our blog consists of DevOps, Drupal, remote work, open source events information, and much more; we cover industry news, the technical, and of course insider fun.
Our People
Axelerant started out 2014 with 22 team members. Now the team is almost 60 strong, with members residing in Australia, India, Israel, Japan, Taiwan, and the United States. Axelerant is a global agency; we're thriving across extreme time zones and changing the way we work.
Team Advancement
we follow these in our Certifications Tracker. We take professional growth seriously, and we're proud of our team members. Encouraging a healthy appetite for learning is something every organization should do for its people.
Benefits
Recently we've added group health insurance and referral bonuses to our hearty list of employment benefits. As we grow, so does this list. Further, Axelerant brought on an experienced Life Coach to aid our team members in their professional and personal endeavors.
Tools
The distributed team tools used at Axelerant have been put to the test: keeping almost 60 team members in constant communication and on top of projects. These tools support steady growth and global collaboration.
What's This Mean?
We passed important milestones for clients and community, expanded our global team, and set ourselves up to do even greater things in 2016. Axelerant is charging ahead with newly advanced Team Augmentation services. These services will change the way organizations achieve open source success. This is just the beginning.
About the Author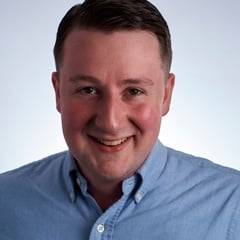 About the Author
Nathan Roach, Director of Marketing
Germany-based consumer of old world wine and the written word. Offline you can find him spending time with his wife and daughter at festivities in the Rhineland.