Introduction
Personalizing customer experience improves retention, revenue, and brand affinity. According to the experts at McKinsey,
Personalization can unlock significant near-term value for businesses, such as 10 to 20% more efficient marketing, greater cost savings, and a 10 to 30% uplift in revenue and retention.
But to tap into that potential, organizations need to:
Understand what constitutes a personalized customer experience
Be familiar with common roadblocks to personalization
Know how to build a personalization strategy
Keep reading to discover how you can personalize customer experiences across channels at scale.
What Are Personalized Customer Experiences?
According to McKinsey's Next In Personalization 2021 report, organizations that personalize customer experience have the potential to generate 40% more revenue. This shows that personalization helps deliver exceptional digital experiences that build trust, boost customer satisfaction, and foster customer loyalty.
Personalization respectfully collects relevant user data and utilizes it across touchpoints within the marketing and sales funnel. Personalizing can range from simple acts to complex tasks.
For example, adding customer names to an email subject line creates personalized customer service experiences. Similarly, Spotify Wrapped, an annual campaign where Spotify shares a collection of every listener's top artists, songs, and genres in a shareable graphic, is a great example of mid-tier marketing personalization.
The personal recommendations that customers get while using various ecommerce platforms like Amazon is another excellent example of a complex personalized customer service experience. According to McKinsey & Company, organizations also need eight core elements to succeed in personalization.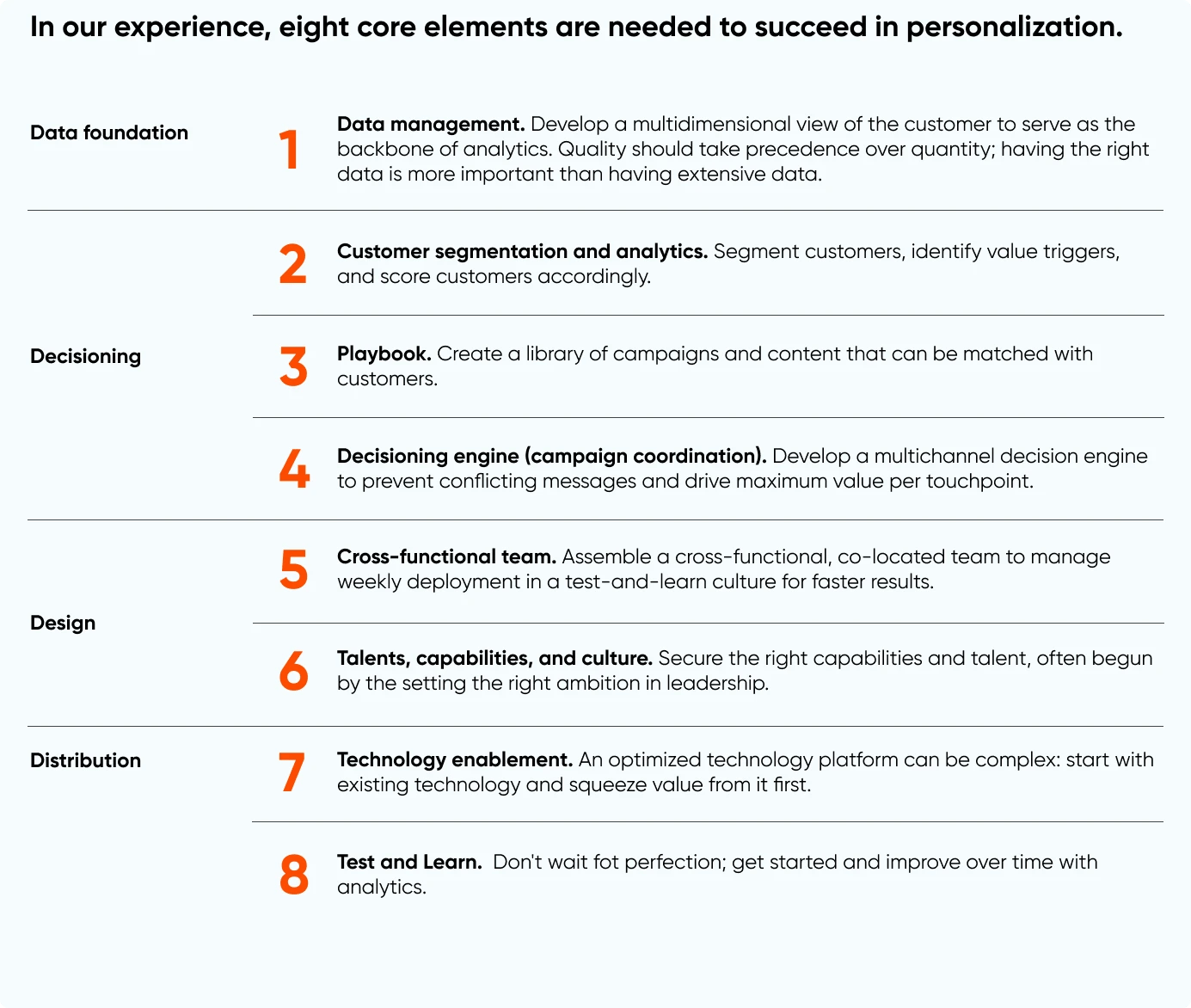 How To Build Your Personalization Strategy
The key to succeeding in customer experience personalization is to create a robust strategy and stick to its implementation. Follow the steps below to design the right personalization strategy for your business.
Step 1: Identify Your Customers And What They Want
Start by identifying who your customers are and what personalized experiences mean for them. Organizations can create customer personas, including demographic characteristics, interests, and buying behaviors.
Also, consider how your customers would want to receive information and attention. For example, customers shopping at an ecommerce store might want personalized product recommendations and emails. On the other hand, boutique shoppers might want one-to-one experiences or personalized fashion consultations.
Step 2: Analyze Customer Journeys
Create a complete customer journey map for all customer personas. Organizations with access to customer data should comb through trends and note elements of the current platform that perform best.
Look for specific touchpoints where personalized recommendations or experiences can be offered. Figure out where customers are likely to move from one stage to another to understand how to guide customers throughout those stages with personalized content.
Step 3: Define Personalization Criteria
Organizations need data before personalizing customer experiences. Determine the data type that will be most useful, depending on the business needs and industry. This is important for defining personalization criteria. Organizations must also collect some common data types, including:
Customer location
Behavior on websites
Purchase history
Demographics
Search history
Data should be gathered in a non-intrusive, ethical, and transparent way. Go beyond surveys to collect data from customers.
For example, an organization selling health-related products might want to ask customers about their eating habits, exercise routine, or environmental factors to personalize product recommendations. Proactive customer service, online chat prompts, or quizzes can effectively collect data.
Step 4: Segment Your Audience
With data management in place, the next step is to segment the audience and lay the groundwork for personalizing customer experience. Segment customers into groups by location, gender, age, familiarity with the brand, stage of the customer journey, and other relevant characteristics. Refine and personalize the experience for individual customers in each segment.
Step 5: Start Personalization
With the segments in place, organizations need to develop a tactical plan and start executing. Decide what content to personalize and how to change it depending on the customer and their history.
Make a list of channels and a detailed plan for how and when content on each channel will be personalized. Consider how to design the experience for maximum impact, convenience, and customer satisfaction.
A great personalized customer experience example is product recommendations at checkouts and in confirmation emails.
Step 6: Collect Feedback And Optimize
Personalization efforts are never perfect and complete, so it should be considered a work in progress that gets better with customer feedback. Ask customers for feedback through surveys or by analyzing customer service interactions for patterns.
Go through analytics to determine which recommendations were most successful and at what point during the customer journey. The goal is to explore new ways to optimize personalization constantly.
Quick Tips To Further Enhance Customer Personalization Efforts
After implementing a personalization strategy, the next step is to become more sophisticated and creative with personalization. The data that personalized experience provides can be used to achieve this goal.
Follow the best practices given below to enhance any personalization efforts.
1. Foster Customer Loyalty
According to the State of Brand Loyalty 2022 report, over 83% of global respondents said that belonging to a loyalty program influences their decision to buy again from a brand. It's a good idea to reward customers for their continuous support. Send a surprise, share a thank-you message, or provide exclusive offers to achieve this goal.

2. Provide Omnichannel Customer Service
Create a consistent, personalized CX to coordinate efforts across all channels, including websites, social media, email, print marketing, and in-person experiences.
In a correct omnichannel strategy, every touchpoint should be personalized, and customer information should be shared across channels in real-time. Experience in moving from one channel to another should also be seamless.
3. Acquire And Leverage First Party Customer Data
Organizations should collect as much data on their customers as ethically possible. Because the more data, the better the personalization. Most customers are also willing to offer information that they know is helping them get great service in return.
According to Accenture, 83% of customers would share their personal data to enable personalized experiences. Be creative in asking for the data and let it guide future personalization efforts.
4. Give Self Service Options
Provide customers with options to help themselves. This can include creating sections for FAQs and explainer videos or using chatbots for quick redirections or resolutions.
Automated chats can understand natural language and provide a chat-first approach to customer service, where customers can get quicker resolutions without waiting to speak with a representative. Conversational AI is also estimated to mature into a $18.4 billion market by 2026.

5. Act On Customer Feedback
All interactions with customers should become part of the customer feedback loop. It should be a continuous practice to gather and act on customer feedback to improve products and personalize experiences.
Notifying customers of changes due to feedback, like 'you answered, we listened' campaigns, can show that feedback matters. This also helps customers feel like they are partners in the journey.
6. Use Artificial Intelligence And Automation
With AI and automation, organizations can provide real-time CX personalization. AI can capture quick insights and translate them into updated personalized experiences. AI can also help do large-scale personalization.
Customer Data Platforms (CDPs) with AI and ML capabilities can also help with personalization. Automation can eliminate repetitive tasks, analyze large amounts of data, and avoid human error.
Common Roadblocks To Personalization
Many industry experts believe that personalization is critical to the success of an organization. But one might face some common challenges while implementing a full personalization strategy. Some of these challenges are:
Data Gathering And Analysis
The hardest part of creating personalized customer experiences for most organizations is collecting and preparing the right data. This can be caused due to technological limitations, customers not wanting to share data or a lack of expertise within the team.
Outdated Technology
Organizations can have issues gathering, centralizing, and analyzing data if the data platform is outdated. Similar issues can also crop up if one doesn't have access to a good personalization solution. A modern Customer Data Platform can help solve this problem and ensure personalization is happening at scale.
Management Silos
Organizations operating in silos or with convoluted data management and approval functions often find it hard to use data easily. Stakeholders must find a way to work together to create a cohesive, personalized experience.
Privacy Concerns
Personalization cannot happen without utilizing customer data. And organizations need to take the required consent before using data to personalize. User privacy should also be prioritized every step of the way.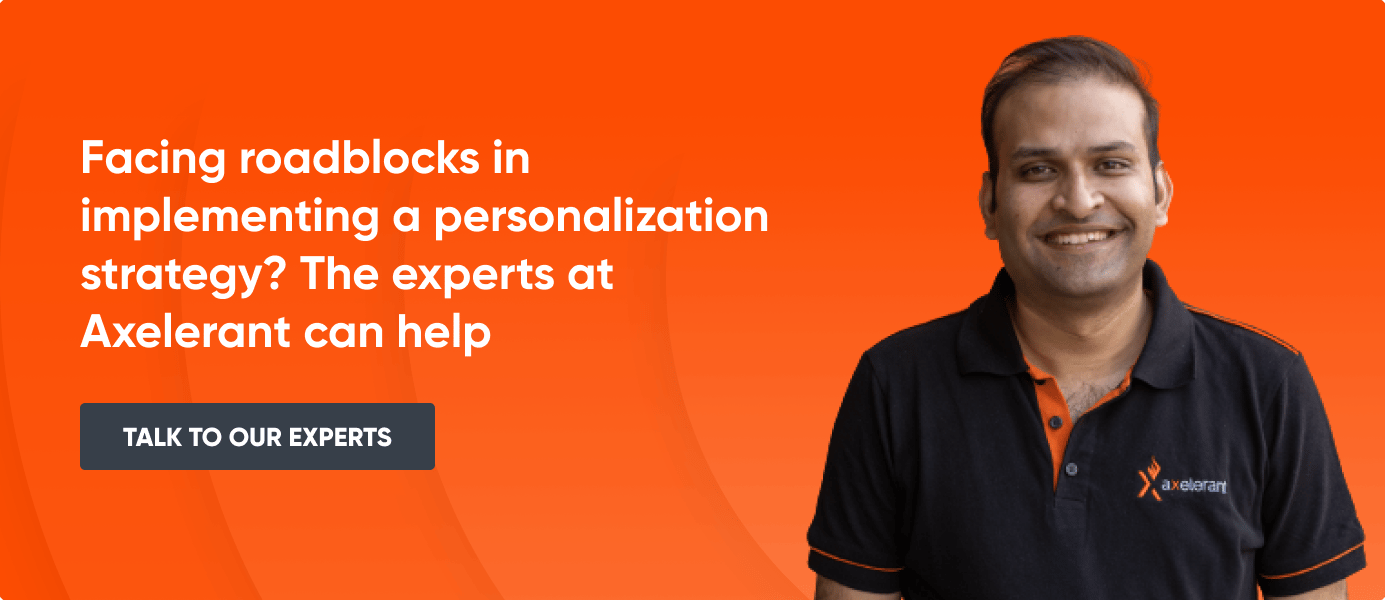 How Axelerant Helped A Fortune 200 Life Science Company Personalize Customer Experiences
Creating a personalized customer experience fosters loyalty and encourages ongoing engagement. By leveraging data to comprehend customer preferences and requirements, organizations can craft customized experiences catering to their needs.
It requires dedication and focused efforts in the right direction to land advantageous outcomes. Axelerant utilized this approach to help a Fortune 200 life science company with 400+ registered businesses in almost 100 countries.
The customer needed to create around 1500 websites for its various brands in different geographies. Their users in local markets and brand agencies were facing difficulties with the technical aspects of Drupal and Site Factory. The site deployment velocity was also slower.
As a solution, the customer opted for Acquia's Site Studio as their low-code site builder. Portable user interface configurations were captured and exported as packages, ready to be reused for other sites. The new solution reduced the time to launch, saved cost, improved personalized experience, and helped achieve successful governance.
Speak with the experts at Axelerant to create a similar personalized solution for your organization.
About the Author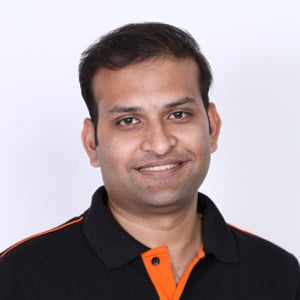 About the Author
Prateek Jain, Director, Digital Experience Services
Offline, if he's not spending time with his daughter he's either on the field playing cricket or in a chair with a good book.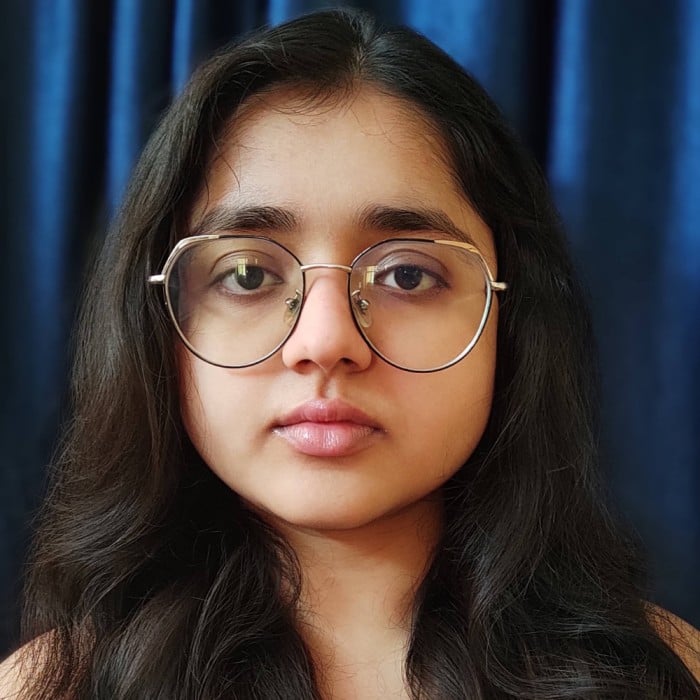 Simran Sethi, Senior Content Marketer
Simran is an avid reader. She is an active runner, who also likes to swim, dance, and sing. For her, the meaning of life lies in the little things. Kindness, passion, and compassion are her life's essential values.