Introduction
Customers today expect consistent, meaningful, and relevant digital experiences across all intersections with your organization. To deliver an exceptional customer experience, you need to deliver:
Smart communications
Personalized content
All-around reliability
Cohesive brand experience
All this has to be done at a faster pace. The problem with this is that it's not easy to deliver with the current technology.
You need to turn to the next generation of technology: the Digital Experience Platform (DXP). Experience seamless digital transformations with Axelerant's expert DXP services for a variety of platforms.
The Evolution Of A DXP
To fully appreciate the capabilities of DXP (Digital Experience Platform), it's important to understand its evolution. This evolution of Digital Experience Platform can further be traced in three waves.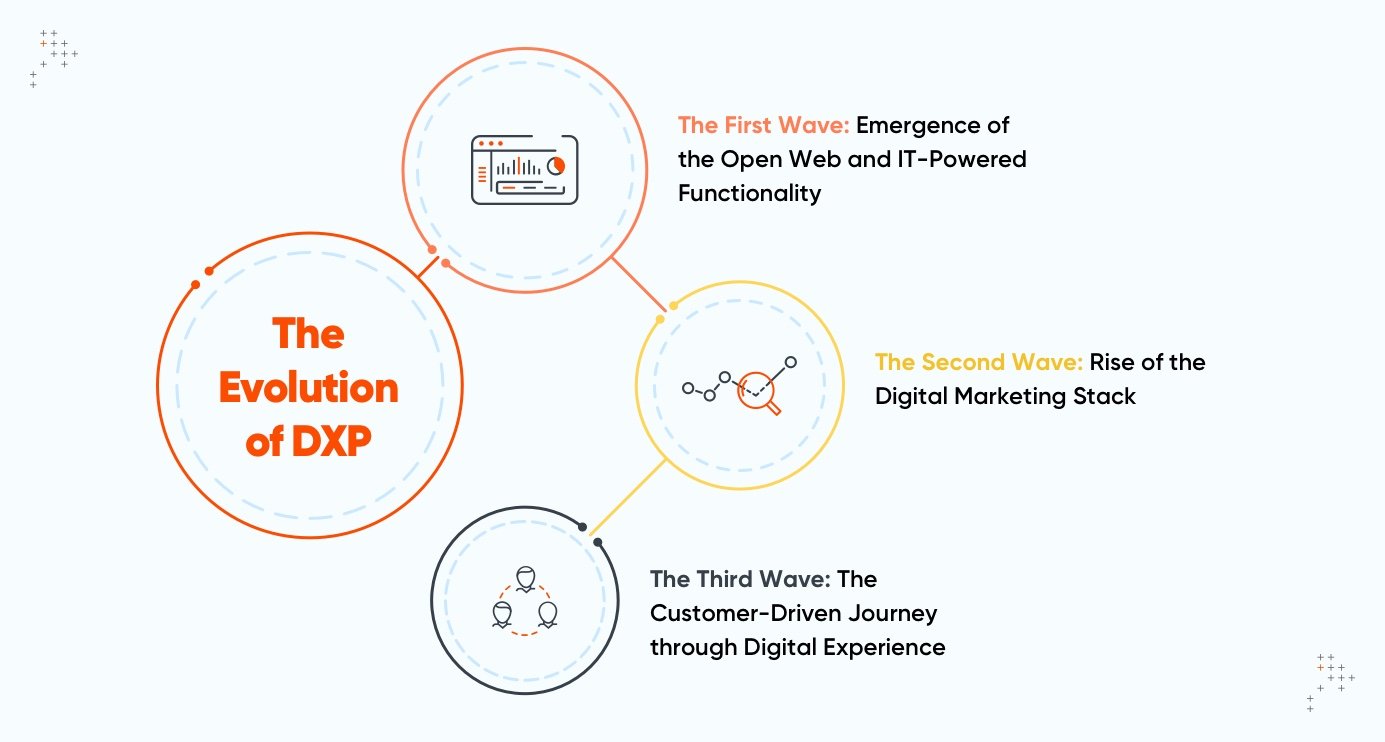 The First Wave: Emergence Of The Open Web And IT-Powered Functionality
Originally, web communication technology aimed to simplify and improve the lives of developers and corporate workers. With the development of the first Lotus Notes application, which was created in the late 1980s, a client/server architecture was created. It allowed teams to collaborate and exchange information.
The rise of the web browser and open-source software, specifically the Apache web server in the mid-1990s, continued this wave of innovation. Every enterprise can launch its website and communicate directly with customers.
This shift has been met with increased consumer demand for brands to offer online services. With this, websites became a critical tool for marketers to reach their customers.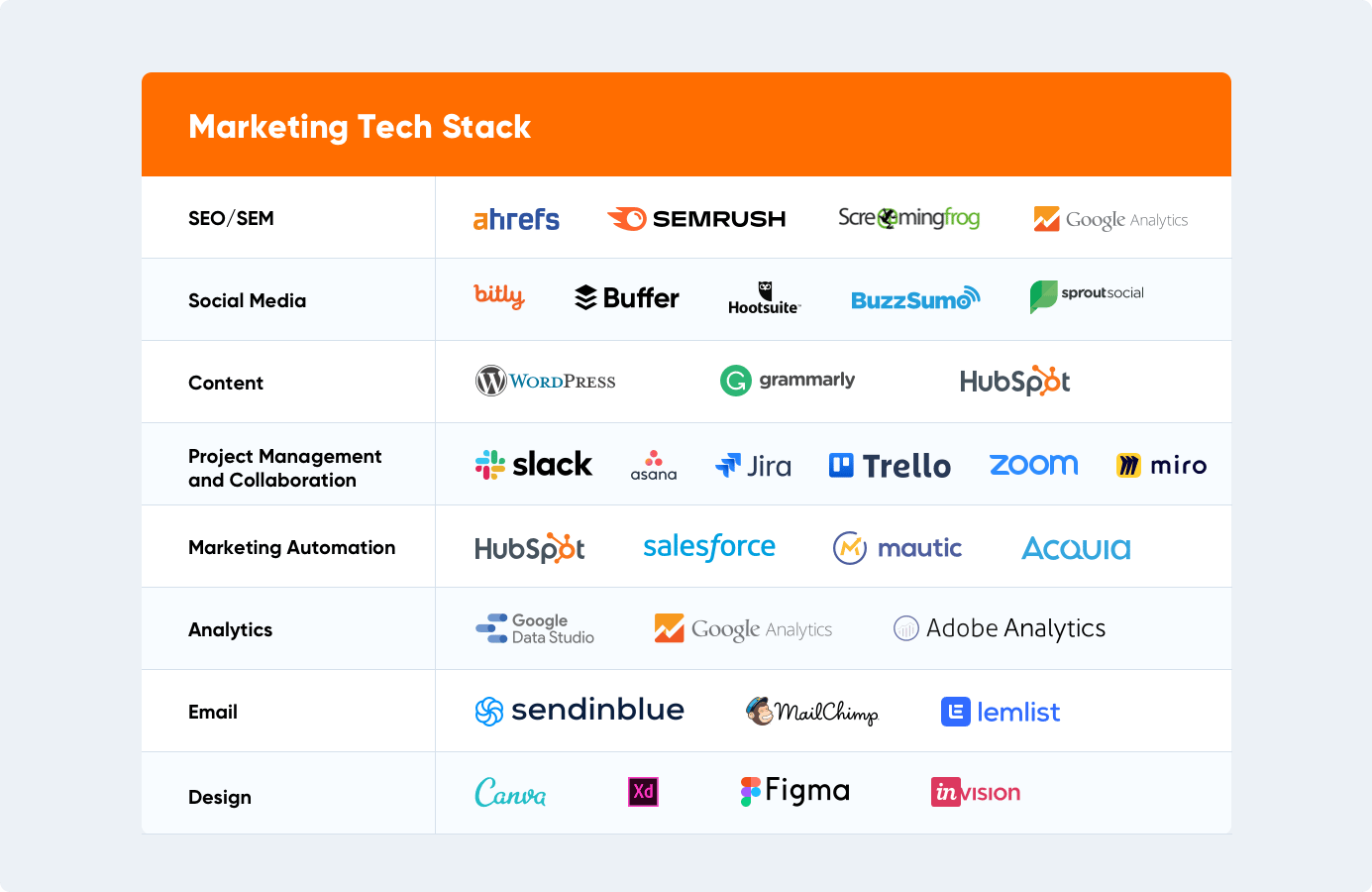 The Second Wave: Rise Of The Digital Marketing Stack
Customer demand for new content was spreading more than what IT could deliver. Marketers stepped in to lead the second wave of digital disruption to driver buyer demand. During the first decade of the 2000s, there was an explosion of new channels and devices. The financial crisis of 2008 also forced businesses to cut costs.
At that time, online campaigns were less expensive than traditional print and billboard campaigns. This paved the way for organic search and content marketing to become popular methods of increasing demand and developing a strong sales pipeline.
The focus was shifted from the brand to the day-to-day customer journey. Methods like email marketing, web analytics, and social media campaigns played a major role in this shift. Marketing teams were empowered to rapidly build, package, and deploy their digital experiences without depending on IT specialists through content management systems.
Even though the content was faster to create and development costs were lowered, a lot of previous flexibility of decoupled content models was also sacrificed. The content was locked into individual components and layouts.
Every technology solution functioned independently without the ability to integrate with other sources of customer data. Content and data solos were beginning to multiply. To remain relevant, marketers responded by making more noise. This resulted in a sea of inconsistent communication that didn't reflect the results that customers wanted.
The need of the hour was to build a traditional Content Management System (CMS) with additional data management and customer service functionalities. This need gave way to Digital Experience Platforms, which entered the industry as a brand-new and comprehensive way of optimizing the customer journey. This is integral to understanding the difference between DXP vs. CMS.
Quick Tale:
The official website of the Office of the High Commissioner for Human Rights is the most trusted source of information on human rights. And this information was being published across three different websites. The digital leaders at OHCHR felt it was time to consolidate the Digital Experience Platform.
The team at Axelerant, in partnership with Blue State, reimagined the solution by implementing a Drupal 9 website powered by an impactful UX design. This, along with the information architecture, transformed the entire website experience, content integrity, and security.
Read more on 

how Axelerant transformed digital experience and content publishing for ohchr.org
The Third Wave: The Customer-Driven Journey Through Digital Experience
The third, or the most recent way of digital disruption, came with a return to the composable architecture of the past with the data-driven priorities of the future. With the explosion of big data and the Internet of Things (IoT), organizations collect data from more devices and channels. Yet there is a lack of centralized strategy regarding how this information can be leveraged across the entire customer lifecycle.
Content management needs to break free from legacy systems and predetermined paths in the modern landscape. It needs to embrace an open and composable approach to content. Organizations need to realize that the total potential of the customer experience is far superior to the sum of its parts. This can be accomplished through a composable DXP architecture.
A Salesforce recent survey has also shown that around 75% of consumers expect consistent experiences across different channels, including web, mobile, social, and in-person. This shows that with accelerated digital transformation, investing in an open and adaptable technology is more crucial than ever. An open DXP platform allows organizations to rearrange and repurpose different content and business capabilities to align with any purpose.
What Is A DXP (Digital Experience Platform)?
When it comes to answering what a Digital Experience Platform is, there is a lot of noise. Everybody is an expert and has different takes on the topic. But Gartner defines DXP as a cohesive and integrated technology that is designed to enable the management, composition, optimization, and delivery of digital experiences through multiple customer journey touchpoints.
A DXP platform achieves this feat of coordination by getting rid of technology silos. It gives organizations a central hub through which one can create, manage, deliver, and optimize experiences driven by content and data across all channels.
With the help of DXP (Digital Experience Platform), organizations can gather comprehensive and cross-channel data to understand their customers better. This allows further incorporation of lessons into the creation, management, and delivery of high-quality content. An organization must answer a lot of questions to discover the DXP needed.
Defining A DXP
DXPs (Digital Experience Platforms) connect all digital touchpoints into smaller, more informed ecosystems for marketers to manage. Everything from a website, app, social platform, digital billboard, to customer portal is connected.
To achieve this, DXPs pack a lot of functionalities into a single system. It combines the power of several popular technologies, including Customer Relationship Management (CRM), campaign management, Digital Asset Management (DAM), personalization tools, and Customer Data Platforms (CDP).
It's also not necessary for a DXP platform to just provide these functionalities. More capabilities can be integrated into the platform. But, generally speaking, all DXPs must:
Provide media storage and content management capabilities
Quick development of portals, websites, apps, and landing pages
Collect customer data and content across all touchpoints through APIs
Utilize data to personalize the digital content for customers
Measure user experience and content performance to provide analytical insight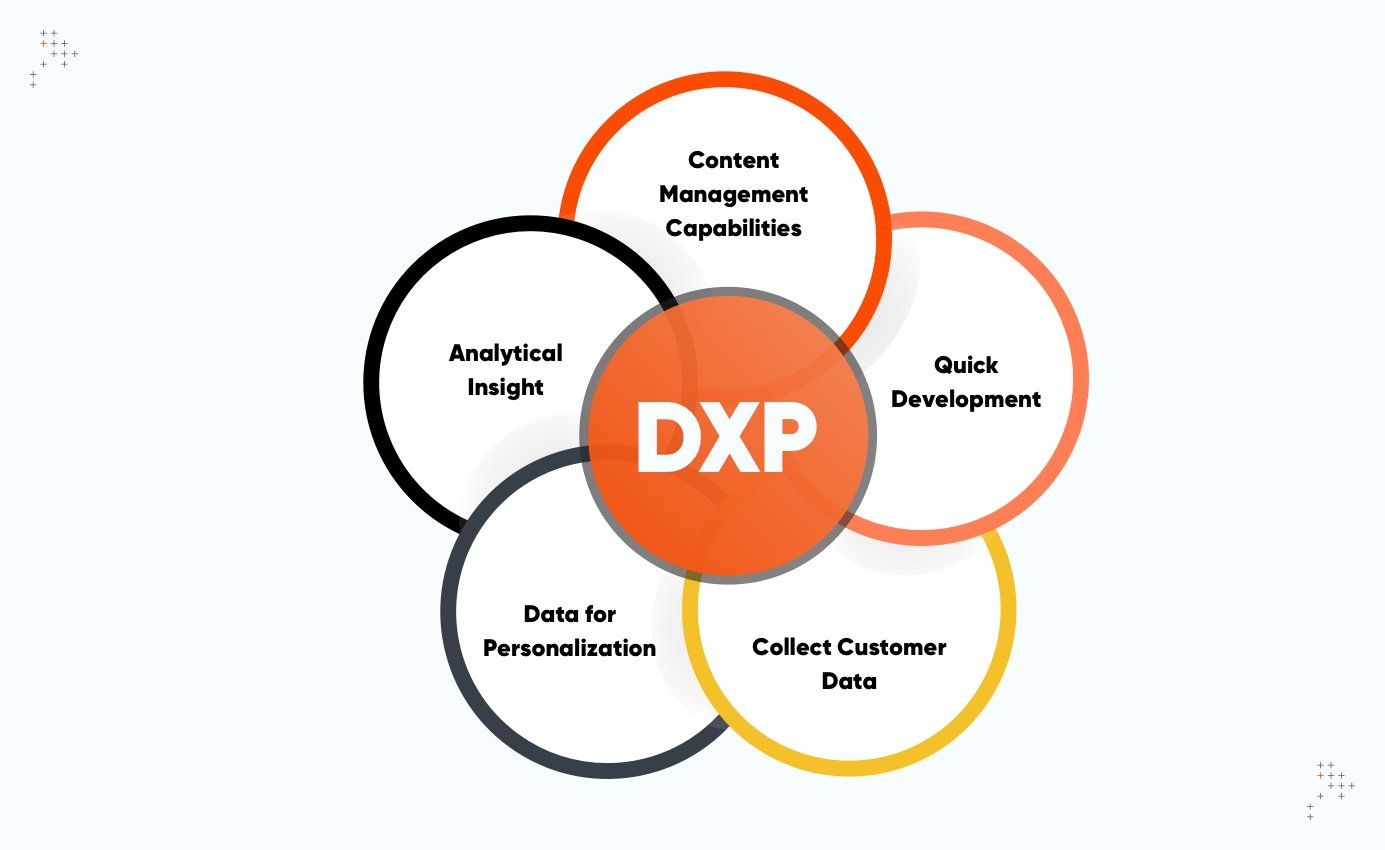 The Benefits Of A Digital Experience Platform
Organizations need to deliver consistent, relevant, and enjoyable digital experiences. And this can be managed by implementing a Digital Experience Platform. Other benefits provided by DXPs are:
Easy personalization
Provides holistic customer view
Governance and compliance
Personalization at scale
Robust content creation and management
Integrated content and data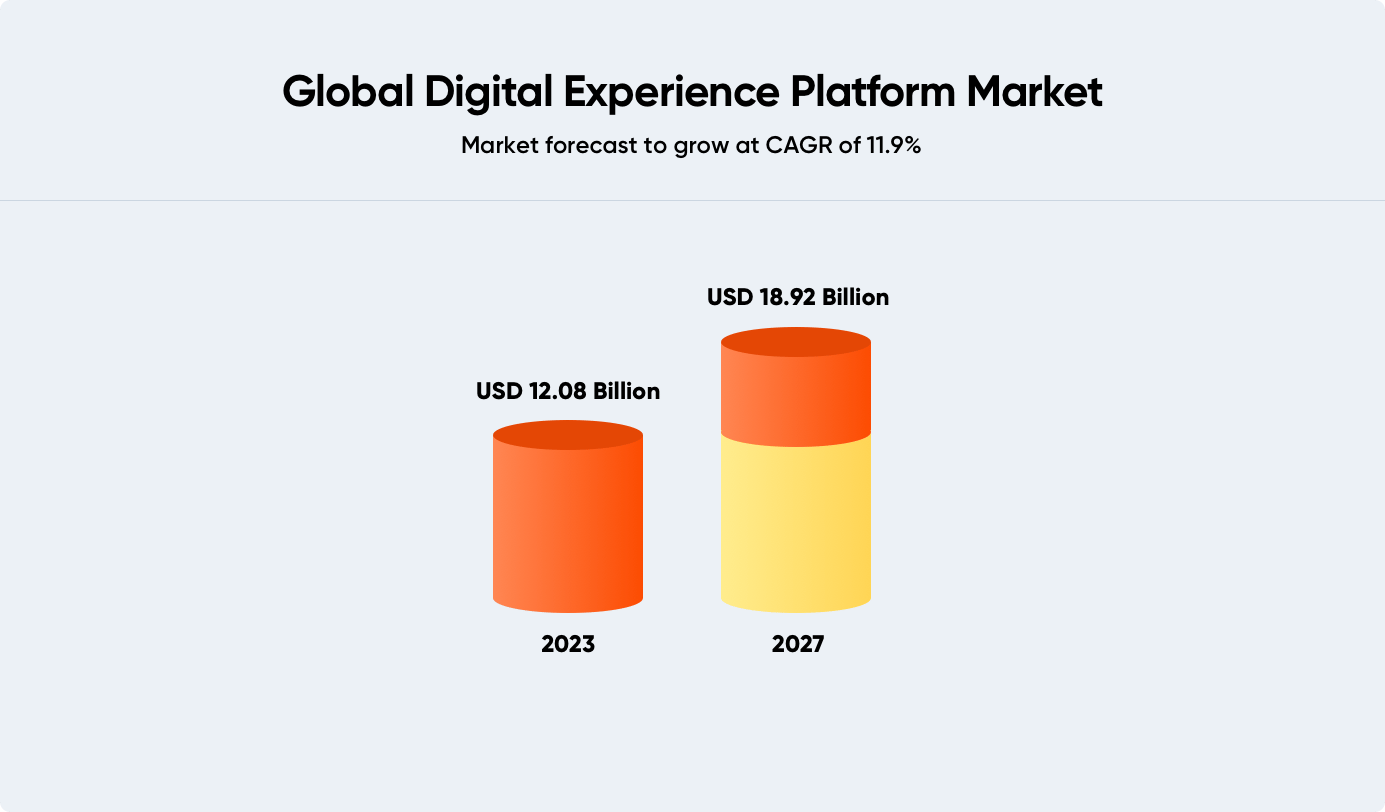 The global digital experience platform market grew from $10.81 billion in 2022 to $12.08 billion in 2023 at a compound annual growth rate (CAGR) of 11.7%.
Core Capabilities Of A DXP
DXP (Digital Experience Platform) provides an integrated and rationalized framework for delivering exceptional digital user experiences. It consists of several core capabilities that can be compiled into three main pillars.
Experience
The core capability of experience is driven by analytics and optimization, experience presentation orchestration, personalization and context awareness, and search navigation and discovery.
Experience

Analytics and Optimization

It entails the ability to assess and continually improve:

The performance
Effectiveness
Utility of the experiences enabled by the platform

Advanced Digital Experience Platform architectures can combine analytics with other functions like personalization to optimize the customer experience.

Experience Presentation Orchestration

It includes platform-wide programmatic support for methodologies like:

User-centered design
Journey mapping
Persona-based modeling throughout the customer life cycle

It helps create the presentation orchestration that binds capabilities together from multiple applications to form seamless digital experiences.

Personalization and Context Awareness

Through this, organizations can ensure a relevant and individualized customer experience based on:

Past behavior of customers
Segmentation
AI/ML technologies
External data sources.

These technologies work with both authenticated and anonymous users.

Search Navigation and Discovery

It ensures that users can locate and discover:

Information
Applications
Other people
Services

It relates a user's query to an index of information. Navigation guides the users through the needed information. The best offering helps break down functional and architectural silos to provide intuitive means to sort information.
Management
The core capabilities of management include account services, collaboration and knowledge management, content management, and security administration and access control.
Management

Account Services

DXP (Digital Experience Platform) provides account services through capabilities like:

Customer profile management
Registration
Login and password management

This service takes user experience to a higher level of functionality and potential impact.

Collaboration and Knowledge Management

DXPs (Digital Experience Platforms) must provide an environment that allows users to work together to achieve common business goals. This would foster collaboration and knowledge management capabilities like:

Communities
Team sites
Forums
Chats

These are also vital in B2B partner and extranet use cases.

Content Management

DXP (Digital Experience Platform) users get:

Effectiveness
Integrity
Accessibility of rich information

This is done through Web Content Management. Through WCM, one can control content consumed from different digital channels by using a specific management solution based on a core repository.

Security Administration and Access Control

It is essential for DXP (Digital Experience Platform) to have capabilities like:

Security
Access control
Support for governance policies

These help in gaining the trust of the organizations and end-users.
Platform
The core capabilities included within the platform are applied AI, architecture and application development, cloud, integration, interoperability and extensibility, multichannel support, and usability.
Platform

Applied AI

Through the use of:

Machine learning (ML)
Natural language processing
Image detection
Digital assistants
Deep neural networks
Natural language processing for DXP efforts

organizations can improve their engagement and support decisions.

Architecture and Application Development

The architectural and application differentiation centers on:

Rationalizing the processing environment
Product integrity
Business logic
Presentation layer
Integration layer
Components
Connectors

DXP must offer architectural and application integrity versatility to address the consistent increase in integration requirements.

Cloud

Cloud capability provides DXP customers with:

Deployment versatility
Cost-efficiency
Scalability and elasticity
Improved time to market
Quick innovation with cloud computing

It is critical to have the ability to support multiple cloud infrastructure vendors and provide both public and private cloud options.

Integration, Interoperability, and Extensibility

Optimal DXPs come with strong integration, interoperability, and extensibility abilities. These DXP components provide package connectors or prebuilt integration with:

Third-party office applications
Business applications
Content management systems
Security mechanisms
Social networks

Because of this, organizations can consume and publish content and services through other platforms.

Multichannel Support

Leading-edge DXPs render:

Quality and fidelity to multiple devices and channels
Deliver the needed information
Provide exceptional apps
Experiences to the clients

This is beyond providing responsive templates and APIs geared towards enabling clients to develop their apps.

Usability

Optimal DXPs empower users with skills and responsibilities to:

websites, portals, apps, and other digital experiences.
What Is Not A DXP?
The DXP (Digital Experience Platform) market is growing rapidly. With this, several misconceptions are out there about what a DXP is. And it's important to bust those myths if you truly want to know what a DXP is.
| | | |
| --- | --- | --- |
| Misconceptions | What Is A DXP? | What Is Not A DXP? |
| Mash of Technologies | A central technological foundation that is meant to be built upon for supporting the continuous customer life cycle across all platforms. | It is not just a bucket of technologies pushed together. |
| Just a Website Channel | DXPs have a multichannel delivery system empowered through APIs for digital interactions across all touchpoints, including kiosks, AR/Vr, IoT, and digital assistants. | It is not just a website channel, an app, or a mobile web application. |
| Configuration Tool | DXPs are API-driven and support headless, hybrid, and head-optional delivery, DevOps, and microservices. It enables the creation of single-page apps and progressive web apps. | DXP is not just a configuration tool. It is not a developmental platform. |
| One-Way Communication Channel | It is a new way of interacting with customers. Through a continuous conversation and dialogue, DXPs can supplant the more-traditional and push-oriented channels. | It is not a one-way communication channel to customers that requires an organization to install it without any refinement or optimization. |
| Stand-Alone Intranet Package | It is a unified and integrated platform on which digital experience is deployed. | DXP is not a stand-alone intranet package. |
| IT and Marketing System | It is a platform that supports the goal of managing experiences and providing an enhanced customer experience. | It is not another IT or marketing system. |
| Monolithic System | DXP is built for change and is very responsive to the constant changes in demand. | It is not a monolithic system that resists constant refinement and optimization. |
Now, you are in a better position to assess whether your organization truly needs a DXP or not. To find out more, read 'Do I Need A DXP?'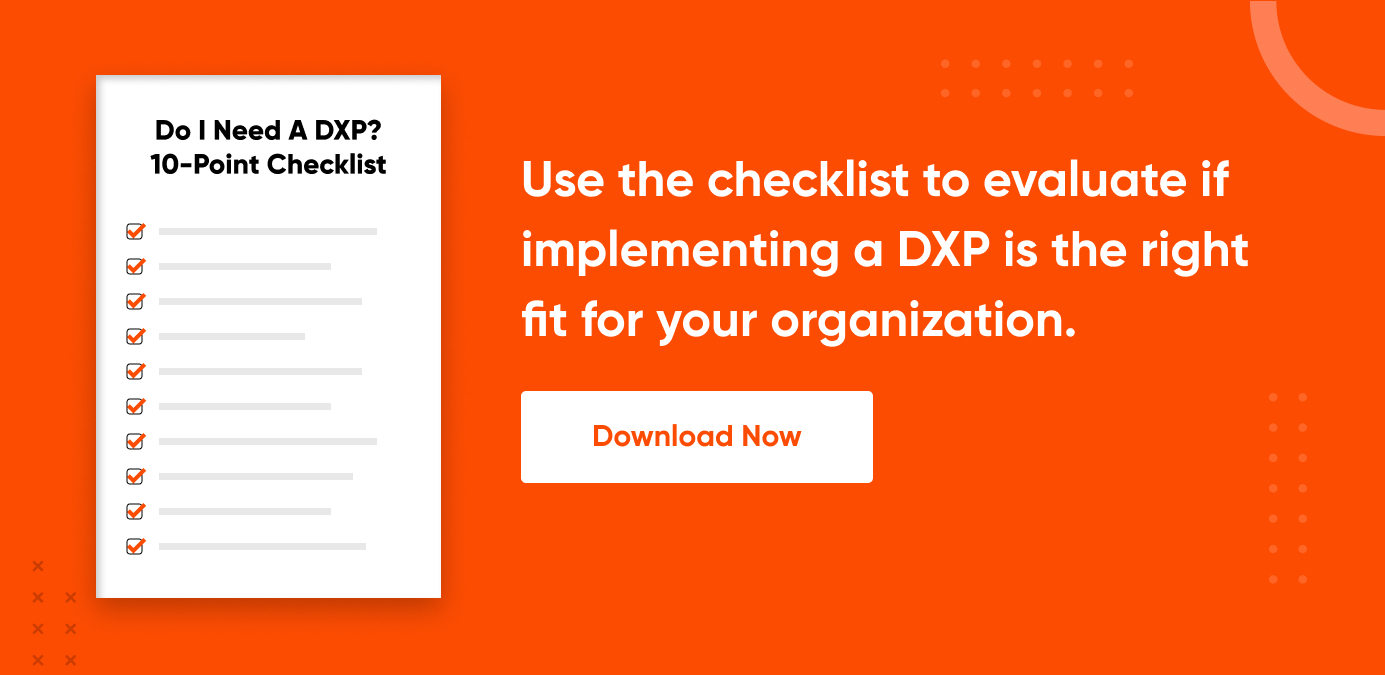 True Open DXPs: Future Of DXP
Irrespective of the complexity of a digital platform, re-platforming is always bound to be disruptive. Realistically, migrating to a new technology stack is a cumbersome process with high costs. This makes it vital for businesses and technology stakeholders to build DXPs for change and embrace the unknown.
Most people thought this problem would be solved with composable DXPs where everything is a component. However, that was not it. Though most DXPs are composable, the fact remains that they are also highly opinionated and do not integrate properly with other DXPs or other components of different DXPs.
This points to a problem where most DXP providers have opened up the API's but are not doing enough to ease integration with other tech stacks. This indirectly forces businesses to stick with all components of their DXPs.
The only ray of hope within this complex scenario lies with what we call as 'True Open DXPs.' We hope technologists and digital architects of the world would work together to build a true open DXP that allows businesses to choose and integrate any components required for building a complete stack.
In a true open DXP, individuals would be able to switch and upgrade any components without affecting the rest of the stack. This will allow businesses to exercise complete freedom in providing their customers with the best-in-class experience without worrying about integration complexities.
At this point, the existence of true open DXPs is restricted to the realms of wishful thinking. But wouldn't it be wonderful to have such an ecosystem that would enable businesses to use "True Open DXPs"?
But more importantly there is a need for a shift in the mindset where instead of building the DXP as a whole, we build components and engage in integrations. Most major DXPs would then have plugins that would make fostering cross platform integration a breeze.
What's Next?
It is fun to engage in fanciful thinking every once in a while. But at Axelerant, we do more than just that. We helped a luxury resort in partnership with Wunderman Thompson unify their CMS with a future-ready solution for optimal consistency. This transformation reduced redundancy and brought down development and maintenance costs.
By simplifying the platform, the organization was able to provide a modern content experience to their consumers. Ultimately, it increased their profitability and strategic positioning by walking down the right path of innovation.
Read more on how Axelerant created a future-ready solution for a luxury resort in partnership with Wunderman Thompson.
To speak with the changemakers that made this possible, schedule a call.
FAQ'S
What Is A DXP (Digital Experience Platform)?
A DXP connects all digital touchpoints into smaller, more informed ecosystems by packing several functionalities. It combines the power of CMS, CRM, campaign management, Digital Asset Management (DAM), personalization tools, and CDP along with the integration of several other capabilities to provide a more extensive alternative to a typical CMS.
Why Use A Digital Experience Platform?
A DXP enables organizations to deliver consistent, relevant, and enjoyable digital experiences. Other reasons why organizations should use a DXP are:
Ease of personalization at scale
A holistic customer view
Robust content creation and management
Integrated content and data
Governance and compliance
A DXP connects all digital touchpoints into smaller, more informed ecosystems by packing several functionalities. It combines the power of CMS, CRM, campaign management, Digital Asset Management (DAM), personalization tools, and CDP along with the integration of several other capabilities to provide a more extensive alternative to a typical CMS.
What Should I Look For In A DXP?
DXPs pack several functionalities into a single system, including
Media storage and content management capabilities
Rapid development of landing pages, portals, websites, and apps
Collection of customer data and content via APIs across various touchpoints
Utilization of data to personalize digital content for customers
Measurement of user experience and content performance for analytical insights
What Is The Difference Between DXP And CDP?
While a DXP focuses on creating and delivering personalized digital experiences to customers, a CDP focuses on extensively collecting and managing customer data, which is then used to enhance customer experiences.
About the Author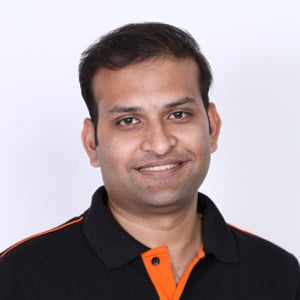 About the Author
Prateek Jain, Director, Digital Experience Services
Offline, if he's not spending time with his daughter he's either on the field playing cricket or in a chair with a good book.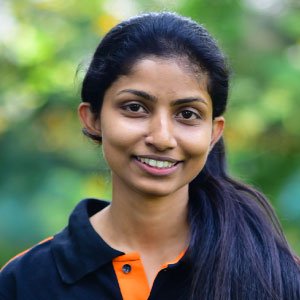 Akanksha Singh, Senior Drupal Engineer
Voracious bibliophile. When she's not working, she reads; when she's not reading, she works. 100+ books annually, eight-plus monthly, two weekly—cover to cover, no excuses.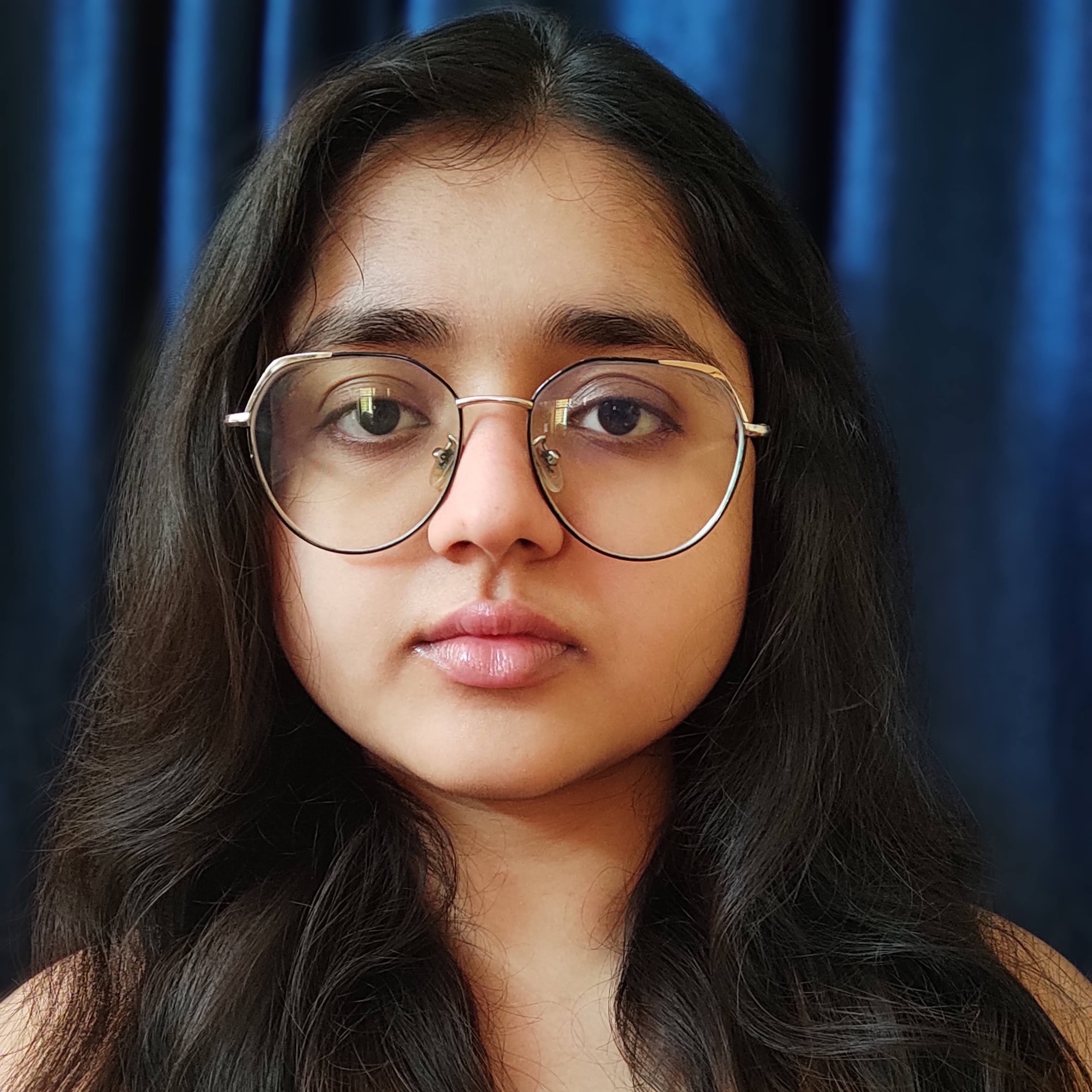 Simran Sethi, Content Marketer
Simran is an avid reader. She is an active runner, who also likes to swim, dance, and sing. For her, the meaning of life lies in the little things. Kindness, passion, and compassion are her life's essential values.