Introduction
This article focuses on six fundamental tips for setting up one's remote workstation.
Before the pandemic, working from home seemed like a dream.
Benevolent companies allowed people to work remotely once or twice a month, granted with due groveling (been there, done that).

People rejoiced when remote work started. But the realization soon kicked in that working from home was not as easy as everyone assumed.
You need to get certain things right to thrive in a remote setup.
It all begins with setting up a proper workstation.
What's A Remote Workstation?
A remote workstation could be anywhere a person works, except from their office. Everything is fair game, from home to co-working spaces, cafes, restaurants, and the great outdoors.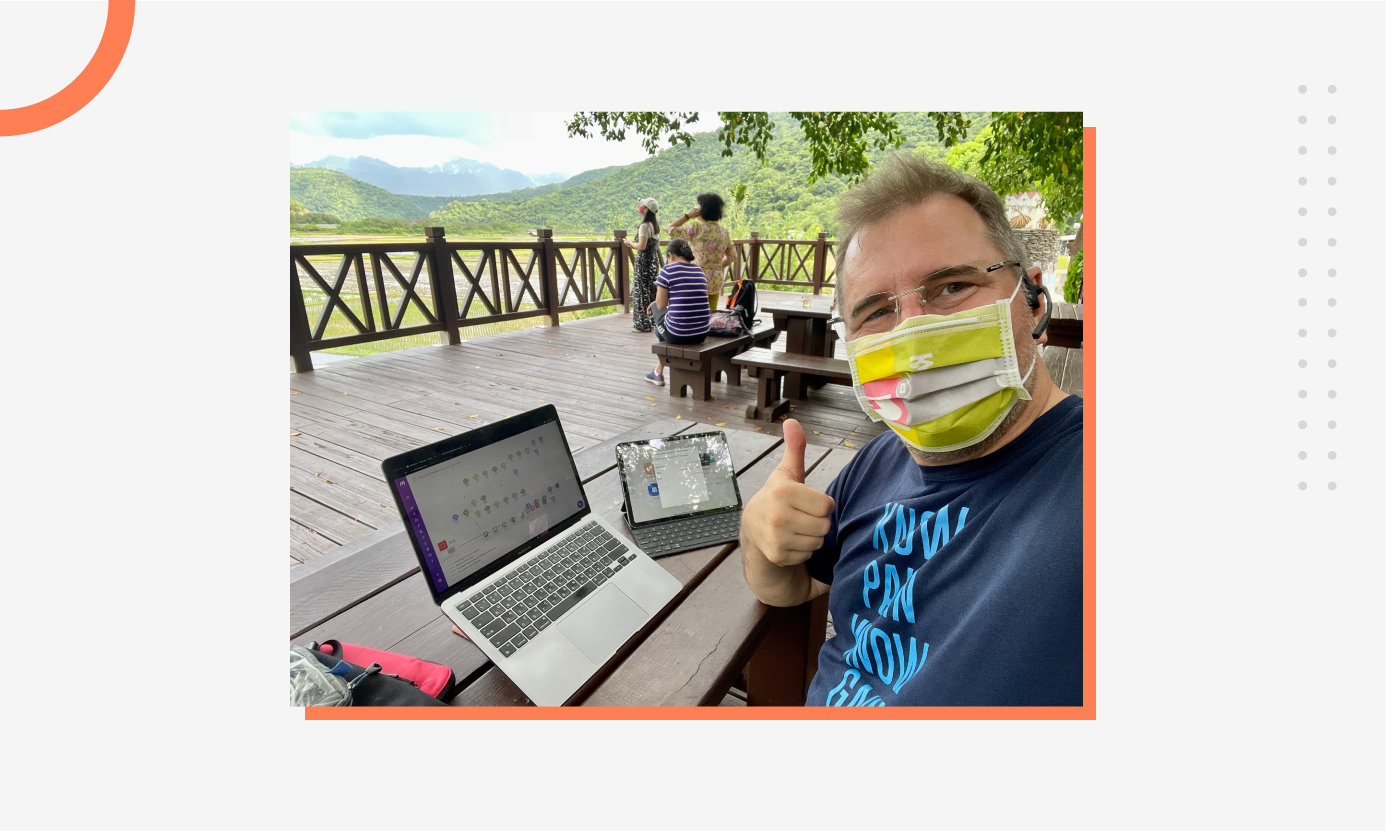 Before COVID-19, a handful of people had the luxury of working from home. We were among that handful.
We started our remote work journey in 2016 and never looked back. By the time the pandemic forced everyone to adopt the WFH model, we were sailing pretty well.
Why Did We Prefer Remote Work?
Well, there are so many reasons.
But the most brilliant is this—
We realized that great work didn't require warming an office seat.
As with any remote team, we had some challenges initially. We learned from experience and a fair share of mistakes.
But the returns of going remote were terrific for our team members.
"I love working remotely," said Pragyan Bezbaruah, Graphic Designer, Axelerant.
The flexibility that comes with remote work has helped him be more attentive to his family's needs.
Recently, when taking his father to the hospital for a check-up, Pragyan carried his laptop with him.
"I knew it'd be too late if I started working after returning home," he said. "So I worked from a cafe and enjoyed great food while at it."
"It was possible only because of our remote work culture," said Pragyan.
Flexibility to work where you want, when you want, has become one of our top benefits.
But that's not all.
You can spend the time you save commuting every day to and from work on the things that matter, like:
Spending more time with family
Picking up hobbies
Upskilling
Self-care
Exploring and traveling
Why Do You Need To Setup A Remote Workstation?
Let me rephrase the question—can't we just work from the couch?
Not really.
There are many benefits to working from home. But only when you take care of certain things first, like setting up a workstation.
Sure, the couch is tempting, and the bed even more so.
Because Sometimes It Affects Your Health
Before investing in a proper workstation using Axelerant's home office setup benefit, Subhojit would work wherever he could find the space at home.
"I didn't know the importance of a good workstation," said Subhojit Paul, Drupal Staff Engineer, Axelerant.
But the consequences soon came knocking on his door. "My elbows started hurting by the end of the day," he recalled.
He isn't the only one who suffered health problems because of a poor workspace setup.
Roshni (name changed on request), Axelerant People Operations Manager, would spend hours working on the couch after she started working at Axelerant.
She barely realized how her posture was affecting her work and health. "Nothing really happened at first," she said.
But gradually she developed a backache and was forced to reconsider things.
"Now, I always use my work table and chair while working."
And Sometimes, It Gets To Your Work
Setting up a workspace is more than what you sit and keep your work related equipment on.
Some less talked about—but equally important facets—are where and when one chooses to work.
Saranya Rajaram, Senior Quality Assurance Engineer, Axelerant, is thankful for remote work.
"I can take care of the kids and spend more time with them because of the flexible timings," she expressed.
But managing household chores and work simultaneously meant constant interruptions during work. "I was unable to focus on work," Saranya confessed.
She realized the necessity to establish some boundaries.
How To Setup Your Workstation
Setting up a workstation can be a hassle for many.

But it doesn't have to be. Here's a comprehensive checklist to help you create the perfect work nest.
Be Mindful Of The Environment
Let's start from the beginning—where should you ideally set up the workplace?
Binny Thomas, Axelerant Drupal Engineer, struggled with this very question.
When the pandemic forced everyone indoors, his son would come in to play with him during office. The heat and humidity in his room also made it difficult to focus.
The Room
Stick to a spot or room at your home where you can work undisturbed from interruptions — a quiet place (not necessarily like the film).
It trains your mind to see this spot as a place of work. Every time you step in, your mind will know you mean business.
Find a co-working space nearby if you can't carve out a workspace at home.
The Temperature
Very few people can work mindfully in frigid or sultry temperatures.
If you're having difficulties concentrating, invest in an air conditioner, heater, humidifier, or other machines to make things comfortable.
Binny Thomas used natural cooling techniques at home and invested in an AC for extreme conditions.
Light and Ventilation
You want to include ample natural light and have proper ventilation in the workstation. Sit close to a window or a door where both are accessible.
"The window should never be behind the monitor as it will drastically reduce the contrast and brightness and strain your eyes," shared Pragyan.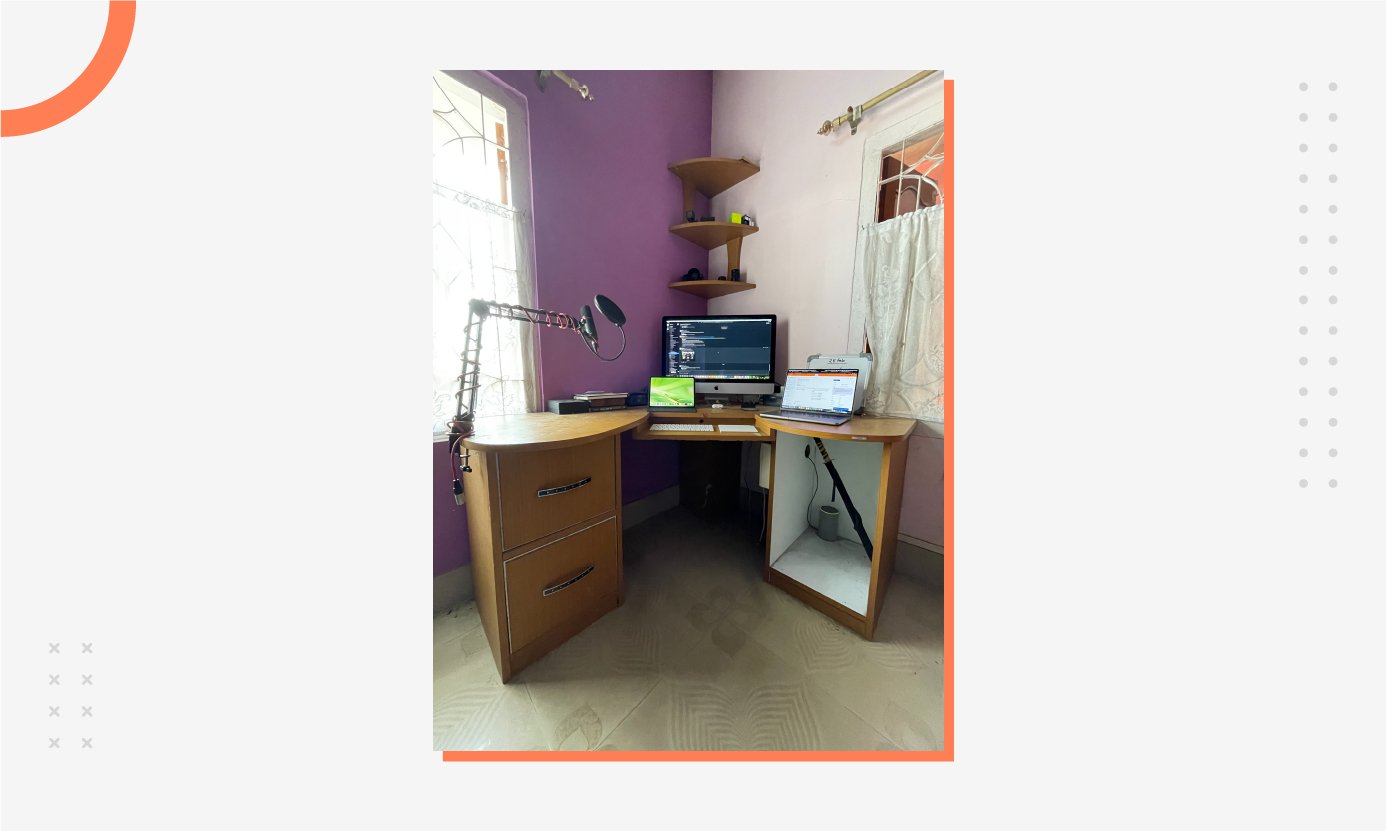 Invest In Ergonomic Gear
Working long hours in front of the computer takes its toll, especially if one's not taking precautions to minimize them.
Investing in ergonomic furniture is one of the best precautions you can take.
These types of furniture help you maintain good posture and comfort while working.
Though there's a host of gear you can get, these are some fundamental ergonomic furniture, to begin with:


Table or height-adjustable table
Ergonomic chair
Mouse pad with wrist support
Neck pillow
Monitor stand
Laptop stand
Keyboard with wrist support

If you're as nimble-footed in traveling as Michael Cannon, Axelerant Chief Success Officer, you may want to consider items specific to your needs.
"I always carry a lap pad when on the road," said Michael.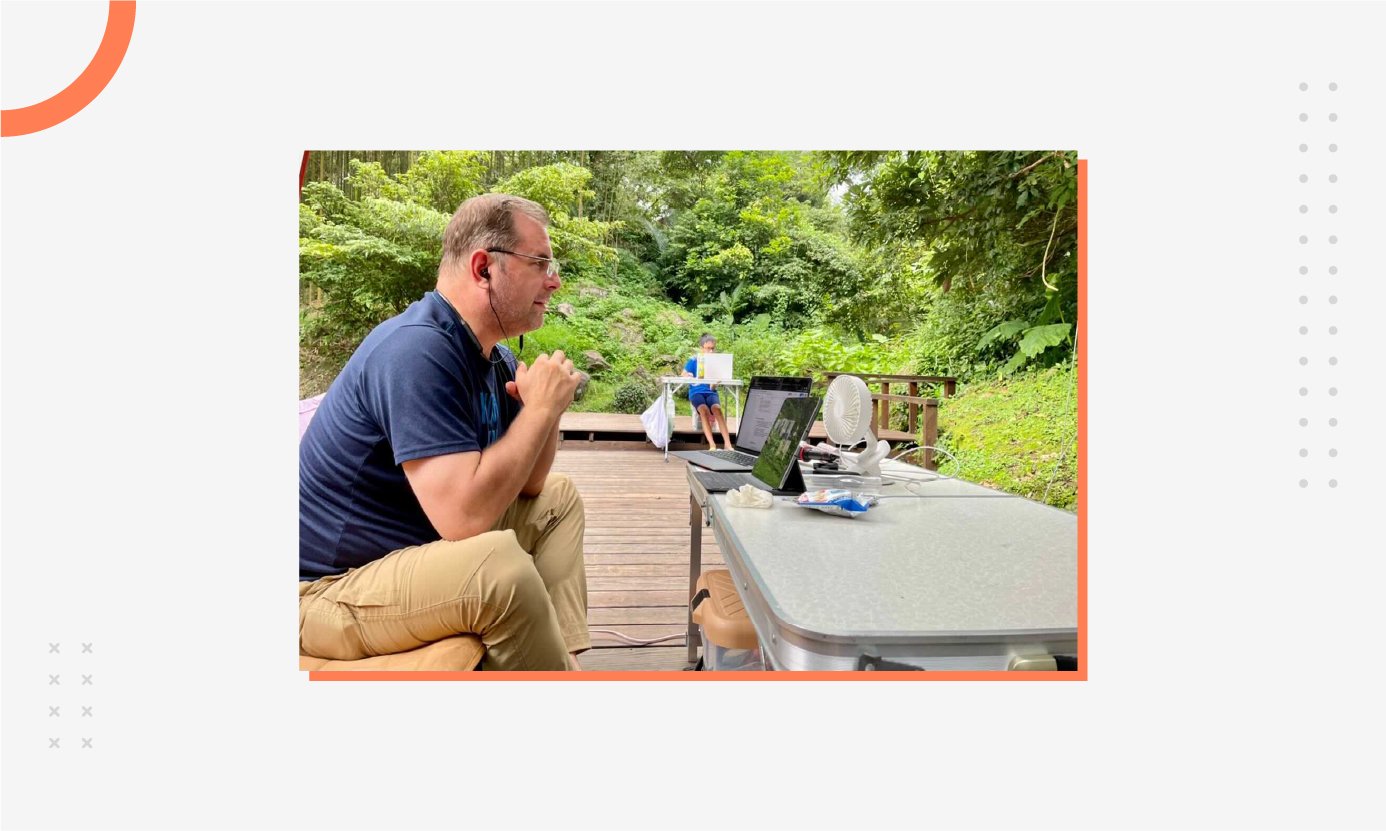 Carry What You Need, At All Times
When Harjap Singh, Visual Designer, Axelerant, started working remotely, he didn't know what he'd require.
"I wanted to do my work without any noises or interruptions and realized that a remote workstation is a must," he said.
Harjap used the home office setup benefit to create a perfect workspace at home.
"Life's much easier if you have all the tools handy where you work," he shared.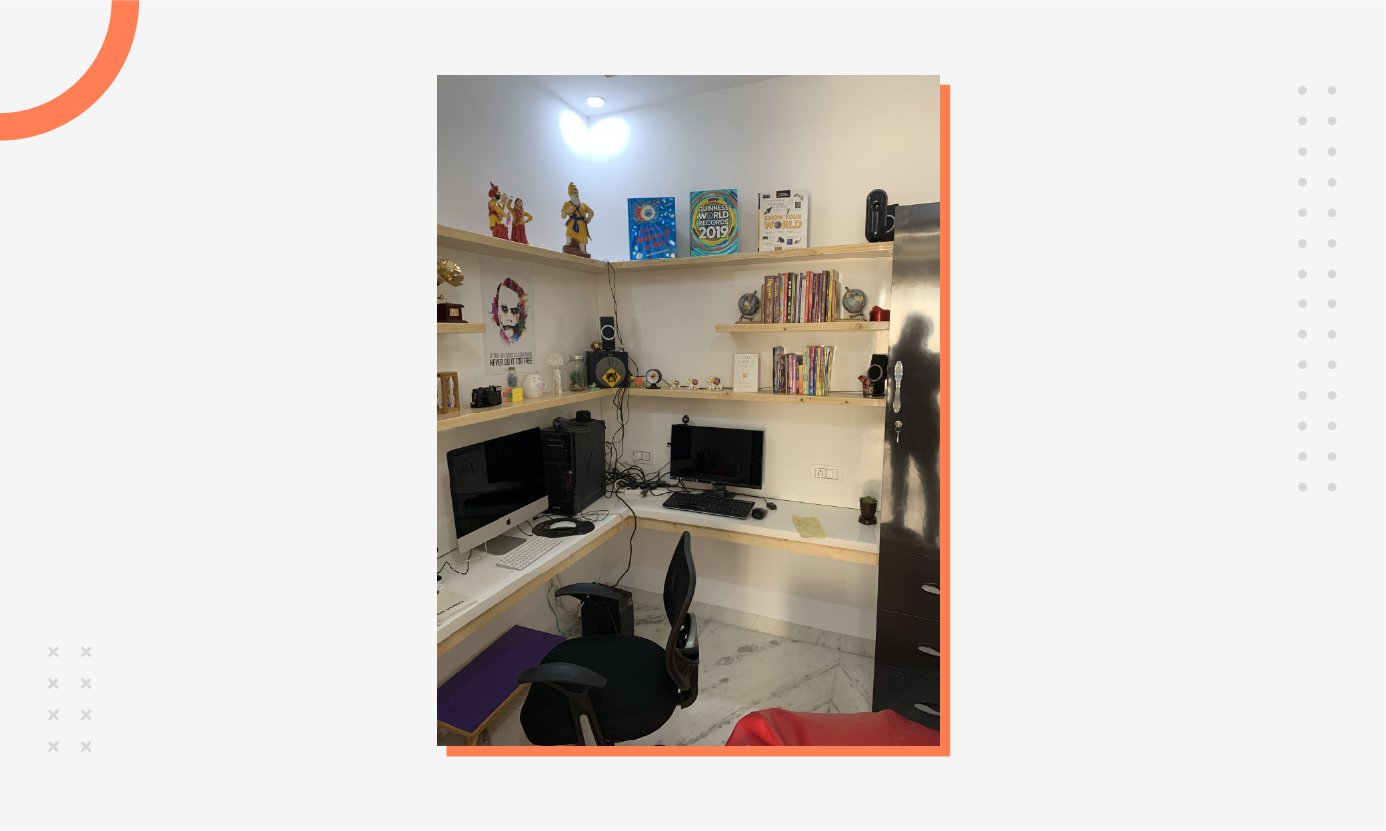 Here are some essential tools that Harjap and other Axelerant team members use:
Stable internet connection
Smart storage solutions
Power backups
Stationery items like diaries, pens, etc.
Anything uplifting and motivational, like wall posters, quotes, and affirmations
Books
Headphones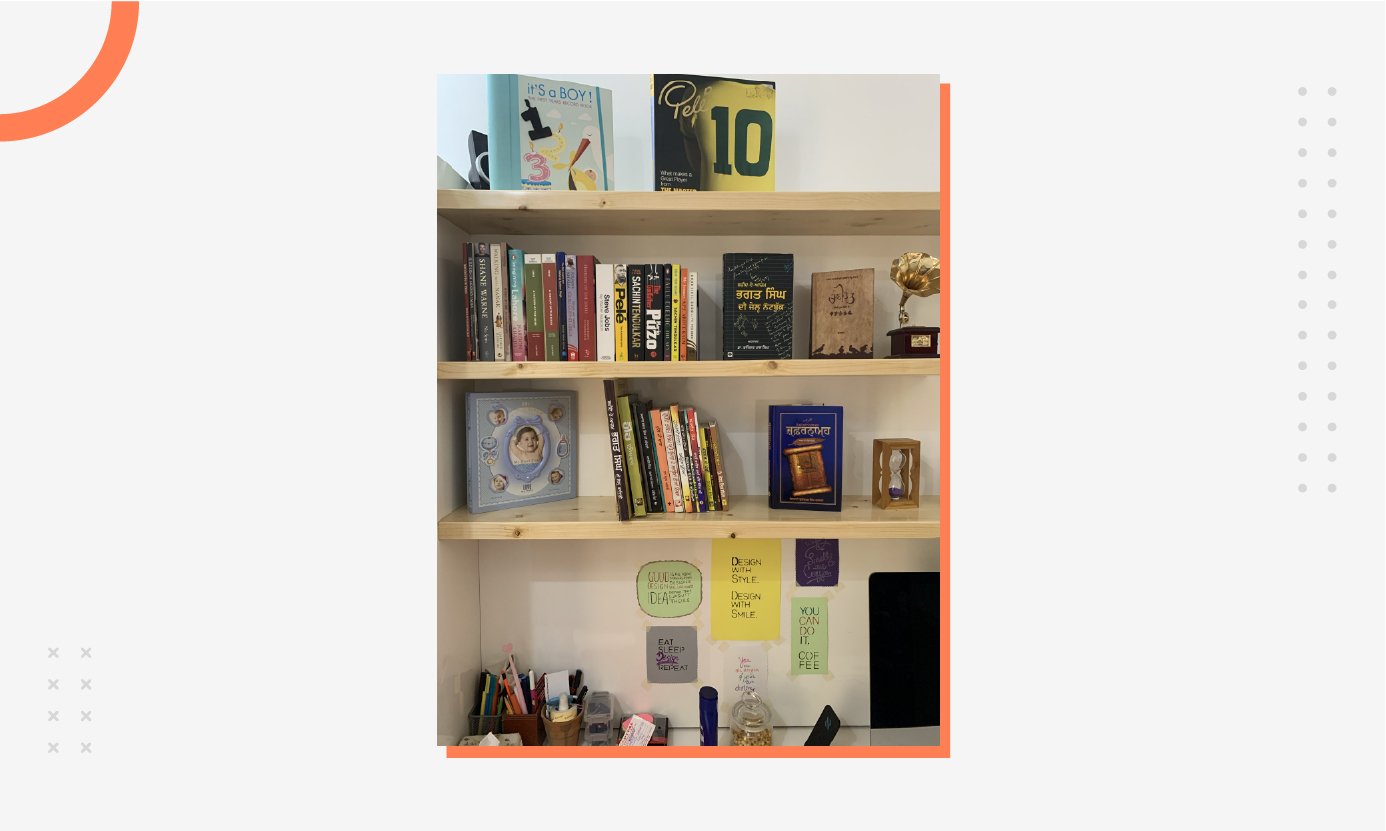 "I used the Axelerant home office setup allowance to buy a router UPS. This way, I stay connected to the Internet during a power cut," shared Suraj Vantagode, Drupal Engineer, Axelerant.
But if you're often out exploring places like Michael, carrying things for unimpeded work is even more critical.
"I always have a good headset and backup battery on me. My phone has a higher level 5G bandwidth package, which I tether with my MacBook Air," Michael shared.
Light it Up
Proper lighting is indispensable.
Natural light is the best source, and while selecting a place of work, access to it should be a top priority.
"For me, the first thing was to select a place away from my refrigerator! After that, good lighting," shared Axelerant Global Recruitment Manager Dunia Leal, laughing.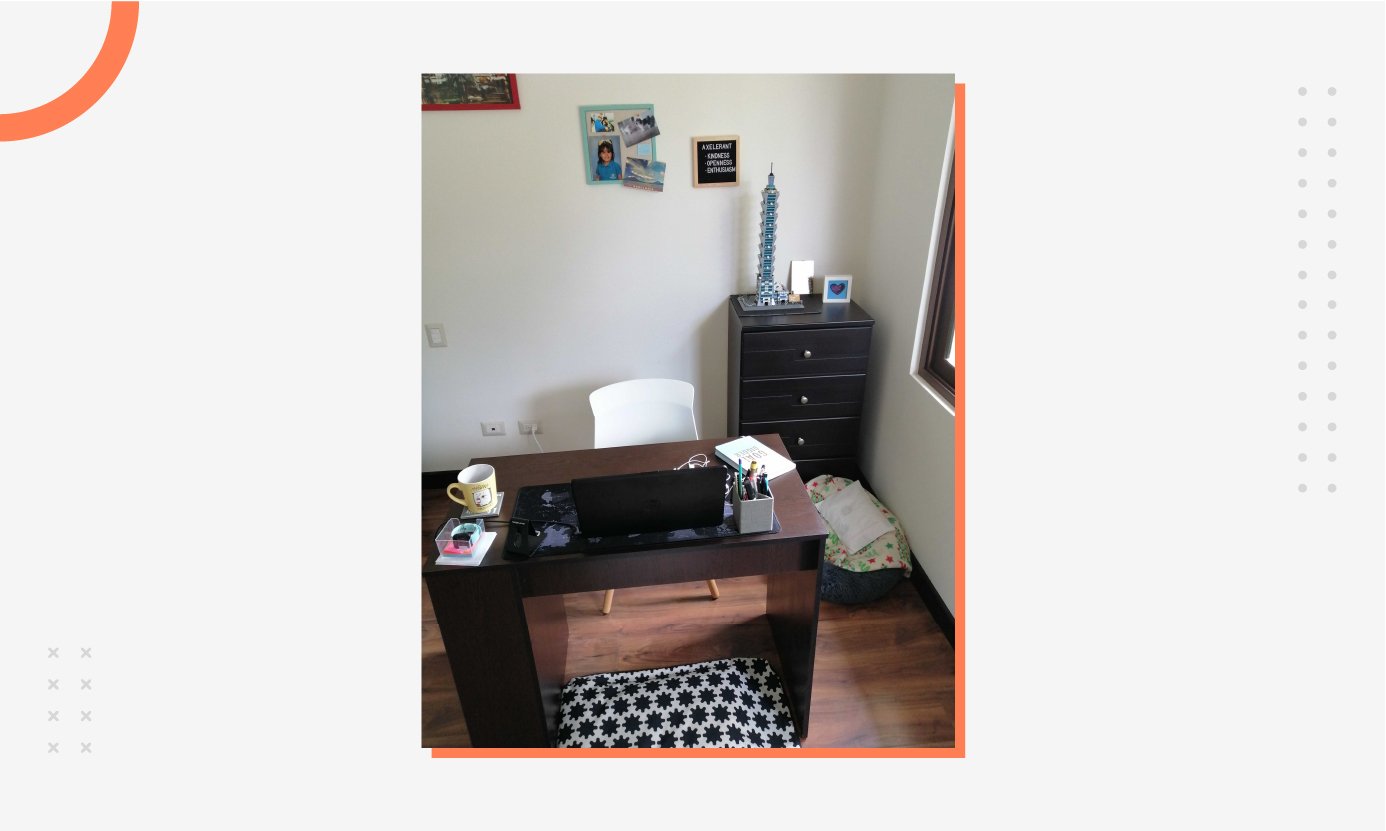 However, people also work in locations and times when natural light may not be available, such as after sunset.
That's when artificial lights come in.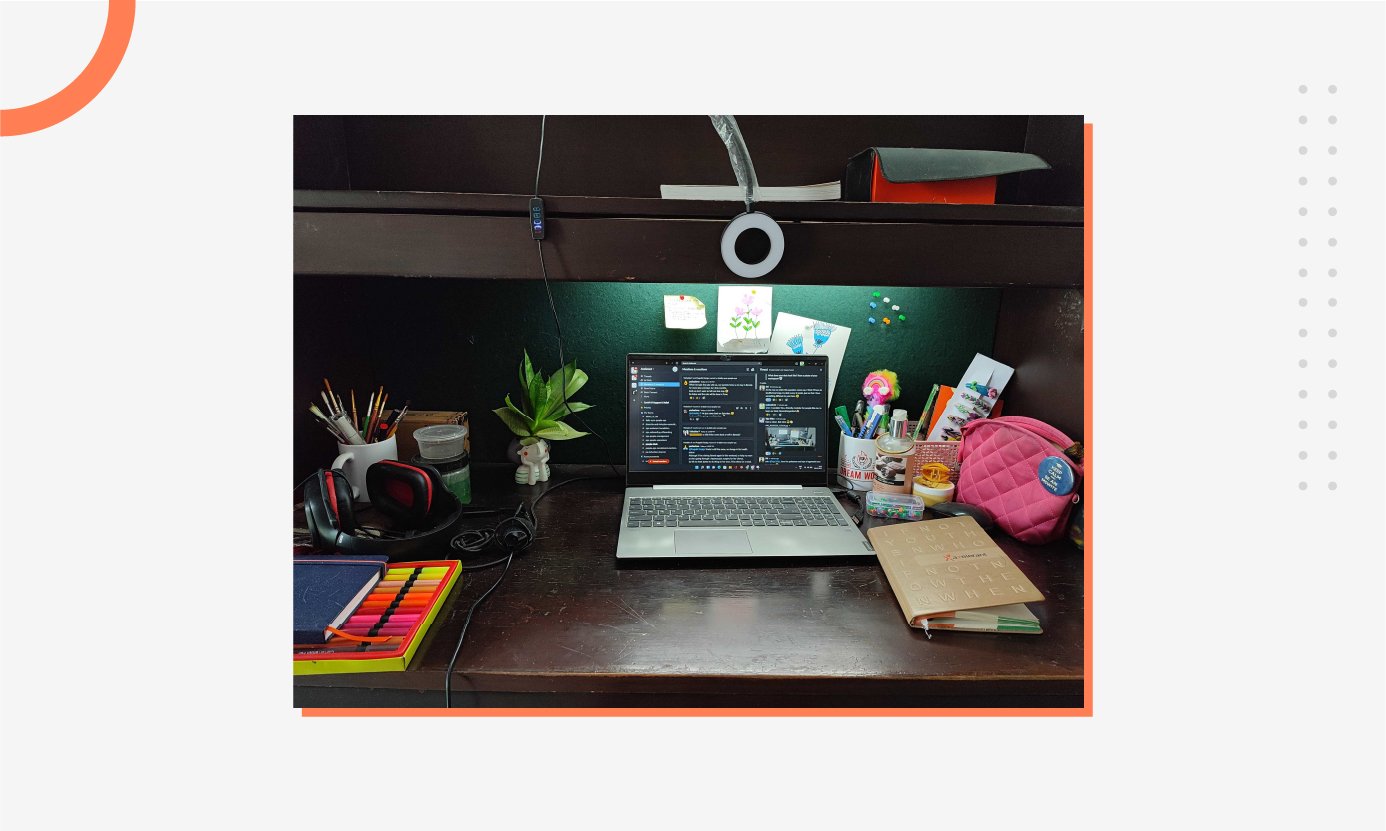 Some people like a warm light, while others prefer a bright white light. It's good practice to match the room lighting with the screen brightness.
If you have to attend meetings, try using a ring light.
"I ordered a ring light for my video calls, as I always felt there wasn't enough light in the room," shared Yashashree Bedekar, People Operations Specialist.
Include Breaks In Between Tasks
Breaks are underrated when it comes to productivity.
Jumping from one task to the next might seem okay in the beginning. You'll probably get high-fives from your manager, too.
But that's only going to be sustainable for a limited time. Sooner or later, you're going to burn yourself out.
And that's what happened with Yashashree, too.
After talking with her performance coach, she realized that she needed to keep breaks during her workday.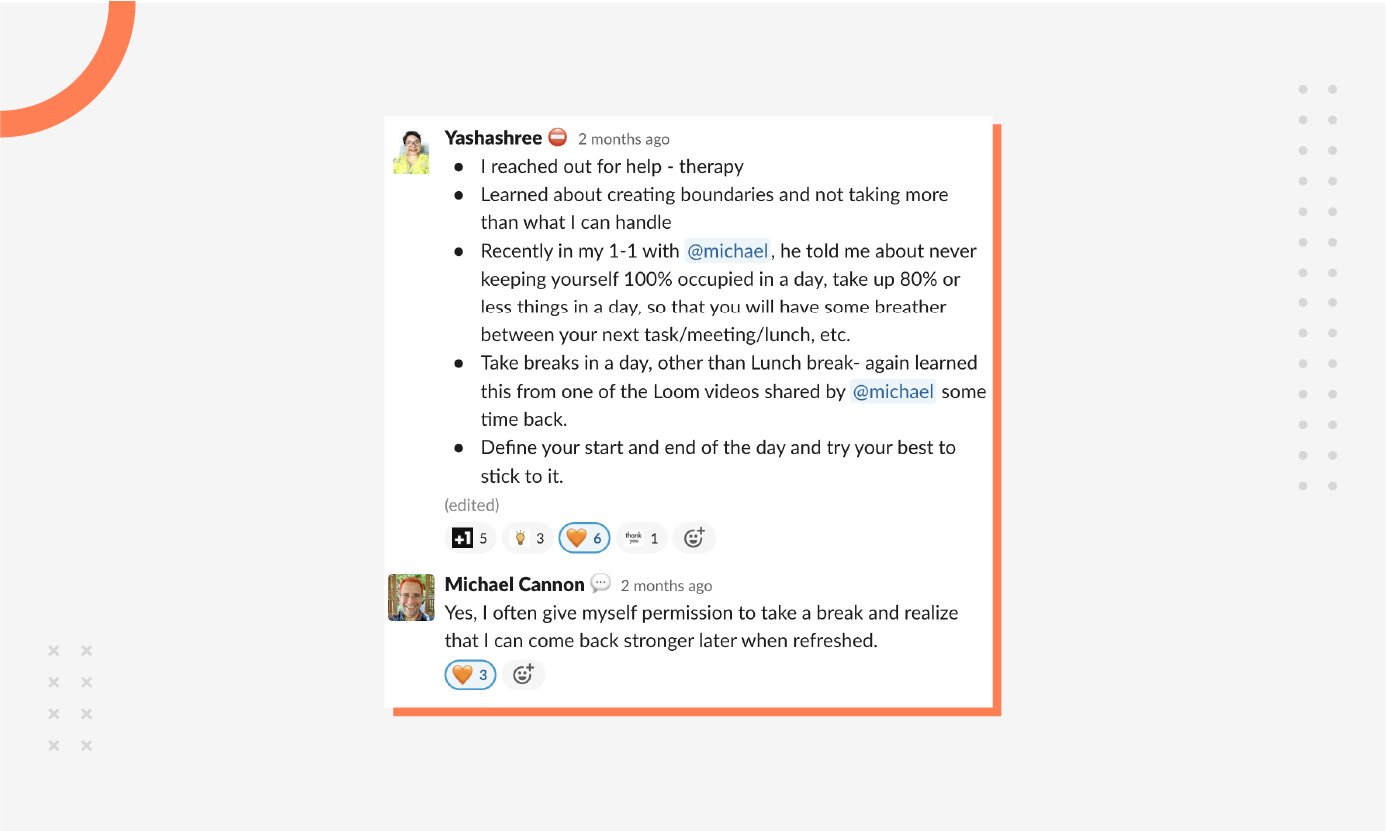 Axelerant Project Manager Kartik Shukla believes: "When you take a break from a complex problem, your brain enters a diffused thinking mode, during which it solves problems in the background."
Many team members used the fitness allowance benefit to make their breaks count.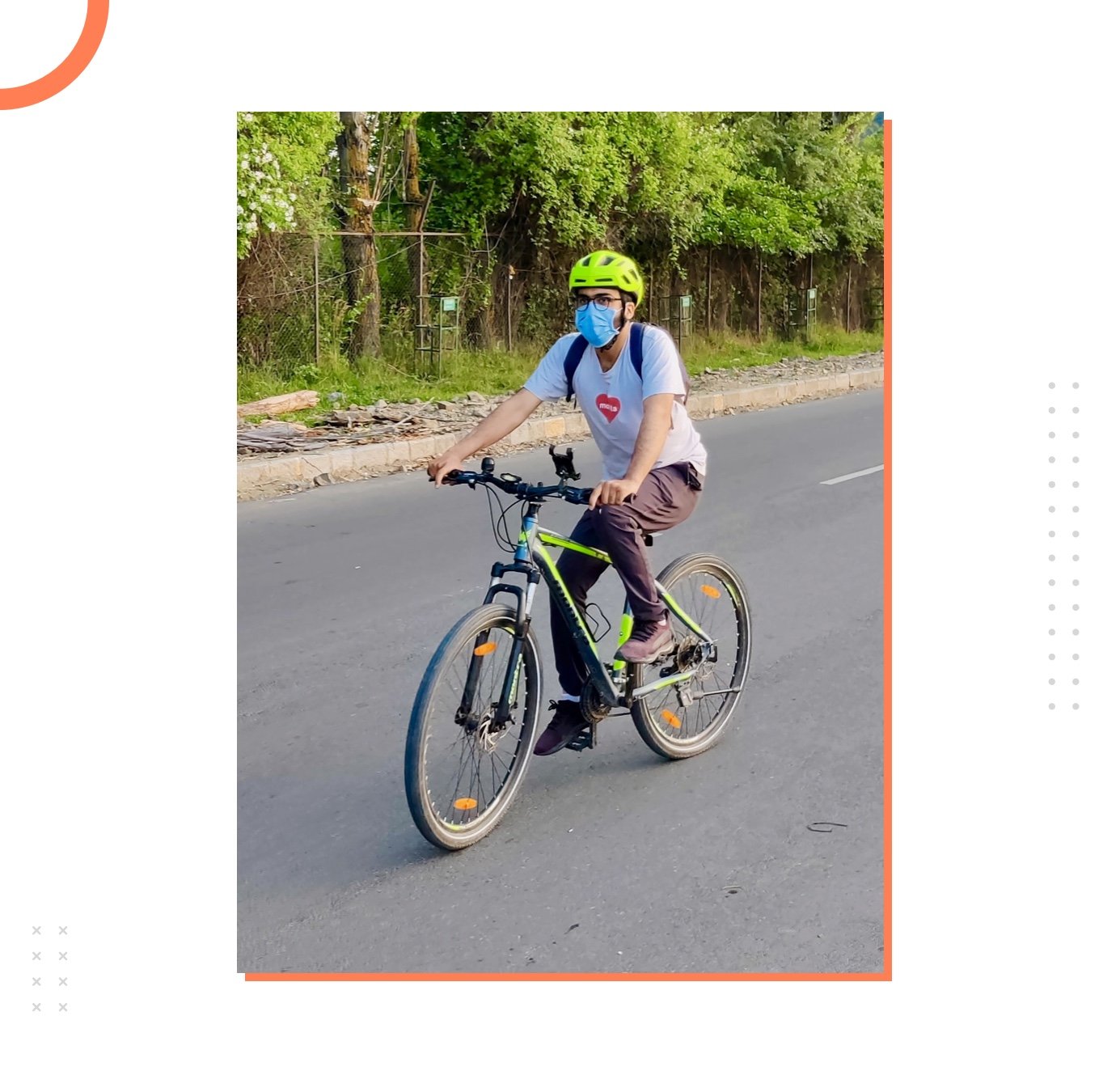 Walking, cycling, painting, jogging, cooking, meditating, and trekking are excellent break activities (I sometimes take a nap, too).
And Definitely Stick To A Routine
Most remote-working companies keep a tab on everything you do on your device during work hours.
We don't believe in it. If team members are enthusiastic about their work, why wouldn't they do it?
We trust team members' integrity and passion for their work.
But remote work can be tricky when you can't manage time properly.
Nobody will breathe over your shoulders like in the office. And procrastination can be a slippery slope.
"Starting my work early in the morning helps me plan and focus better," said Saranya.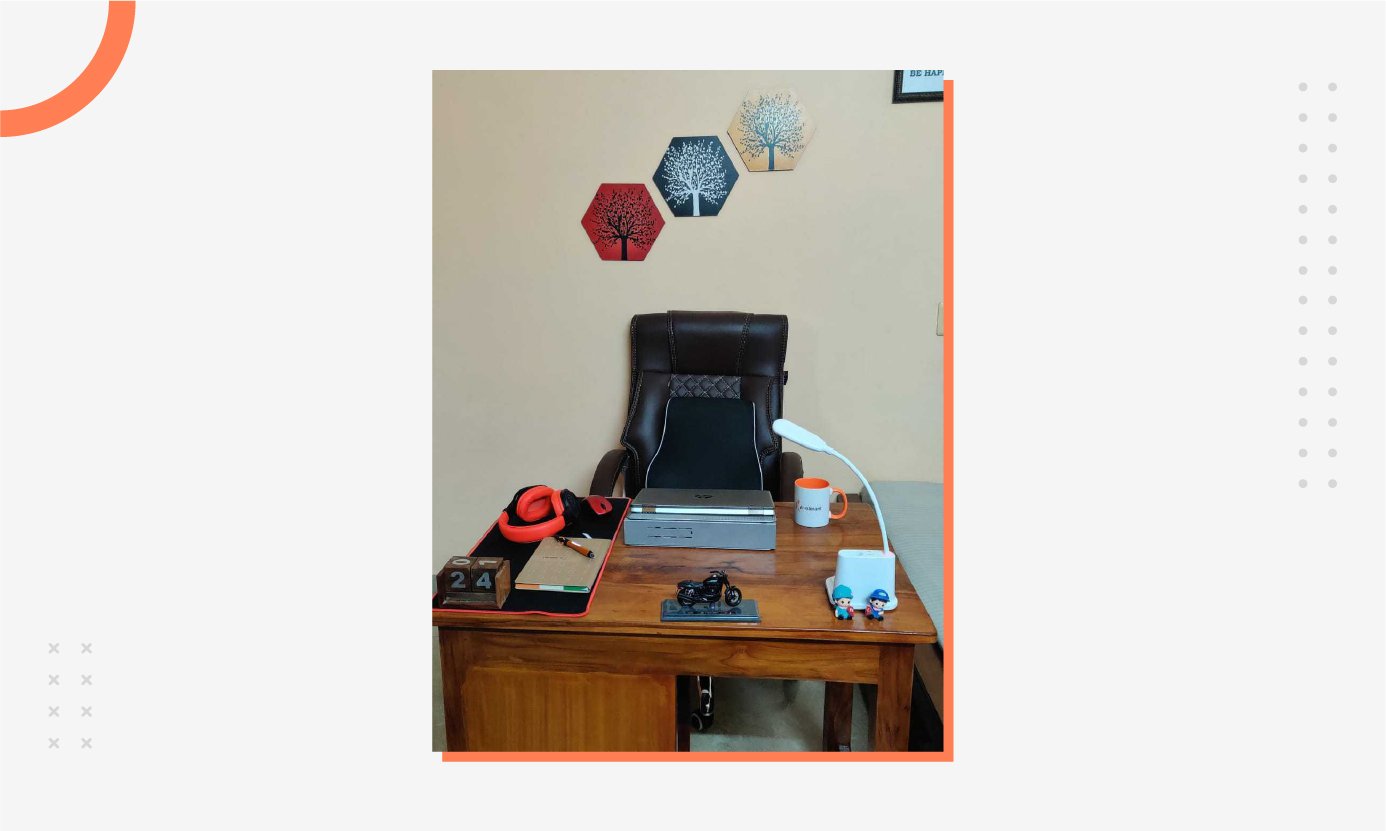 She keeps Slack, Microsoft Teams, and social media apps closed during work. "I fix a time for every task and stick to it."
Figure out which time pockets work best for you during the day.
It may be early in the morning or late in the evening.
Finish the complex tasks during these spans. Meetings, emails, collaborations can fill the remaining time.
Remote work is fun and easy when you are able to manage it responsibly.
I hope some of these tips prove useful in your journey as a digital nomad.
About the Author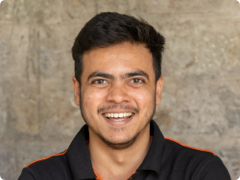 About the Author
Rohit Ganguly, Content Marketer
Rohit is a content marketer first and a YouTuber second. He loves to interact with animals, feed them, clean his apartment, and spend time with friends and family. Curious by nature, he also enjoys literature, movies, meditation, and calligraphy.