Introduction
In the world of marketing and advertising, Agency of Record (AOR) was typically understood to mean a single agency responsible for all the services that a particular business might require. These services traditionally included brand strategy, creative and media placement, but today, can include a mix of other services as well, such as interactive media, web development services and digital marketing.
The AOR model was once the best way for agencies to stay in business: it offered stability through guaranteed repeat business, and full control over client strategy and implementation. Over time, however, changes in market forces meant that clients no longer found the model adequate, leaving many agencies struggling.
Here's how the AOR model has evolved over time, and what the future might hold in store for agencies reeling from market changes in recent years.
AOR used to be boss.
The most valuable aspect of the agency of record model was that it eliminated the need for businesses to manage multiple vendors, instead allowing them to have a single Point of Contact (POC) for all their requirements. This offered a number of advantages, namely these four:
1. Effective Strategy
Because there was a single point of contact, brands and their project owners were in total control of the brand strategy and implementation.
Since everything was handled within the same organization, the chances of miscommunication, knowledge gaps and fragmentation were low.
2. Ownership
With a single point of contact, it was always easy to see who had control of the project. In case things didn't go as planned, identifying the root cause was easier because responsibilities could be clearly assigned.
3. Efficiency
Working with the same agency over a long period of time offers an efficiency advantage that companies cannot leverage while working with multiple partners or switching partners frequently. Especially when the brand story is complex, and the learning curve is steep, it saves a lot of time to work with a partner who already has the relevant knowledge and experience to draw upon rather than having to onboard a new vendor for each new project.
4. Trust
Long-term working relationships also build a sense of trust and dependability. In times of crisis, when tough decisions need to be made, it helps if you and your agency partner have already faced down varied challenges together.
With all these advantages, the AOR model intuitively made sense for both brands as well as agencies.
But this model took a hit.
With digital media beginning to play a bigger and bigger role in consumers' lives, traditional advertising was disrupted.
In many ways, the rise of new marketing and communication channels leveled the playing field for businesses, thus increasing competition. Digital services also gave birth to a lot of new contenders, with new sets of skills, able to adapt quickly in the changing landscape.
Suddenly, outbound, interruptive methods of garnering audiences' attention no longer got results, as audiences became overwhelmed with the noise and began turning away from traditional advertising methods.This meant the competitive landscape became vastly different from what businesses were used to.
Companies now had to learn to navigate the world of social and content based marketing in order to build a different kind of relationship with their audiences, and leverage new opportunities presented by these new media channels.
In addition, while traditional advertising did not have much scope for measuring return on investment (ROI), digital services offered a range of metrics, insights and data that businesses could leverage to drive returns. This meant that many clients now had tougher questions for their agencies to answer.
Ultimately, companies found that the rise of digital services presented too many new specializations and channels for any one agency to handle effectively. Thus began the switch to a primarily project-based model.
Because projectization leads to fragmentation.
Instead of allowing a single agency to drive strategy as well as execution in a cohesive, meaningful way, more businesses now rely on a mix of different agencies to provide various specialized services.
In some cases, these businesses could have their own internal teams play the strategic role and provide direction to the various agencies' efforts. Others choose to have an external brand strategist consult for them, with specialist agencies managing the execution.
Those agencies that are in positions where they are able to offer strategic input are, even today, viewed by their clients as valued business partners. But increasingly, the specialist agencies who are responsible for simply executing someone else's idea—those who play a more transactional role in an industry that is increasingly becoming commoditized—are now seen as easily replaceable "vendors".
This means that the future for agencies is more uncertain.
Agencies that have previously been the agency of record for their clients and are now replaced by a consultant or internal team may find that in the current environment, much of the decision making power is taken out of their hands (as their specialties may not cover all channels and platforms). This leaves them with little influence over the client, the strategy, and hence the outcome of the project.
Not being able to hold onto multi-year retainers anymore also makes it harder for agencies to forecast budgets and income. As a result, agencies need to reduce their costs and shrink investments, which in many cases means scaling back capability as well.
Because of the fiercely competitive nature of the market, agencies are often forced to handle increased scope with reduced resources. This, needless to say, sets them up to fail. And when clients see the poor results, they can easily access a pool of ready competitors to replace the agency in question, probably at lower cost.
Without major transformation, most agencies cannot survive this cycle.
Not only that—agencies are not the only ones struggling. Since businesses are able to pick the best providers at the lowest cost for each individual service, projectization does offer clients a definite cost advantage. But with more businesses taking strategy inhouse, there is often no clear leader shepherding the multitude of agencies with varied interests in any one consistent, meaningful direction.
Any efforts made can thus quickly deteriorate into piecemeal, sporadic attempts towards maintaining a unified brand identity. Ultimately, the user's experience of the brand is fractured and diluted, which only damages the brand in the long term.
Partnerships are the way forward.
In recent years, the future of the AOR model has been widely discussed. Some believe it's all but over for the agency of record. Others believe that the impending death of the AOR model is not so close at hand yet, and that it will live on in other forms.
But one thing is clear: Agencies do need partnerships to survive.
In fact partnerships are the new normal.
In a market where clients are no longer looking for an agency of record, but only best-of-breed service providers to execute their projects, partnerships offer agencies a way of increasing their capabilities without the need to invest in training staff in an altogether new field. Agencies can simply join forces with others who are at the top of their fields to be able to deliver a larger bouquet of services to clients and generate more revenue.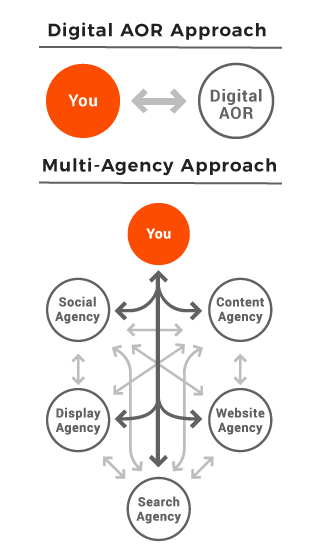 The AOR model, however, is still the one that offers the simplest answers to questions like "Who's leading my initiative?" and "Who's in charge of strategy?" It's likely that in spite of the growing number of specializations, some clients continue to prefer a one-stop shop solution to the hassle of managing a large number of vendors.
In that case, it may be that the AOR model only needs to be modernized. Instead of striving to be the agency of record as in the past and do everything equally well, agencies can slowly shift towards a "Lead Agency" model. This would allow them to own the account and key services, but have their efforts bolstered by effective partnerships, collectively functioning with their partners as a single digital agency of record.
However, given that multi-vendor arrangements have their own positives and negatives, successful partnerships will need to be carefully thought out and implemented—close, global agency collaboration will become key.
Another obvious pathway to growth (and one that's more common today for agencies) can be in the form of mergers. Agencies can acquire other agencies with complementary skills, integrate their processes, break down silos, and thus increase their capability, enabling them to become the AOR for their clients.
What now?
Whether clients continue to seek out agencies of record or specialist service providers, partnerships can help cushion agencies from at least some of the negative impact of rising competition and a significantly smaller sphere of influence.
The right partnerships open possibilities and fuel greater achievement.With competent partners to augment their own capabilities, agencies can find new ways to thrive even in difficult market conditions.

About the Author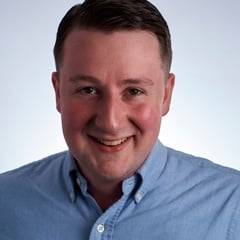 About the Author
Nathan Roach, Director of Marketing
Germany-based consumer of old world wine and the written word. Offline you can find him spending time with his wife and daughter at festivities in the Rhineland.