Introduction
Amidst the current economic uncertainties, ecommerce sales have been growing tremendously. According to Statista.com, retail ecommerce sales are expected to boost by 50 percent in the next four years, reaching $7.4 trillion in 2025.
With more customers turning to digital mediums for buying apparel, groceries, and home equipment, there's no surprise that ecommerce sales have skyrocketed post-pandemic. This highlights an opportunity for businesses planning to expand their online presence!
By investing in the right content management system for an ecommerce website, companies can lay a solid foundation for their business and stand apart from the competition. But this can be quite challenging if one does not have the answer to questions like:
Why do you need an ecommerce CMS?
Which ecommerce CMS should you get?
Why Do You Need An Ecommerce CMS?
A content management system (CMS) enables ecommerce website owners to effectively create and manage their digital content without writing any code. By customizing the website's content elements, a robust CMS makes it easy to develop an exceptional look and feel of the ecommerce store.
There are many benefits of using the best CMS for an ecommerce website.
Content Creation And Editing Made Simple
The most significant benefit of using an avant-garde content management system is that users don't need high-level technical skills. By managing the entire content, one can increase the pace of marketing campaigns and promotional activities.
No More Dependency On Developers
It's imperative to keep up with customer expectations to drive revenue. If there's a lack of speed and flexibility due to the involvement of a middleman, keeping the website content up to date can get difficult.
By leveraging the best ecommerce CMS, users can minimize the development time and manage the website effortlessly without seeking help. With no reliance on developers, business owners can invest that money in other marketing activities to drive the brand forward.
Reach Out To Potential Customers Effectively
Creating personalized content is a surefire way of delivering an exceptional experience that builds customer loyalty. With the right content management system for an ecommerce website, marketers can keep the content accessible, organized, and shareable across different prospects.
Choosing The Best Content Management System For Ecommerce
With a large number of CMS platforms available, it can be challenging to select one. But to help narrow down the choice, it can be great to start your search by looking at the most popular options available in the market.
Drupal
A comprehensive open-source content management system, Drupal is the right CMS that can add magic to any ecommerce website. With hundreds of themes and modules, this CMS platform offers incredible flexibility for driving a business online.
Regarding SEO-friendliness and insightful analytics for a website, Drupal has no match! This content management system comes with PCI compliance for secure payments, which makes it a preferred platform among ecommerce giants like Honda Brazil, Puma, Lush, and Timex. Drupal commerce is accessible to every merchant, which makes it powerful enough to cater to the entire spectrum of the ecommerce sector.
BigCommerce
Being a well-known CMS platform in the ecommerce market, BigCommerce can support more than 60,000 merchants of various categories and sizes. With its ability to make content management extremely simple, BigCommerce ensures the seamless management of the products on an ecommerce website.
Whether it's a startup or an established business with many products, BigCommerce enables users to manage the website effortlessly and scale as per requirement. Moreover, it has a centralized inventory that helps track sales across different channels.
BigCommerce offers a secure payment gateway due to its partnership with payment platforms such as PayPal and Stripe. This CMS platform is fully hosted and comes with a monthly subscription, making it an ideal option for facilitating the growth of an ecommerce business.
WordPress
WordPress is a popular content management system that is easy to use and customize. It is power-packed with a WooCommerce plugin that can help maximize an online store's efficiency.
With a market share of 36.68% as of July 2022, WooCommerce comes with an intense collection of free extensions and free themes. Users can add various functionalities to an ecommerce store by using the extensions from the WooCommerce Marketplace in just a few clicks.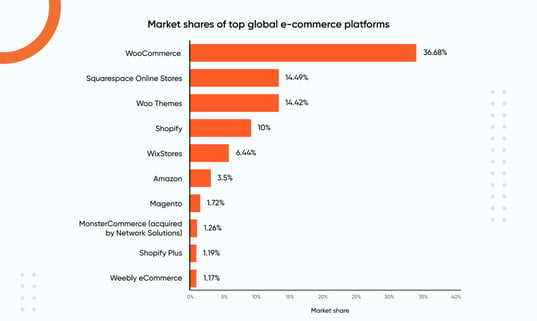 WooCommerce is extremely simple to use. At the same time, it's important to remember that the presence of multiple plugins may cause complexities that can affect your website's performance.
Are you wondering about Drupal vs. WordPress? Read this blog to choose the CMS platform for your business!
Magento
An open-source content management system designed for ecommerce businesses, Magento is currently supporting almost 200,000 websites worldwide. Owned by Adobe, this CMS platform has gained a strong reputation in the market due to its simplicity.
Magento comes with simple drag-and-drop functionality, making it easy to deliver an exceptional shopping experience without technical support. Due to its seamless integration with CRM, ERP, and other enterprise software, Magento allows easy organization of an ecommerce store.
While this CMS is not as robust as other platforms like Drupal or WooCommerce, it can certainly get the work done with no fuss!
Shopify
Shopify is a SaaS ecommerce platform that is trusted by a lot of small-sized businesses and startup merchants. With an affordable pricing and easy-to-use interface, this content management system helps to ensure that an online store has a consistent look and feel.
By offering a smooth layout with easy navigation, Shopify helps customers find what they need without any effort. Moreover, it has an array of themes that can add unique functionalities to an ecommerce website. While Shopify offers round-the-clock free support, it imposes a transaction fee if an outside payment provider is used.
Reasons For Choosing Drupal As Your Ecommerce CMS
Choosing a CMS is a critical decision for your business that will affect everything from operations to marketing. This is why it's essential to ask: Is Drupal good for ecommerce?
Completely Open-Source
Drupal is an open-source content management software that anyone can use. As no licensing costs are involved, users can make any amendments to this CMS. Drupal comes with thousands of contributed modules that streamline the process of customizing an ecommerce website.
While standard websites usually do not require custom software development, complex websites find it beneficial to enhance the code via internal or external development resources. With every recent update in Drupal, the previous sections are deprecated that are of no use. When using this CMS, developers can select the ideal ecommerce module that can add missing functionalities to an online store on the go.
Ultimate Security
With the continuous increase in data breaches, security has become a prime concern when selecting a content management system. As ecommerce stores involve a huge amount of confidential data and financial information, Drupal comes with a dedicated team that aims at providing top-notch security to the website.
Whether one wants to monitor the security aspects or assess the vulnerabilities in a specific module, this is the best CMS for ecommerce. Various security modules are tailored to keep an ecommerce website up and running.
Security Kit
The Security Kit module is known to offer different security-hardening options. Because of this, it plays a pivotal role in minimizing various risks and vulnerabilities arising from other web applications.
Password Policy
With the Password Policy module, users can easily set up a strong password based on the password policies defined. Whenever a customer enters a password, it is not accepted until the module's constraints are met completely.
Two-factor Authentication
The Two-Factor Authentication module is a second stage of the security check, where the user must input a set of codes to sign in.
Targeted Personalization
The content of an ecommerce website should be able to leave an indelible impression on the users' minds. Considering the market competition, improving the user experience has become more important than ever. That's where the need for personalized content comes into the picture.
According to statistics, 74% of customers become frustrated if the website content is not personalized. This shows that personalization is an enticing marketing opportunity that no ecommerce brand can afford to miss.
With Drupal as the content management system of an ecommerce website, you can intensify your web personalization efforts through the following modules:
Smart Content Module
The Smart Content module offers personalization to anonymous users in real-time. Also, it allows the site administrators to represent different content for users based on the browser conditions.
Acquia Lift Connector
With the Acquia Lift Connector module, organizations can seamlessly deliver a personalized experience across different platforms by merging the entire content and customer data into a single tool.
Better Support
Drupal is known to attract many software developers. As it's open-source, it has fewer limitations, making it an easy and inexpensive CMS. This is why many individuals and organizations are drawn to this CMS, fostering a well-engaged community.
The significance of the Drupal community can be seen in the slogan they swear by: "Come for the software, stay for the community."
With a proficient team of more than 1,000,000 developers, strategists, designers, editors, trainers, and coordinators, all support requirements are met within no time. Be it something related to development or consulting, the passionate team in the Drupal marketplace is always ready to propel your ecommerce business forward.
Also, this massive community of Drupal plays a key role in making this ecommerce CMS platform more secure. With the code being reviewed by so many eyes, the vulnerabilities in the ecommerce website can be found and addressed quickly.
Improved SEO
One of the most critical tasks for every ecommerce brand is generating traffic on the website. As ecommerce websites involve a vast amount of data, the brands need to implement SEO on all the web pages and index each product.
Various Drupal modules are tailored to boost the SEO of an ecommerce website.
Pathauto
Pathauto is an SEO module that helps ensure that an ecommerce website URL is search engine friendly. It aims at transforming complex URLs into easier ones.
Meta Tag
The Meta Tag module is multilingual and helps control all metatags added on different web pages.
XML Sitemap
The XML Sitemap module offers the flexibility to include or exclude some pages on the Sitemap.
SEO Checklist
The SEO Checklist module plays a key role in ensuring that an ecommerce website adheres to SEO best practices.
The continuous development in the ecommerce sector has made it important for brands to keep a weather eye on their businesses. That's where Drupal's unparalleled functionalities could prove to be a boon for ecommerce websites.
What's Next?
Are you still confused about finding the right content management system for your ecommerce website? Get in touch with the experts at Axelerant to revitalize your operations and drive your online business forward with Drupal development services.
About the Author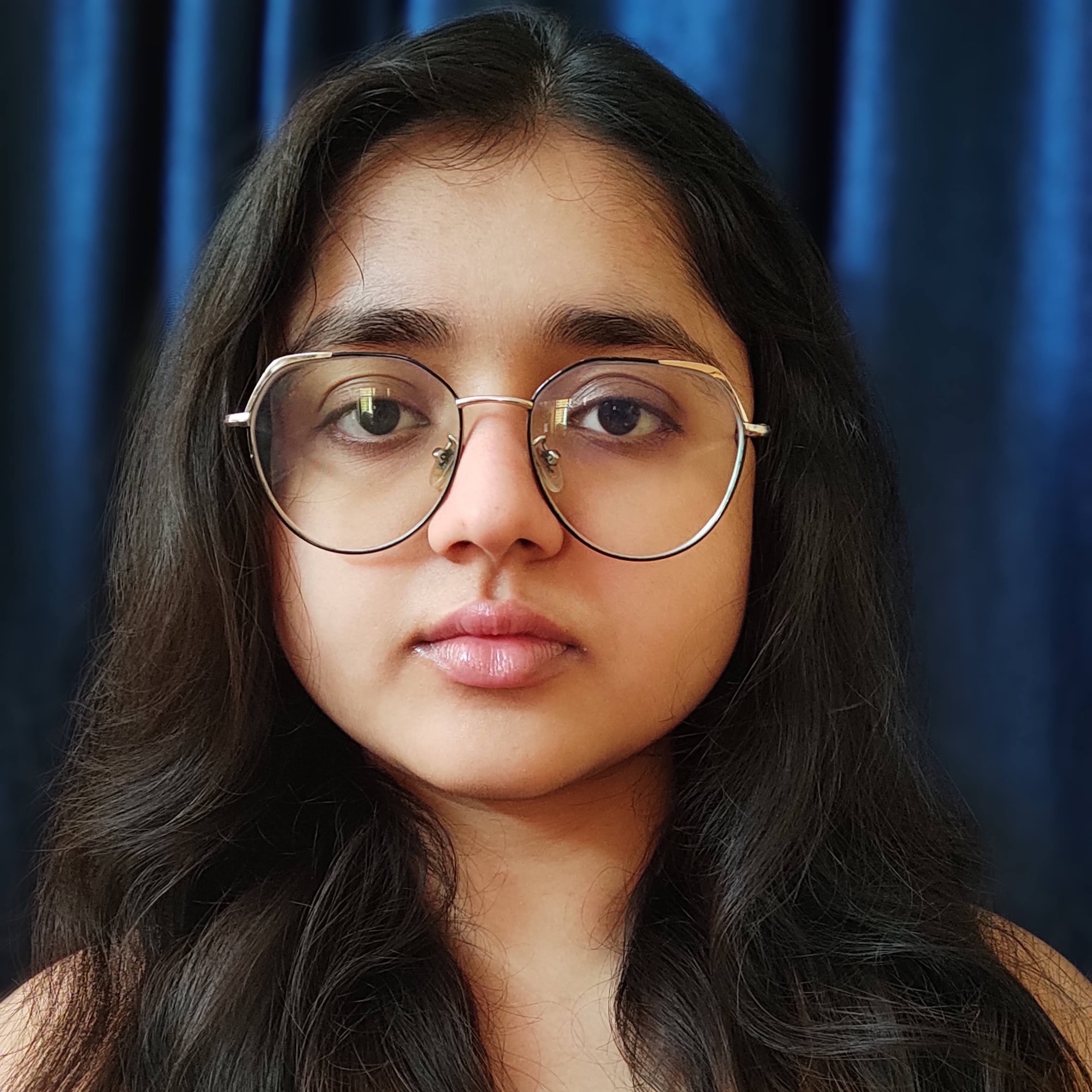 About the Author
Simran Sethi, Senior Content Marketer
Simran is an avid reader. She is an active runner, who also likes to swim, dance, and sing. For her, the meaning of life lies in the little things. Kindness, passion, and compassion are her life's essential values.