Introduction

With the proliferation of various content management system (CMS) platforms in today's time, picking the ideal one for your website is a decision that takes research and internal alignment. As every CMS platform comes with its own strengths and weaknesses, selecting the right CMS (according to your business needs) has become more important than ever. While the Drupal vs WordPress battle continues to aggravate, there has been a constant rise in the number of Drupal advocates and WordPress defenders.
At the end of the day, decision-makers have a choice to make. And as long as there is a choice to be made between platforms, there's going to be a debate. So let's not shy away from it.
In this article, we'll delve deeper into the functionalities of both the CMS platforms and develop an insightful understanding of their capabilities. Let's take a look:

What is Drupal?

Drupal is a powerful, open-source content management system (CMS) that was introduced as a message board in the year 2000 by its originator, Dries Buytaert. Known for offering utmost flexibility as well as customization, Drupal is the driving force behind 2.1% of websites across the internet and governs almost 4.6% of the entire CMS market. While Drupal's share in the market is low, but it is mostly used by premium and large-scale enterprises, universities, etc. Focused on bringing continuous innovation with state-of-the-art features twice a year, Drupal has been a preferred CMS among many leading brands such as: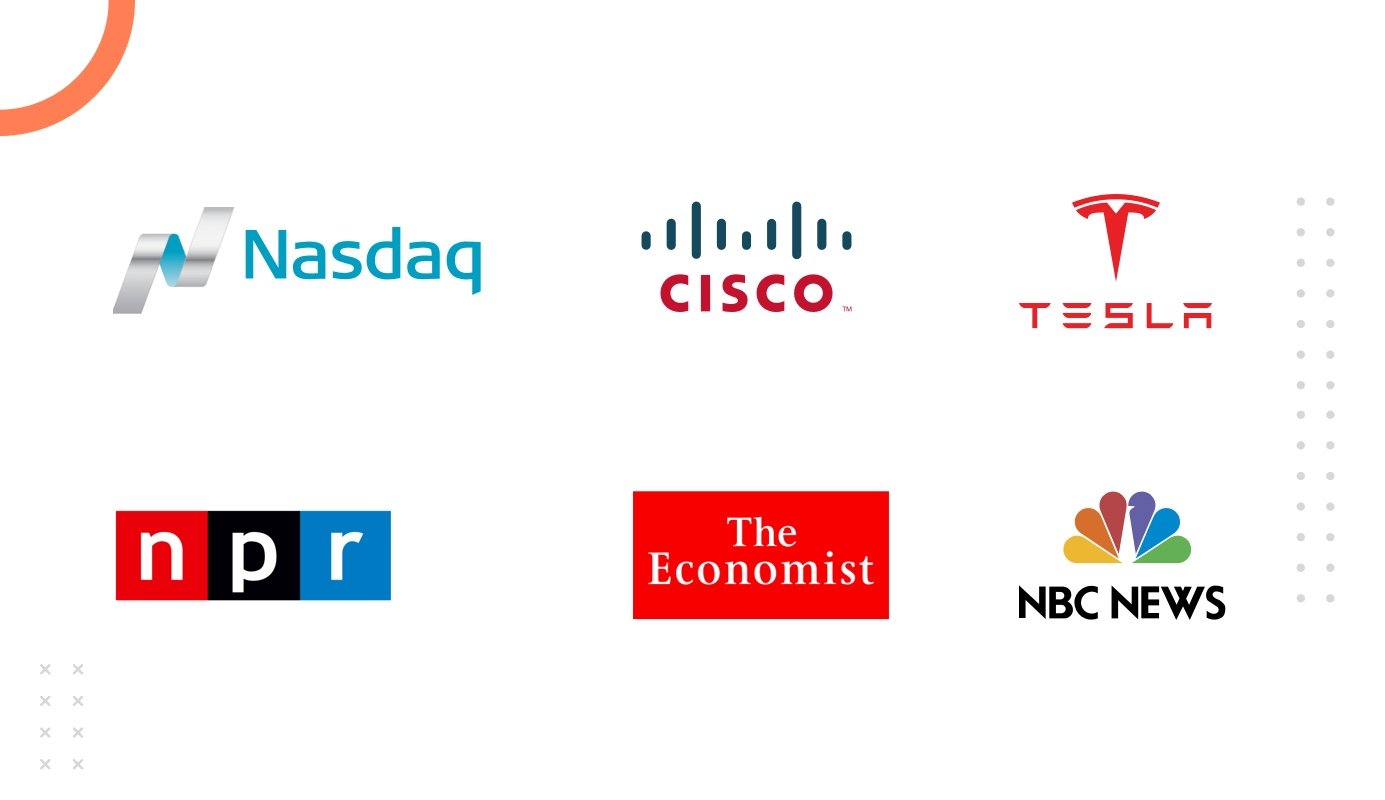 Due to the platform's focus on being agile and allowing extensive customization, Drupal has always been a great CMS since its inception. In fact, the release of Drupal 8 has made the platform more user-friendly by introducing new functionalities that are dedicatedly tailored for beginners, experienced developers, and marketers. After the release of Drupal 9 in June 2020, this platform eliminated the deprecated code, making it a convenient option for delivering dynamic web experiences.

Axelerant's Journey with Drupal

At Axelerant, we eat, sleep, and breathe Drupal. And we've been doing this ever since 2008. With more than 200 successful enterprise deliveries, Axelerant has been a key contributor to the Drupal ecosystem, to Drupal core, a lot of contributed modules, as well as various themes.
By seamlessly navigating the complex requirements for Drupal integration, our proficient team helps to craft exceptional digital experiences that clients rely on! Intending to pair Drupal with modern JavaScript technologies and edge solutions (such as mobile applications or smart devices), Axelerant leaves no stone unturned in delivering multi-channel experiences that customers desire.
Axelerant has made it simple for the companies to migrate to the enterprise-ready content management system, Drupal. Irrespective of the complexities of the data sources, our team ensures the smooth transition of a content platform to Drupal 9. You can dive deeper into the Drupal development capabilities of Axelerant.

What is WordPress?

Being a free and open-source CMS, WordPress was launched as a blogging platform in the year 2003 and has been the most desired CMS across the world. As WordPress is preferred by various individuals and organizations for website development, it is known to empower almost 42.8% of the websites available on the internet.
By offering a myriad of third-party plugins, WordPress streamlines the process of managing your website, creating content, and improving functionalities. It's power-packed with an interactive dashboard which makes it easy to navigate on the website's back-end, thereby enabling users to move with less trouble.
With absolutely no code, manuals, or limits involved, WordPress lets you build any type of website effortlessly. By helping businesses grow without boundaries, this CMS has been favored by many popular brands such as: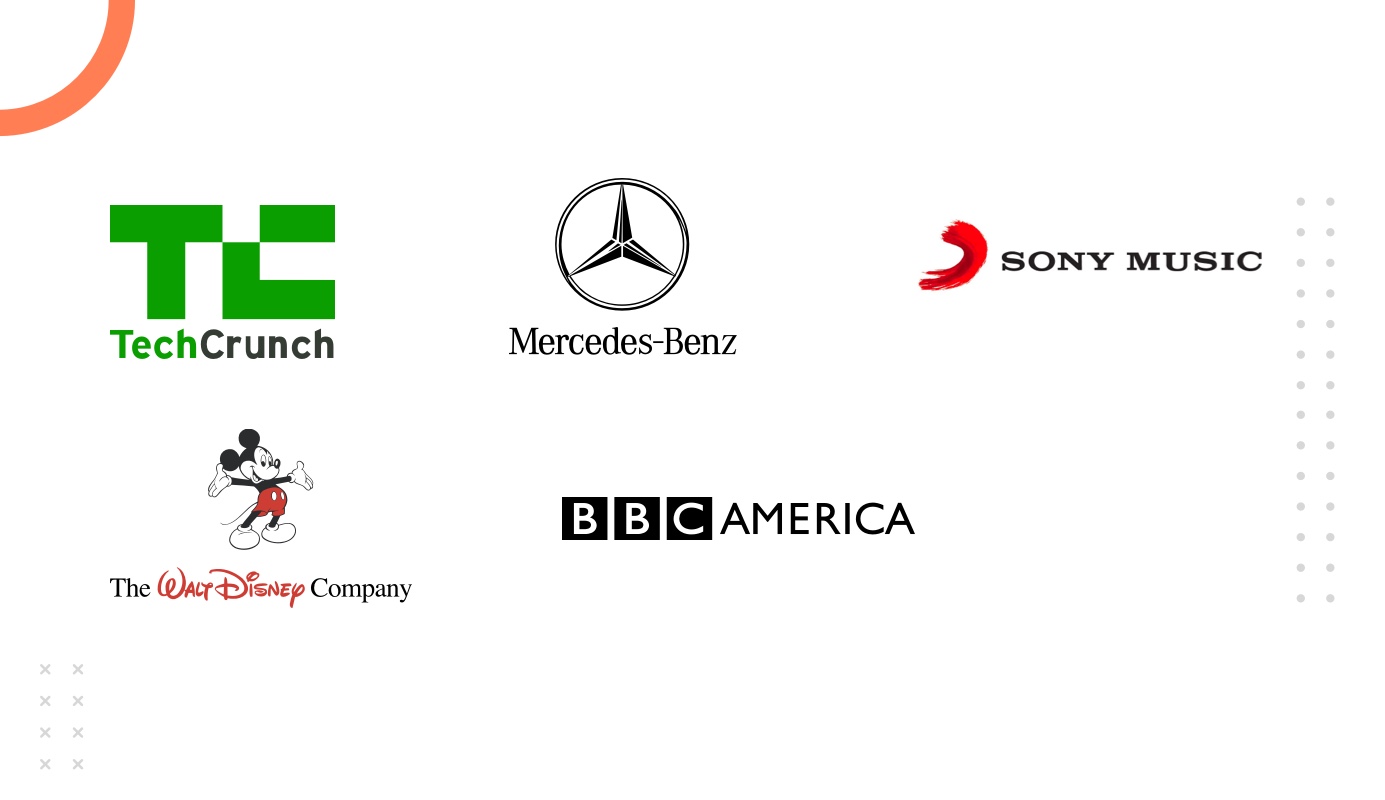 Drupal vs WordPress: How Easy Is It To Install?

In order to start building a website with either Drupal or WordPress, it's important to install the required CMS (as per your choice). Also, it's important to ensure that all requirements are met before you install the CMS. While both Drupal and WordPress come up with quick installation, there are certain differences that you need to consider before making a decision.

Installation In Drupal: A Little Longer Than The Typical CMS.

When it comes to installing Drupal, the process is straightforward but more involved as compared to other similar CMS platforms. This is because you will have to install the software manually on your website instead of using one-click installs.
In order to execute a manual installation, it's imperative to set up a local environment or a site wherein you aim at installing Drupal. Firstly, you need to ensure that it fulfills the minimum requirements to help the software run seamlessly. Secondly, you'll require a MySQL database for the site to function.
After you're done, there are various methods that you can use for installing the CMS platform. For example, you can either download Drupal from the website or leverage the command line for getting the required files. You can also refer to Drupal's official documentation for uncovering different ways of installing the core files.

Installation In WordPress: Less Time-Taking As Compared To Other CMS.

WordPress.org is highly popular due to the short installation process that it comes with. In most cases, WordPress installation takes no more than 5 minutes to complete. A lot of web hosting companies offer dedicated tools (like Fantastico, APS, etc.) that can help to install WordPress automatically. Moreover, they come up with installation scripts that users can easily open and follow the listed on-screen instructions. Based on the script shared, users can decide to skip setting up databases or other stuff that sound confusing (especially to the beginners).
In case you prefer to install WordPress manually, you'll have to go through some extra steps but the process won't take much time to complete. You can go through the official guide shared by WordPress.org for detailed instructions.

Key Takeaway - While Drupal takes more time to install than WordPress, it certainly offers more reliability and a high level of security that most businesses need in their professional website. There's no doubt that WordPress is easy to install but it lacks the power that can make your website stand out.

Drupal vs WordPress: How Easy Is It To Use?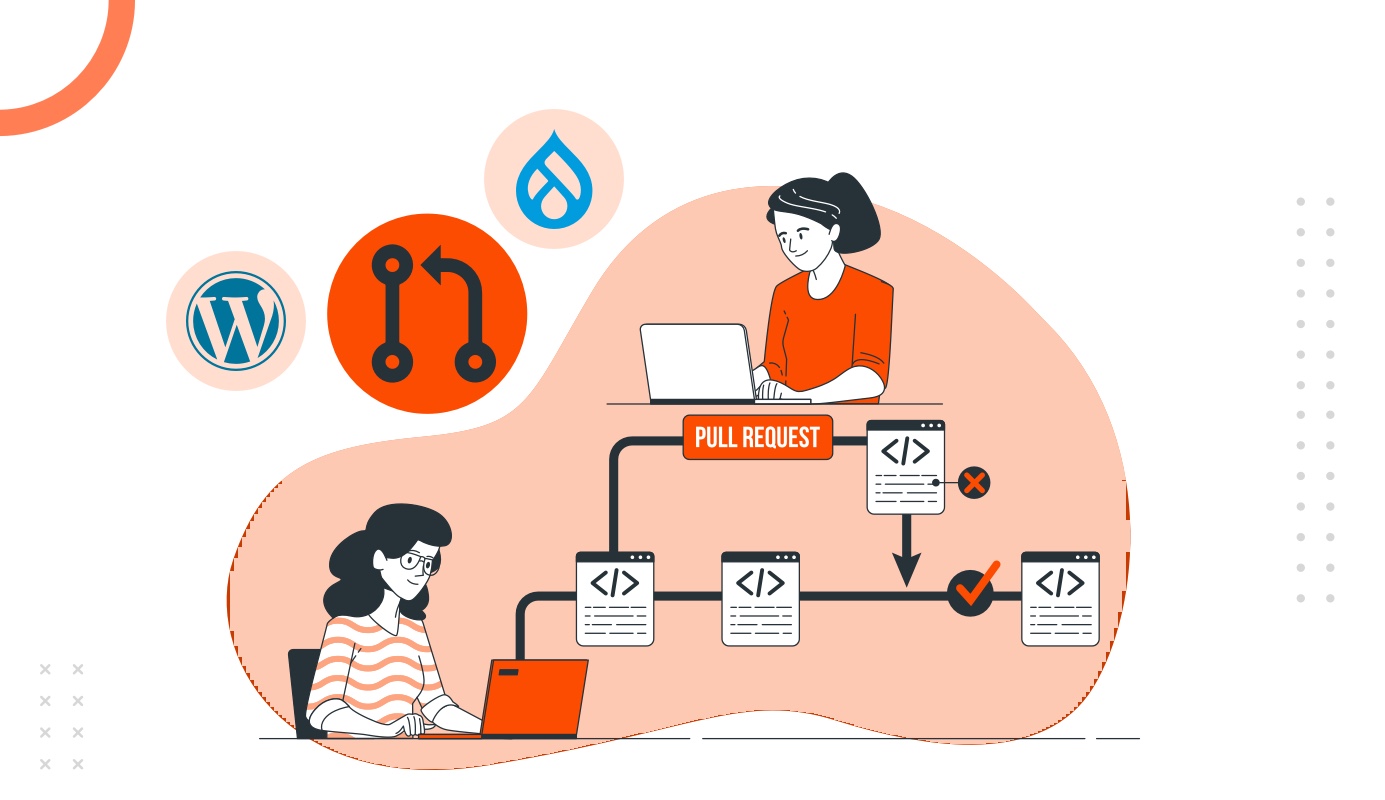 What type of content management system do you want? A simple or a complex one? While everyone desires a CMS that's easy-to-use, it usually depends on the goals that you aim at achieving with your website. So, how will you rate Drupal and WordPress in terms of ease of use? Let's find out:

Ease Of Use In Drupal: A User-Friendly Platform Once You Get The Hang Of It.

Drupal can be considered challenging to learn but it is not difficult to use. While beginners and novice developers may take some time to get used to this platform, they can easily navigate the interface after understanding the various dropdowns and the way they're organized. After the Layout Builder was introduced in Drupal 8, some aspects like content editing and page building became easier, thereby making the platform more user-friendly. Moreover, Drupal is power-packed with a strong community that enables you to learn anything, anytime. With Axelerant as your delivery partner, you don't need to look further! Our team of diverse and experienced specialists provides end-to-end consulting for helping you learn whatever you want!

Ease Of Use In WordPress: An Ideal Platform For Newbies.

Being beginner-friendly and simple to understand, WordPress streamlines the process of going from absolutely "zero" to a "fully functional website" in less time. No matter if you're a newbie or have some knowledge of code, you can effortlessly create a blog and do publishing without any issues.
By using WordPress, it gets easy to discover a theme relevant to your specific niche and have a functional website in a day only (obviously it won't be possible in the case of complex projects). All you need to do is review the menus/options and investigate the different interfaces to revamp your website's look and feel. In fact, the presence of tools such as WYSIWYG Theme Customizer and Gutenberg editor has simplified the process of creating unique content.

Key Takeaway - While WordPress is comparatively easy than Drupal in terms of usage, all developers (even beginners) can start using Drupal easily after developing a thorough understanding of the platform. It's advised to seek help from experts to clarify the doubts and become well-versed with the CMS.

Drupal vs WordPress: How Secure Is It?

Every organization prefers using a secure and safe CMS for its website. As you wouldn't ever buy a house that doesn't have locks on its doors, you will not consider using a web building platform that compromises security. No matter if you chose Drupal or WordPress, you're likely to end up with fortified systems that can keep intruders at bay (in most cases). But when it comes to security, there's no doubt that Drupal has no match.

Let's find out what makes this CMS so secure among others:

Security In Drupal: One Of The Safest CMSs Across The World.

According to a website hack trend report 2018 by Sucuri, only 3.7% of Drupal websites were found to be hacked. This clearly reflects the emphasis laid by Drupal on security. Due to its ability to offer in-depth security as well as enterprise-level security reports, Drupal is considered to be an ideal CMS platform for financial institutions and government organizations across the world. In fact, many universities prefer using Drupal as their education content management system nowadays. Drupal comes equipped with a team of intelligent security experts that focus on improving security by identifying the vulnerabilities consistently and making security patches. They continuously test and offer core as well as module updates which makes it easy to discover and rectify the vulnerabilities.
Drupal also publishes the security advisories (related to the vulnerabilities) on its website that helps to avoid fractures in the code. In fact, passwords are encrypted in the database securely by leveraging the SHA512 function due to which they're impossible to decrypt.

To ensure that Drupal core stays away from any vulnerabilities and loopholes, Drupal offers various security modules that add a strong shield of protection to the website. Click here to gain insights into the top 20 Drupal security modules that you need to consider.
A Quick Tale

Building a superfast and secure Knowledge Management System with JAMstack

A digital experience agency was using Slack to share information across multiple domains. With the continuous increase in the team size and the number of posts in the channel, they were facing knowledge management challenges in terms of searching, tagging, and data ownership. Axelerant built a unique system to classify and aggregate data from Slack without compromising on security even if the amount of data or the number of users increases.
Read the case study to know how Axelerant used JAMstack for building a collection of microservices that significantly reduced the scope of vulnerabilities as well as attacks.
Security In WordPress: Beware Of Third-Party Plugins.

There's no doubt that WordPress itself is secure, but its massive third-party plugins are the real source of vulnerabilities in the platform. According to a Wordfence survey, plugins accounted for almost 56% of the entry points that hackers make use of. As this CMS platform involves millions of active users, it has become more crucial to take proper security measures for ensuring optimum security.

Key Takeaway - Drupal is an extremely secure CMS platform that is enriched with a myriad of security modules for protection. Although WordPress is a secure CMS, its third-party plugins can lead to security breaches, if not taken care of properly.

Drupal vs WordPress: Which One Offers Better Support?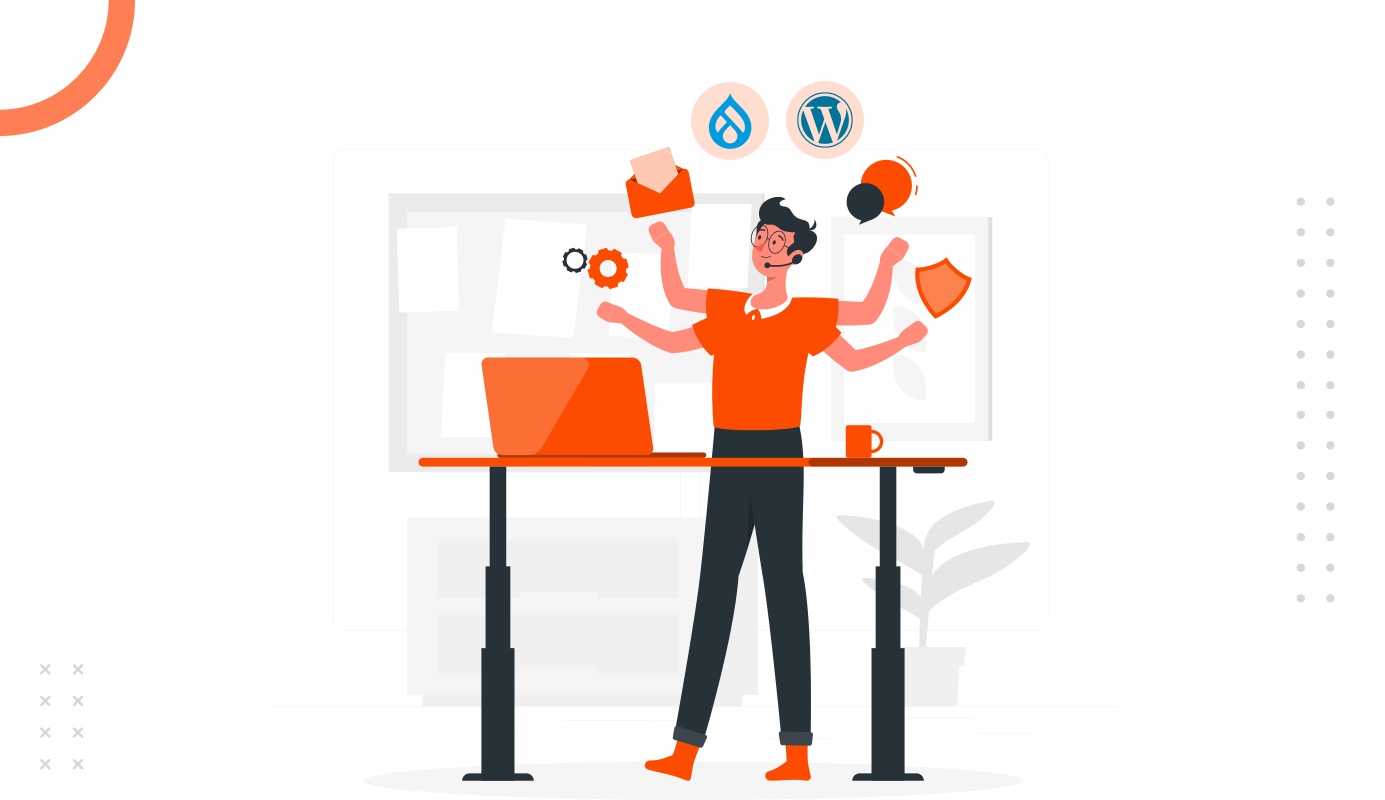 It's crucial for your CMS platform to be backed up with good support as you would prefer something more substantial and not a mere blogging platform. Undoubtedly, your website's complexity can certainly create issues and land you in trouble. So, what level of help would you expect from either of the platforms, i.e. both WordPress and Drupal?
Support In Drupal: Stay Abreast With An Active Online Community.

Drupal comes equipped with an active online community that includes a combination of extensive documentation, user groups, support forums, chat rooms, and many other resources. With the help of such resources, you can easily solve problems without paying even a single penny. Moreover, Drupal is popular for providing a marketplace that focuses on connecting the users to relevant developers. By doing so, it becomes easy to seek professional help.

Axelerant offers extensive support that is not only customized but dependable also. With more than 12 years of experience in the Drupal domain, we offer flexible support to agencies over diverse platforms like Acquia, Platform.sh, AWS, Pantheon, and more. By adopting best-in-class communication and workflow tools such as Slack and JIRA, Axelerant ensures multi-channel communication across every crucial touchpoint. Be it service design, service operations, or service delivery, our top-notch support has got you covered!
Support In WordPress: Don't Forget To Join Official Support Groups.

WordPress comes with an enormous online community that is known to be very helpful. It is recommended to join official forums as well as support groups before you plan to build your site on WordPress. There's a myriad of online resources, podcasts, tutorials, and insightful video guides that empower you to gain valuable information about WordPress.
Key Takeaway - While both Drupal and WordPress are known to offer a great level of support, the online community of Drupal is very active and comes with various useful resources that make it easy to resolve issues in no time.
Drupal vs WordPress: How Effortless Is It To Customize?

Customization is an important aspect that needs to be considered before selecting a CMS platform. You need to make sure that the CMS you chose comes with enough customization options so you can create the website you desire. Both Drupal and WordPress offer an array of options that allow you to customize your website. Based on your specific requirements, you can either select those prefabricated extensions/templates or even modify and set up new combinations from them.
Customization In Drupal: Modules And Themes Are Your Saviors.

Drupal makes use of modules for adding customization to the website. Intending to expand its functionality, this CMS platform comes up with more than 46,000 modules and 2,900 themes that make it easy to organize huge chunks of data and content effectively. Moreover, its modules are known to fully assist with the overall speed of the website. To simplify Drupal's functionality, a lot of modules have been introduced into the system over the last few years. Although to customize Drupal themes, you'll need help from a developer to create custom coding.
Customization In WordPress: Plugins Make All The Difference.

WordPress is known to provide ultimate flexibility as it comes equipped with more than 31,000 themes and 58,000 plugins. This CMS platform enables you to organize menus and create pages with absolutely no coding knowledge, thereby powering the users with endless possibilities to increase customization. All you need to do is install a plugin for increasing the functionality of your website.

Key Takeaway - Both Drupal and WordPress offer the ultimate level of customization for your website. While there are modules in Drupal that are used for adding customization, WordPress makes use of plugins that help to boost the website's functionalities.
When Should You Use Drupal As Your CMS?

If The Work Environment Has A Large User Base And Complex Content Requirements
Drupal is considered to be ideal for projects having a large user base that is supposed to execute complex tasks like developing user-generated content in communities or forums. Also, it works well in cases where there are complex content requirements (which involves content other than your usual blog posts, webpages, news articles, landing pages, etc.) This includes content coming from microservices, various permission levels on content for the user roles, or complex user experiences in search.
A Quick Tale
Leveraging Drupal to develop a rapid application for an office supplies company

An American retail company known for serving office supplies to global businesses was in need of a unified portal for suppliers, merchants, as well as monetization teams. They wanted a partnership portal that allows them to not only manage events but also manage the entire campaign. Read how Axelerant helped the American retail company streamline its operations with an advanced Drupal Application.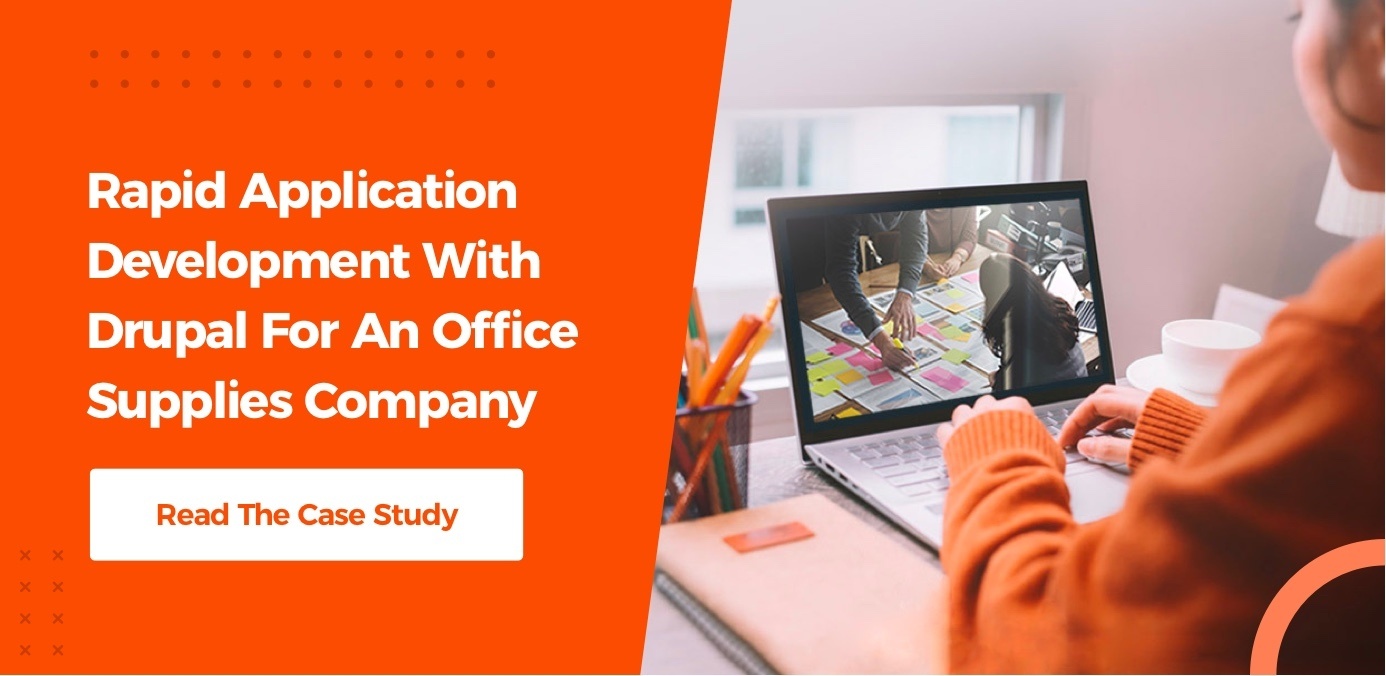 When The Customization Needs Are Complex
In case you want to fully customize the presentation, layout, as well as content according to the complex set of personas or business cases, then Drupal can be considered as your best bet. This CMS has a true framework and is known to offer a "bare-bones" architecture that can be intensely customized.

When There's A Need For Strict Security
Although both CMS platforms are immune to security threats, Drupal is popular for its high protection. By seamlessly handling PCI compliance requirements that involve scenarios like database encryption, Drupal is power-packed with ultimate security practices that are dedicatedly tailored for prevention, detection, auditing, and more.
When Should You Use WordPress As Your CMS?

In The Case Of An E-commerce Store Or A Budding startup
WordPress is known for its ease of use due to which this CMS platform is preferred by a lot of small-to-medium businesses and e-commerce startups. By empowering marketers and not-so-technical developers to set up their websites, WordPress allows them to customize the basics wherever required. Moreover, it seamlessly integrates with the powerful eCommerce solution, WooCommerce which is perfect for SMBs.

If Flexibility Is A Priority
WordPress enables the site owners to make changes (and get the stuff done) without the need to contact their web team. This happens when their web team gives the required permissions to do so. While this can break stuff in the start, but with the right agency partner by your side, this aspect can be truly amazing.

When There Is Low Investment
WordPress comes equipped with a huge base of starter themes that give you a comprehensive outline (visual as well as functional) of a website. Thus, you don't have to hire professionals for developing your website from level zero. However, you need to be well-versed with the project to ensure that you don't end up pushing the theme beyond its intended limits.
Which Is Better: WordPress Or Drupal?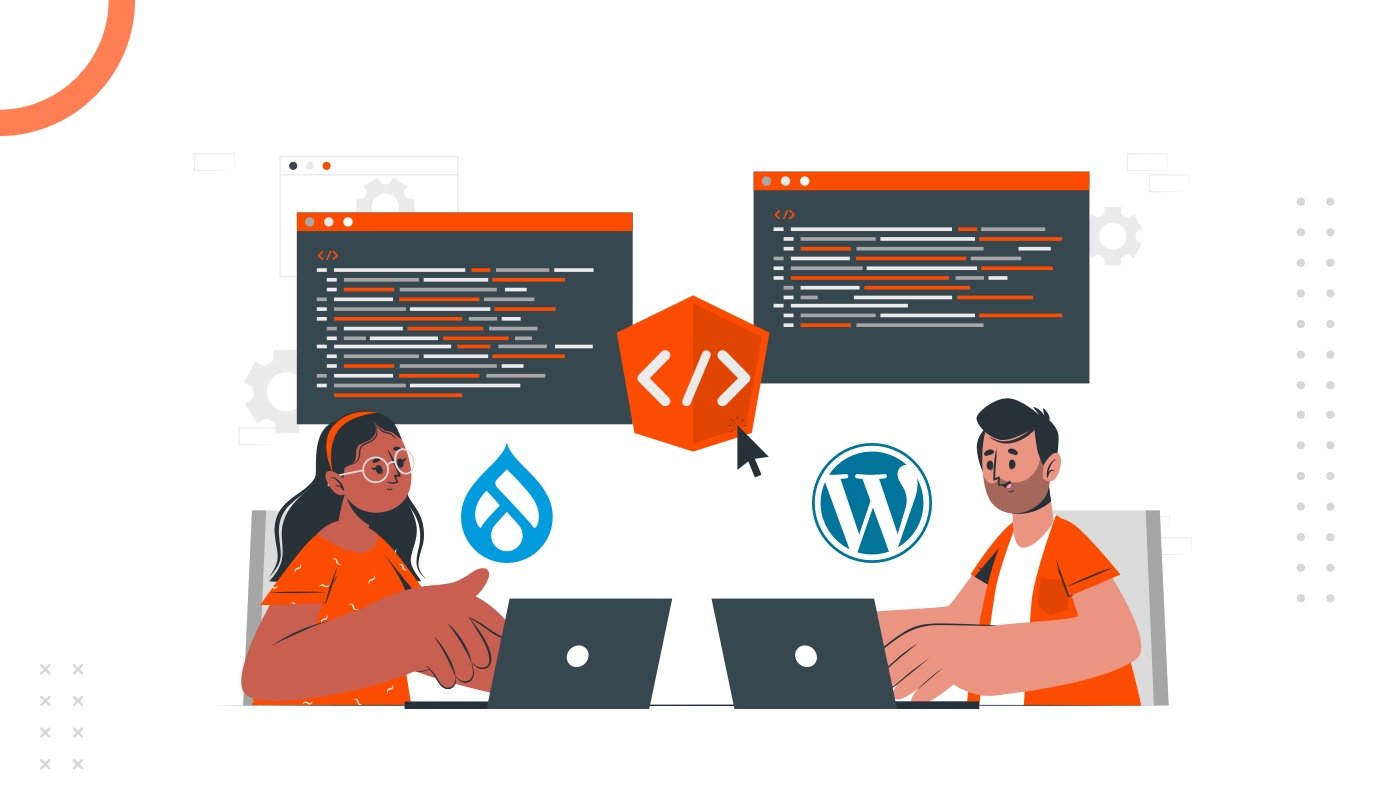 We know this is the question everyone is seeking an answer to. But this question is a flawed one as it's impossible to rate either Drupal or WordPress as "better". Based on your situation and the designated budget, you should focus on selecting the right CMS that resonates well with the needs of your particular project.
In order to make a wise decision, let's take a look at the advantages of using Drupal and WordPress:
Advantages Of Drupal

High Security: This is the foremost reason for migrating to Drupal. Several government websites, including the White House's official website, have been built on Drupal.
Easy Search Engine Optimization (SEO): Drupal is a good choice for businesses wanting their websites to rank via SEO. The platform offers numerous modules like Yoast SEO and makes it easy to optimize the site's content.
Speed: A crucial element in holding your audience's attention is speed. Drupal extends maximum response speed, allowing users to develop high-performing pages 2 a high-speed index.
Flexibility: More choices mean more flexibility to up your website game. Drupal's custom content types are flexible and make your site unique. As a user, you can employ delicate detailing and integrate useful functions such as Shopify, Twitter, other social media channels, and more to achieve better results.
Multilingual: Since Drupal 8, the multilingual function has been baked into the core itself. For organizations wanting polylingual pages, Drupal offers 100+ languages in its base settings. And as commonly observed, multilingual sites perform much better than websites having English as their primary language.
Taxonomy: Data is the topmost priority for every website owner. From In-depth nesting to categorizing in a common data catalog, Drupal can reliably store a large amount of data. Such capabilities are still not available in other open-source CMSs.

Advantages Of WordPress

Ease of Use: If you are a non-technical user, WordPress can give your business a good kickstart. It can take you from no website to a good-looking, user-friendly, and functional site in minutes.
Extensibility: With 53,000+ free plugins and 5,000+ free themes, you can transform your website at no extra cost. It's easy to extend your WordPress site without the need for custom development.
Development Costs: WordPress tends to work great for categories like small-to-medium businesses, eCommerce, publications, startups, and nonprofits. WordPress can address these needs at lower development costs.
There are a few advantages that both platforms share equally. For example, both Drupal and WordPress offer eCommerce capabilities and are redesigned to be more platform-agnostic. Similarly, you can target="_self">decouple Drupal as well as WordPress. The drupal site can act as a content API server on the first day itself, while REST API is now bundled in the WordPress core for developers to experiment and use it in a decoupled way.
While WordPress can be useful for small enterprises having limited resources, Drupal is the perfect choice for large enterprises. If you're the latter one, you should consider migrating to Drupal right now. Click here to gain a complete overview of Drupal migration.
Are you still feeling confused? Look no further! Get in touch with the experts at Axelerant to create exceptional, best-in-class experiences with Drupal as your CMS.
About the Author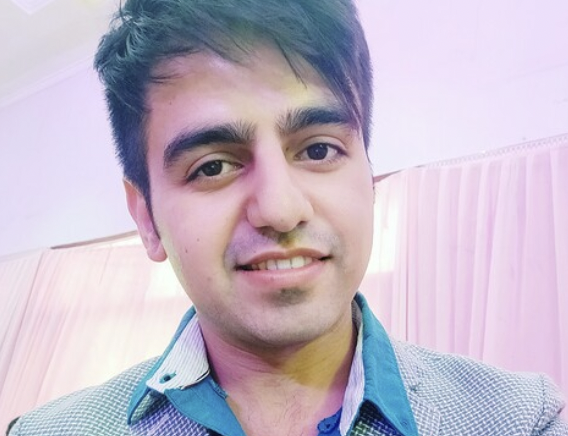 About the Author
Sahaj Sharma, Senior Content Marketer
A shopaholic and big-time foodie, Sahaj explores and enjoys different cuisines, loves to watch movies, travels, and paints. Honesty tops his list of essential values. He works in a routine and appreciates aesthetics and creativity.