Introduction
The success of a project is mainly dependent on the expertise of the workforce. But recruiting the right talent for a project is not an easy task. This is where the need for staff augmentation arises.
With the right Drupal staff augmentation services, organizations can turn any Drupal web development project into a success. But there are still a few questions that one might have:
What is the process of staff augmentation?
How can staff augmentation play a vital role in successfully delivering a Drupal web development project?
You will find the answers to these questions here.
What Is Staffing Augmentation?
Staff augmentation empowers organizations to expand their existing team based on the requirement for specific skills over a project. Extending the team's capacity temporarily with specialized skills makes it easier for a business to deliver projects successfully.
In progressing industries with high-volume projects involved, staff augmentation enables companies to get the work done by recruiting the best talent for every project. Many people also consider staff augmentation and outsourcing to be similar. But that is not true.
In the case of outsourcing, an outside team is entrusted to handle the entire project. On the other hand, in staff augmentation, the hired professionals work collectively with the in-house team.
In terms of software development, staff augmentation involves the allotment of technical experts like web developers, UI/UX designers, and quality analysts to adjust the workforce shortages. It also helps fill the required gaps without changing the in-house development teams.
Why Invest In Staff Augmentation?
Experts like Marc Benioff, CEO of Salesforce, agree that hiring the right talent is essential for business growth. But with problems like high demand and talent crunch, hiring is not always a viable solution. This is where staff augmentation helps organizations by:
Managing High Demand For Developers
Drupal Staff augmentation can be a perfect solution to stay competitive in the digital landscape despite the evolving demand for web development professionals. It enables companies to deal with their labor shortages while remaining effortlessly flexible.
According to the results of the CodinGame survey, 61% of HR professionals find it difficult to recruit skilled developers. An iCIMS report stated that employers could fill only 60% of technical positions in the US, and hiring for technical roles requires 50% more time than other positions.
As per the report published by Glassdoor, the software development roles come under the top 10 highest paying and in-demand career choices with an average remuneration of $109,809/year in the US. Moreover, CNBC has listed "web developer" in the list of top 15 roles that will be in extreme demand in the coming five years.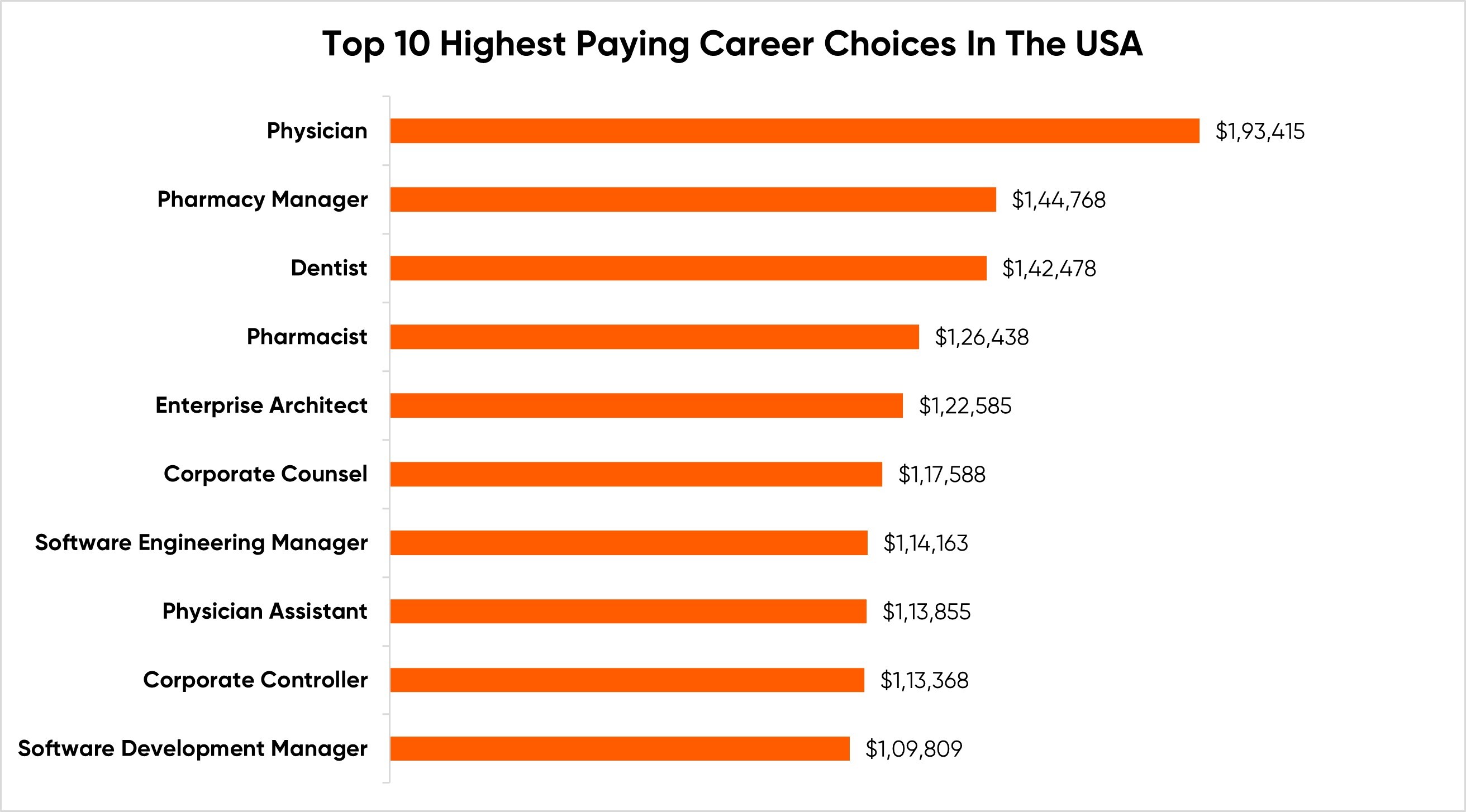 Satisfying Constant Requirement For Drupal Developers
A business must select the software and workforce for their project wisely to stay ahead of competitors in the digital market. Many are confused between Drupal vs WordPress when choosing a CMS. But after careful consideration, Drupal emerges as the obvious choice.
A survey by W3Techs indicates that Drupal is used by 2.1% of websites on the internet and constitutes around 4.6% of the entire CMS market. Drupal's latest version allows developers to build exceptional websites that are secure, fast, responsive, multilingual, and user-friendly.
With the presence of such functionalities, Drupal's learning curve is considered to be way higher than other CMS options available in the market. This content management system provides developers with endless opportunities to build features that resonate with the customers' unique requirements.
Leveraging Drupal DevOps
The Drupal DevOps approach brings people, fresh ideas, and innovative tools together. IIt's essentially an integrated means for software that includes development and operations.
It all started in 2007 when a consultant named Patrick Dubois decided to try and learn IT from every perspective. This interest was shared among industry dreamers and doers. It eventually led to the creation of an ethos that if the gap between development and operations was bridged, the project's success could be attained with increased efficiency.
Consider The Potential
Organizations employ a culture that empowers the whole team by bringing in people with a mind for Drupal DevOps or infusing DevOps passion in-house. It enables a higher success rate. This approach can address tasks like deployment, integration, defect detection, and failure recovery. As an outcome, the team will be able to roll out high-quality software in shorter development cycles.
Bringing Drupalers Together
Drupalers understand the power of collaboration. Open source technology can't be achieved efficiently without optimizing collaboration. And with any given Drupal project, you're dealing with three classes of Drupalers:
Drupal developers who are focused on code writing, implementing, and testing
Drupal site admins who are systems-focused and committed to keeping the project running
Drupal QA Engineers who ensure standards are adhered to from beginning to end
These teams, along with their ideas and tools, come from different mindsets. But both tend to the same system and work towards the same end goal of launching a successful Drupal project.
Enhanced Efficiency With DevOps In Agile Environments
Modern Drupal teams are working within agile environments. And it's within this environment that DevOps makes the most sense. Agility requires early feedback, which makes enabled integration a refreshing notion to operators and developers alike.
This is why most Agile organizations look forward to automating the entire environment. Deployment pipelines require test and production environments to deploy code as needed.
Operations personnel can work with the agile teams to ensure deployment readiness throughout the feature development pipeline. They can work with agile teams in real-time to ensure the provision of systems and that the release lead-time is minimized for completed work products. Some ways in which DevOps-minded personnel can provide support are:
Build and maintain production equivalent staging environments
Maintain and ensure development and test environments are in sync
Lead deployment of completed work products in staging and production environments
Work with agile teams to ensure effective version control systems
Automate build environments and production deployment process
Preventing Burnout
By applying DevOps principles, organizations can address the issue of burnout. Breaking down the barriers that hinder support will help employees feel less isolated. Organizations reinforce the purpose of each job by ensuring work is meaningful and by showing employees how it ties into strategic objectives. By learning and growing with this approach, teams can sidestep burnout.
Accessing Talent When Hiring Doesn't Make Sense
Hiring employees who are passionate about DevOps is expensive, especially when businesses only require their services for a short time, like a defined Drupal development project. When decision-makers choose team augmentation, they are paying for the skills they need when they need them. With Drupal staff augmentation, organizations can make safer and more fiscally responsible decisions.
Enhancing Scalability
Because of Drupal's unique challenges in establishing a DevOps practice, it's wise for organizations to choose team augmentation. This leaves the details in the hands of the experts while avoiding the high costs of isolated consultancy. It's how organizations can bring Drupal DevOps personnel onto their team cost-effectively and with scalability.
These augmented team members can educate and empower internal development staff, project managers, and operators on these practices. It's an adjustable, internal consultancy to advance software quality and market time.
Leveraging Staff Augmentation Services
If an organization is launching a Drupal initiative but doesn't have the right personnel in-house, decision-makers can choose to grow their team with extensions. It's a viable option for organizations with particular needs.
With this service, augmented personnel assess the potential application of DevOps practices in an organization. And there are defined characteristics that practitioners hone in on, including:
Outcome focused
Pros at open source technologies
Great coding abilities
Experience with IT operations systems
Comfortable with incremental code testing and deployment
Solid understanding of automation tools
Collaborative and an open communicator
Specialized consultants analyze environments and recommend improvements in build, test, and release processes.
A Look Inside The Benefits Of Drupal Staff Augmentation
Flexibility
As traditional staffing methods are inflexible, they make it difficult for organizations to react wisely in case there's a shift in demand. This usually leads to reactions like asking the workforce to leave.
Staff augmentation is a thoroughly flexible and ideal solution for organizations that experience continuous changes in demand. While working on Drupal projects, a team might face issues that are difficult to deal with and need help to deliver the project with the required standards.
By leveraging Drupal staff augmentation, companies can effortlessly deal with multiple projects, irrespective of their size. Thus, it helps to scale up without compromising the quality of work.
How Can Axelerant Help?
With Axelerant's managed Drupal staffing services, organizations can effectively fill out the talent gaps they cannot address. Even if the staffing requirements get altered due to unforeseen events, Axelerant offers ultimate flexible arrangements to fulfill the fluctuating end-client needs.
What separates Axelerant from other agencies?
By choosing Axelerant's Drupal staff augmentation services, you'll be able to get rid of your talent gaps within a few days. By focussing on quality over quantity, no stone is left unturned in ramping up the delivery capabilities of your agency.
Want a sneak peek into the 4-step Drupal staff augmentation process at Axelerant? We have got you covered!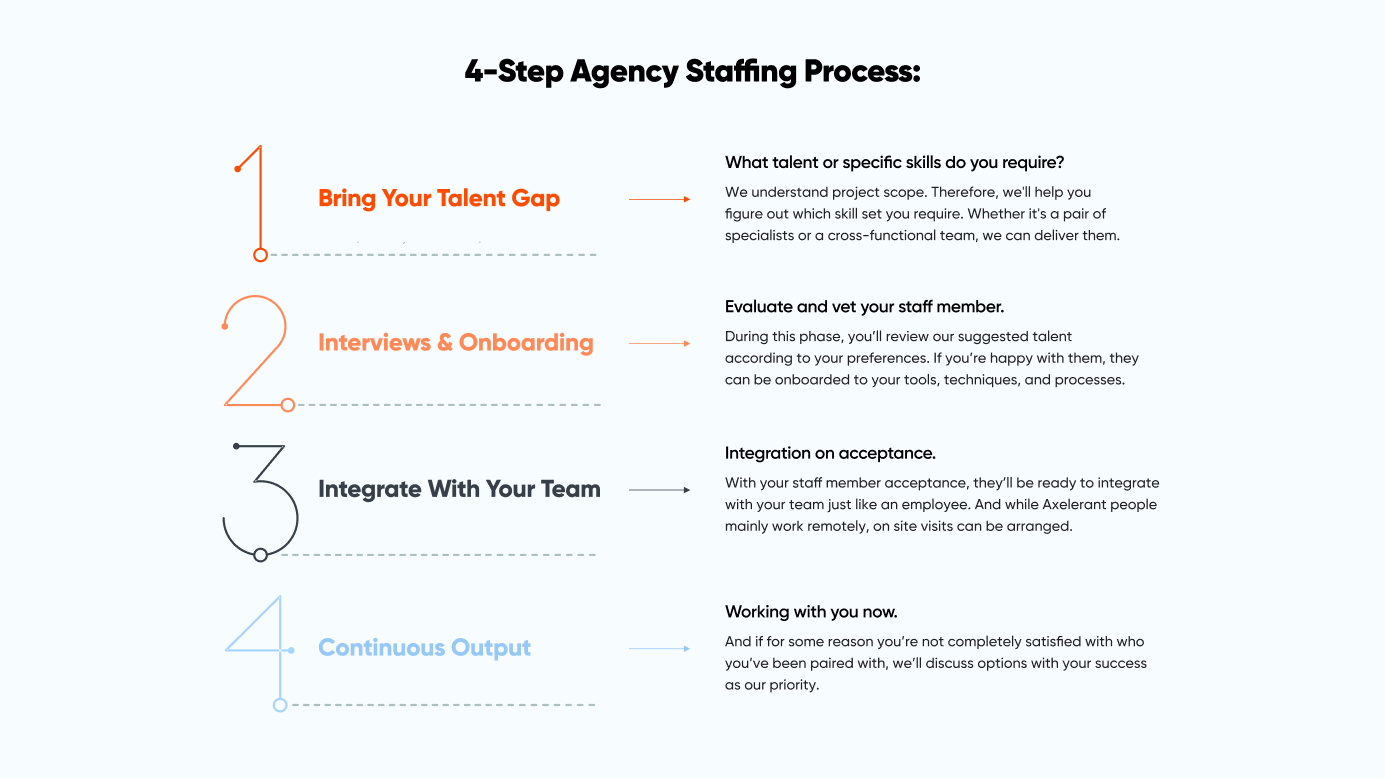 Best-In-Class Expertise
Even an organization's current team of outstanding developers might get stuck in a Drupal project that requires some specific skills. By expanding capabilities via staff augmentation, organizations elevate their skills and efficiently deliver a successful project. Also, hitting deadlines feels like a breeze with more talented Drupalers on your team.
At Axelerant, experts follow uninterrupted workflow practices by training in Agile methodologies, including Scrum and Kanban. Depending on an organization's platforms and workflows, the staff members are conditioned to adapt to the organization's preferences.
Axelerant's staff is power-packed with technical excellence as they are constantly polishing their Drupal skills. By funding their certifications, learnings, and event attendance, Axelerant leaves no stone unturned in mentoring the workforce and helping them stay on top of the Drupal curve.
Cost-Effective
It costs too much money to hire a full-time employee just for the sake of a particular project. By leveraging staff augmentation, companies can get top-quality services on a short-term basis without any long-term commitments. It is more effective for small-scale businesses as they don't have to sustain some aspects like insurance and taxes.
With Axelerant as a strategic partner for Drupal staff augmentation, organizations will experience lower overhead costs and a pile of time and resources for delivering high-value services to the end clients.
Better Project Management
Staff augmentation empowers organizations to gain complete control over their workforce. As the company is exclusively responsible for the delegated tasks of the augmented staff and their timely integration with the in-house team, managing projects becomes even simpler. From beginning to end, the organization has complete control over the project.
With Drupal staff augmentation powered by Axelerant, projects can be managed wholly or collaboratively by Axelerant's team. The team of dedicated success managers follows cutting-edge methodologies and state-of-the-art tools to achieve excellent outcomes for Drupal projects.
With optimum scrum fluency, Axelerant comes with customized workflows for augmented staff that streamline the process of managing Drupal projects. From planning and creating sprint backlogs to releases and deployment, organizations can rely on Axelerant's project management strategies. Read more to learn how Drupal projects are managed at Axelerant.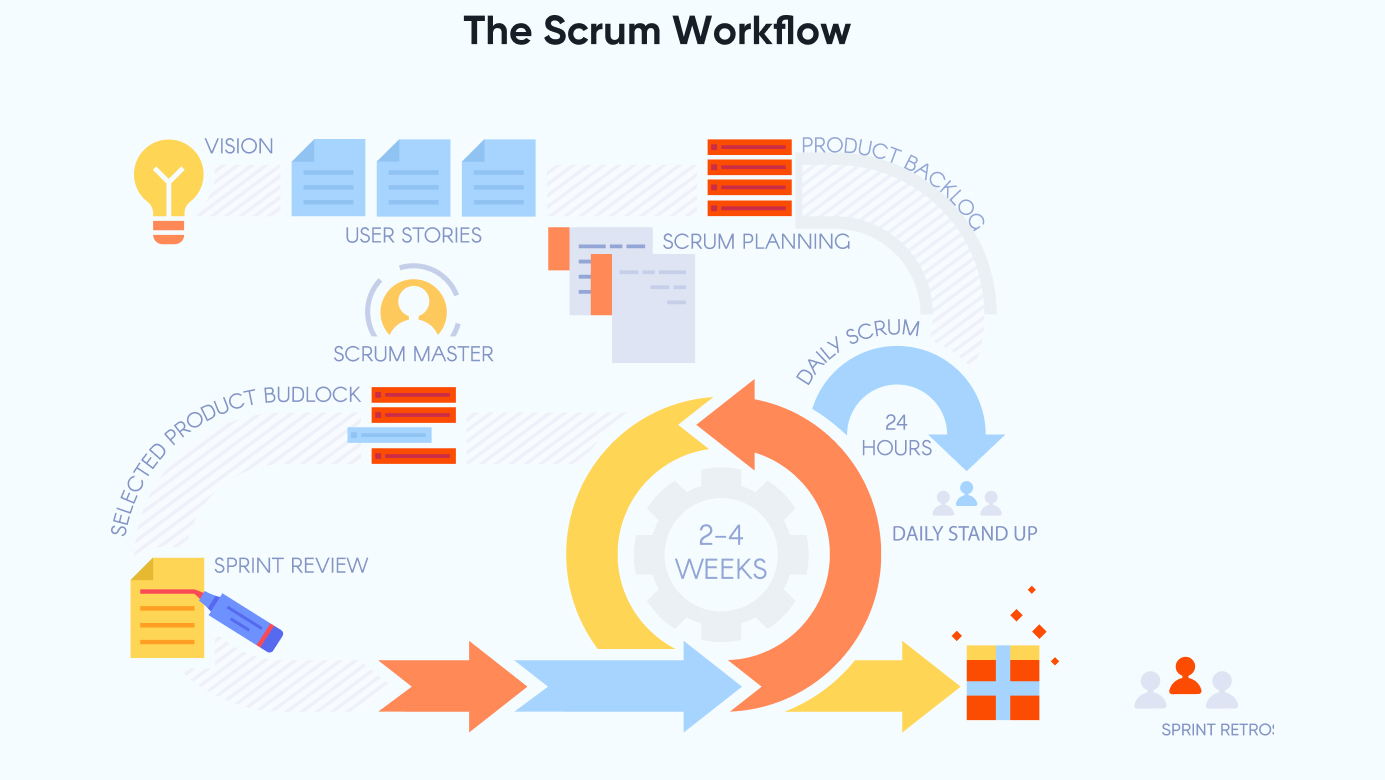 Time-Saving
By adopting staff augmentation, organizations have the option to hire technical experts for a short duration. As there are no lengthy and time-consuming processes involved that are usually associated with recruiting full-timers, staff augmentation helps to save a lot of time and effort.
Moreover, it allows organizations to expand the capacity of the current workforce efficiently. Organizations can hire additional experts in the field depending on the critical gaps in a Drupal project.
Staff Augmentation: The Key To Delivering Successful Projects
Staff augmentation is the key to delivering successful projects and filling out the required gaps in your resources. With the right talent on the team, organizations can attain their goals swiftly while keeping the central systems running at great capacity.
All you need is the right partner with the right skills for your Drupal staff augmentation.
Are you searching for a proficient team of developers for your Drupal project? Get in touch with the experts at Axelerant and make the most of your Drupal development initiatives.
About the Author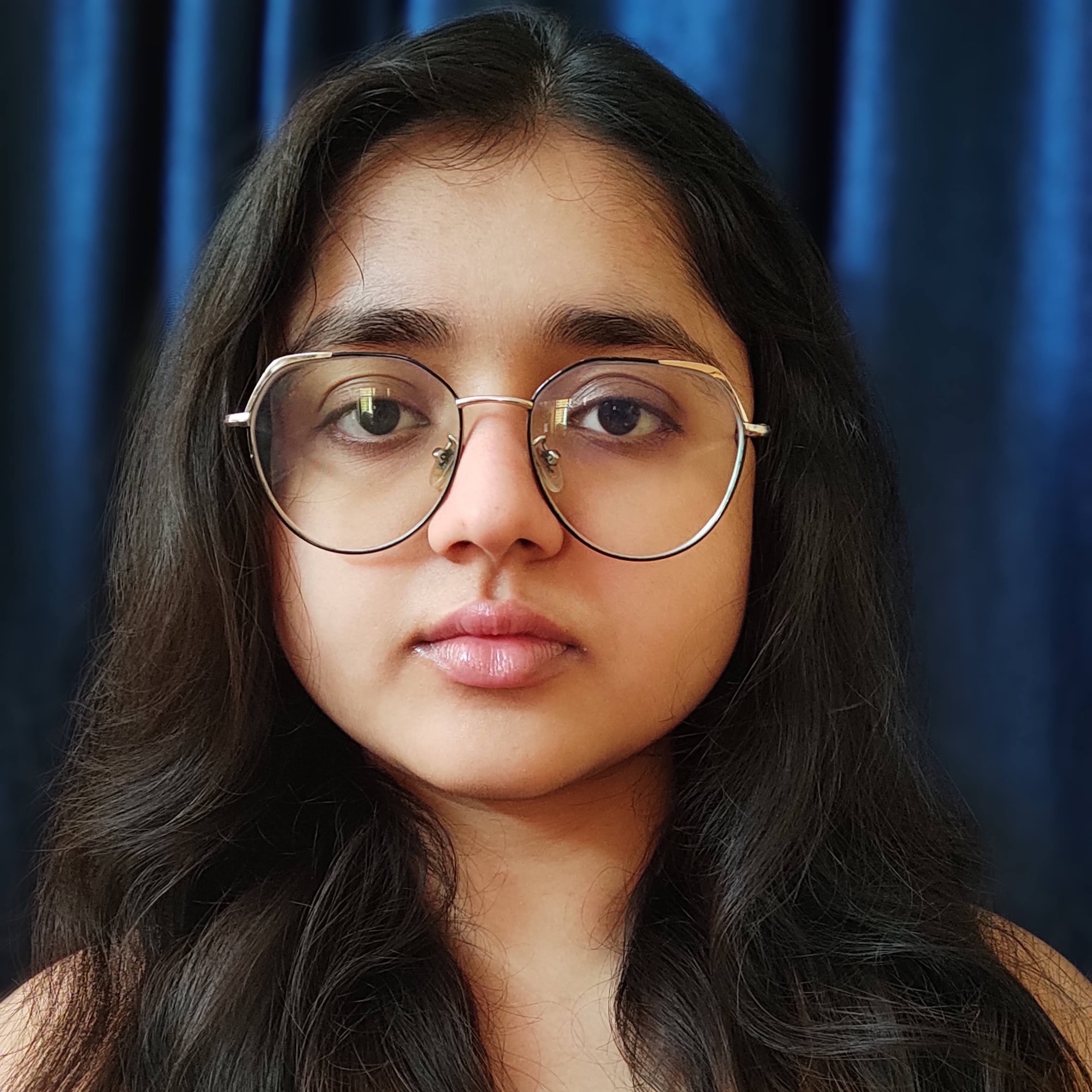 About the Author
Simran Sethi, Senior Content Marketer
Simran is an avid reader. She is an active runner, who also likes to swim, dance, and sing. For her, the meaning of life lies in the little things. Kindness, passion, and compassion are her life's essential values.