Introduction
At Axelerant, we leveraged business process automation to scale people operations and processes. You can straight away jump in to see how we make it possible.
An organization usually starts its journey with a handful of people.
They take on the difficult task of bringing ideas to life — some feasible, some daring. The objective is clear: get things up and running.
But as you achieve the objective, the focus shifts under the weight of hundreds of processes, meetings, and reminders.
There's so much to do that it often feels like too much.
On top of requiring considerable effort and resources, these business processes divert the focus from what matters the most: connecting with people.
What is Automation?
Automation is a method of making processes operate automatically without any human intervention.
In other words, it minimizes human effort by taking care of repetitive tasks.
Chiefly, there are two main types of automation:



Through robotic automation, one can do specific repetitive tasks using software, such as copy-pasting data into a spreadsheet.
In comparison, process automation self-executes processes containing a set of predesigned actions.
You can automate the following business processes (and many more) however you wish with customized business process automation:


Customer journeys
Marketing
Onboarding
Sales
Communication
How Does Business Process Automation Work?
Suppose you want to book an Uber cab.
Business process automation will take care of your entire journey without involving any human support—from finding a cab for a destination and reserving it to handling payment.
You can even resolve issues through automation (I still throw a bunch of queries about my laptop at Siri).
HubSpot, Wix.com, Splunk, Workday, and Slack are among a growing number of organizations that use and support business process automation.
The World Economic Forum's Future of Jobs 2020 report states that 50% of employers expect accelerating automation for many company roles.
Why Did Axelerant Decide to Use Automation?
We are rapidly growing in headcount and revenue, and using automation was inevitable.
There were three main domains where the need for automation had become urgent.


People operations
Staffing
Sales and revenue

This article explores why the people operations team uses automation.
"Back in the days, we didn't have automation systems in the people operations team," said Michael Cannon, Chief Success Officer, Axelerant.
Michael was one of the first to recognize the need for automation in our people operations systems.
Because We Wanted to Focus on Building Human Relationships
The biggest challenge for a growing organization is hiring people who help it grow further.
It's even more complicated when the focus is not just on hiring the best but also on people who add to our values.
"Earlier, I would spend the greater part of my workday doing repetitive, operational tasks," shared Yashashree Bedekar, People Operations Specialist, Axelerant.
Among a host of things, she would have to shoot emails about BYOD, interview schedules, document signings, and keep track of joining date preferences for all selected candidates.
"I would have to manually send these emails on specific dates before a candidate joined," she recalled, betraying a trace of dread.
A mistake or delay could very well result in losing a promising candidate.
"I've always wanted people joining us to have the best candidate journey. But it's difficult to ensure that when your attention is getting pulled in so many directions."
And Because It Allows Us to Be Kinder
Our values—Kindness, Openness, and Enthusiasm—drive everything we do.
We discovered that automating business processes was an act of kindness for our team members. It made their lives easier and smoother.
"One day, I realized that things had to change. I wanted to do more for people apart from the routine stuff. So I reached out to my manager," said Yashashree.
After a patient conversation, Yashashree and her manager, Michael, agreed that things needed changing.
"I realized then that it had to be done. It was not only kind but necessary," Michael remembered.
It was evident that not having automation for repetitive tasks meant:


Increase in human errors
Less efficiency
Poor human connections
So, We Started Automating Business Processes
Initially, only Michael tinkered with automation to improve onboarding operations at Axelerant.
In doing so, we realized that it could play a key role in streamlining processes as we grow.
We looked at third-party tools to intensify our automation ideas. When that wasn't enough, we gradually considered building a dedicated team.
Now, we have a skilled automation team focused on making people's lives easier at Axelerant.
Here's a look inside the tools that we use:
By Using Zapier
Zapier helps us connect web applications and automate repetitive workflows between them.
At Axelerant, we use Zapier to effortlessly move information between various apps like Gmail, Slack, Google Sheets, etc., to streamline our recruitment and onboarding operations.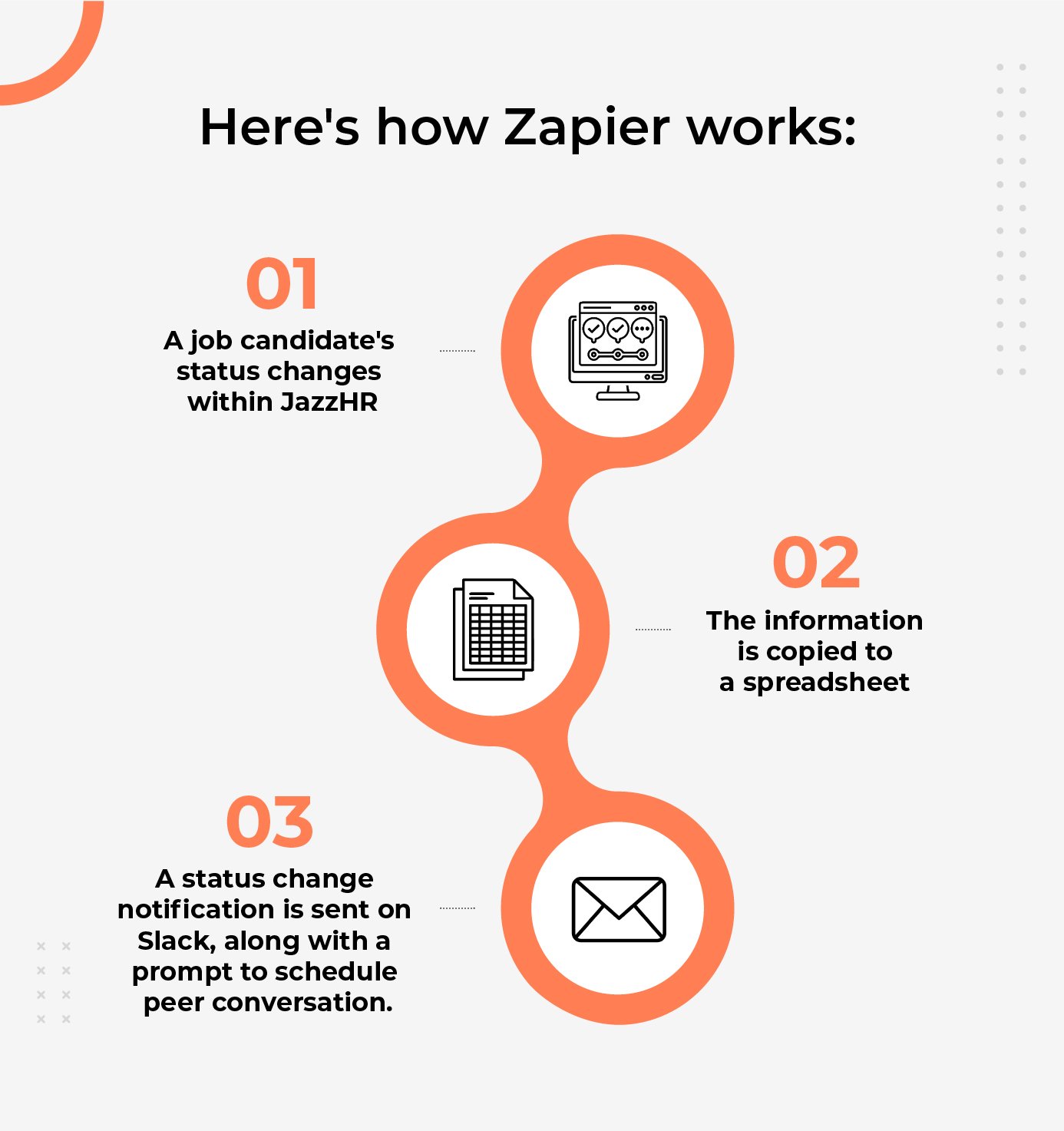 Integromat
Integromat is a robust integration platform for visualizing, designing, and automating work.
At Axelerant, we use it to:


Tackle complex workflows in people operations
Create test environments and experiment freely


Here's how we integrate this tool: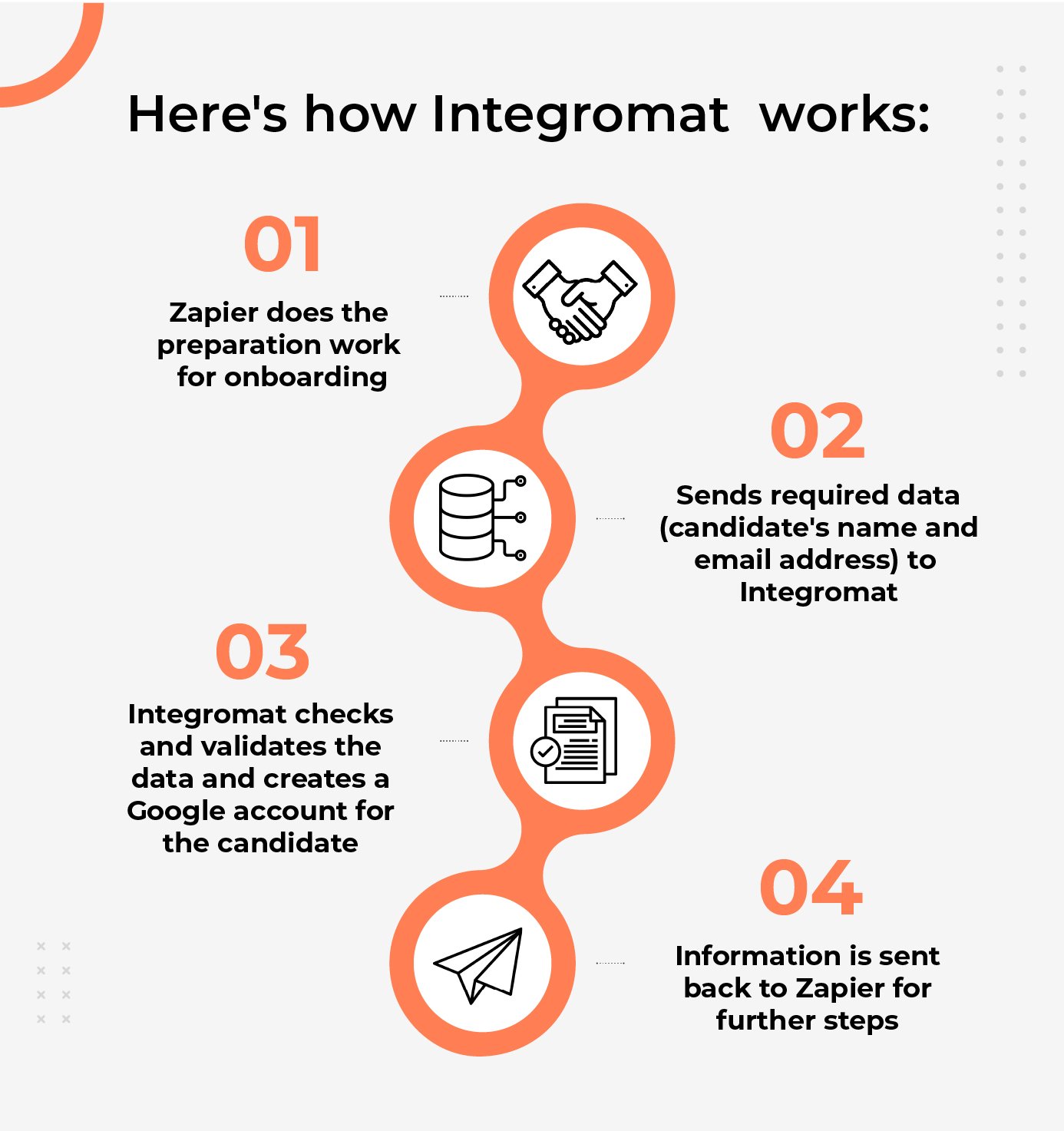 ChartHop
ChartHop is a centralized tool that analyzes people's data by automatically creating organizational charts.
Axelerant uses ChartHop to manage details about a person's role and performance.
This is how we use it: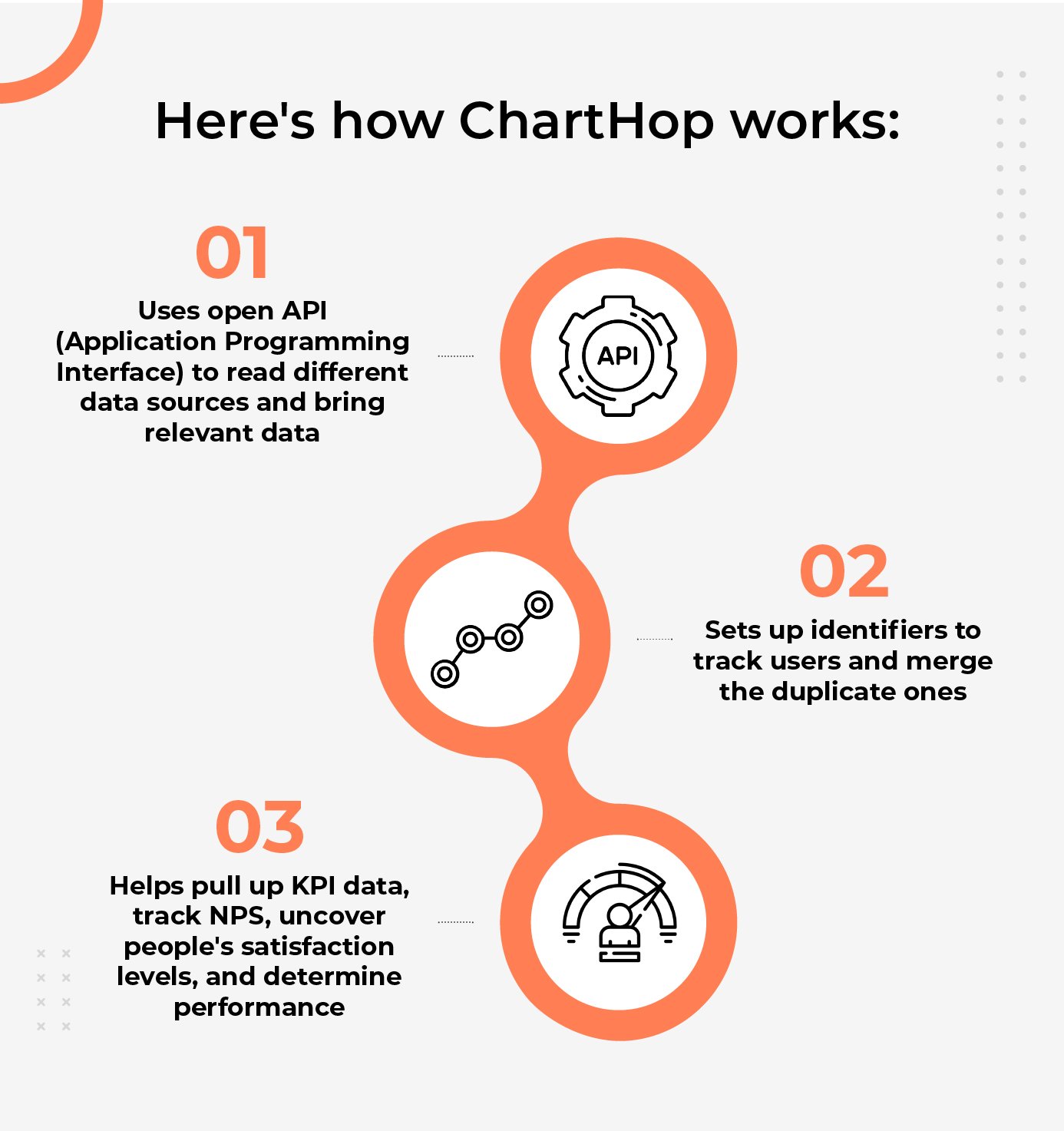 Zoho People
Zoho People is a cloud-based people operations management software that enables us to:
Manage people's data and streamline processes for people operations
Access, edit, and share information seamlessly
Mavenlink
Known for providing professional automation services, it makes things easier for:


Optimizing resources
Managing projects
Connecting people


We utilize the Mavenlink platform for the portfolio management of our engagements.
Mavenlink's API allows us to link it with ChartHop, so we don't have to create a separate data set and manage it.
Timetastic
Timetastic is an online tool for managing people's leave effectively.
It empowers us to:


Book time off in advance
Automatically keep track of remaining paid days off
Eliminate the need for maintaining records of people's leaves on confusing spreadsheets
Remove the human factor of approving days off—requests are automatically approved
And the Result Was Clear, From Onboarding Team Members
"The number of people we're onboarding every month has doubled now.
Yet, we still find time to focus on things that make people feel engaged and happy," shared Yashashree.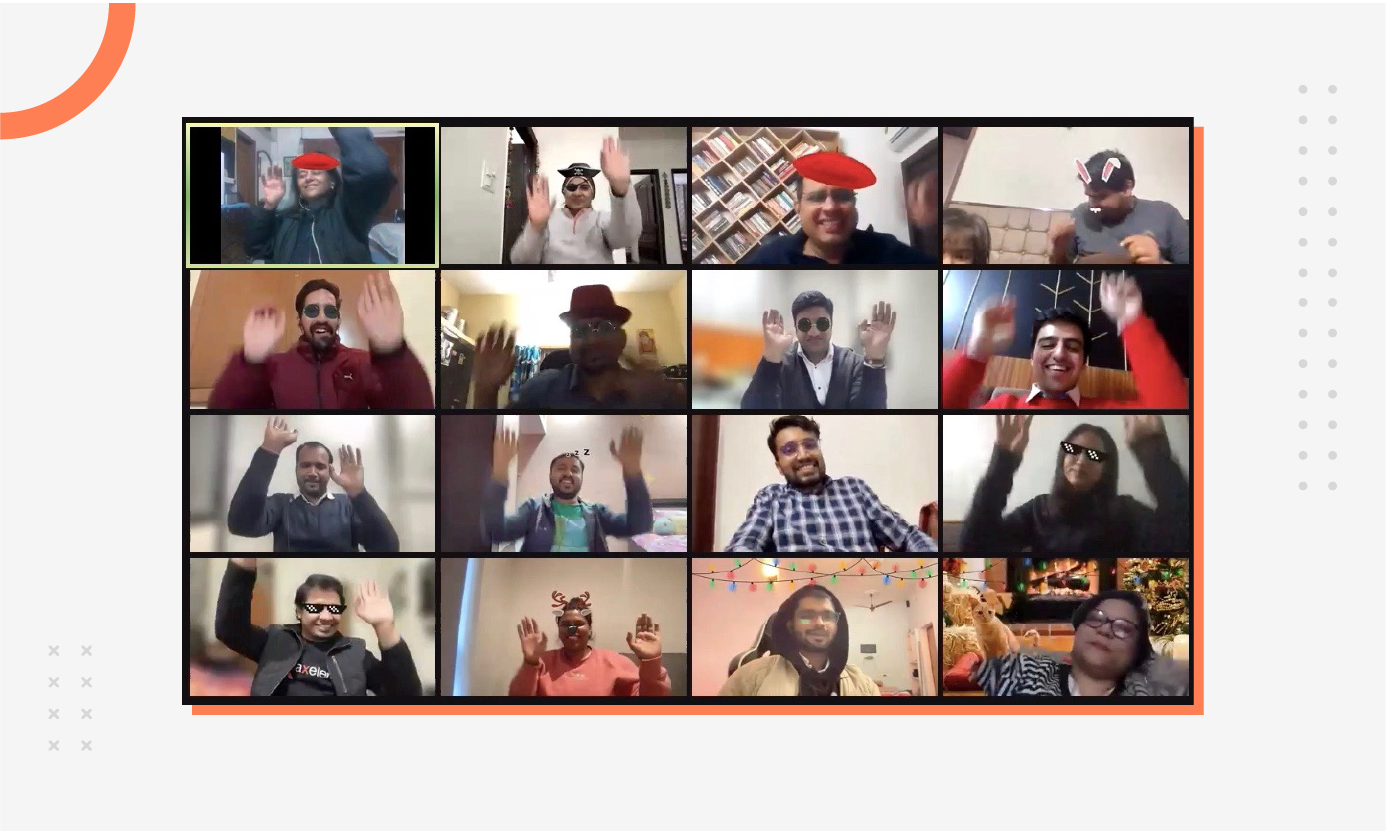 Automating processes also ensured people joining Axelerant had a smoother onboarding experience.
"Automation made the onboarding process a lot easier for me. I didn't have to wander for instructions and process knowledge," shared Manpreet Singh Nagi, Axelerant Quality Assurance Engineer.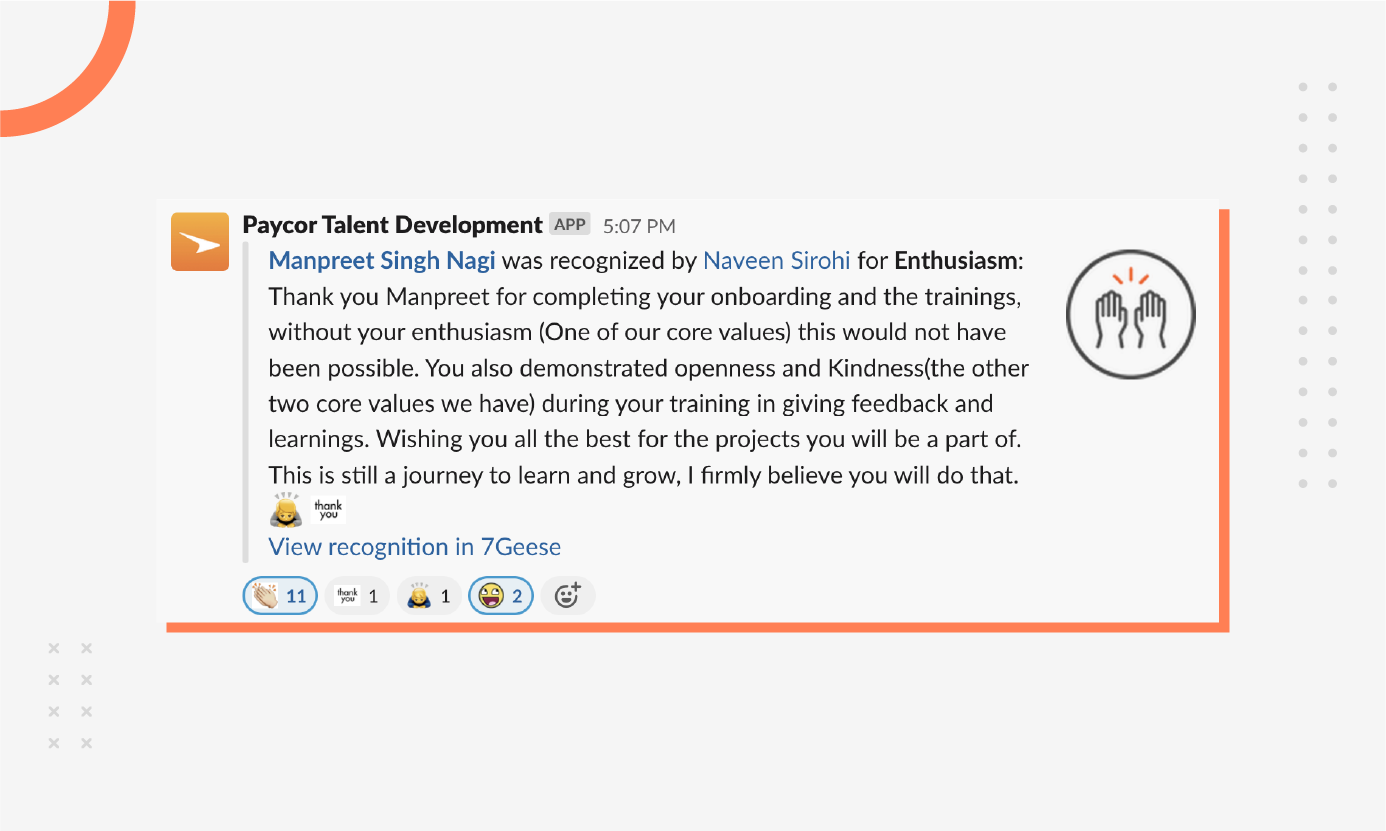 "With automation in place, I received all necessary invites in my email with clear instructions on how to proceed."
To Having Super Smooth Appraisals
The appraisal system is another significant area where automation has kicked things up several notches.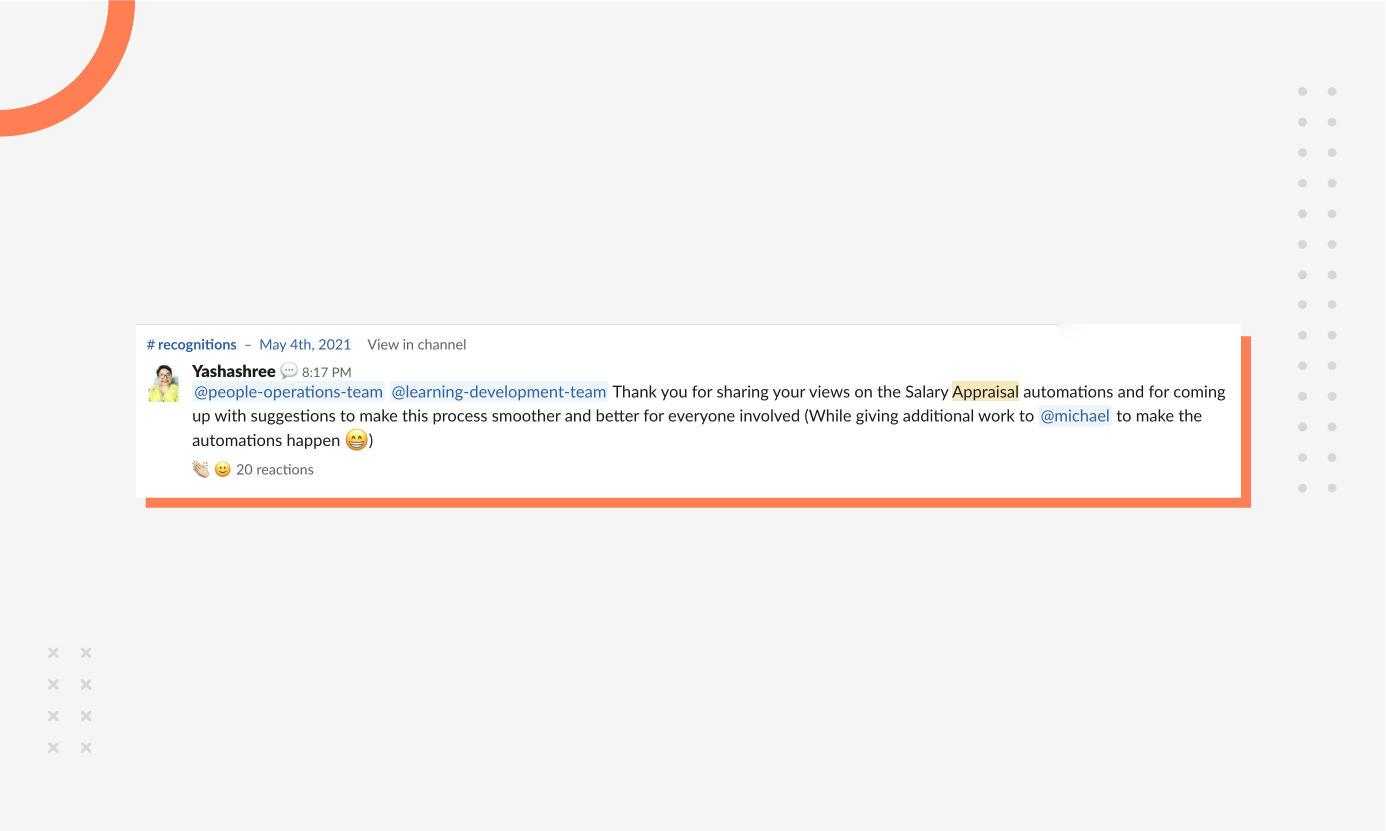 "Earlier, the entire appraisal system happened manually," confessed Michael.
About 80% of the salary appraisals involved conversations that consumed unplanned time before.
"Now, 60% of appraisals are accepted by default without further conversation after bringing automation into the mix," Michael explained.
Here's how things roll:


First, the manager receives the team member's KPI and other appraisal-related details and makes a salary recommendation
Then, a notification explaining the appraisal reasoning (including KPI data) is sent to the team member—who may accept it or bring it up for reconsideration


Most often, the remaining conversations tend to be quick alignments.
Every Month—for Every Single Team Member
"Being the director, I am involved in so many tasks. Staying on top of appraisals is not easy without automation," said Shweta Sharma, Axlerant Director of Quality Assurance Services.
"Automated messages go out to people scheduled for appraisals and those approving them at the beginning of each month," she shared.
Timely automated messages stop delays from creeping in, which can be a frustrating experience during appraisals.
"Delaying appraisals is not very kind, and it goes against our core value of kindness," said Yashashree.
Today, nearly 100% of appraisals are completed and paid out within the team member's join month.
Automation Made Growth Easier for Us, and So Can It for You
Automation has undoubtedly made things smoother and more accessible for us.
And it most probably can do the same for you, too.
McKinsey Global Institute reported that 60% of all occupations or job roles have at least 30% of automatable activities.
Here are some ways automation can take things to the next level for you.
By Simplifying Growth
With growth, teams crop up for processes and operations that once required a single person's attention.
These mundane processes need time and resources that can be freed up using automation.
Through Easy Collection of Data
Data collection is a hassle, especially when you need to remind people to furnish it. And then comes processing it—a torment.
And both take lots of time and effort. But it needn't be so.
Data collection and processing have the highest automation potential for a growing company.
Earlier, Yashashree would have to nudge team members to provide details or give feedback.
"I despised being that person who's constantly sending reminders," she confessed.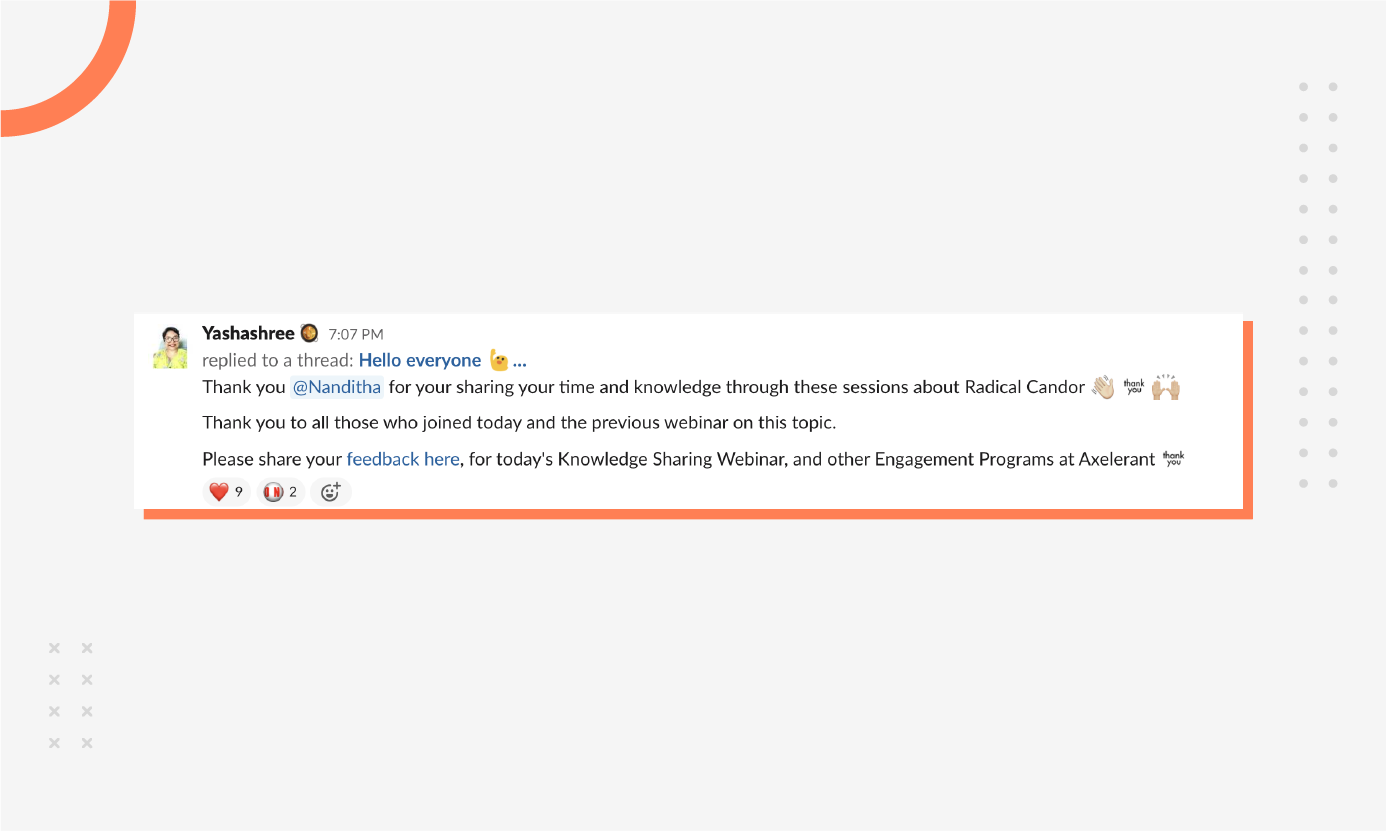 Automated notifications neutralize human guilt and the "pestering" feeling of being reminded that we've got pending tasks to do.
Consistent, compassionate timings of automated messages prevent anyone from feeling annoyed.
And, by Keeping Things Lean
Too many processes mean equally expansive workforce requirements.
Getting things done becomes harder without a lean approach for a growing organization. Here is where automation comes in.
Silly human errors? Poof, gone.
Instead, you get highly efficient teams focusing on making your organization spectacular at what it does.
About the Author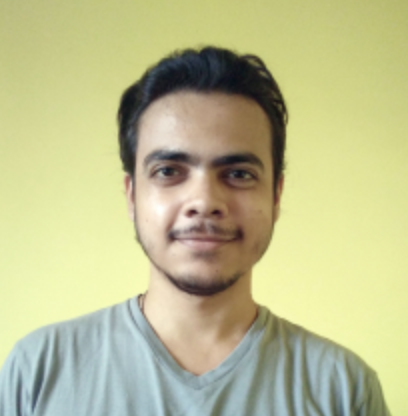 About the Author
Rohit Ganguly, Content Marketer
Rohit is a content marketer first and a YouTuber second. He loves to interact with animals, feed them, clean his apartment, and spend time with friends and family. Curious by nature, he also enjoys literature, movies, meditation, and calligraphy.