Introduction
Openness is a bitter pill to swallow for an organization. Though good for organizational health, it's difficult to follow and harder to cultivate and sustain.
The extent to which a company practices this value can considerably impact its people.
Let's look at why Axelerant chose "Openness" as one of its core values.
Organizational Openness — What Does It Mean?
How open an organization is with its stakeholders is essential in maintaining transparency; undoubtedly true. But transparency with its team members is equally significant in this respect.
It is easy to be transparent when things are going well. But practicing transparency when things aren't going as planned is when openness as a value comes into play.
For An Organization, Openness Means
Individuals perceive openness differently, shaped by independent experiences and thought patterns.
In an organization, though, the first criteria for openness would be that everyone is aware of what the company stands for, what it provides, and the impact of its work. Of course, this doesn't mean revealing sensitive information.
Openness also means questioning when something should be private due to sensitivity or personal nature and whether it should be accessible only inside the company.
And For Team Members, It Signifies
For team members, openness means being open to learning, growing, and challenging themselves. It also means communicating properly, sharing ideas, and asking for clarifications freely.
How can this be helpful?
You can share what you feel directly through easily accessible channels without fearing what others might think; it could be the CEO, your manager, or a reportee.
The communication anything, such as:
A hard feedback
A suggestion
A new idea
Disagreeable behavior
It's Certainly Not Easy
The Axelerant handbook reads:
"Openness means we value overcommunication over not disturbing people, clarity over playing it safe, honest feedback over causing worry, and public channels over private conversations."
Following this type of culture takes guts. It takes courage at every echelon, from new joiners to the veteran leaders.
Team members can be open only when they feel safe. Similarly, leaders can accept their mistakes when they are viewed as a part of learning and growing.
A Harvard Business Review survey polled 154 executives from various fields about the openness of their company culture. They found:
"63% of them described their company culture as opaque. And the remaining 37% were more likely to choose clouds over bright sunshine to describe the communication practices at their firms."
But Extremely Necessary
In an organization, practicing openness generates:
Transparency
Psychological safety
Candid conversations
A continuous constructive feedback loop
But a lot can go wrong and remain hidden in the absence of a robust open culture.
Because It Hampers Trust
Building trust is one of the hardest things to achieve for a company — it takes time, effort, and work. One of the fundamental ingredients required to build trust is openness.
For example, while applying for a job, if you're unable to get answers to your queries or intentionally misled (which you realize later), it will hamper the trust between you and the organization. The same applies the other way around.
Fosters Secrecy
Openness, vulnerability, and honesty are deeply interrelated — one can't be open without being honest. Many people fear being honest at work.
I was one of them when I joined Axelerant in mid-2021.
I had taken on more tasks than I could have handled one time. Naturally, I couldn't finish everything on time. I was afraid of what might happen in the team meeting, where everyone debriefed about their work.
I strongly considered hiding my shortcomings in planning, afraid of what others would say, think, or feel about me. But at the last moment, I gathered the courage to overcome my fear and came clean to my manager.
Yes, people became aware of the shortcoming, and I expected the worst to happen.
But in the end, what happened couldn't have been further from my imagination — I received help. My manager sat down with me and went through my next week's planning with great care, patience, and warmth.
Stops Knowledge Free-Flow
There's a famous proverb: Give a man a fish, and you feed him for a day. Teach a man to fish, and you feed him for a lifetime.
Undeniably, knowledge is power.
Perhaps, that's why so many leaders try to hoard and control information. They don't want to share knowledge because it makes them feel like they are giving away their power. But to apply this logic in an organization would only hurt it and its people.
In an organization, the smoother the information flow, the better will all its departments and people work together to deliver superior results.
Impedes Feedback
Another strong facilitator of organizational openness is feedback. Every individual needs constructive feedback to improve. But without an open culture, what would the exchange of feedback look like?
It could look (and feel) a lot like arrogance. Or even an ambush. Here's a short incident that would illustrate what I am trying to convey.
During an all-team meeting in an organization, a manager approached a pressing issue that had been resurfacing for some time.
There was a communication gap between the graphic designers and the writers, which resulted in poor designs. It degraded the quality of the articles visually.
The leader identified the problem before the meeting, but not the solution. She lashed out at everyone, especially the designers. It wasn't a pretty sight.
In an organization like Axelerant, which celebrates openness (and kindness and enthusiasm), this would've played out differently.
Possibly, the leader would've come prepared with a solution to show the way forward in the meeting. If not, they would've initiated an open discussion with the team, given constructive feedback to the team members, and moved forward with a mutually agreed solution.
The entire focus and language used in the conversation would've been objective and solution-oriented.
And Prevents Diversity and Inclusivity
In an inclusive environment, every team member feels safe and comfortable sharing their views.
They know that they will be treated fairly, irrespective of their gender, position, nationality, or any other possible difference.
Surprisingly, many multinational companies follow counterintuitive steps to promote diversity and inclusion, like diversity training, hiring tests, and grievance systems. According to the Harvard Business Review report, they only make things worse.
The first step to being organizationally inclusive is to accept diversity. This lack of openness can fail even the most brilliant diversity policy.
That Is Why We Went With "Openness"
Openness is one of the three values that guide Axelerant team members in their actions, the other two being "Kindness" and "Enthusiasm." Each of these values is necessary for Axelerant's success.
All three values need to function simultaneously to have a thriving culture that benefits everyone and creates a unique workspace.
It Is A Part Of Everything We Do
Axelerant Drupal Engineer Disnel Rodriguez joined the conversation from the North American nation of Cuba. He feels that openness is non-negotiable for any organization, tech or otherwise.
"We need to inspire confidence in our customers. We need to trust each other completely to finish our tasks," said Disnel.
He believes that openness is one of the primary factors that sets Axelerant apart, especially now, when information and privacy concerns have put big tech companies in the spotlight.
"I could sense it from the first interview when applying for the job," he replied when asked if he feels that Axelerant champions openness in its activities.
While Taking Decisions And Bringing Changes
In most companies, you will find little scope for contribution if you're new, especially in lower levels.
At Axelerant, your input matters right from the start, and asking questions on open Slack channels is encouraged.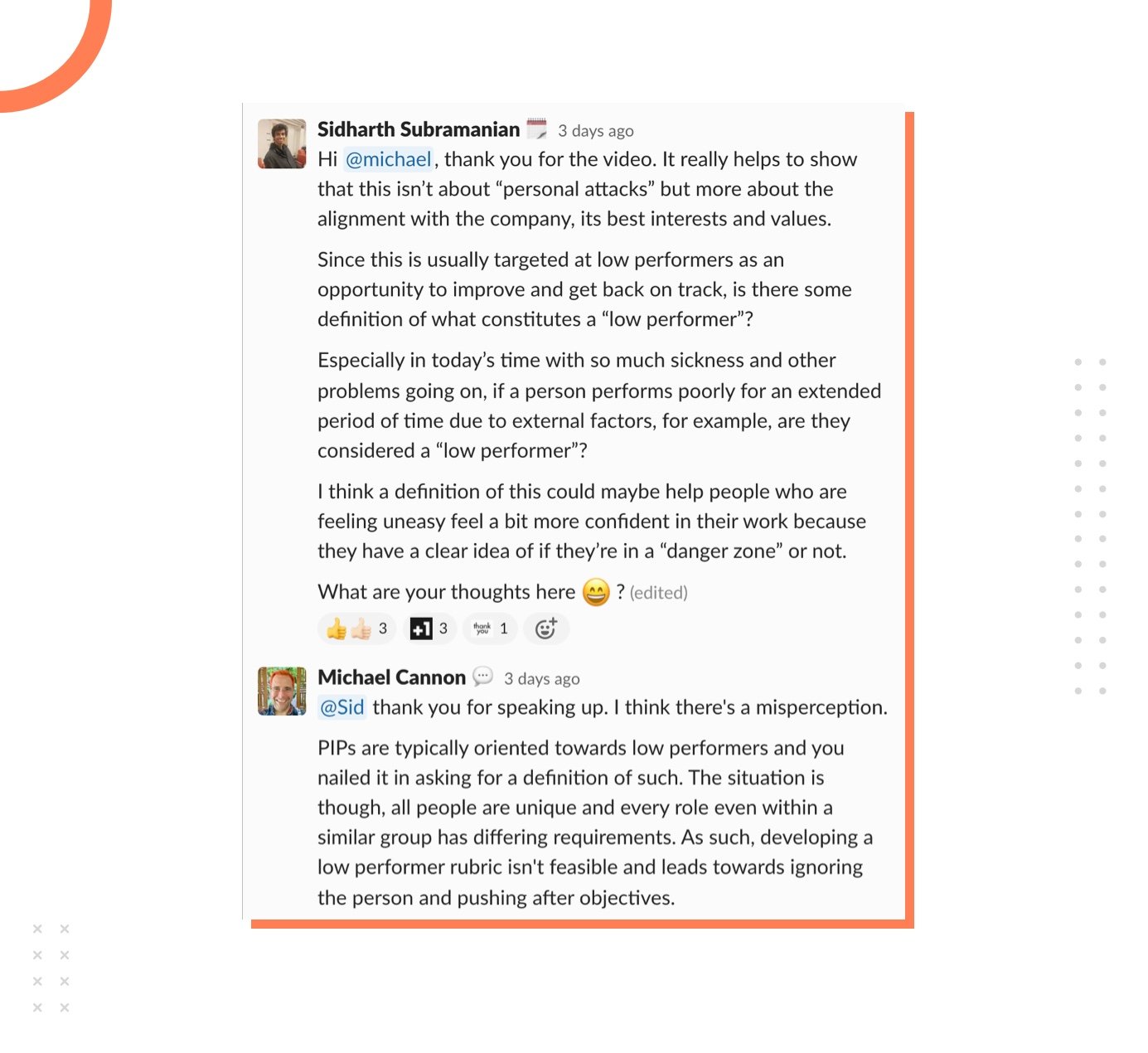 We take decisions openly, and you have the complete right to speak your mind. In fact, most of our benefits were formed and later tweaked through our team members' suggestions.
We regularly use Officevibe to understand our team members' sentiments. One can give their answers, share feedback, likes and dislikes, suggest policy changes, etc., anonymously, too, if preferred.
Giving Feedback
"Feedback is an act of openness as well as kindness," said Mridula Ujjwal, Director of Coaching, Axelerant.
In my conversation with Mukul Garg, Program Manager, Axelerant, I understood what she meant. "Giving feedback is not a matter of pleasing the other person or ticking off an obligation to the company processes. It has more to do with helping others."
At Axelerant, the intention of sharing feedback is to help team members improve, and in the process, evolve the organization. The core value of "Kindness" always regulates feedback sharing.
"In a situation where someone is uncomfortable, maybe some feedback is being taken as a personal attack, we gently remind the giver that we should be talking about the situation instead," said Michael Cannon, Chief Success Officer, Axelerant.

Sharing Knowledge
Internships, especially unpaid ones, are a thorny subject. Should interns get paid for their work, or should experience be enough compensation?
We believe interns should be paid because everyone needs to pay their way in the world. At least we believe so.
I learned a good job security lesson (or so I thought at the time) during an unpaid internship.
This person was an experienced professional, very polite and calm in demeanor. He said: "Never share or teach everything you know to your colleagues. You will reduce your value and become replaceable."
I had picked up this insecurity and let it dictate my actions until I understood what I was doing directly contradicted being open.
At Axelerant, we have peer mentorship programs that help team members exchange mentorship and lessons. We also follow a systematic process of recording how to do tasks so that anyone can learn new skills or change domains.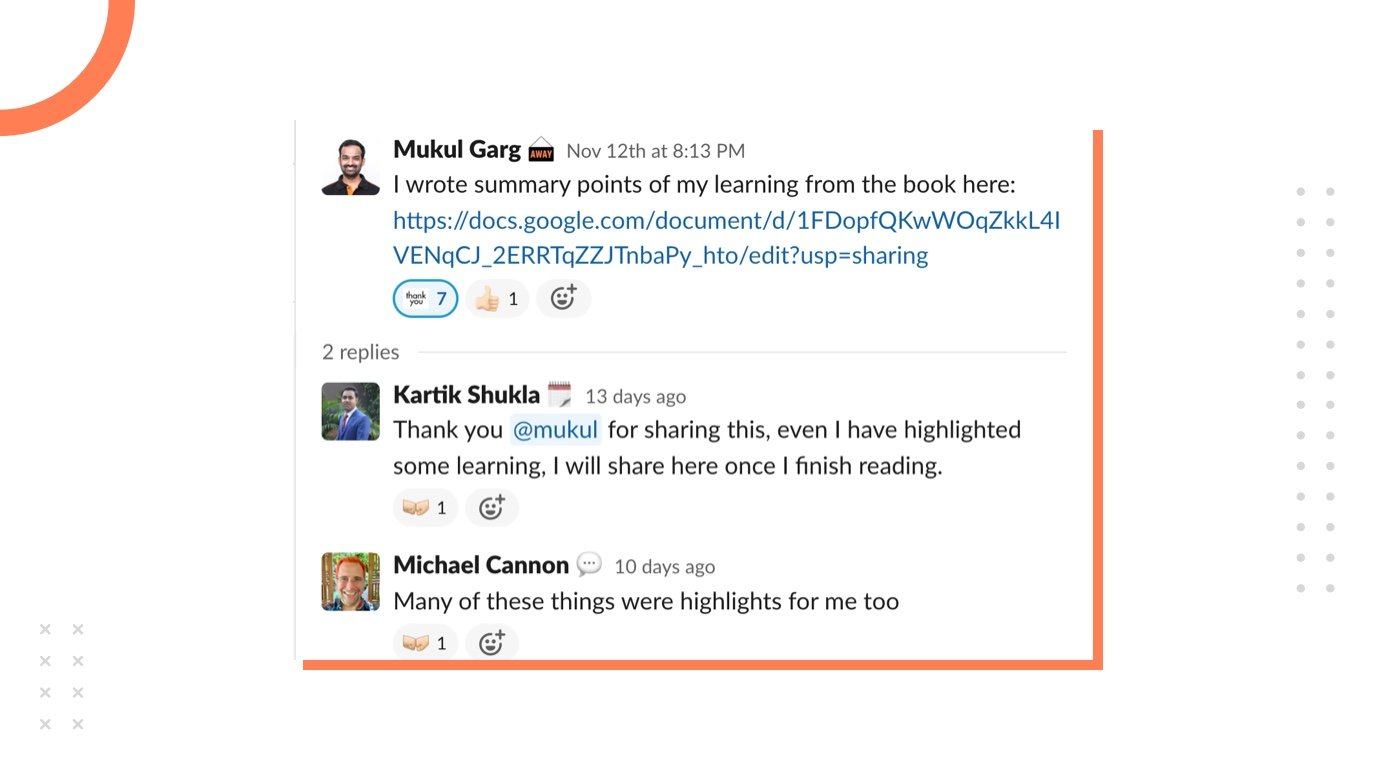 There's absolutely no secret trump card.
Cultivating Inclusion And Growth
We are a global company, having team members and customers spread worldwide. Our team members speak over 26 languages, and this number keeps growing as we recruit more people from different parts of the globe.
This kind of global team has many benefits:
We're available for our customers 24x5
We can understand cultural nuances better to curate better products and services
We can tap into a varied range of ideas that comes from having truly diverse teams
The advantages are many. But it also presents a set of inclusivity challenges.
A big looming question is — are we making everyone feel a part of the organization?
"Without being able to understand all the differences that entail our uniqueness, we'll not be able to help our team members and customers reach their full potential," said Michael.
By Speaking A Common Language
During meetings and get-togethers, we consciously keep in mind that everyone converses in the same language.
In 2019, we realized that speaking different languages during meetings made some team members feel left out. So, we voted and selected a common language that all team members could speak and understand — English.
That means if, in a meeting of 91 people, 90 of them speak a regional language fluently, and one person isn't comfortable speaking that language, everyone would consciously talk in English.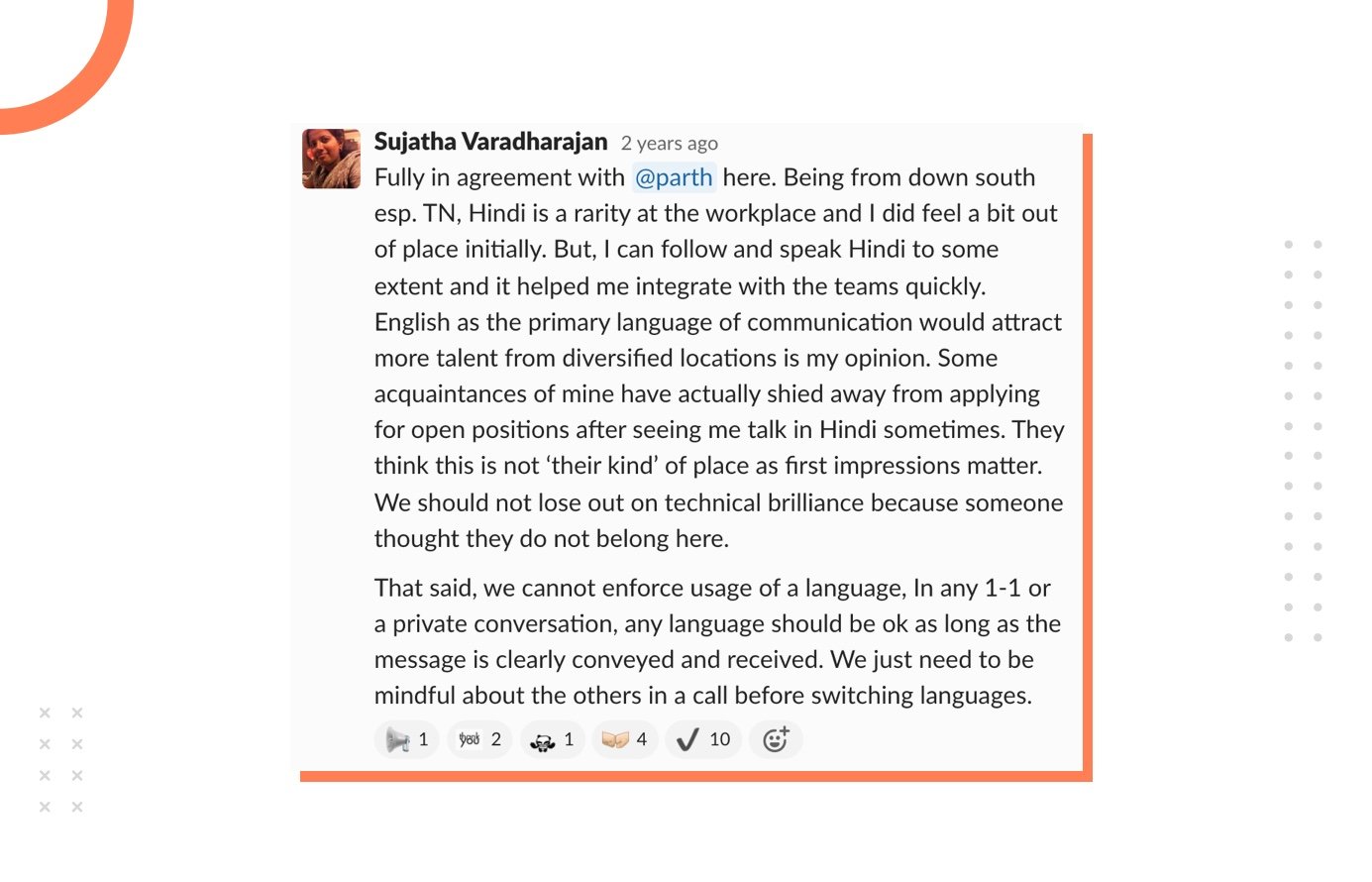 Having Equal Growth Opportunities
By far, the most significant yardstick of inclusion — anywhere — is equal growth opportunities. Leading institutions and organizations worldwide contend with this challenge.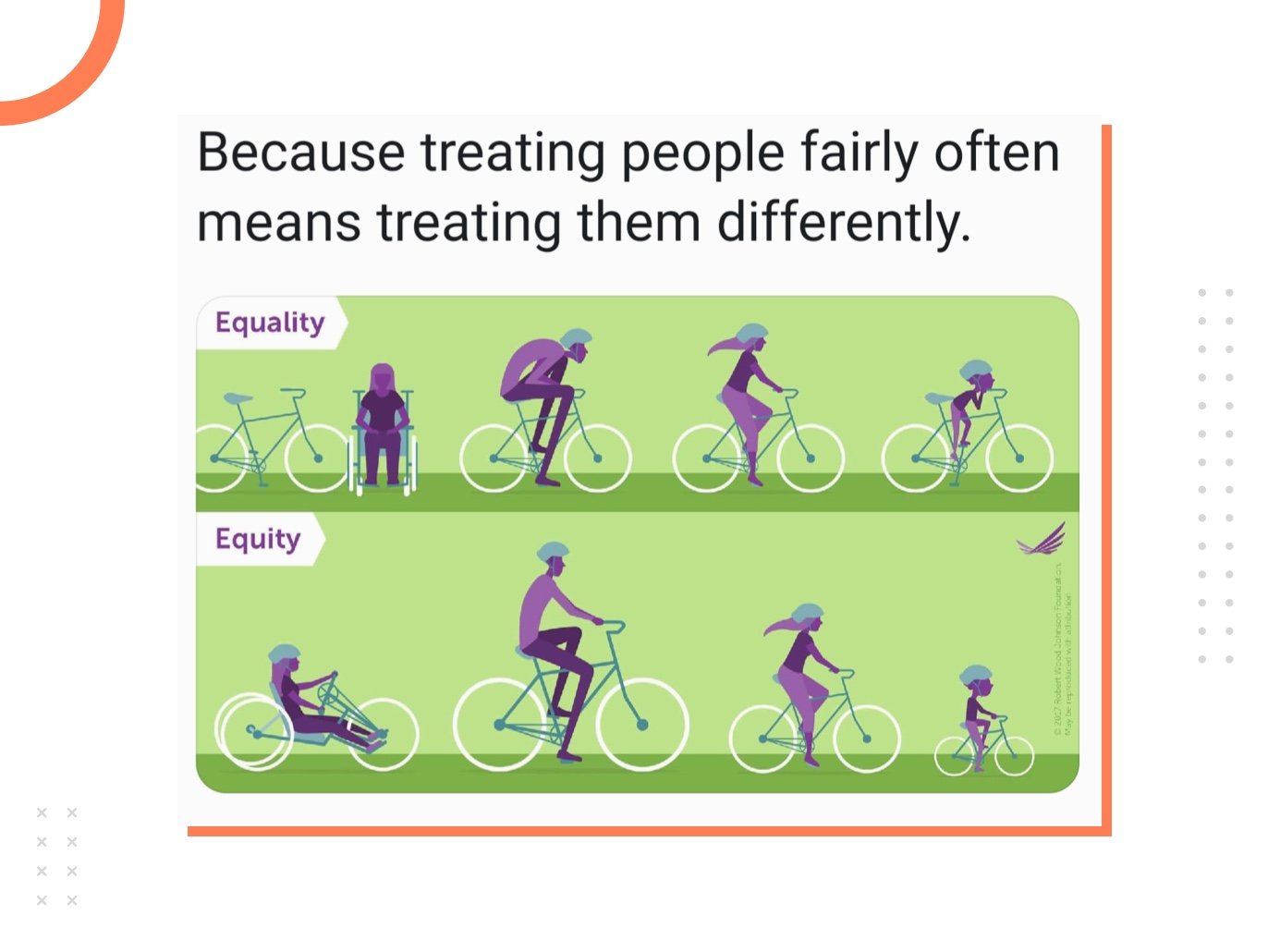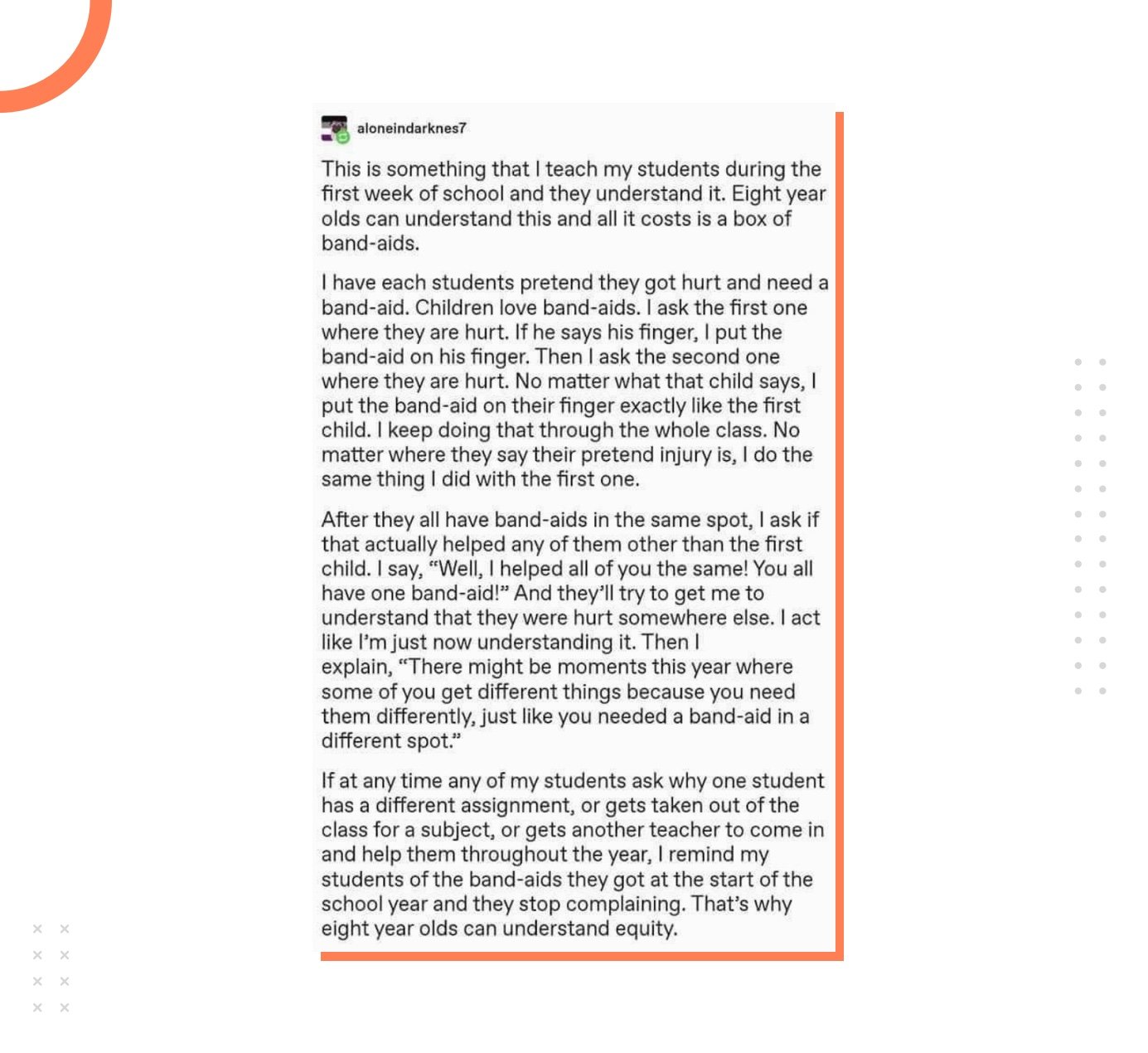 These snapshots that Axelerant Frontend Engineer, Sidharth Subramanian shared displays inclusivity beautifully. It is about giving equal opportunity to everyone.
At Axelerant, every team member gets equal opportunities to take the next step in their career.
Every team member has equal access to the benefits of training and growth.
You can work on IDPs (individual development plan) with your performance coach, take Axelerant's education allowance, get certified, and achieve your goals — whether trying out a new domain like Swarad Mokal or trying to get promoted.
At Axelerant, your appraisal depends on the work performance, without any biases or prejudice.

And Ensuring Flexible Work Hours And Leaves
In a recent poll, team members selected flexible work hours as the top benefit at Axelerant.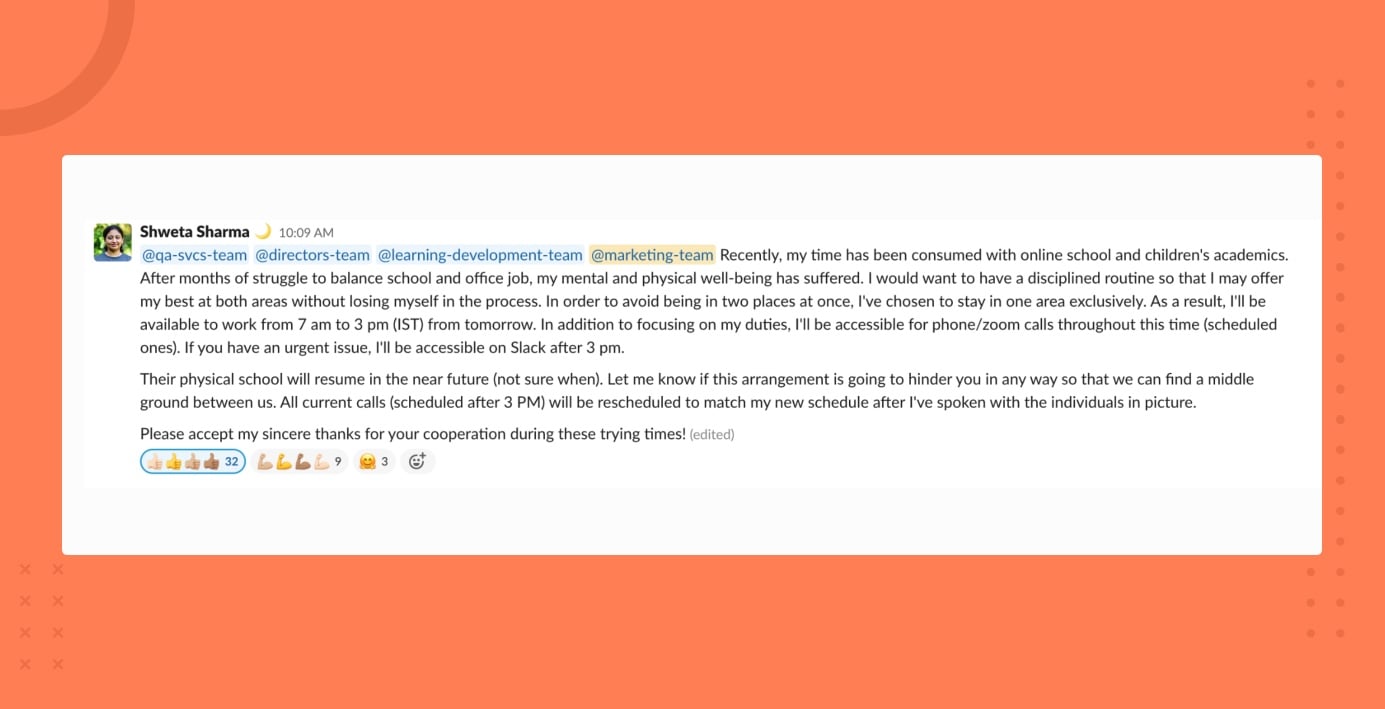 Everyone at Axelerant can design their workday as per their convenience, keeping a minimum of two hours of overlap with peers.
We focus more on results than how many hours one spends in front of the screen.
"When someone says that they're not feeling well, experiencing brain fog, or some other last-minute need to take time off — leave is granted right away. This, I feel, is due to our recognizing people as human and that life happens," said Michael Cannon, CSO, Axelerant.
About the Author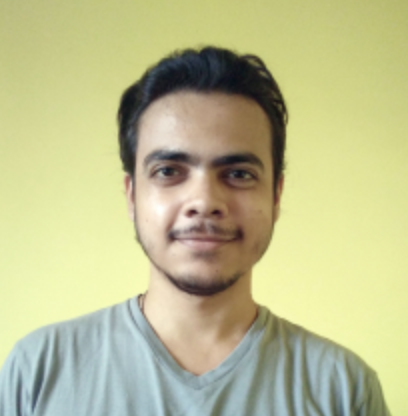 About the Author
Rohit Ganguly, Content Marketer
Rohit is a content marketer first and a YouTuber second. He loves to interact with animals, feed them, clean his apartment, and spend time with friends and family. Curious by nature, he also enjoys literature, movies, meditation, and calligraphy.