Introduction
An idea, once thought, contains the power to take a life of its own. History is riddled with instances where small ideas have snowballed into big changes. Decoding the power of ideas and harnessing it is essential for anyone wanting to thrive.

In a fast-evolving world, the existential threat of being left behind is all too real for not only companies but industries as a whole. Organizations must look for ideas that help them cope with advancements, remain relevant, and thrive in such an uncertain position.


Netflix: The Power of Ideas
Here's a short story that signifies how Netflix's co-founders harnessed idea power.

Up till the early 2000s, Blockbuster dominated the home entertainment market, with over 9000 stores in the US alone. With USD 6 billion revenue then, its business model is faintly familiar in today's world. It would lend DVDs to customers for a price, who would have to return them by a due date, failing which they would pay a late fee.

Along with Netflix co-founder Marc Randolph, Reed Hastings sought out the then Blockbuster CEO John Antioco to merge their companies. Netflix was in its nascent stage and, in that year, had incurred losses in millions. John Antioco turned down their offer.

But Reed and Marc were confident that people would pay to avoid late fees from returning DVDs. They also created an option where customers would not have to pay every time to watch a movie.

The result became shockingly apparent in 2010 when Blockbuster filed for bankruptcy. By 2019, only a single Blockbuster store stood in Bend, Oregon, USA, as an odd relic.
What Is 'No Rules Rules?'
'No Rules Rules' is a book written by Netflix co-CEO Reed Hastings and author Erin Meyer. The book sheds light on Netflix's unorthodox culture, which is best described by Reed himself: "Netflix employees are less like a family and more like an Olympic sports team."
About The Book
The book is categorized into four sections, which are the main areas of focus for the organization. They are:
Talent density
Radical candor with a positive intention
Removing organizational controls
Understanding culture globally and practicing inclusion
The book gives an elaborate peek into how Netflix functions, and what it takes to achieve what it has thus far. In this tweet, Reed Hastings talks about the book and the main lessons he has learned as Netflix's head over the years.

Reed Hastings, Co-CEO of Netflix, shares his top 5 Lessons Learned over the years. Get a deeper dive into these insights in the book "No Rules Rules," written by @reedhastings and @erinmeyerINSEAD, available for order at https://t.co/Y5rI0IT5XR pic.twitter.com/S1DSOEl4U3

— We Are Netflix (@WeAreNetflix) September 10, 2020
Why Did We Read It?
I was curious — why did Axelerant team members decide to read the book? Were we looking for something in particular? My search led to two distinct reasons.
Because It Talks About Culture
The straight answer lies in the most prominent thread between Netflix and Axelerant — we both actively nurture our culture.
If ideas are the harbingers of change, culture is what decides the direction of that change — positive or negative.
In any organization, culture binds the people together, keeping them in line with what the company stands for. But a culture cannot exist without well-defined and accepted values. The central Netflix values — integrity, excellence, respect, inclusion, and collaboration — differ from Axelerant's. But the essence behind these values is very much the same; they act as an anchor point for the culture to grow.
And Presents Some Unique Ideas
Axelerant CEO, Ankur Gupta, likes to keep a tab on how things are going on FAANG (Meta formerly Facebook, Amazon, Apple, Netflix, and Alphabet formerly Google) organizations. He consumes at least one book a month to understand where and how the winds are blowing in the tech world. Each book presents new ideas, possibilities, and perspectives.
But he is not alone in this practice. Almost every one, especially people in senior positions have an active book reading habit. And insights from books are regularly shared via different Slack channels.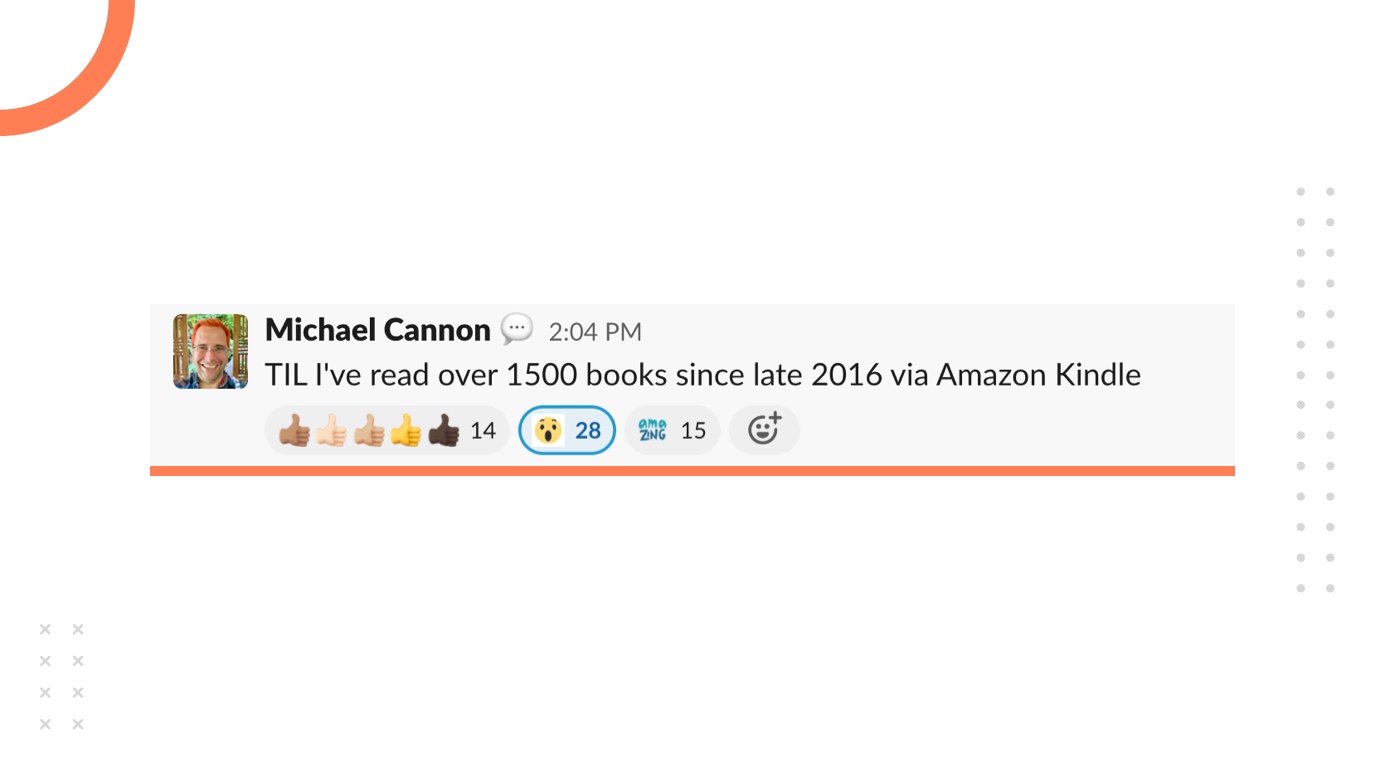 "We have Slack channels dedicated to different books," Ankur replied when I asked why a separate Slack channel was created around 'No Rules Rules.'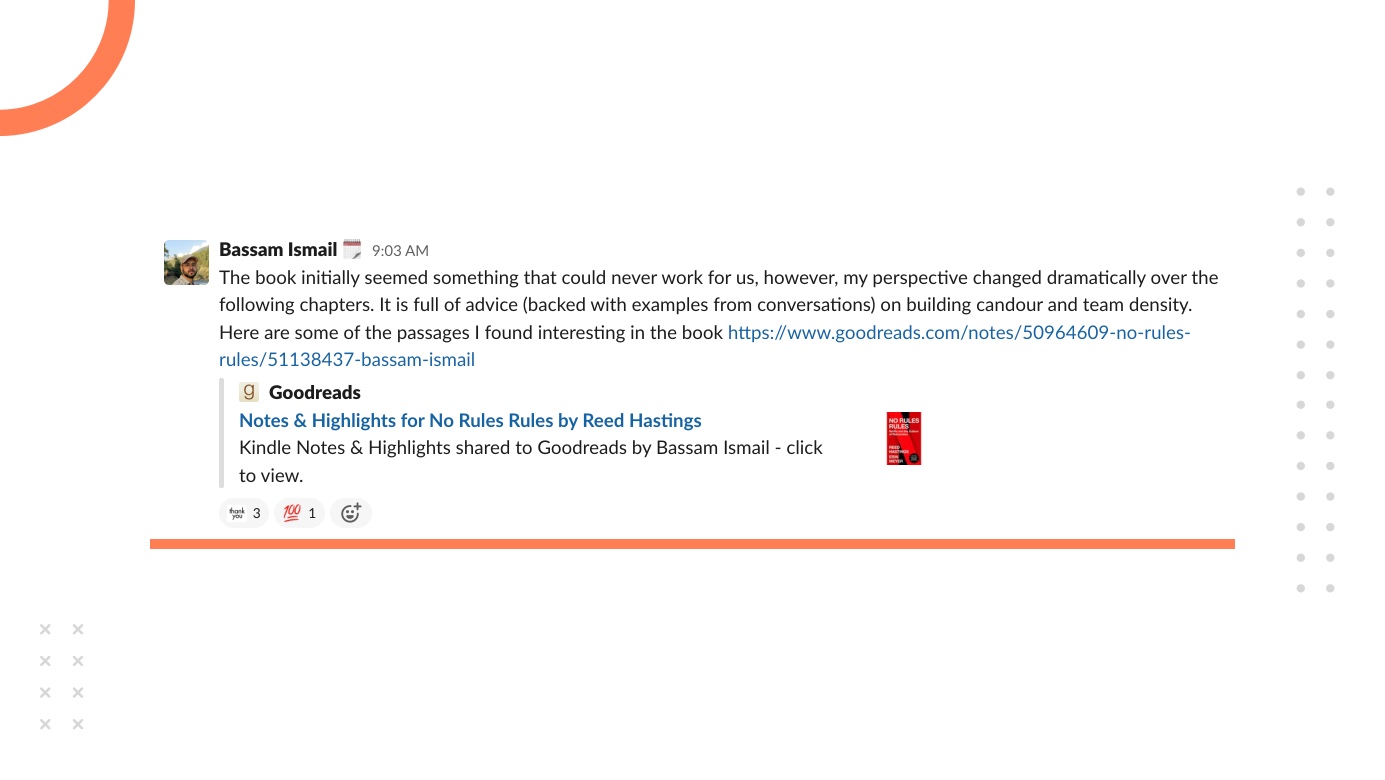 "I came across this book through a recommendation by Ankur," replied Mukul Garg, Senior Project Manager, Axelerant. He was among several team members in the channel who took up Ankur's recommendation. What followed was a regular debate among members on the various cultural aspects and ideas shared in the book.
"I wanted team members to see the decision-making process, how decisions had been carried out in Netflix on certain scenarios," said Ankur.
Going by the flow of things made me suspect something — Axelerant might be a "learning organization."
Is Axelerant A "Learning Organization?"
Firstly, let's look at what a learning organization is. In simple words, a learning organization prioritizes a healthy learning culture within the company. But this is not a futile, fanciful practice.
Among many benefits, research has shown that an organization with a strong learning culture overcomes unpredictability with proficiency.
To continuously improve, one must learn new things. This learning process can take many forms — completing certifications, seeking out mentorships, reading books, and applying the knowledge gathered in practical life.
In their research, professors David Garvin, Amy Edmondson, and Francesca Gino of Harvard Business School came up with certain conditions to determine whether a company could be seen as a learning organization.
A supportive learning environment that embraces psychological safety, appreciates differences, is open to new ideas, and has time for reflection

Concrete learning processes and practices, which includes experimentation, information collection and analysis, and education and training

Leadership that reinforces learning
Possibly, Yes
Looking at the criteria set forth by the Harvard researchers, I am strongly inclined to believe that Axelerant could be a learning organization.
Let's answer this question one criterion at a time.
We Have A Supportive Learning Environment
Making mistakes is integral to learning. You can see how it would stunt the learning process if team members are afraid of making mistakes. Undoubtedly, psychological safety is a precursor to learning.
I asked Hussain Abbas, Director of PHP & Drupal Services, Axelerant, if he would recommend a junior team member to read the book, he answered: "I would not force them to read this book. But if someone wants to read it, I would certainly support them."
Our performance coaches put their best effort in ensuring psychological safety among team members at all times. They listen, work with, and guide team members with the utmost attention.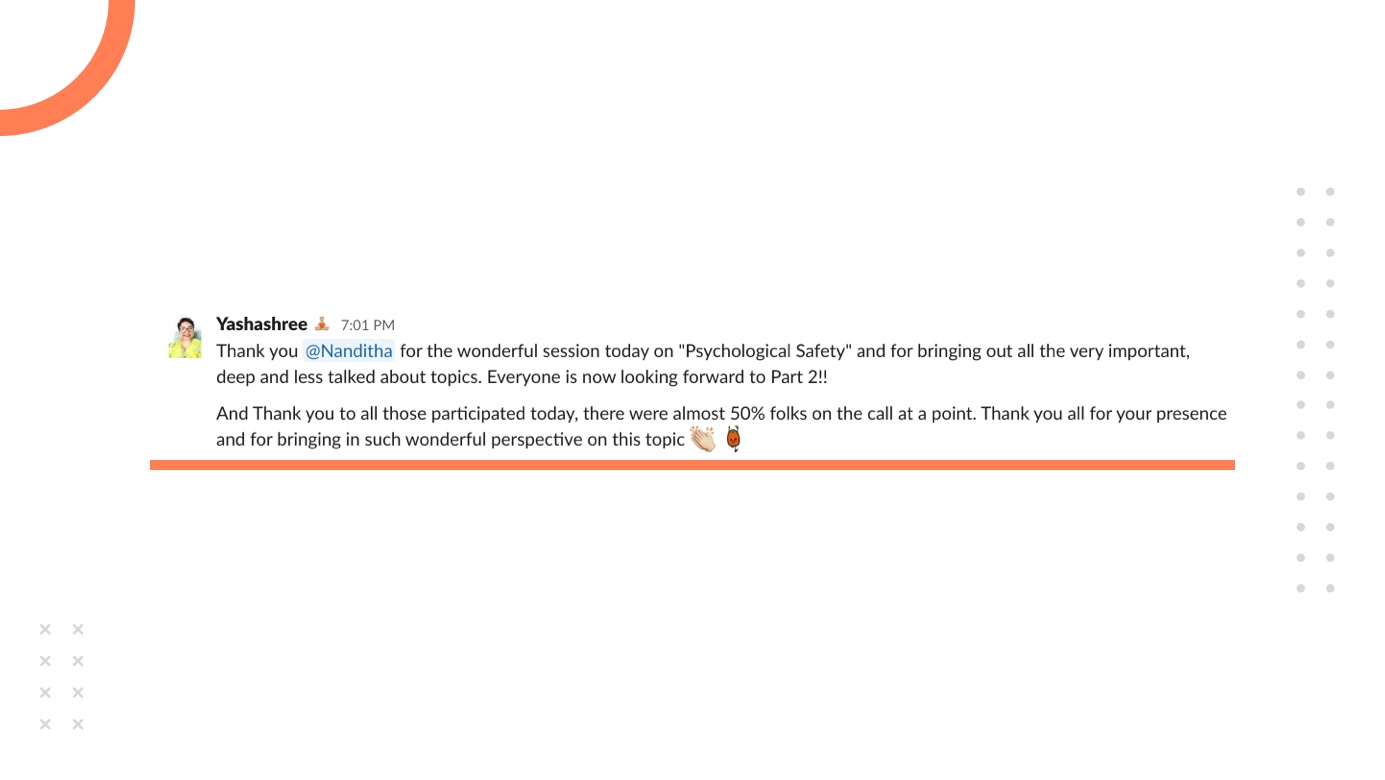 We cherish differences in opinions and are always open to new ideas.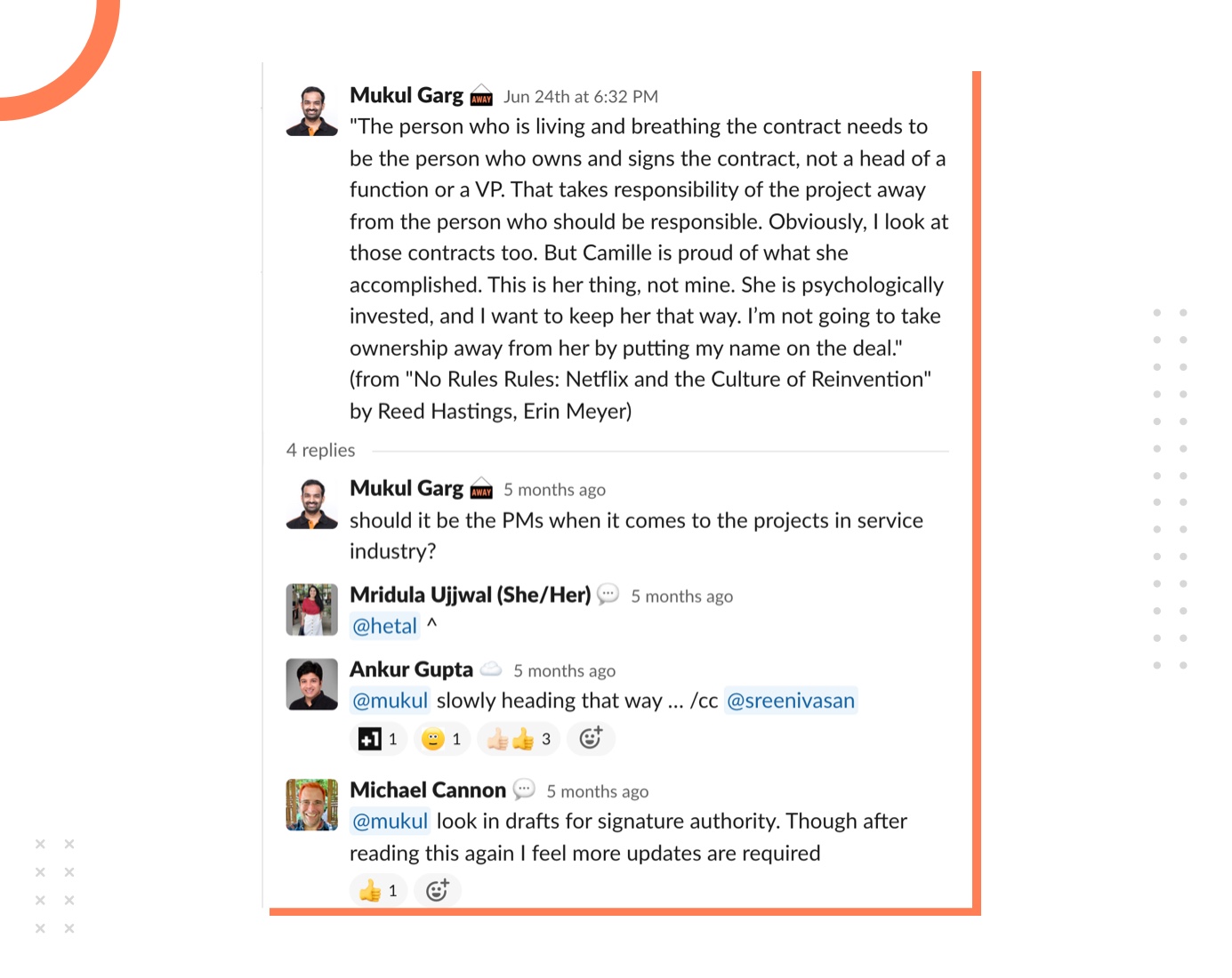 There's also a continuous cycle of knowledge sharing prevalent in the company, where team members openly reflect on their learnings.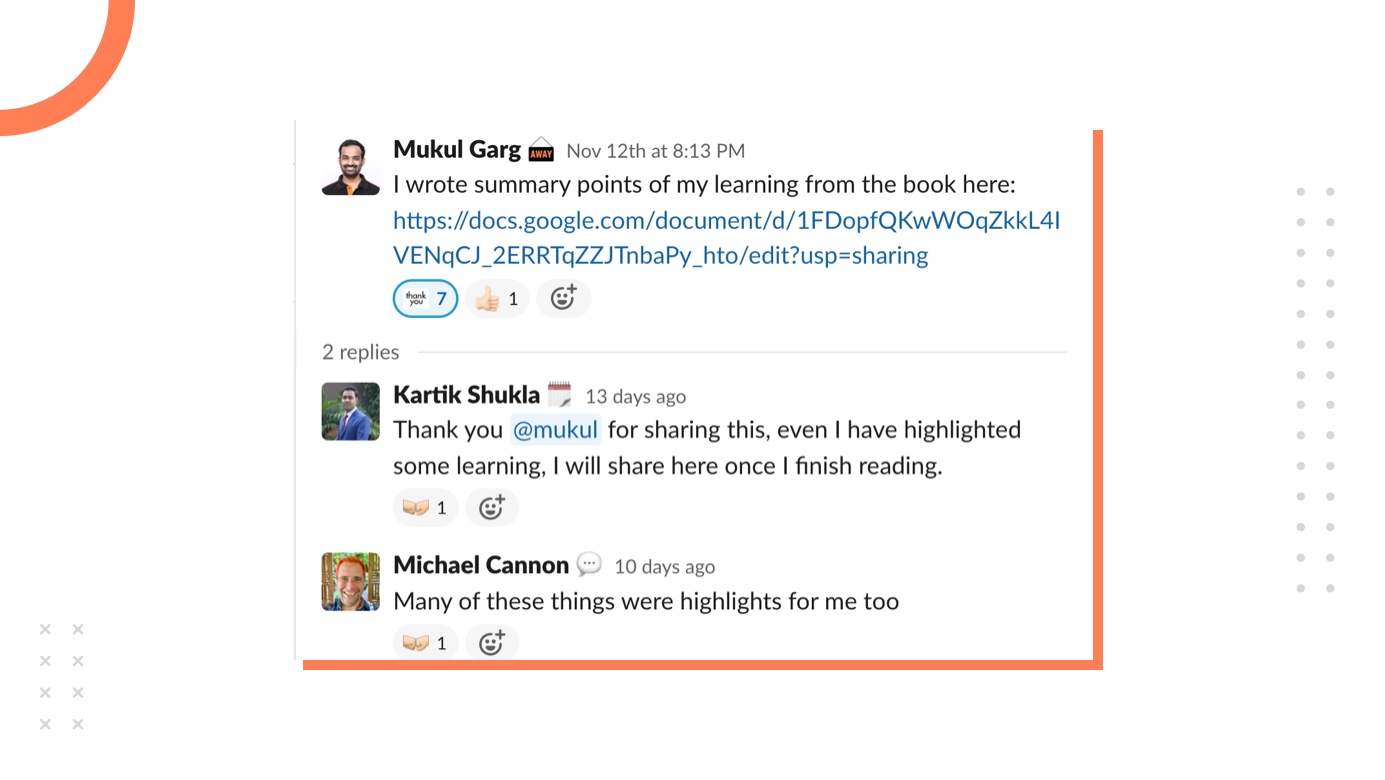 A Concrete Learning Process
One of Axelerant's most cherished benefits is the annual education allowance.
One can pursue new courses, buy books, and get the necessary training to take their career to the next level using this benefit.
Team members also work on their IDPs (Individual Development Plan), which focuses on their career growth in alignment with company goals. To do this effectively, every team member is free to seek help from performance coaches.
Why would we focus on individual development? The reason is straightforward — when individuals grow, teams become better, and in turn, Axelerant grows. One may even seek mentorship from their peers or seniors on acquiring new skills and knowledge.
We don't expect you to undergo training or certification courses off office hours. We acknowledge that your growth is Axelerant's growth. You may complete your courses during office hours.
And A Leadership That Reinforces Learning
'No Rules Rules' isn't the only book that Ankur recommended to the team members. It did touch a special cord because of its heavy focus on culture and decision making. "I could find a lot of similarities between many of the situations described in the book by Reed Hastings," said Ankur, reflecting on his own role at Axelerant.
When I had my first conversation with Michael Cannon, Chief Success Officer, Axelerant, he was under a COVID-prevention quarantine in Taiwan. I was puzzled thinking how he was going to spend his weekends stuck in a hotel room alone. He showed me his Kindle gleefully. I wasn't surprised.
Michael is omnipresent in every Slack channel dedicated to sharing learnings and insights, and so is Hussain and most of the Axelerant leadership.
Apart from the mandatory, team members are also encouraged to undergo courses to upskill themselves by their peers. There's always scope for growth at Axelerant.
Axelerant is a learning organization, and it continues to grow in that direction with every passing year.
So, What Did We Learn From The Book?
Like some other books, 'No Rules Rules' has unquestionably given us a lot to contemplate: some easy, some tough. Every team member perceived the ideas in their way. What made this exercise — and similar learning processes — rich was the sharing of individual takeaways.
Putting Necessary Labels
"We had a vision of how we should behave in an organisation. We were already practicing [many of the things discussed in the book], but we were not very confident about practicing them. This book gave us those labels and a degree of clarity into the things we were already doing," shared Hussain.
Openness
At Axelerant, "Openness" is one of the core values, and it has been so for quite some time. "We had always believed in openness. But seeing the same thing being followed in Netflix gave us more confidence that we are going in the right direction," said Hussain.
What does openness mean? In one word — transparency. Decisions that affect the company and team members are taken in open channels for everyone to see and scrutinize. At Axelerant, openness also means not fearing to speak out the ground realities of a situation.
Questions and requests are raised and answered in the open. But our openness doesn't mean harshness. "Kindness," another Axelerant core value, dictates how we communicate with peers at all times.
"Being open makes you seem more human," shared Mukul. "If you're always hiding your shortcomings or challenges, and showing only the wins, then you'll only isolate yourself," he said. Openness makes it easier for others to feel more connected with each other.
Leading By Context
It is too easy to get leadership wrong. Many perceive an effective leader to be always on top of things, micromanaging their reports' creativity away one 'no' at a time.
There's been a significant shift in the way Axelerant team members see and act as leaders. "We don't tell them this is what you're supposed to do. We explain to every individual this is what we are about, and we trust you to follow that judgement," said Hussain.
We have actively put in directives to simplify processes, decreasing control structures.
To promote creativity and proactivity, Axelerant team members are granted discretionary funding as a token of appreciation by their peers.
Sharing and Receiving Feedback Confidently
Being a CEO isn't easy. A big part of it consists of charting your and the company's path forward, which is scary when you think about it. Being in that position, getting honest feedback from people can be invaluable. But receiving such responses calls for the CEO to encourage team members to give feedback first.
Giving honest feedback is a fundamental aspect of Netflix's culture, encouraged by Reed Hastings himself after the Qwikster incident. Reed Hastings' journey made Ankur reflect on whether people were sharing their honest feedback with him. This reflection led him to be more open towards input from team members.
"Reading this book refined how I give feedback to others," Mukul explained and continued, "giving feedback is not a matter of pleasing the other person or ticking off an obligation to the company. It has more to do with helping others." He also emphasized proactively asking for feedback.
"Sometimes, you feel you are not contributing well. At times like that, it is best to ask for feedback to be aware of any shortcomings and work on them."
The term feedback is often associated with a negative connotation. From past experiences, many connect feedback with criticism or lashing out. But if done with proper intention, feedback can be invaluable in one's growth in any capacity within the organization.
When you're not evolving with the changing trends, you automatically become outdated. Growth is a continuous process, be it individual or organizational. At Axelerant, we champion learning to meet the future bravely and confidently.
About the Author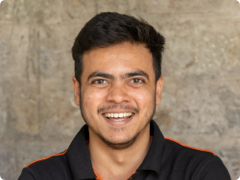 About the Author
Rohit Ganguly, Content Marketer
Rohit is a content marketer first and a YouTuber second. He loves to interact with animals, feed them, clean his apartment, and spend time with friends and family. Curious by nature, he also enjoys literature, movies, meditation, and calligraphy.