Introduction
Salesforce Marketing Cloud Engagement is an innovative offering that gives marketers powerful capabilities to build digital experiences that engage new and existing customers. It helps businesses organize and supervise their marketing efforts from a single platform, Personalize marketing, and journeys, to enhance customer relationships.
Everything from monitoring social media accounts to planning and sending out customized email campaigns can be done from Marketing Cloud. Keep reading to learn more about Salesforce Marketing Cloud Engagement and this feature-rich product's power.
Introduction To Salesforce Marketing Cloud Engagement
Salesforce Marketing Cloud Engagement is a marketing automation platform packed with robust features. It enables businesses to engage in the following marketing activities seamlessly.
Content creation and management
SMS sending and monitoring
Personalized Email marketing
Mobile push notifications, including in-app notifications
Social media marketing
Campaigns for automated Journeys
Targeted online advertising
Powerful segmentation
Data management
Rich analytics
Deliver the right message at the right time
Salesforce Marketing Cloud Engagement also comes with two types of modules, including Studio and Builders. Studio helps manage content and specific marketing channels, while Builder manages data and campaign automation. With time, the Salesforce Digital Experience Platform (DXP) has acquired more technologies, and the complete suite consists of analytics, Data Cloud, Google plugins, and more.
Lotus, a popular retail brand, utilized Marketing Cloud's capabilities to shift from their siloed, monolithic systems to a composable solution. Marketing Cloud helped Lotus tailor customer engagement using a series of automated journeys. For example, customer journeys were created to engage current and lapsed customers with targeted promotions.
Personalized customer journeys on Salesforce boosted loyalty members and effective spending on the marketing budget for Lotus. Read more about how improved customer journeys helped Lotus increase ecommerce sales and customer loyalty.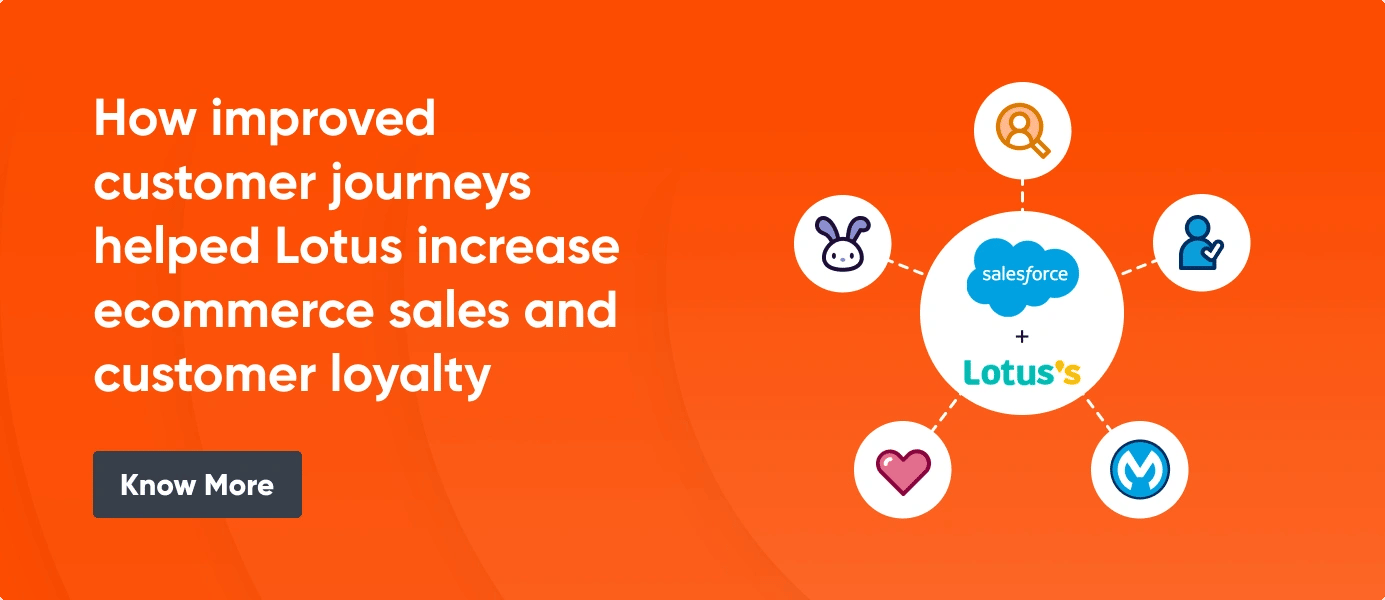 The Key Components Of Salesforce Marketing Cloud Engagement
Salesforce Marketing Cloud comes with several key components.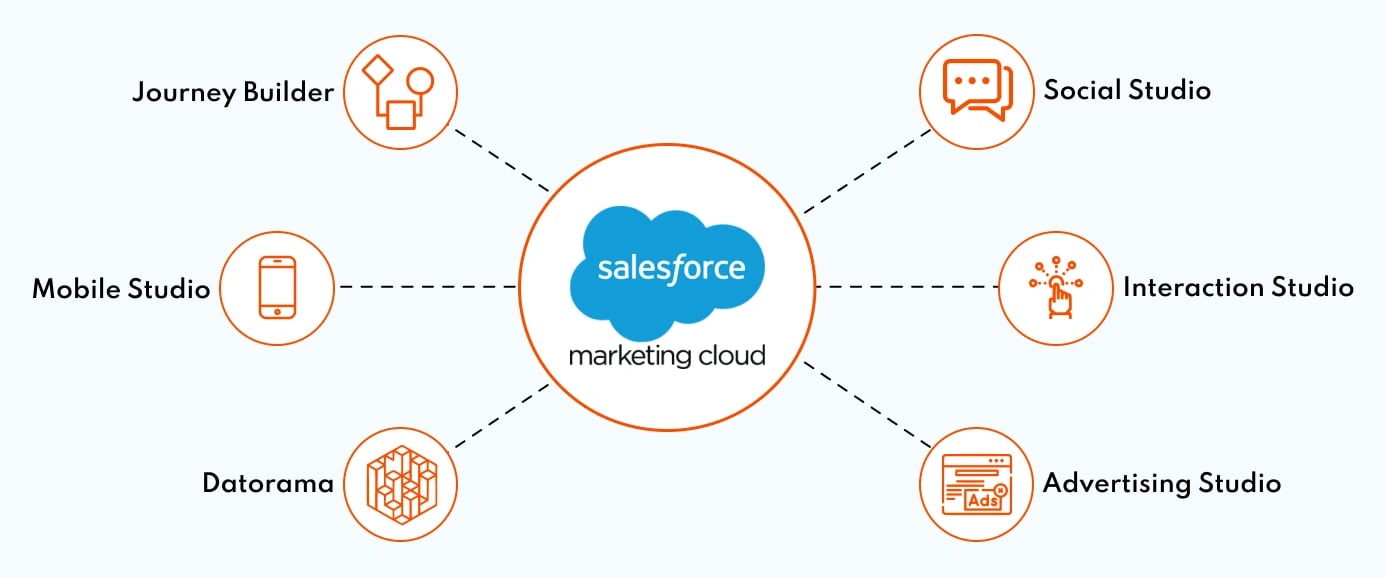 Journey Builder
The journey builder enables businesses to create a consistent customer experience across all channels, including mail, ads, web, and mobile. Businesses can utilize it to provide customers with a tailored experience at every stage of the customer lifecycle.
The journey builder also links messages to every marketing channel to ensure customers receive the desired information at the right time from any location. Other functions of the journey builder are:
Defining customer journeys
Exploring distributed marketing
Adapting to customers changing requirements
Email Studio
Email Studio is a drag-and-drop tool that helps create innovative and relevant emails. This component categorizes profiles based on data, making it easier for businesses to contact clients with customized emails. This results in successful and profitable email campaigns.
Social Studio
Social Studio helps businesses create customized social media campaigns that convert followers into customers. It does more than manage publishing on social media platforms by providing customer support and engaging communities.
By connecting social network posts to a CRM platform, businesses can also get a detailed view of their customers. This real-time insight can be utilized to create impactful digital experiences.
Mobile Studio
With mobile studio, businesses can create an omnichannel marketing strategy by integrating mobile with other marketing channels. It helps marketers reach customers through personalized messaging, SMS, push notifications, and group messages at any time and from any location.
Advertising Studio
Advertising studio helps leverage customer data across marketing channels to build personalized customer experiences. It helps manage retargeting, acquisition, and alignment of marketing campaigns. This allows businesses to connect channels, harness customer data, and generate more leads.
Datorama
Datorame connects and unifies all marketing data and analytics. Marketers can quickly utilize this information to optimize leads, increase pipeline growth, and ensure better conversions managed from a single marketing dashboard.
Datorama offers detailed analytics and insights into social media, email, sales platforms, and landing pages. This helps save time, create cross-functional ease, and enable data-driven decision-making.
Interaction Studio
Interaction Studio is a real-time engagement solution for visualizing, tracking, and managing customer experiences. It enables one-to-one personalized that works by:
Connecting every interaction
Delivering cross-channel customer insights
Optimizing overall experience
Salesforce Marketing Cloud Engagement Products
Salesforce Marketing Cloud Engagement has six primary products besides the capabilities mentioned above.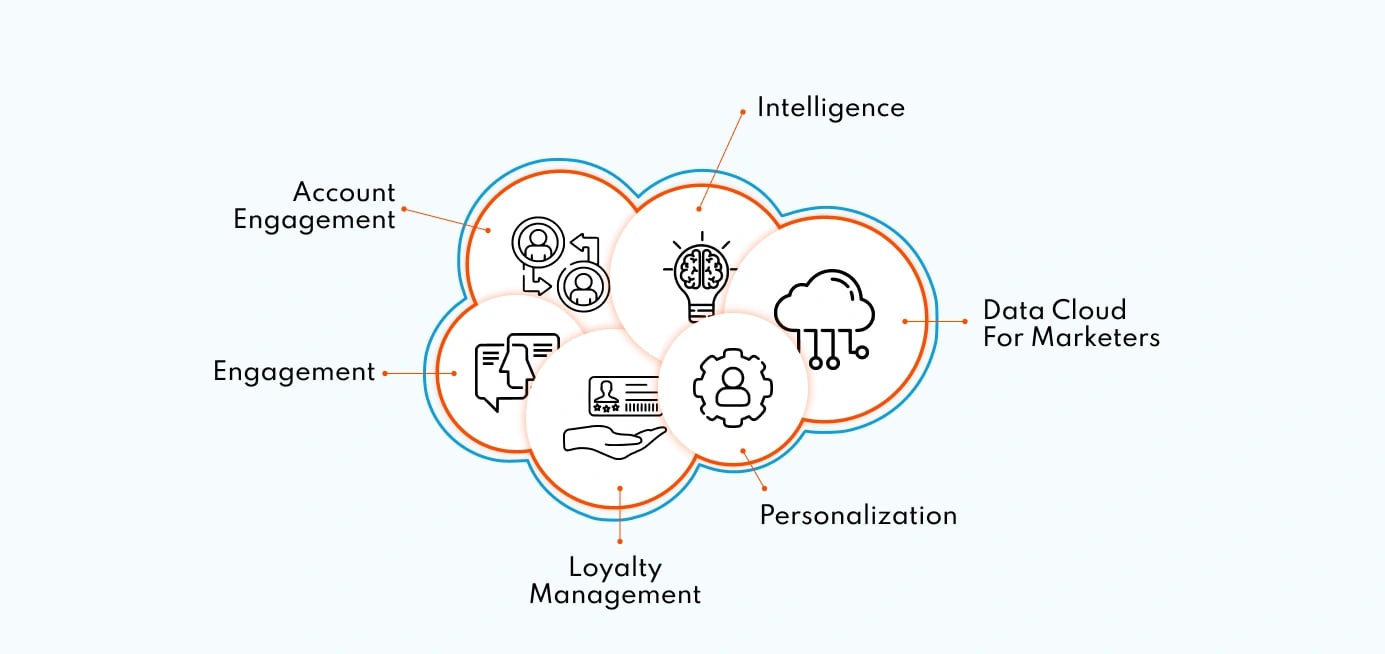 1. Data Cloud For Marketers
Data cloud for marketers is built to save time and optimize spending via automated engagement, real-time activation, and intelligent segmentation. It ensures faster time to value with data unification across Salesforce and beyond. This allows marketers to personalize engagements in a cost-effective and scalable manner. Data cloud also allows easy integration with AI to enrich customer profiles.
2. Personalization
Personalization helps organizations understand customer affinities to reduce acquisition costs and increase conversion rates. It can also save time with AI-driven content, offers, and recommendations to shorten customer journeys and optimize spend with automated A/B testing.
3. Engagement
Engagement automates intelligent customer experiences by optimizing channel selection, personalizing each touchpoint, and creating intelligent omnichannel experiences. It also helps find the perfect send time, frequency, and content to improve conversions with embedded AI.
4. Account Engagement
Account engagement enables businesses to win customers through scaled, personalized outreach across marketing, service, and sales. Artificial intelligence and engagement insights accelerate deal velocity as well.
5. Intelligence
Cross-channel Salesforce marketing solution intelligence enables businesses to increase efficiency and reduce costs. It provides a unified view of overall performance by connecting all marketing and media data with business outcomes. The real-time analytics, dashboards, and insights are shown across regions, teams, and business units.
6. Loyalty Management
Loyalty management makes launching programs easy, innovating quickly, and personalizing every moment to create a consistent member experience. It makes measuring business impact with analytics and dashboards quite efficient, so marketers can promptly track promotion, program performance, satisfaction, and member engagement in a few clicks.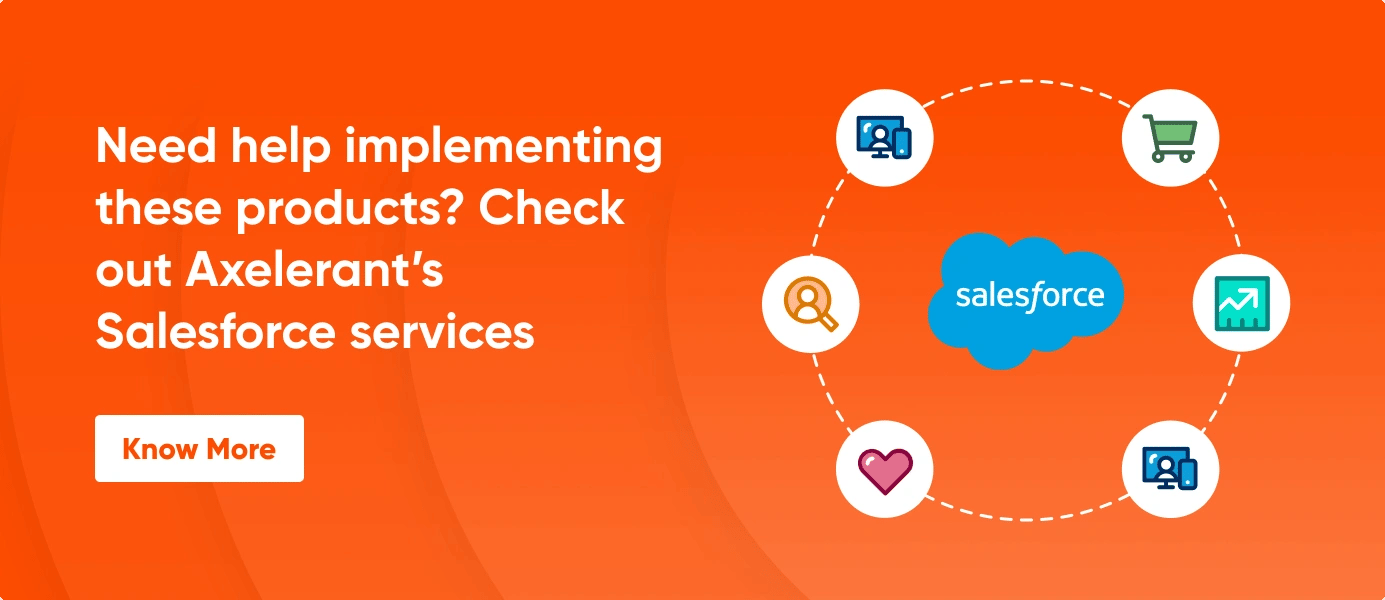 What Salesforce Marketing Cloud Engagement Can Do For Your Business
Salesforce Marketing Cloud Engagement has powerful products and capabilities to help businesses achieve the following.
Enhance And Automate Customer Engagement
Salesforce Marketing solution empowers businesses to engage customers by controlling data and interactions completely. This allows businesses to see what's going on in all accounts and make any required changes. This leads to improved activation rates, leads generated, and revenue earned per customer.
Blue, a digital life insurance company, utilized Salesforce Marketing Cloud to get similar results. This was done by forming a unified view of customer data and using those insights to personalize communications. Marketing Cloud enabled Blue to automate marketing activities, allowing the team to focus on innovating and staying ahead of evolving customer needs.
Track Marketing Campaign Success
With Salesforce Marketing Cloud, businesses can quickly track the success of marketing campaigns through different metrics like leads generated, revenue generated, and activation rates. Marketing Cloud enables businesses to track how marketing efforts impact brand reputation and customer loyalty.
Custom reports and dashboards can also provide a holistic view of marketing efforts to analyze which channels are most effective for converting or reaching new customers. Meralco, a utility company operating in the Philippines for more than 115 years, turned to Salesforce to create engaging customer experiences and track the impact of marketing efforts.
The automation brought in by Marketing Cloud has contributed to the five-fold improvement in employee productivity. There has also been consistent growth in driving retention and increasing wallet shares. Meralco Online take-up has grown to 20,000 new accounts each month, and 30,000 new customer accounts are set up each month with only a 12-minute account set-up timeline.
Disrupt The Customer Experience
Customer experience is at the heart of marketing efforts. And with Salesforce Marketing Cloud, businesses can engage with customers through technology and an omnichannel approach. Luxasia, a business that connects world-class beauty brands with Asian consumers, has utilized this capability to innovate its customer experience drastically.
Instead of focusing on changing how brands engage with customers, Luxasia is aggressively personalizing customer experience on an app built on Heroku. The app extends the previous single customer view to in-store advisors and helps deliver exceptional service.
By glancing at the customer's previous purchases, in-store advisors can make impactful recommendations focused on selling products and fostering emotional connections. It provides greater insight into what's working for customers and what's not, allowing Luxasia to build, test, and innovate at pace.
Generate Data Insights And Establish Integrations
Salesforce Marketing Cloud allows businesses to unify, share, and analyze data generated across channels. It can also easily be integrated with other marketing automation tools, like HubSpot Sales CRM or Adobe Marketing Cloud.
Shakey's Pizza, an extremely popular full-service pizza chain in the Philippines, collected customer data to drive loyalty and sales. The business has enjoyed double-digit growth for the past 15 years but wanted to boost sales further by improving engagement across digital channels.
Instead of manually logging customer feedback and responses, Shakey's Pizza utilized Marketing Cloud to capture customer data, including feedback, and streamline reporting. With this change, Shakey's Pizza saw an overall growth of 1165% in feedback received, addressing customer concerns and ensuring a boost in loyalty program enrolls and sales.
What You Need To Do Next
Salesforce Marketing Cloud Engagement, when implemented correctly, can help organizations grow and expand their marketing campaigns. It boosts conversion rates, increases the number of leads, and the effectiveness of marketing endeavors.
It is an excellent option for organizations that:
Have transactional purchase cycles
Need to segment contacts using multiple datasets
Want to compile large amounts of behavioral data from various sources
But how should you go about making the most of Salesforce Marketing Cloud Engagement? Speak to Axelerant's Salesforce experts to find out.
About the Author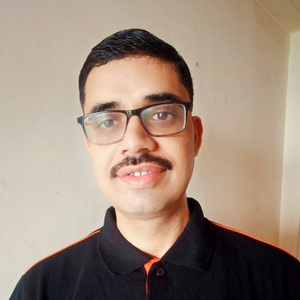 About the Author
Abhishek Tripathi, DXP Consultant
Abhi likes to contribute to society, learns new skills from Trailhead, and when away from his desk, he spends quality time with his kids and helps out his wife and mother. When engaged, challenged, and appreciated at work, he's unstoppable.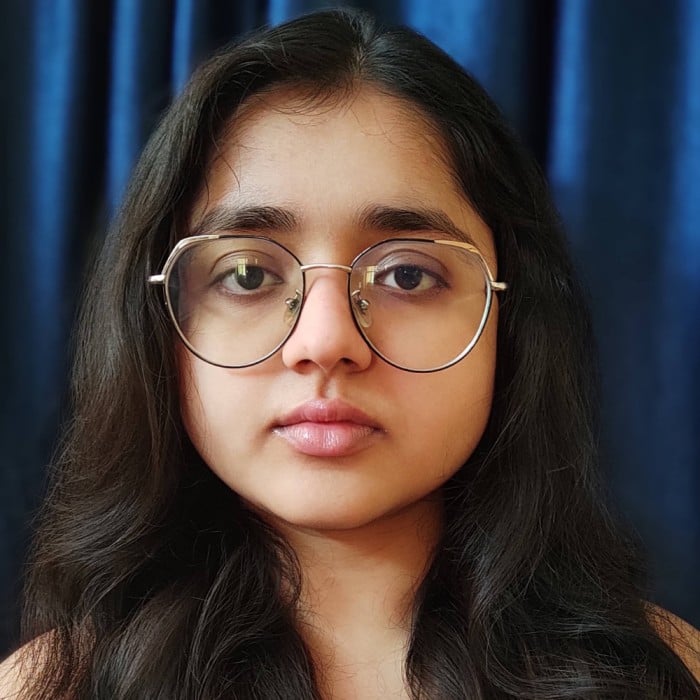 Simran Sethi, Content Marketer
Simran is an avid reader. She is an active runner, who also likes to swim, dance, and sing. For her, the meaning of life lies in the little things. Kindness, passion, and compassion are her life's essential values.