Introduction
The demand for marketing automation has grown exponentially in the last few years. According to the Marketing Automation Report 2021, organizations using marketing automation solutions see an increase of 80% in the number of leads.
This shows that marketing automation can help strategize and generate leads when implemented correctly. It allows organizations to take customer data and launch campaigns to deliver meaningful customer experiences and lead them through the conversion funnel.
Learn more about marketing automation and what it can do for your business.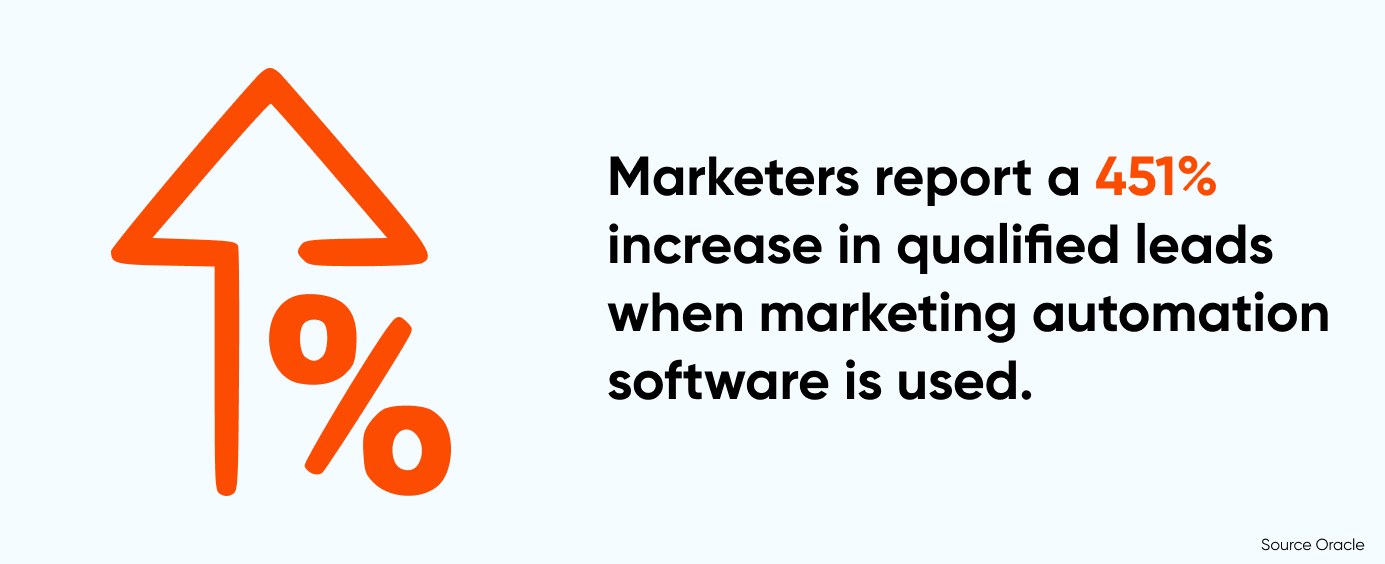 What Is Marketing Automation?
Marketing automation enables organizations to target customers with automated messages across channels, including websites, social media, emails, and text messages. This creates impactful customer journeys that convert potential customers into paying customers.
Marketing automation is a segment of Customer Relationship Management (CRM) and is usually used by marketing departments to eliminate repetitive tasks. This helps overall marketing efficiency.
Organizations often use multiple marketing automation tools, which form the MarTech stack. This stack assists in lead generation through social media campaigns and email marketing.
What Are The Features Of Marketing Automation Software?
Marketing automation software manages different elements of marketing campaigns, like data analytics, to create more personalized content that drives revenue and engagement. Artificial Intelligence (AI) applications, like chatbots, can also automate information delivery or direct users to web pages that help create sales or gauge interest.
These tools can also administer customer satisfaction and product usage surveys that help the organization constantly evolve and improve. Other features include:
Inbound marketing
Account-based marketing
Lead management
Campaign management
Marketing ROI
Social marketing
Targeting and segmentation
The Types Of Marketing Automation
There are also different types of marketing automation, including:
B2B Marketing Automation
Traditionally, marketing automation has been focused on the business-to-business arena. This is mainly because B2B prospects form a small, focused target market engaged in multi-stage procurement processes or are part of an ongoing relationship with the organization.
In B2B, education and awareness building are vital components of marketing automation. It is also the area where individuals do not make purchase decisions at a moment's notice.
Instead, these decisions are made rationally while involving several stakeholders. This can take weeks to a few months, which is why marketers need composable architecture to nurture these leads.
Beyond this, marketers and stakeholders must understand how to utilize their marketing automation platform best. Shamir Duverseau, Co-Founder of Smart Panda Labs, talks about some of these challenges in a recent episode of DXP Deconstructed with Prateek Jain.
B2C Marketing Automation
B2C marketing automation focuses on marketing efforts targeted to individual consumers rather than businesses. This type of marketing automation demands more personalization and data-driven decisions to appeal to direct customers.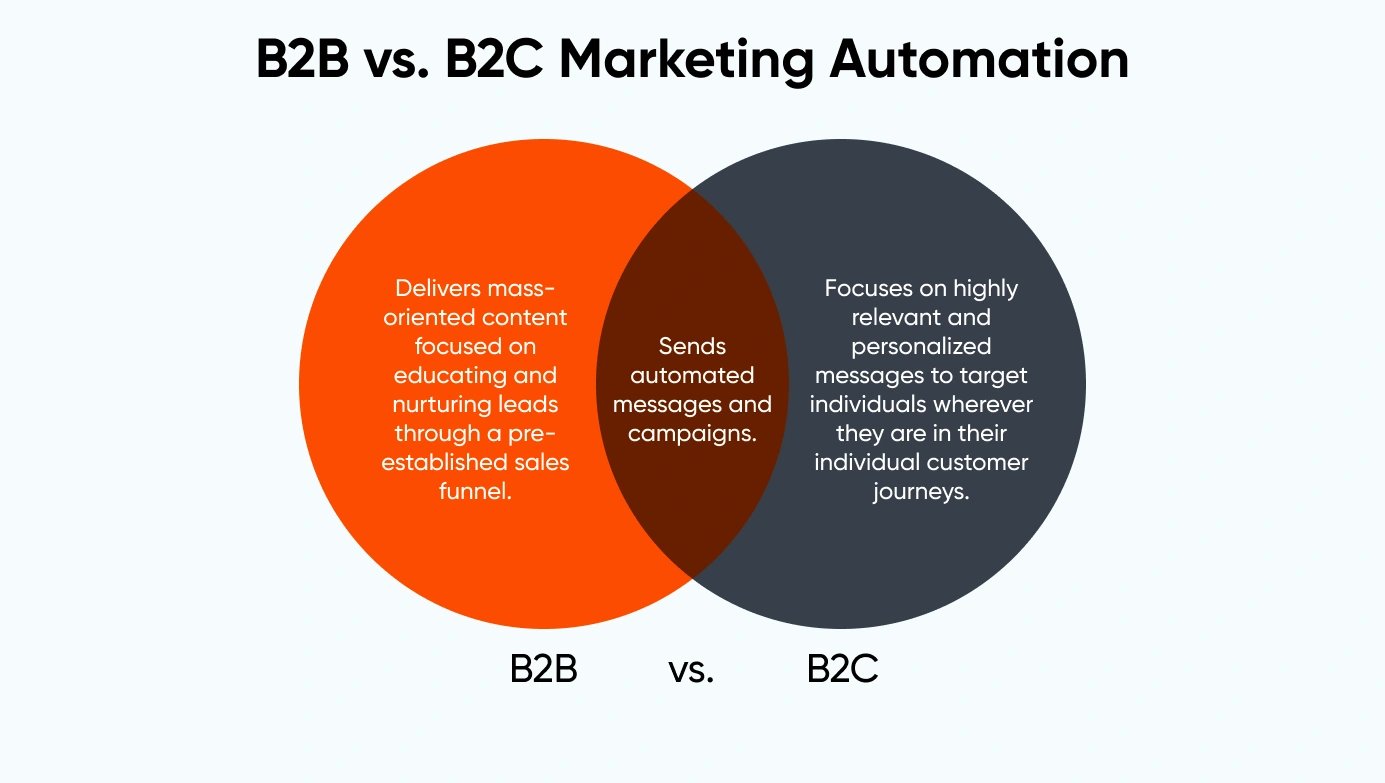 What Marketing Automation Can Do For Your Business
According to the Marketing Automation Report 2021, 91% of organizations claim that marketing automation is essential for their business. This is because marketing automation provides several benefits, including: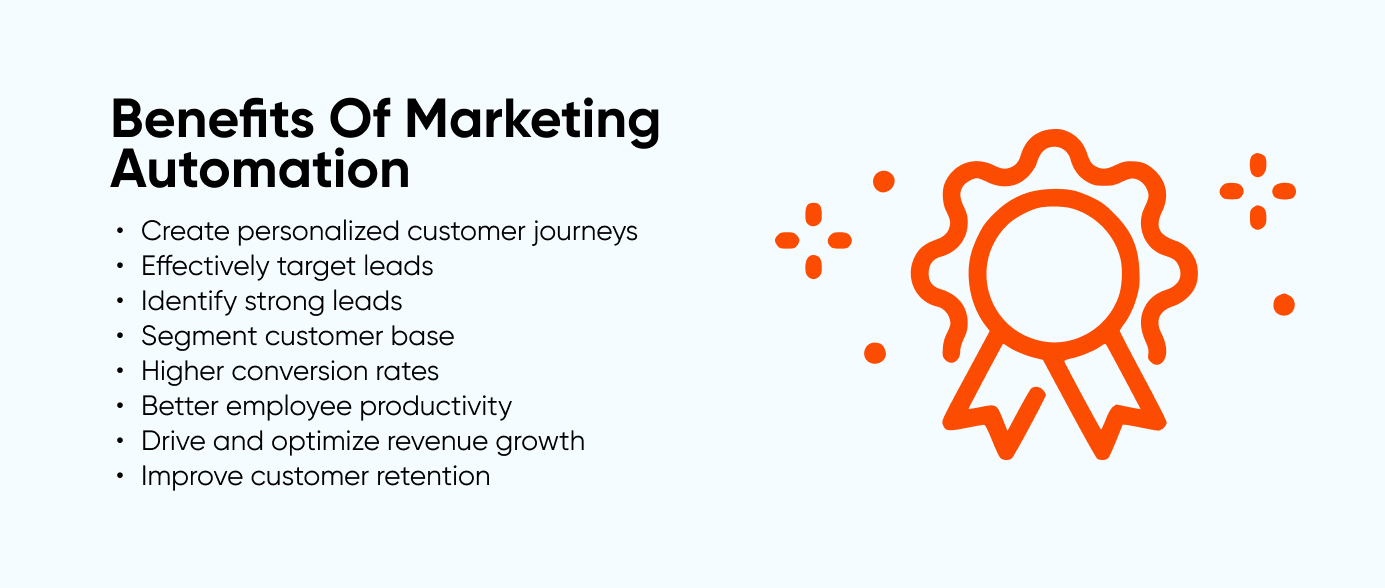 Create Personalized Customer Journeys
Marketing automation software collects customer data to enable more robust personalization. This helps create customer journeys where personalized content is sent to help potential customers overcome their specific barriers to purchase.
Effectively Target Leads
Customer data collected through marketing automation software, which is an integral part of a Digital Experience Platform, can help organizations target potential customers with the most relevant content. This ensures that every lead is nurtured down the funnel until they are converted.
Identify Strong Leads
Marketing automation software also makes it easy for marketers to score leads based on their likelihood of buying a product or service. Points can be set for each action a lead takes, and after a predefined point total, the lead is passed on to the sales team.
For example, marketers might classify a lead as warm if they have opened all emails, signed up for webinars, and visited a landing page. On the other hand, if a lead only opens email sporadically and does not engage with the organization, it's a cold lead.
Segment Customer Base
Marketing automation platforms make it easy to segment the customer base and target different groups with the most relevant marketing strategy. Marketers can create better customer relationships and experiences by segmenting customers based on their location, pages visited, and buying preferences.
For example, an accountancy firm that offers tax, year-end accounts, and payroll services might target leads based on the pages visited. If somebody visits the payroll page, they will be targeted with the marketing strategy for people interested in payroll.
Higher Conversion Rates
Marketing campaigns handled through automation generate clean customer data, making identifying and re-targeting leads easy. The chances of sales increase when the right offers are made to the right contacts.
Better Employee Productivity
By using marketing automation solutions, employees no longer need to spend time on manual and repetitive tasks. Instead, marketers can focus on strategic issues that drive more leads and sales.
Drive And Optimize Revenue Growth
Marketing automation removes the silos that often exist between sales and marketing teams. It optimizes the money spent on marketing campaigns and helps generate marketing-qualified leads faster.
Marketing automation also provides marketers with the greater ability to guide prospects through the buying journey. It makes it easy to identify the most effective campaigns and marketing strategies. Driving and optimizing revenue growth becomes easier with all these benefits and capabilities.
Improve Customer Retention
Marketing automation can help support loyalty programs and other customer retention strategies to inculcate brand loyalty. It also provides upsell and cross-sell opportunities to build strong and lasting customer relationships.
A Short Tale: How Axelerant Helped Implement A Marketing Automation Platform For Franklin Madison
Franklin Madison is an industry pioneer with over 50 years of experience facilitating insurance products and marketing service administration. The organization wanted to re-engineer its platform due to missing functionalities like lack of automation, navigational inconsistencies, limited CMS capabilities, and limited scalability.
Axelerant aligned with the Franklin Madison team on their short-term and long-term vision by taking a hyper-collaborative approach. The experts at Axelerant helped engineer a digital platform that unifies Franklin Madison's Service Experience and Marketing Automation by using Drupal CMS, Acquia Site Studio, and Acquia Campaign Studio.
As a result, Franklin Madison now has a fast-performing platform built for scalability. The platform's responsiveness enables intuitive content authoring, reduces the time to create new microsites, and enables custom feature development within minutes.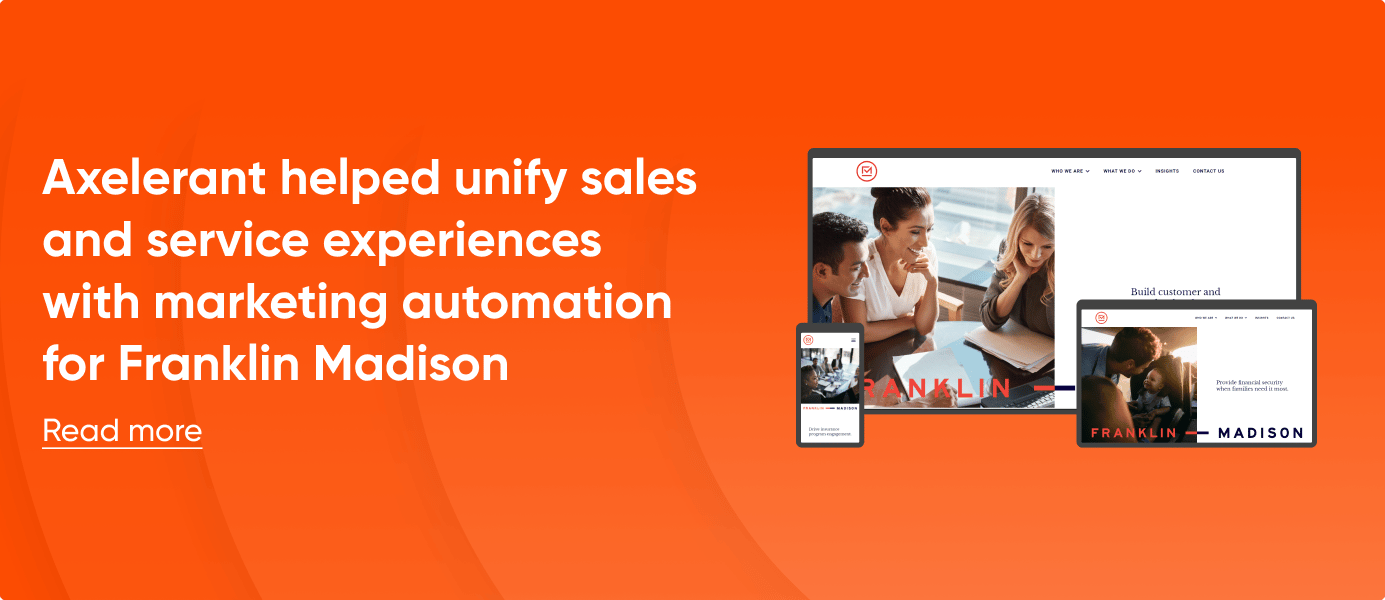 How You Can Get Started With Marketing Automation
A successful marketing automation platform implementation is integral for organizations that want to leverage marketing automation's benefits and capabilities.
But how should organizations get started with marketing automation?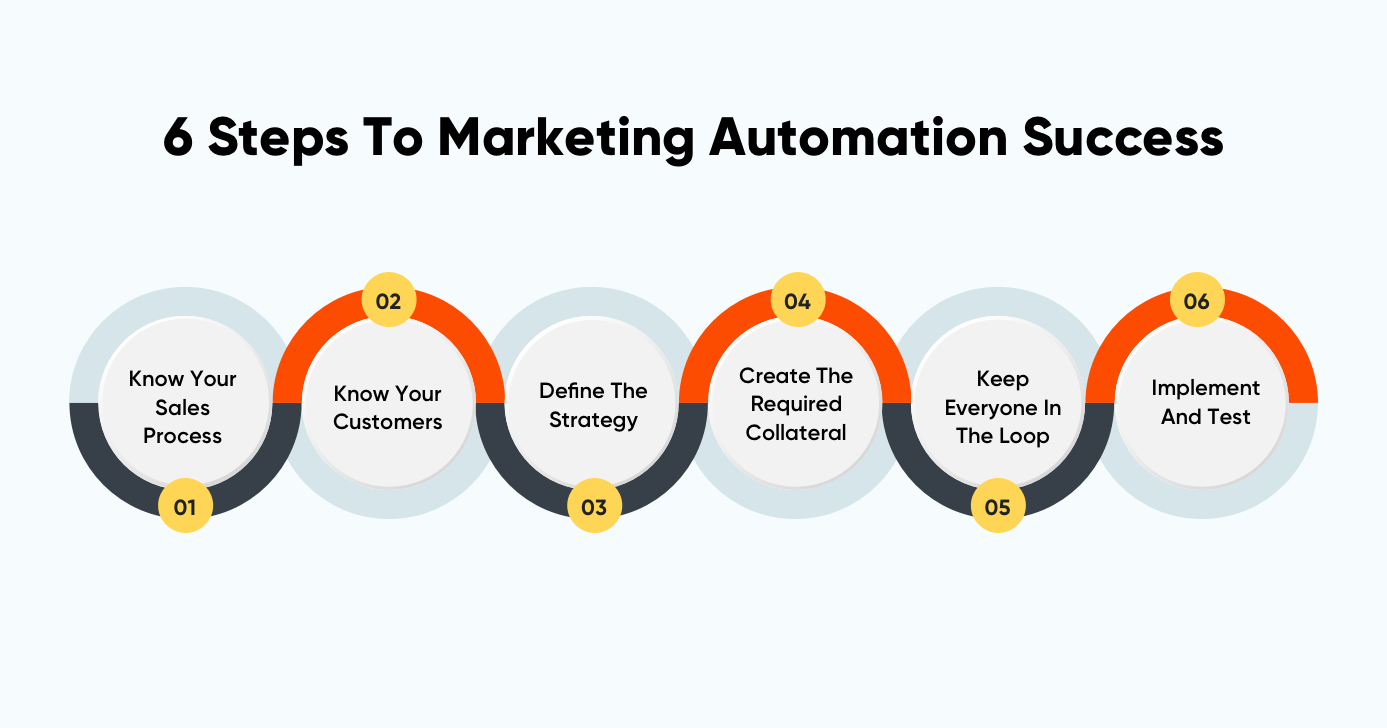 Step 1: Know Your Sales Process
How organizations use marketing automation will depend on their sales process. For example, businesses with long sales cycles require multiple interactions, which should be automated. On the other hand, organizations with shorter sales cycles might utilize marketing automation to nurture and actively convert customers with abandoned cart emails or promotion updates.
Step 2: Know Your Customers
Marketing automation revolves around creating meaningful customer journeys. To do this effectively, organizations need a good understanding of their customers, what they want, and what touchpoints they have with various products and services.
Step 3: Define The Strategy
Define the marketing automation strategy by determining the steps customers want to take at every funnel stage. Ensure that stakeholders understand what customers want before implementing any strategy.
Step 4: Create The Required Collateral
Organizations need high-quality marketing collateral like blog posts, videos, and eBooks that customers can interact with. Spend time creating this content and ensuring a consistent publishing schedule.
Step 5: Keep Everyone In Loop
Successful marketing automation strategies require inputs from across teams and departments. For example, sales teams must communicate the type of leads they want from the marketing team. Customer support can also provide feedback regarding customers' challenges while using certain products or services.
Step 6: Implement And Test
After implementing the marketing strategy, analyze and test the strategy to ensure every part of it works as intended. Use metrics like click-through rate, time on page, conversion, and open rate to analyze what more can be done to optimize the marketing strategy. A/B testing can also be used to figure out which marketing efforts are more effective.
What's Next In Marketing Automation
With time, the current capabilities of marketing automation will extend. This means that technologies like Artificial Intelligence (AI) will help organizations do more with marketing automation. It will help marketers make decisions grounded in data and logic while eliminating manual tasks.
The capabilities of a CRM will also continue to evolve to ensure seamless customer engagement. This will significantly impact the buyer experience. Composable solutions can be put together to get a core view of customers.
Want to know more about what's next in marketing automation? Speak to the experts at Axelerant.
About the Author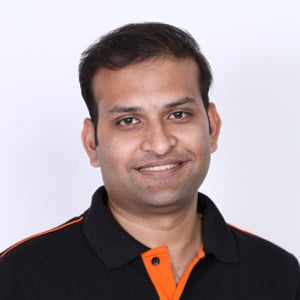 About the Author
Prateek Jain, Director, Digital Experience Services
Offline, if he's not spending time with his daughter he's either on the field playing cricket or in a chair with a good book.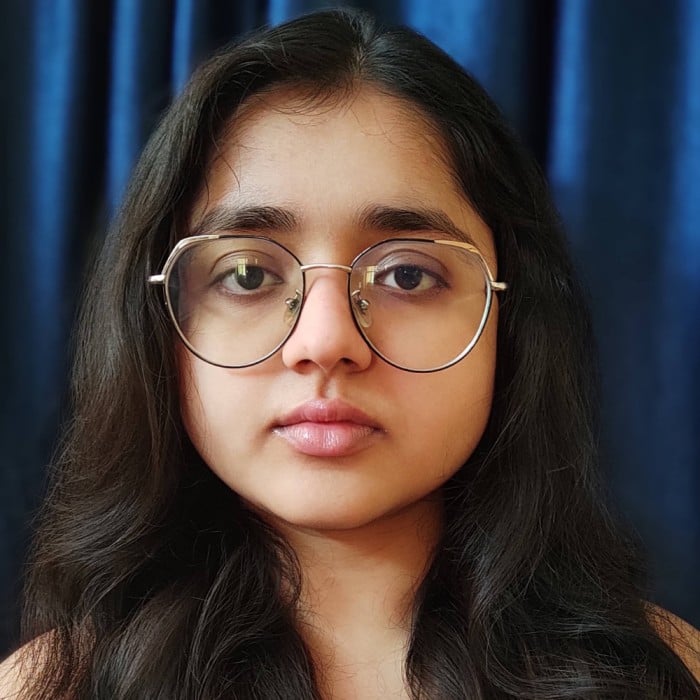 Simran Sethi, Senior Content Marketer
Simran is an avid reader. She is an active runner, who also likes to swim, dance, and sing. For her, the meaning of life lies in the little things. Kindness, passion, and compassion are her life's essential values.