Introduction
The implementation of a digital experience platform as a customer experience project is neither a small nor insignificant undertaking. It requires highly professional project management and support of the right stakeholders.
But how do you go about a successful DXP implementation?
In this two-part blog series, find out how to successfully implement DXP, regardless of where an organization is in its digital journey.
The DXP Implementation Roadmap
Most stakeholders know that they need a DXP. But many are unaware that the DXP implementation roadmap includes four major steps:
Discover and Assess
Strategize and Plan
Implement
Grow
The experts at Axelerant followed these steps to transform the digital experience and content publishing for the Office of the High Commissioner for Human Rights. Read more to learn how the solution was implemented to create long-term value.
Discover And Assess
The successful implementation of a DXP begins with discovering and assessing the requirements.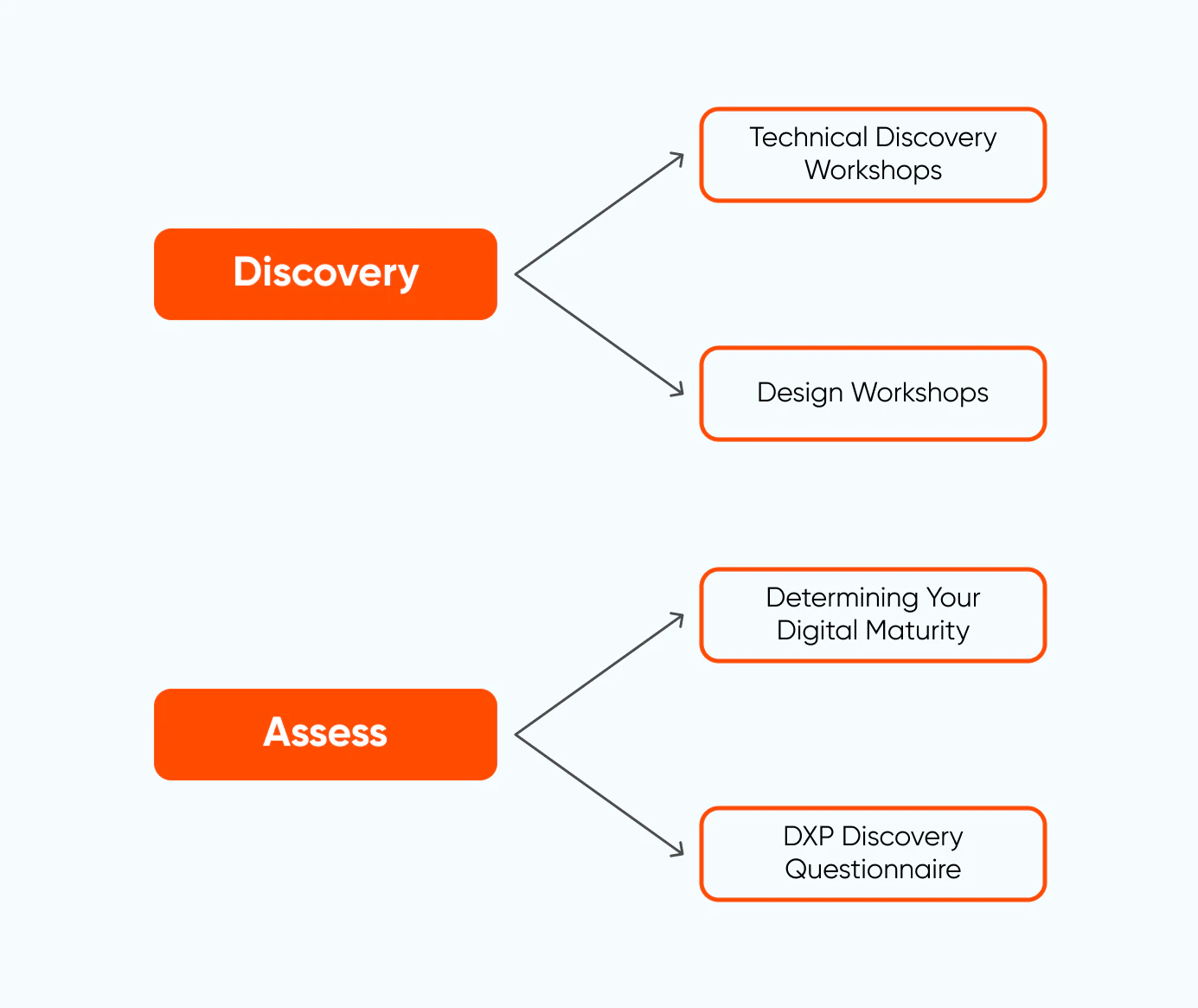 Discover
This phase involves researching and framing the problem to clearly outline the engagement objectives, which are further linked to the short-term and long-term vision of the organization.
At the end of the process, the team has a clear problem statement aligned with the organization's goals, documentation of user needs, user personas, and usage scenarios. This is critical in creating a broad-level architecture and technology roadmap.
And it's done through:
Technical Discovery Workshops
During a technical discovery workshop, project teams are brought together to initiate alignment on the project's scope, timeline, and approach. These workshops should be operated with complete transparency, inspection, and adaptation principles.
Aspects like ways of working, values, high-level schedules, and collaboration tools should also be covered. Key stakeholders must be identified to ensure project success. After that, a review of the existing system, structure, and reporting tools is done. Factors like content types, data workflows, navigation, SEO, performance, and security are considered.
Design Workshops
After the technical discovery workshop, an inventory of components, templates, and other features that will play a part in the new DXP is prepared. The inventory is reviewed during the design workshops, and high-level estimates of the features are calculated.
The outcome of the workshops would be an initial project plan for design, development, and launch based on the team's capacity, sequencing priorities, and dependencies.
Assess
The objective of the assessment phase is to review and analyze the current state, collect input, and conduct gap analysis on existing features. This is done with respect to the future envisioned state of the platform.
This process starts by assessing the digital maturity of the organization.
What Is Digital Maturity?
Digital maturity measures an organization's ability to create value through digital platforms. It is a significant predictor of success for companies launching a digital transformation.
According to a study conducted by Deloitte, highly digital mature organizations report 30% more revenue growth and profit margins than lower maturity organizations. On top of this, organizations with high digital maturity also report more positive business impacts, not just financial outcomes.
Businesses with higher levels of digital maturity have a competitive advantage along with various performance indicators like revenue growth, time to market, cost efficiency, and product quality. Businesses with lower levels of digital maturity struggle to achieve these benefits.
There are also four levels of digital maturity.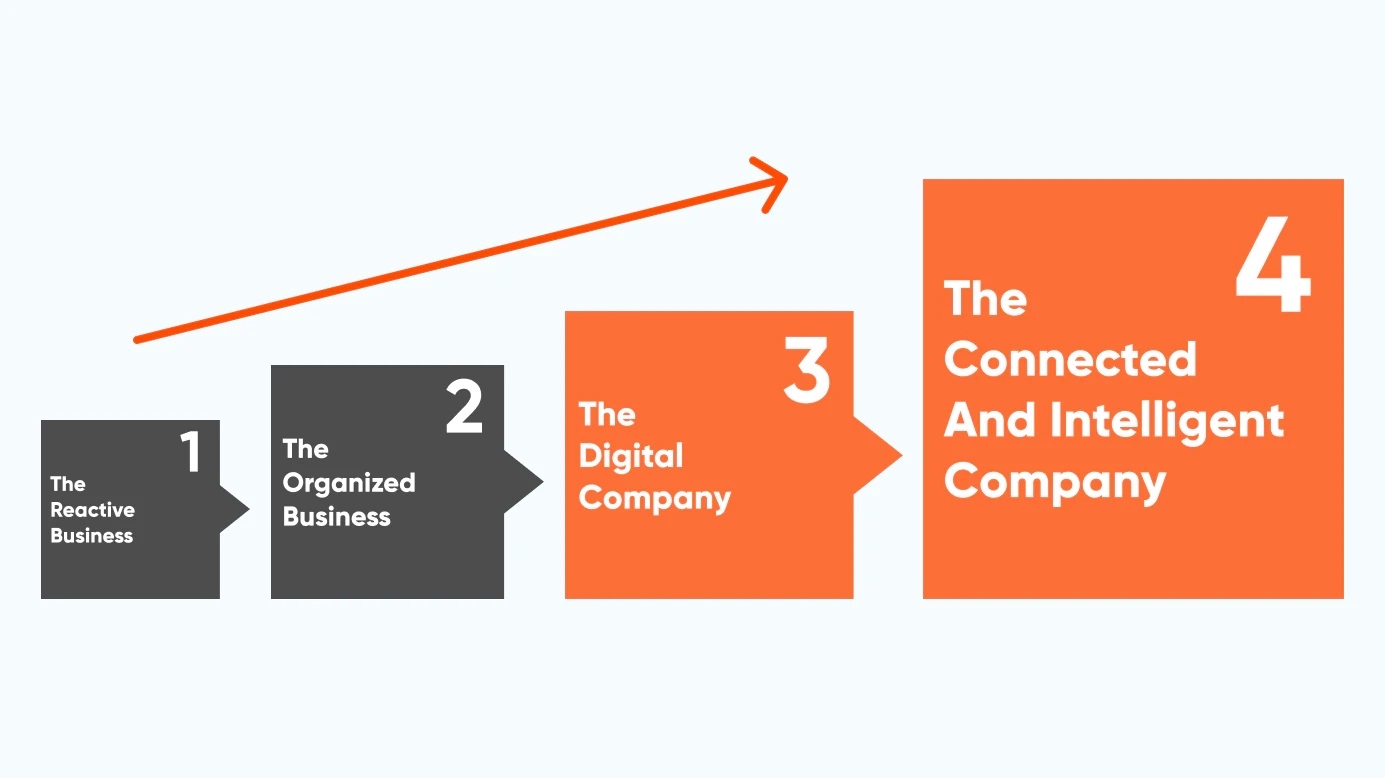 Level 1: The Reactive Business
At this stage, organizations take action only when problems arise. There is no properly defined vision of customer experience management. But there is a general understanding that digitalization must be driven forward in a process-optimized and customer-centric way. The organization does not have any plan or action steps that it must take to achieve that outcome.
Level 2: The Organized Business
In the second stage, initial digital experience processes are introduced. But the big picture is still missing. There are no plans of action, no overarching visions, and no clear goals. At this stage, customer data and customer approaches are siloed.
Level 3: The Digital Company
Digital organizations have already taken several steps to achieve their goals. Business processes have been standardized at several points across departments. Organizations that have attained this high level of maturity must orient themselves towards perfecting integrations and becoming leaders.
Level 4: The Connected And Intelligent Company
Businesses at level four have fully adapted to the digital challenges in customer focus. The company has a leadership role in both technology and innovation. The challenge is maintaining pole position, which can be achieved through relentless excellence and innovation. Given these requirements, it's not surprising that very few businesses are at this stage.
Determining Your Digital Maturity
Start by answering: Where is your business positioned along this four-stage roadmap towards digital maturity?
Answering this question is essential for setting up the organization for success and managing results-driven DXP projects. If you have trouble answering this question, use methodologies like the interaction room.
The interaction room is a recognized workshop method in which each wall represents an essential aspect of the project, visualized by relevant stakeholders. The walls are prioritized and evaluated in terms of technical implications. It helps in jointly identifying challenges and risks.
Are you still having trouble figuring out your digital maturity?
Contact the experts at Axelerant to know where you are in your digital maturity and how you can set your business up for success.
DXP Discovery Questionnaire
Once an organization figures out its digital maturity, the next step involves a robust assessment process. Start the process by analyzing the current system and the future functionalities that the organization needs. Think in terms of various capabilities like:
MACH and integrations
The basic services
Editorial experience
Digital commerce
Security and network
Regulatory
Need more help?
Read more about our DXP Discovery Questionnaire to develop a detailed plan of your organization's DXP requirements.
Strategize And Plan
By the end of discovery and assessment, organizations will have a clearer understanding of the functionalities needed within their composable DXP. The next step is to strategize what was discovered and plan the implementation.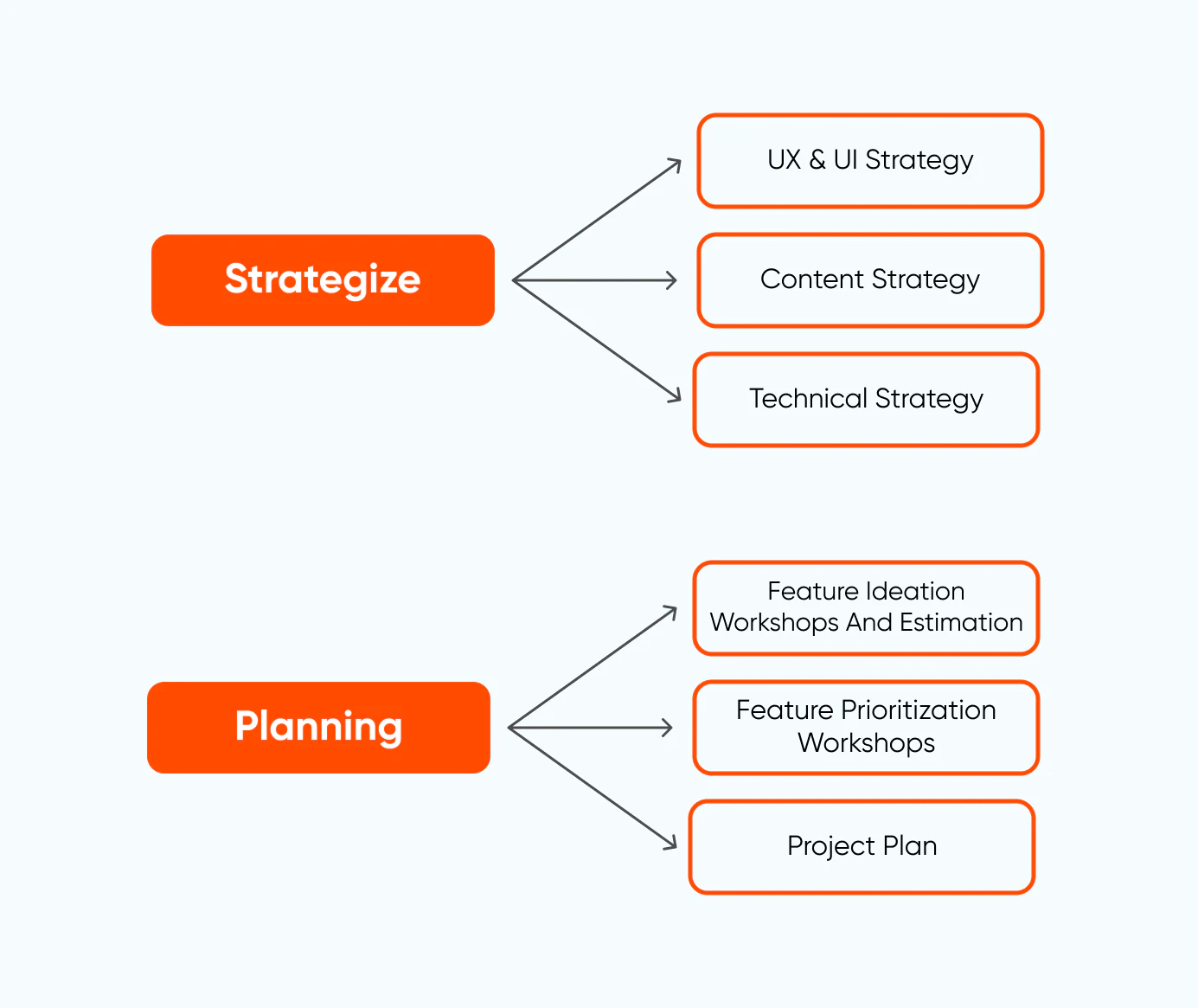 Strategize
The strategy for implementing the DXP can be divided into:
UX & UI Strategy
A UX & UI strategy is integral for any digital experience platform. An ideal UX/UI strategy must transform business objectives into actionable design inputs and interface elements, which is why some typical UX/UI activities include:
Documentation of business needs
Defining user personas and user journeys
Data taxonomy
Wireframing
Workflow and process diagrams
Content Strategy
A digital content strategy describes how a company produces high-quality content for the target audience. The goal is to produce consistent experiences throughout the buyer journey and across platforms.
It helps define workflows and unify content operations across the business for efficient content creation and distribution.
Technical Strategy
Developing the technical strategy starts with building on the feature deep-dive during the discovery and assessment phase. The stakeholders align on the architecture and barebone system attributes to build upon.
After that, a technical audit is done to review the existing system, structure, and reporting tools. This ensures proper documentation of the solution architecture, including content types, data workflow, navigation, components, SEO, security, and integrations.
By the end of this stage, the organization will have a compilation of all the technical requirements that will help shape the initial solution and technical architecture of the digital platform.
Planning
Once a strategy has been developed, the next phase is to plan the implementation. It starts with collaboratively reviewing the range of potential features outlined and prioritizing based on value to advance the production in the MVP scope and beyond.
The planning phase will also include:
Feature Ideation Workshops And Estimation
A review of the inventory of components, templates, and other features will be included in the new digital platform. High-level estimates will be assigned to features, and potential fallbacks will be documented.
Feature Prioritization Workshops
During feature prioritization workshops, the relative priorities of features will be decided, and a suitable plan will be developed after proper alignment. The remaining features will be planned for future phases of work.
Project Plan
The estimate for every prioritized feature will be solidified based on confidence level and uncertainties. The outcome will be a final project plan for design, development, and launch.
What's Next: Implement and Growth
Once the planning is done, the next steps include diving into implementation and continuous growth. Read more to learn how you can successfully implement a DXP strategy.
But are you feeling lost right now? Do you need help creating your DXP implementation strategy?
The experts at Axelerant excel at planning and implementing digitally transformative solutions. The team successfully engineered an intuitive, accessible, secure, and personalized DXP for the University of East London (UEL). The old website existed on Sitecore and could not provide powerful search functionalities, security, and stability.
The experts shifted the website to Drupal after five weeks of discovery and over two years of continuous development. The Acquia-powered DXP offers improved functionalities like advanced course search, unified content hub, and personalization to enable UEL's climb on the digital maturity ladder.
Schedule a call to learn more about how your organization can become digitally mature.
About the Author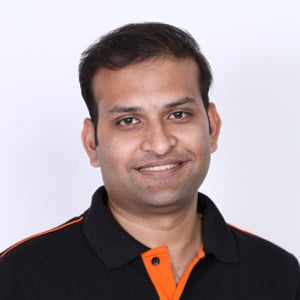 About the Author
Prateek Jain, Director, Digital Experience Services
Offline, if he's not spending time with his daughter he's either on the field playing cricket or in a chair with a good book.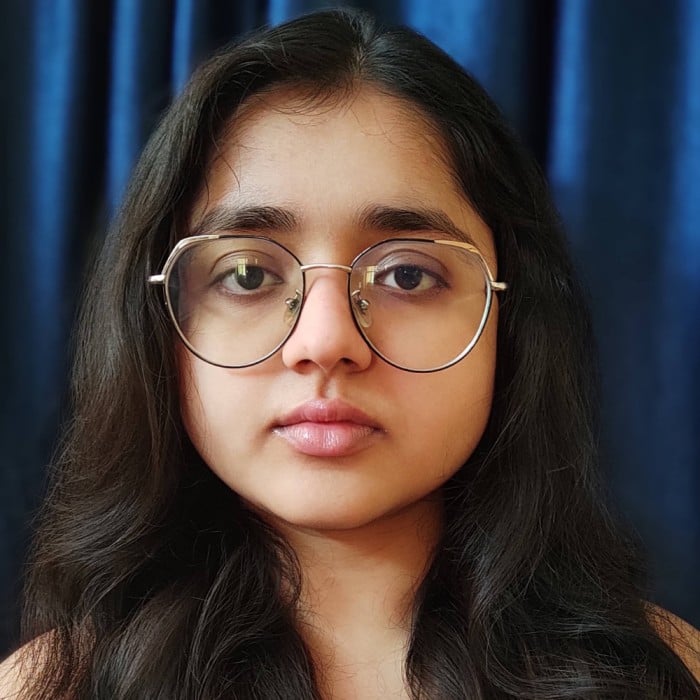 Simran Sethi, Content Marketer
Simran is an avid reader. She is an active runner, who also likes to swim, dance, and sing. For her, the meaning of life lies in the little things. Kindness, passion, and compassion are her life's essential values.